Baltimore Ravens Offseason: 7 Positions That Could Have a New Starter in 2012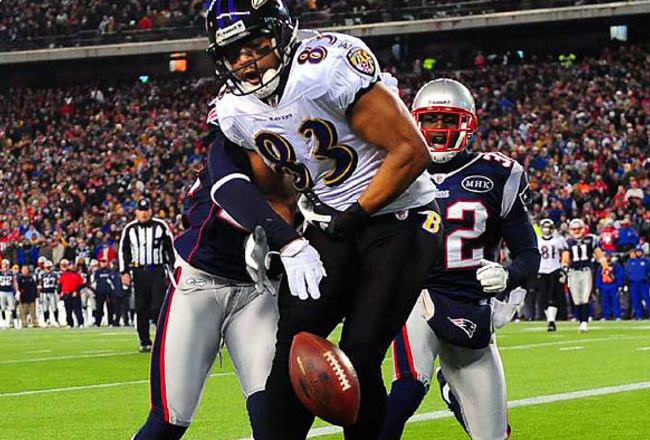 Lee Evans to replace Lee Evans?

With 13 unrestricted free agents this offseason and eight restricted or exclusive rights free agents, it may not come as a shock that the Ravens' roster is going to look a bit different than last year's squad.
Factor in Ricky Williams' retirement, a limited amount of cap room and Joe Flacco and Ray Rice waiting in line for big long-term deals, and there are at least five positions where the Ravens could lose their current starter to either free agency or retirement.
Ozzie Newsome and company will fill these voids through the draft and conservative free agency and trade as always.
That being said, let's take a look at some of the positions they may need to address.
7. Kick Returner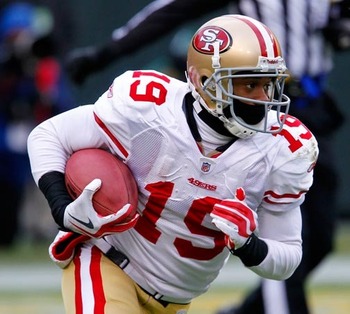 Ted Ginn Jr. is a free agent.
The Ravens have had a few returners in the past few seasons who have shown promise, but have lacked continuity at the position for some time.
Lardarius Webb showed promise as a rookie, but his transformation into one of the league's premiere corners will hopefully discourage John Harbaugh from allowing him to return punts and kicks and risk injury.
The David Reed experiment failed, and hopefully, the Ravens will look to free agency or the draft to address the position.
Ted Ginn Jr. is a free agent, but he doesn't have much value anywhere else on the field and may demand a bigger contract than what he is worth.
Wide receiver Chris Owusu from Stanford could be a solid mid-to-late round option for the Ravens in this year's draft.
6. Defensive End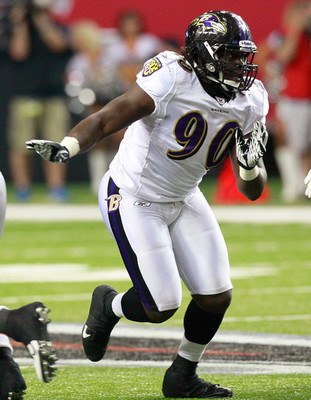 McPhee should see a starting role next season.
Defensive end Cory Redding is an unrestricted free agent, and even though he has played well and become somewhat of a leader on defense, the 31-year-old may not be able to get the contract he wants from the Ravens.
Enter Pernell McPhee. A fifth-round pick by the Ravens in 2011, McPhee notched six sacks and a forced fumble in his rookie debut. The Mississippi State product should have no problem filling the void Redding would leave, however, depth would then need to be added.
Redding will likely end up with the Colts, Jets or Packers who all need 3-4 defensive ends.
5. Inside Linebacker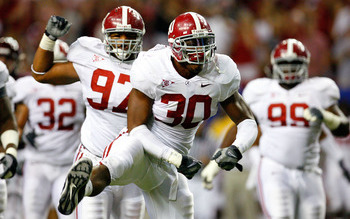 Alabama ILB Dont'a Hightower
Ray Lewis has made it very clear that he will be back next season, but Jameel McClain (UFA), Dannell Ellerbe (RFA) and Brendon Ayanbadejo (UFA) will all become free agents on Tuesday.
The Ravens have easily dealt with replacing the position next to Ray Lewis in the past as other teams usually chomp at the bit for linebackers who have looked good next to Ray Lewis (see Bart Scott). However, with Lewis on his last legs and such uncertain depth, it may finally be time to use a high draft pick on an inside linebacker.
Alabama linebacker Dont'a Hightower could be an option should he fall to the Ravens in Round 1, and ASU's Vontaze Burflict or NC State's Audie Cole could be potential day-two options.
4. Defensive End/Outside Linebacker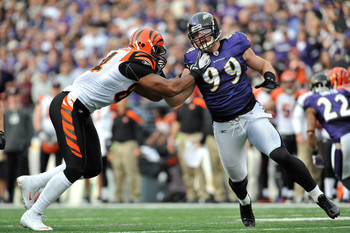 Can Kruger play all three downs?
Jarrett Johnson has been the Ravens' iron man for going on 10 seasons, and what he's lacked in recognition, he's made up for in production.
Former Ravens' defensive coordinators turned head coaches Rex Ryan and Chuck Pagano know this and may try and steal "double J" away. Ryan and the Jets lack a first and second-down outside linebacker, and Pagano is installing a Ravens-like 3-4 defense in Indy.
Johnson has stated that he'd like to return to Baltimore, but it's unlikely that even a hometown discount could get this deal done. JJ is in the final stages of his career, and he's going to need to take the biggest, most secure contract that he's offered.
Factor in Sergio Kindle's injury history and questions about Paul Kruger against the run, and the Ravens could be in line to add a new hybrid outside linebacker to the squad.
3. Center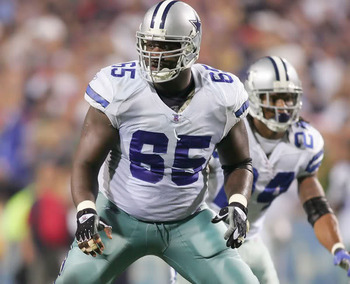 Andre Gurode is a former Pro Bowler.
Matt Birk has stated that he would like to return next season, but whether or not he and his agent can reach a reasonable agreement with the Ravens remains to be seen.
Andre Gurode is also a free agent, but he may be both easier and cheaper to re-sign.
Gurode saw some time at left guard this season while Ben Grubbs was out, but he was once a Pro Bowl center for the Cowboys.
In the draft, Peter Konz (Wisconsin) is a very real first-round option while Ben Jones (Georgia) and Philip Blake (Baylor) could be options in Rounds 2 and 3.
2. Wide Receiver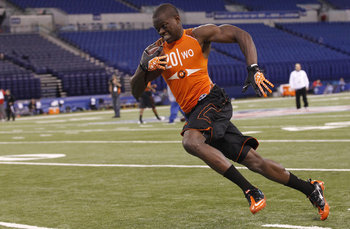 Stephen Hill rocked the combine.
Torrey Smith emerged as a legitimate deep threat in his rookie season, and Anquan Boldin is certainly still capable of production. However, adding another outside receiver opposite Smith would allow Boldin to move back to his more natural position in the slot.
Lee Evans is certainly a possibility if the Ravens can sign him to a more reasonable contract, and Tandon Doss and LaQuan Williams could come along as well.
But if the Ravens are sitting at 29 and guys like Hightower and Konz are off the board, they could think about a receiver like Stephen Hill (Georgia Tech) or Kendall Wright (Baylor).
Hill recently blew up at the NFL combine and may not even be available when the Ravens pick anymore. Wright ran a poor 40 at the combine and should be there however.
Trading back for a guy like Rueben Randle (LSU) or Mohamed Sanu (Rutgers) could also be a strong option.
1. Left Guard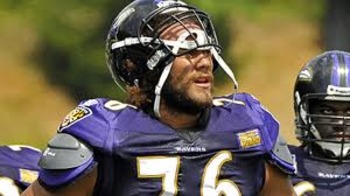 Can Jah Reid play guard?
With contract negotiations with Joe Flacco and Ray Rice a priority, it's relatively safe to say that Ben Grubbs won't be a Raven next season.
John Harbaugh has stated that he believes second-year tackle Jah Reid could be his replacement at left guard, but bringing in a rookie could certainly be an option as well.
Keep Reading

Baltimore Ravens: Like this team?