Association Aggregation: Magic Snap Bulls' Streak at Eight, Suns Take Down Mavs
March 9, 2012

Christian Petersen/Getty Images
NBA Thursday used to be my favorite day of the week. Now, they usually leave me feeling a little empty. With the craziness of the condensed schedule this season, I've gotten spoiled. I like having six, eight or 12 games to flip between while I'm watching. When I have Suns/Mavs as the nightcap, it's just not the same as having three late games, all of contrasting styles, happening at the same time. 
Okay, enough whining from me. NBA, I'm still super thankful you sorted your issues out and were able to give us a season this year.
Two games last night, and both were enjoyable. Yes, despite my whining, a solid night in the league. 
In Chicago, the Magic snapped the Bulls' winning streak at eight, grabbing the 99-94 victory behind 29 points and 18 rebounds from Dwight Howard. 
While the Magic led by as many as 17 early, they found themselves down two with three minutes to play. A Jameer Nelson/Dwight Howard alley oop and free throws and a three from Ryan Anderson got them back on top.
I can't say enough about how well Anderson has played for the Magic this season. Averaging 16.1 points per game, he's still shooting 42 percent from beyond the arc and takes full advantage of playing with Howard. If Howard does end up leaving Orlando, it'll be interesting to look at the effect it will have on Anderson's game and effectiveness.
Derrick Rose finished this game with 17 points and nine assists, but shot just 6-for-22 from the floor. One night after that buzzer beater in Milwaukee, he looked a little tired. 
Rose admitted as much after the game:
"We came out kind of sluggish, got ourselves into a hole and couldn't dig ourselves out."
Tom Thibodeau took the blame for the loss, saying it's on him when his team isn't ready to perform:
"We have to be ready to play. That comes back on me. We got in a hole that we should've have been in. They crushed us with the second shot. You get what you deserve in this league."
Trade-deadline comment of the night: During the game, Craig Sager reported that Orlando GM Otis Smith said he has heard from all 29 teams about Howard. 
Think about that for a minute. How hilarious must the calls be from teams like the Bobcats or Raptors? what exactly are those teams offering for Howard? Point taken, though. Everyone wants Howard. The countdown to the deadline leaves them with six days to try and get him.
In the night cap, we had the Mavericks in Phoenix to take on the Suns. It's always fun to see Steve Nash and Dirk Nowitzki on the floor together. Last night, the Suns kept things interesting, rallying back from a double-digit deficit in the third quarter to get a 96-94 victory.
After losing their last eight meetings with the Mavs, they finally got a win. 
Jared Dudley was huge for the Suns, scoring 12 points in the third quarter as the Suns worked themselves back into the game.
Jason Terry was the opposite for the Mavs, finding himself on the bench down the stretch as Roddy Beaubois missed a jumper as the buzzer expired. 
The Suns used an 18-4 run to close the third quarter and take a lead into the fourth. 
Something that doesn't happen often: Dirk Nowitzki and Vince Carter scoring the same amount of points in a game. It happened in the loss with each scoring 18.
The 18-point performance helped Carter move to 32nd on the NBA's All-Time leading scorer's list.
Lamar Odom watch: Odom had 15 points on 6-for-10 shooting in 22 minutes off of the bench.
Another double-double night for Nash, who finished with 11 points and 11 assists. 
The Suns are now 6-1 at home since they dressed up a skeleton in their locker room with Hakim Warrick's jersey and shoes. Jared Dudley tweeted a photo of the skeleton after the game last night: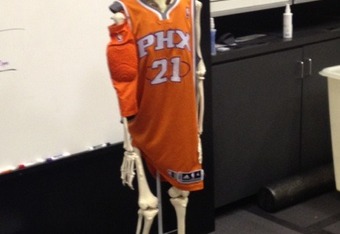 Hey, whatever works.