Washington Redskins Should Avoid Peyton Manning at All Costs
March 9, 2012

Joey Foley/Getty Images
As was anticipated, Peyton Manning—the man who put Indianapolis Colts football on the map, the man who built Lucas Oil Stadium—is without a home. While the bulk of the NFL will be checking their cap space to see if they have want, room or need for the 14-year veteran, the Washington Redskins will likely not be participating in the Peyton Manning sweepstakes.
The announcement was made via press conference on March 6th as a teary-eyed Manning took to the podium and displayed in roughly two minutes the same class, poise and integrity that was evident from his days as a rookie back in 1998.  
It was hard for any of us, Colts fan or not, to watch Manning concede to the numbering of his days in Indy.  
There will be no idle time for the now unemployed Manning, though, as reports indicate that he is adamant in reaching a decision on where to play within the coming week.
The interest level is high. The list of suitors long. While the Redskins are in dire need of addressing their concerns at the quarterback position, it is (I'm sad to say) prudent to let Manning sign with a different team.  
It's seems confounding at first glance. That the Redskins would pass on the opportunity to sign one of the best ever at the quarterback position when they have such need borders on the absurd. I certainly can't deny the impact that Manning would have on the Redskins', or any team's roster for that matter.
But the line must be drawn and, at least for me, you draw it at the point where a short-term solution ends and a long-term one begins. Manning is the former, and a young, soon-to-be star like Robert Griffin III, for instance, is the latter.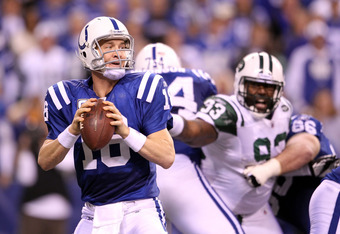 Andy Lyons/Getty Images
Manning is weeks away from his 36th birthday and has, in the last year alone, undergone four different neck surgeries. 
While the age issue has been thrown around frequently, it's Manning's durability that seems to generate the most concern. Either reason, though, should be enough for the Redskins bypass Manning in favor of a more future-oriented approach.  
This is year three for head coach Mike Shanahan, and it just so happens to fall on 2012. Coincidence? Maybe, or perhaps the Mayans were thinking of the Redskins when they were looking up at the stars a few millennia ago.
Shanahan needs a massive turn around in 2012, or, at the very least, a vibrant indication of real, tangible progress. Ideally, it would be the type of progress indicative of a strong showing in the draft.  
Yes, I'm talking about drafting RGIII. 
But I'm also talking about the bigger picture and what drafting a player like RGIII says about the Redskins as a franchise moving forward. 
With Manning, the Redskins could conceivably produce two good seasons. If he is healthy and his nerves can hold up and not affect mobility in his arm, the Redskins might even make a run in the postseason. 
But two short years from now, when Manning is well into his 38th year and a release or a trade seems imminent, aren't the Redskins right back where they were? Could we, as a fan base, stomach a return back to that fetid cycle of shuffling through quarterbacks?
I'd rather not find out, honestly. 
Leaders lead. They make no excuses and instead take bold, sometimes drastic action to inspire change and (gasp) noted improvement. Shanahan and Bruce Allen are currently in a position to do just that. They have the ability to make the decision and, Lord knows, Dan Snyder has a big enough checkbook to finance the venture. 
Is there a chance that Griffin doesn't pan out and the bold move to land him marks yet another failed investment for the Redskins' front office? Of course.
But the upside to drafting and investing in someone young like Griffin far exceeds the promise that a veteran like Manning will provide the type of solution that the Redskins' need.  
The Redskins have been without a premier signal caller since (dare I say it?) Brad Johnson in the 1999-2000 season. That's an extended period of drought at the quarterback position that the Redskins need to answer for.  
It took Manning 14 long years to cement his legacy in Indianapolis. It took 14 long, hard fought years to become such a galvanizing force that people began to identify Indy as a football town first and foremost. I won't go in depth on this, someone else already has that part of the Manning saga covered.
We can't rightly expect Manning to resurrect a city as deeply entrenched in gridiron woe as Washington is. What Manning accomplished in Indianapolis is nothing short of modern-era alchemy. The Colts were a leaden, bloodless franchise before Manning arrived fresh out of Tennessee, determined to birth a football renaissance.  
To ask him to do the same for the Redskins would simply be asking too much. 
Yet, Snyder can follow Bob Irsay's lead from 14 years gone and bring in a young, revolutionizing force to do what Manning did. It's certainly a lead worth following, anyway.
Whatever Manning was or still may be, is just not what the Redskins need. The most profound statement that Washington can make is by drafting someone talented enough to carry the burgundy and gold into the future. Not two years down the road, though, more like 14. 
Football fans (this one included) will be waiting impatiently to see what transpires with Manning. Wherever he ends up, I hope it's a comfortable existence so that he might enjoy his few remaining years in the NFL without the crushing weight of an entire city bearing down on top of him. 
It's a weight that only a pair of young, tireless legs can effectively carry. Any other time and Manning would receive a hero's welcome in the capital city. The Redskins' particular needs, however, demand something, or rather, someone else to lift this franchise back up.
Washington's future lies in building a foundation of its own. This fan base, this city, has gone too long without homegrown success.  
To be able to point to the TV screen, six years down the road and be able to say that that is our quarterback isn't some sovereign desire that D.C. and D.C. alone harbors—it's something every fan, in every football town wants the ability to say.  
Manning, regardless of where he finishes his career, will always be Indy's quarterback. Nothing can or should ever change that. It's the greatest of distinctions—to know a city was raised upon the shoulders of a single person over the years and that the gratitude for weathering that ordeal will never diminish.   
It's D.C.'s time. It's time build, it's time to grow and at the root of that foundation needs to be a superstar that Redskins Nation can claim as its own. Manning's time of building football empires has come and gone. His greatest gifts, they're forever left on the field of Lucas Oil.  
If anything, the Redskins should mirror the Colts and flip the coin in the draft. Irsay took a calculated risk on a baby faced gun-slinger fresh out of Knoxville. The rest, as they say, is history.  
That can be the Redskins' future, 14 years down the line, should they wish it. It'll mean letting Manning pass by in free agency; it'll mean flipping the coin and it will mean having faith that an ultra-talented passer out of Waco, Texas can transform the city of Washington, D.C.