WGC Cadillac Championship 2012: Stars Who Will Bounce Back in Round 2
March 9, 2012

David Cannon/Getty Images
The first round of the World Golf Championships-Cadillac Championship was not kind to the stars like Tiger Woods, Rory McIlroy or Phil Mickelson. However, they are only six to eight strokes back with 56 holes left to play so there is still time for them to get back into contention. 
After one round of golf at the TPC Blue Monster at Doral, the leader in the clubhouse is the 54th-ranked golfer in the world, Jason Dufner. 
Dufner is tied for first with the 112th-ranked golfer in the world, Adam Scott. 
But Woods, McIlroy and Mickelson are lurking, and they will have a better second, third and fourth rounds. 
Tiger Woods (E)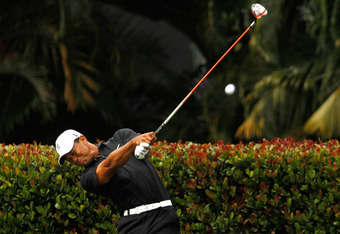 Mike Ehrmann/Getty Images
Woods is six shots off of the lead entering the second round. He started his first round off in a huge way, making eagle on the first hole which was a long par-five. However, from there he bogeyed the fourth, fifth and ninth holes, while birdieing the eighth hole. 
Woods then had a more consistent back nine as he had one birdie and one bogey to finish his round of golf at even par. 
Woods has shown this year that he will shoot one round in the 70s only to shoot the next three in the 60s. With one round in the books, he should bounce back with a great performance today. 
Phil Mickelson (E)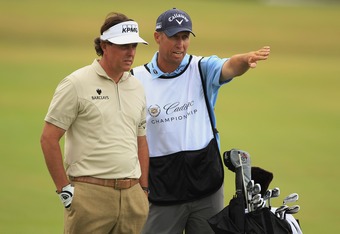 Scott Halleran/Getty Images
Mickelson did not have a good start to the Cadillac Championship bogeying two of his first five holes. However, he made up for it by birdieing the 17th and first hole. 
However, Mickelson's round fell apart when he double-bogeyed the par-three No. 4 hole. But Mickelson finished his round birdieing two of his last five holes. 
Mickelson can get off to a hot start in the second round, since he shot a one-under(-par) through the first nine holes of the course. He will have to limit his bogeys on the back nine that plagued him on the 12th and 14th holes. 
Rory McIlroy (+1)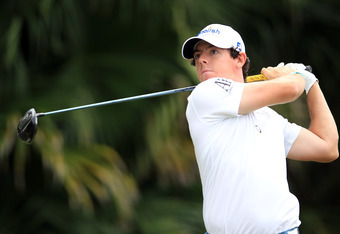 David Cannon/Getty Images
McIlroy, just like Mickelson, started his first round off on the back nine. His round started off poorly with a bogey on the 11th hole but birdied the par-five 12th hole. 
McIlroy went bogey, birdie on No. 18 and No. 1 before making two-straight bogeys on the back nine on holes No. 3 and 4. McIlroy finished his round off with a nice birdie on the par-five hole No. 8. 
McIlroy needs to find a way to correct his struggles on par-fours. He bogeyed three of the 10 par-fours on the course. If he wants to get back into contention in this tournament, he will have to limit those, while continuing to birdie the par-fives. 
These three golfers can get back into contention today. There is still a ton of golf left, and with the two men in the lead shooting an uncharacteristic six-under(-par) in the first round, anything can happen.