Georges St. Pierre and Anderson Silva Should be in the UFC Hall of Fame Now
March 9, 2012

Georges St. Pierre and Anderson Silva should be more than just locks for induction into the UFC Hall of Fame—they should've acquired that prestigious status of resident Hall of Famers sometime ago—like now!
At present, there are six ex and/or retired fighters as well as one currently active fighter (Matt Hughes) that have been inducted into the UFC Hall of Fame—the others being Royce Gracie, Ken Shamrock, Dan Severn, Randy Couture, Mark Coleman and Chuck Liddell.
The aforementioned Magnificent Seven have paid their dues to both the UFC and MMA, and have been fittingly bestowed with the honor of Hall of Famer for their accomplishments over the years.
However, "Rush" St. Pierre and "The Spider" Silva are on an equal par with that seven, apropos achievements and everything else that is synonymous with living legends of mixed martial arts.
And as a consequence, have more than earned the right to sit alongside that group in the pantheon of MMA eminence—the UFC Hall of Fame.
Case for immediate induction:
Anderson Silva
On June 26, 2006, the phenom from Brazil set foot into the Octagon for his debut matchup with Chris "The Crippler" Leben, and lo and behold, proceedings were brought to cataclysmic end in 49 seconds of the opening stanza.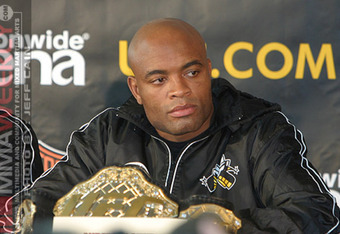 That night a star was born—the MMA world stood up and took note.
That was just a taste of what the matrix-esque Spider had brought to the UFC, because less than four months later, he would surpass all expectations and supplant Rich Franklin in brutal fashion, to become middleweight champion of that assemblage.
Era's are bandied about like confetti these days (think Lyoto Machida era), but in Silva's case, it was truly the beginning of something exquisitely unique.
At present, no combatant has been able to escape the spinning web of the Spider—Travis Lutter, Nate Marquardt, Franklin (for a second time) and three-division titlist and former NCAA Division-l standout Dan "H-Bomb" Henderson all failed in their quest to oust him.
In his two stints at light heavyweight, Silva thoroughly decimated James Irvin and Forrest Griffin in the opening stanzas.
Chael P. Sonnen thought he had the making of Silva—like countless others, he was wrong—he fell as did Vitor Belfort when he succumbed to an insane front kick and so did Yushin Okami when the Brazilian righted a wrong and sent the Japanese fighter packing.
And even when he wasn't performing at his mercurial best (Thales Leites and Demian Maia), he still managed to come away triumphant.
His striking is par excellence and his ground game is underrated.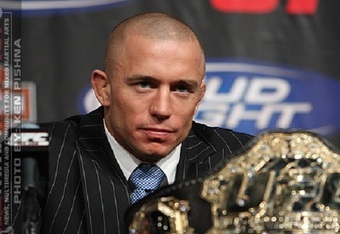 That said, for almost six years, Silva has held sway over the UFC's 185-pound division, and during all that time, the manner in which he has dispatched and continues to rout his foes, is a melting pot of effortless ease, deadly accuracy and mind-boggling precision.
The 36-year-old's tenure in the Zuffa-based promotion has seen Silva (31-4 MMA) register nine stoppages, three submissions and two decisions.
Current MMA World Ranking: No. 1
UFC Awards
Fight of the Night (Three times).
Knockout of the Night (Three times).
Submission of the Night (Two times).
A record nine consecutive and successful defenses of middleweight title.
A record 14 consecutive victories.
Longest reigning champion in the history of the UFC.
Unified the UFC middleweight and Pride welterweight titles.
Georges St. Pierre
The Canadian native is widely regarded as the most consummate all-around athlete in the MMA stratosphere and a near enough prototype for next generation of combatants, and for good reason.
St. Pierre possesses the sort of core strength that most fighters in any division cannot even fathom to attain. In addition, he has the ability to change up styles to realize his goals—winning.
And finally, he's highly adept in a myriad of disciplines—boxing and wrestling, as well as BJJ and kyokushin karate.
The 30-year-old St. Pierre has been a UFC resident since January of 2004. Albeit he was successful in his first two outings, he eventually came unstuck when he contested the welterweight title against Huges in the same year.
However, he would go undefeated for almost two years, defeating the likes of Jason Miller, Frank Trigg, Sean Sherk, two-division champion B.J.Penn and for the coup de grâce, St. Pierre deposed Hughes as the division's 170-pound king.
In his first defense of the title he was shockingly dethroned by Matt Serra—still, just under a year he captured not only the interim (Hughes), but also recaptured the title by ruthlessly stopping the man who had initially unseated him from power—Serra.
From that point onwards, St. Pierre (22-2 MMA, 16-2 UFC) has been unstoppable—racking up nine wins in succession.
That list included some of the best that the division had and still has to offer—Josh Koscheck (twice), Jon Fitch, Thiago Alves and Jake Shields. He also trounced Hughes, Serra and Penn for a second time.
Current MMA World Ranking: No. 2
UFC Awards
Fight of the Night (Twice).
Submission of the Night (Twice).
A record six consecutive and successful welterweight title defenses.
Has 16 wins, the second most in the history of the UFC.
For Anderson Silva and Georges St. Pierre, the missing puzzle to their continuing storied careers is a seat in the UFC Hall of Fame, and that has to happen now!
For additional information, follow Nedu Obi on Twitter.