2012 NBA Draft: Cleveland Cavaliers' Early Mock Draft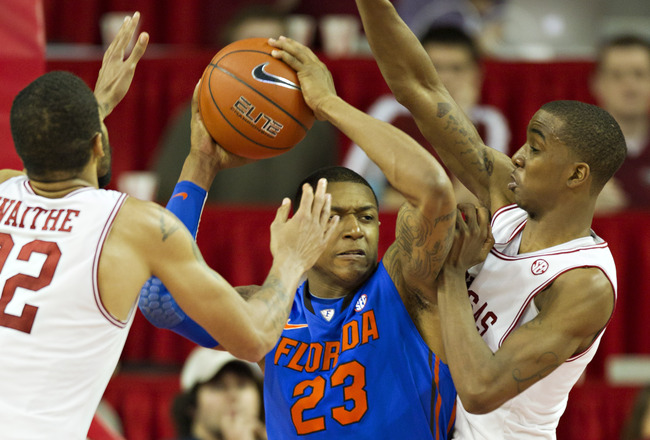 Wesley Hitt/Getty Images
At one point in the season, the Cleveland Cavaliers were contending for a playoff spot with a 13-17 record.
After losing six consecutive games, however, the Cavaliers are beginning to contend for a high percentage shot at the first overall draft choice.
While the playoff aspirations are not lost, it may be time to look at potential draft prospects. In order to do so, the Cavaliers should make a short list of who they might take at each potential pick they possess.
A mock draft, if you will.
Fortunately for the Cavaliers and their fans alike, I took the initiative to put one together.
First Round, Pick 8: Bradley Beal, Shooting Guard, Florida Gators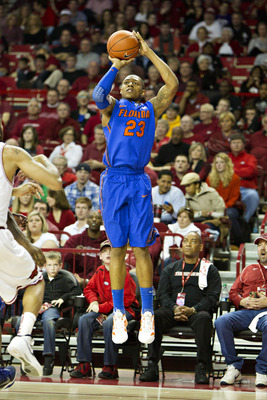 Wesley Hitt/Getty Images
Season Averages: 14.4 ppg, 6.5 rpg, 2.0 apg, 1.4 spg
I challenge you to find a more promising back court than Kyrie Irving and Bradley Beal.
With the Cavaliers' most desperate need at the 2, where they currently play a 36 year-old Anthony Parker and an undersized combo guard in Daniel Gibson, this pick is a no-brainer.
Beal is an elite shooter with limitless range, a quick release and excellent height on his shot. He also has a quick step that enables him to drive the lane.
Running alongside Kyrie Irving, he'll also get a chance to display his skills in transition. So, again...
Find a more promising back court than Kyrie Irving and Bradley Beal.
Second Round, Pick 32 (via Hornets): Festus Ezeli, Center, Vanderbilt Commodores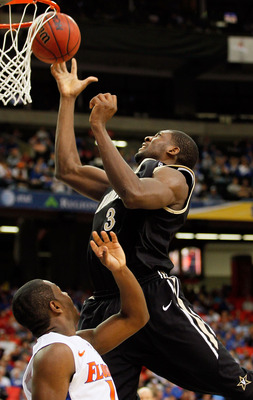 Kevin C. Cox/Getty Images
Season Averages: 22.9 mpg, 10.1 ppg, 5.5 rpg, 2.1 bpg
While it may pain Cavs fans to hear this, it's time to look for Anderson Varejao's replacement.
The 29 year-old Brazilian has played a combined 56 games over the past two seasons, leaving the Cavaliers with more to imagine than to actually watch.
While his production is high when he's healthy, there's no logical way to defend dependency on a player who is that injury-prone.
While Festus Ezeli out of Vanderbilt may not have the name value of an Andre Drummond, he's a dominant force in the paint who could serve as a long-term replacement.
He's nearly impossible to move at 6'11" and 250 pounds, yet is light enough on his feet to run in transition. His offensive rebounding and shot blocking skills are just an added bonus.
Second Round, Pick 38: Deshaun Thomas, Small Forward, Ohio State Buckeyes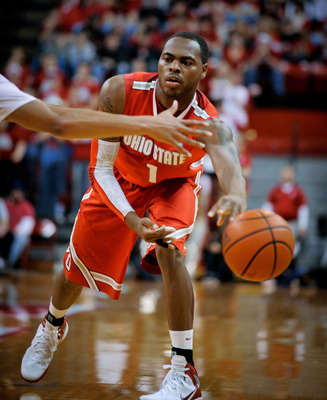 Eric Francis/Getty Images
Season Averages: 15.1 ppg, 4.9 rpg, 53% FG
Deshaun Thomas has been a dominant force for the Buckeyes, scoring from inside the paint and outside of the three-point line.
Plain and simple, his athletic ability and 225 pound frame are a deadly combination that very few teams have been able to contain.
When Thomas posts up, he puts his shoulder into his opponent's chest and uses his quickness and physicality to pick up the points. On the perimeter, he'll drive the lane if you play him close and knock down the triple if you give him space.
Pick your poison.
A potential starting lineup consisting of Kyrie Irving, Bradley Beal, Deshaun Thomas, Tristan Thompson and Festus Ezeli seems like a good way to overcome 'The Decision,' doesn't it?
Keep Reading

Cleveland Cavaliers: Like this team?