NFL Free Agency: Which Teams Are Preparing to Make Moves?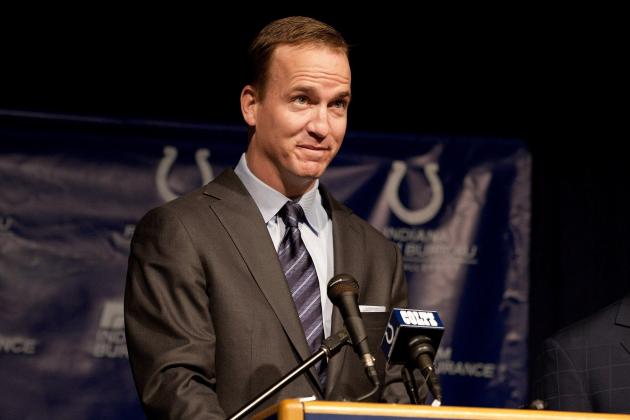 Joey Foley/Getty Images

There are few forums in the world of professional sports as prone to rampant speculation as the week leading up to NFL free agency. Given the lack of trade-centric player movement in football, free agency is the central medium other than the draft that teams use to upgrade.
2012 boasts a particularly loaded free-agent class, featuring everything from high-flying pass catchers to potential franchise quarterbacks and dominant defensive backs, and you can bet the bigger names will be getting snapped up before you can blink at 4:00pm EST on Tuesday.
Of course, then there is Peyton Manning, whose release by the Indianapolis Colts alters the playing field significantly for the next week or so as quarterback-needy teams scramble to try to sign him.
Free agency is not a time for every team to be active. Clubs like the New York Giants and Green Bay Packers are unlikely to make any significant moves, while teams like the Tampa Bay Buccaneers are flush with cap space and in serious need of upgrades.
Who is preparing to make the most significant moves come Tuesday?
Begin Slideshow

»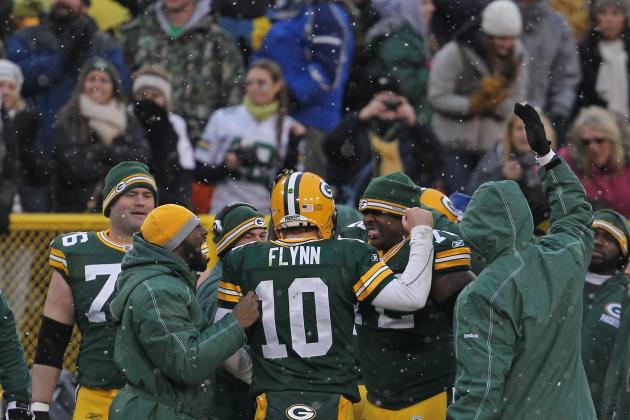 Jonathan Daniel/Getty Images

No matter what you think the end result will be, the Miami Dolphins are likely intending to find their franchise quarterback via free agency, as they lack the necessary chips to make a competitive offer to the St. Louis Rams and get a shot at RG3.
This club is almost certainly planning on a strong run at Peyton Manning, despite the fact that Manning has better options (team wise) awaiting him with open arms.
This does not take them out of the quarterback market by any means. New head coach Joe Philbin turns out to be somewhat acquainted with free-agent-to-be Matt Flynn of the Green Bay Packers. Flynn proved more in just one start than Kevin Kolb ever could by throwing for 480 yards and six touchdowns in that performance.
If the Dolphins choose not to go after Flynn, it will speak volumes about Philbin's confidence in his former backup.
If they do, they should land him with relative ease.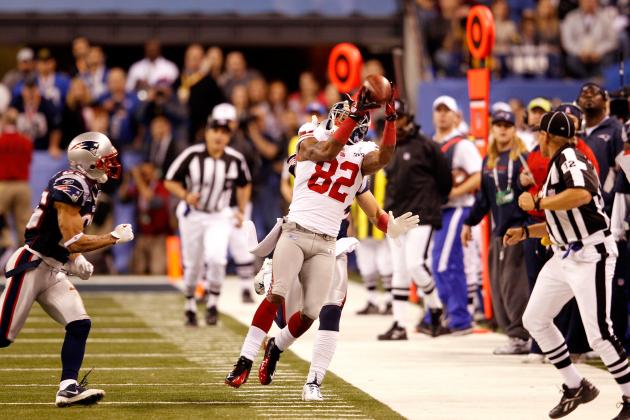 Rob Carr/Getty Images

The Tampa Bay Buccaneers are among the league's richest teams with regards to cap space for next season.
Despite a veritable plethora of talent, the Buccaneers are sorely in need of a boost at many positions across the board.
The Bucs severely need a wide receiver to line up opposite Mike Williams and have been often said to have Mario Manningham of the world champion New York Giants firmly in their crosshairs.
Tampa Bay also faces a potential situation at cornerback, given the age of Pro Bowler Ronde Barber and the legal woes of Aqib Talib.
Though the Bucs hold the 2012 draft's No. 5 spot with a chance to draft LSU defensive back Morris Claiborne, the free-agent class contains talent like Carlos Rodgers, Lardarius Webb and Brandon Carr. Should they do so, that No. 5 pick would become theirs to either trade or possibly even draft Trent Richardson and become a complete force in the NFC South.
When you've got over $50 million to spend in free agency, the possibilities are endless.
Look for a major Bucs splash with Mario Manningham and one of the big-name defensive backs headlining their free-agent acquisitions.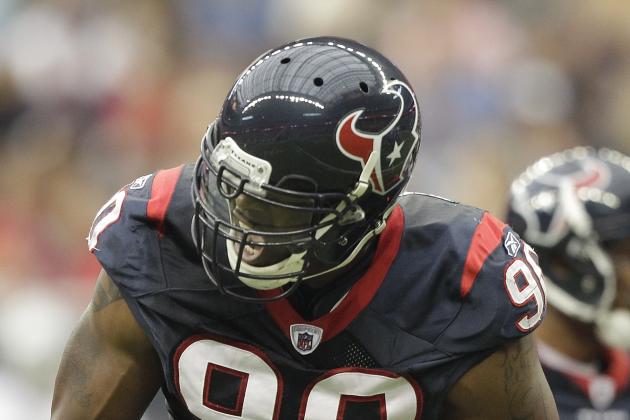 Bob Levey/Getty Images

Make no mistake, despite glaring chemistry problems and a massive salary cap deficit, the New York Jets are planning to make a run at Peyton Manning.
Let's ignore that Peyton wouldn't touch their locker room with a 10-foot pole. Let's also ignore that Rex Ryan + Peyton Manning = Football Soap Opera 2012.
The Jets are the worst fit for Manning, and their run at him will reflect as such.
Having said that, the Jets should and likely will turn to Texans' pass-rusher Mario Williams to fill the free-agency void. A dominant pass rusher in either the 4-3 or 3-4, Williams is also a terrific veteran presence both on and off the field.
His leadership is something the Jets will need far more than sacks, and you can't quite put a dollar figure on the impact he could have in their volatile locker room.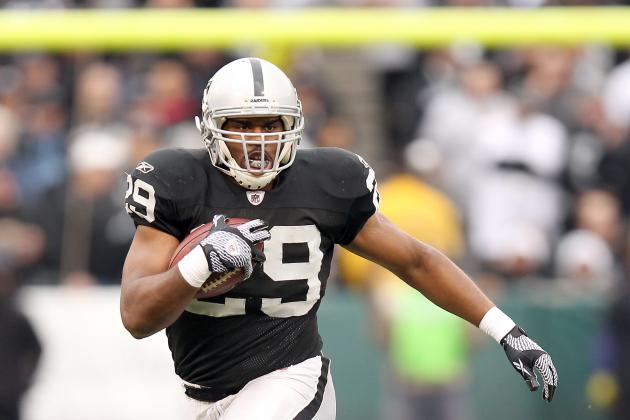 Ezra Shaw/Getty Images

The Cincinnati Bengals are a team that has been built via the draft, and the organization is fairly proud of that. However, when your pockets are overflowing with the most cap space in the entire NFL, there is no way of avoiding a little free-agent spending.
One area where the Bengals could use an instant upgrade is running back, where the relatively-ancient Cedric Benson has given an admirable effort for the last two seasons. Look for an overly-generous offer to Oakland Raiders' running back Michael Bush, whose power running style is sure to attract Cincinnati as a potential suitor.
Cincinnati is a potential landing zone for New Orleans Saints' guard Carl Nicks, who will command a ton of money in the open market. It's kind of difficult to outbid one of the league's youngest teams with the deepest pockets, after all, and they might just be able to make him an offer he won't refuse.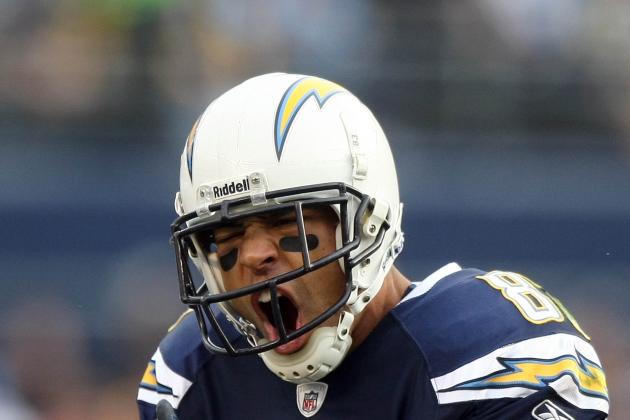 Donald Miralle/Getty Images

Daniel Snyder has never been shy about signing heaps on big-name free agents in the past and is likely to take advantage of his $40 million in cap space with this heavily-loaded free-agent group.
The Washington Redskins' top priority is likely to sign a No. 1 wide receiver, thereby sweetening their offers to Peyton Manning, Matt Flynn or Kyle Orton and improving their receiving corps along the way.
Like the Tampa Bay Buccaneers, the Redskins could use a major upgrade in their secondary and will almost certainly take advantage of the throng of talented defensive backs available on Tuesday.
Combine the deep pockets of Snyder with Vincent Jackson's love of money, and you have a serious match made in heaven come Tuesday.
I would be very surprised if the financially driven V-Jax turns down a Dan Snyder contract offer. Don't rule out a possible Reggie Wayne sighting either, as any team wanting to sign Manning could only benefit from the addition of his favorite target.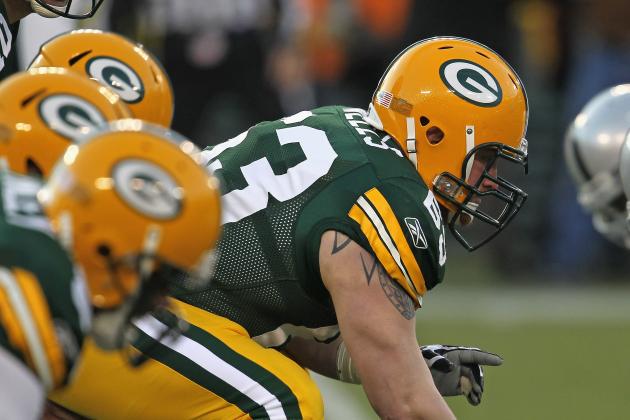 Jonathan Daniel/Getty Images

A somewhat surprising team for this list, the Chicago Bears are not widely expected to be major free-agent players, given that they broke the bank for Julius Peppers two years ago.
Still, this free-agent class caters strongly to the Bears' needs. We all know they need a wide receiver and will likely bid on Marques Colston, though my gut says they will address that need via the draft.
This free-agent class features a number of excellent interior offensive linemen, including Packers' center Scott Wells and Ravens' guard Ben Grubbs. The Bears basically lost their season to poor blocking in 2011, and a few major signings on the offensive line could keep them competitive in the NFC North.
Look for the Bears to dip into their $30 million in cap room to boost the protection for Jay Cutler and Matt Forte.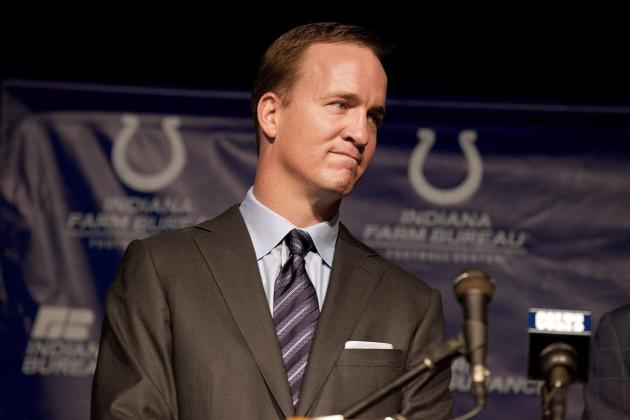 Joey Foley/Getty Images

Simply stated, the Chiefs want Peyton Manning. What's going in their favor? Only the best supporting cast of any potential Manning suitor. Manning would get his wish to stay in the AFC, and with him that roster becomes an instant contender.
Without too much explanation, they have the cap room to get a deal done, sign Reggie Wayne to keep Manning happy and still have room for anyone else they want to go after. So on top of having the best assembled group already, they have the power to add several key pieces after Manning if they so desire. Not to mention they would still have
Matt Cassel
as a starting-caliber backup in case Peyton's injury returns to haunt him.
A sweet deal for both sides and should be likely to happen.
Follow me on Twitter: