TNA Impact Wrestling: Mr. Anderson Returns, Bully Ray, New Champions and More
March 9, 2012

TNA Impact Wrestling opened with Garret Bischoff backstage. He wasn't afraid, and he knew that he had a target on his back. He's not going anywhere, though.
Did the show really just open with Garret? Come on TNA, you're better than this!
As the show officially began, Ric Flair, Eric Bischoff and Gunner made their way out. Bischoff asked Sting to make a tag match for later to put an end to the feud with his son.
Garret will have a hard time finding a partner because no one wanted to be around him. Gunner's partner was then revealed as Kurt Angle, and Angle revealed that he didn't like Garret because he doesn't respect his father.
He was going to make Garret tap and that ended the segment.
This was a very interesting way to open the show. It was odd seeing the Bischoff's open the program, especially since they're not really a main storyline.
I think this would have had more affect if Ric Flair did the talking, as you can't help but listen when the Nature Boy speaks.
I still don't care too much for the storyline, and am disappointed that TNA opened their show with this.
Backstage, Sting is putting on some makeup and is talking to the bathroom window about Bobby Roode. He may have snapped again but he felt good.
Eric Young then walked in and told Sting that he wanted to give ODB something special. Sting then gave ODB a shot at the Knockout's Tag Team Championship, and made Eric Young her tag-team partner.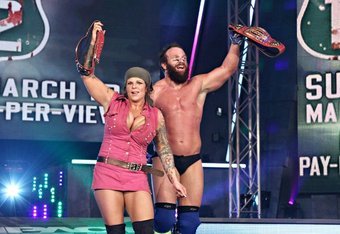 He put some makeup on Young, and then continued to talk to the mirror.
Sting was great in this segment! I love it when he's "insane" as he delivers top-notch promos.
I was hoping for a bit more insanity seeing as both Sting's and EY's characters are crazy, but it was still a good segment.
Gail Kim and Madison Rayne vs. ODB and Eric Young: Knockout's Tag Championship
ODB and Eric Young became the new champions after Madison Rayne hit EY with the title belt and he fell on Gail Kim.
This was an entertaining match that was actually quite good when it was basically a handicap match.
The three Knockouts performed great with one another, and gave the fans some nice action. Young's involvement was a bit weird, especially with Spike TV's policy of no man-on-woman violence.
Technically, he didn't really strike Madison or Gail, so I suppose TNA found a way around it.
This continues the tension between the now former champions, and it should help in creating a great match between them at Victory Road.
Post-match, EY got down on a knee, but a commercial break interrupted before the fans could find out what was going to happen.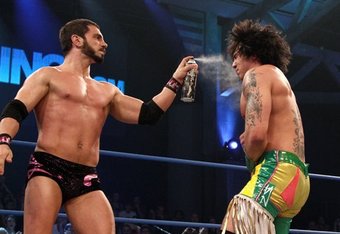 After the commercial break, Young asked ODB to marry him. Once she got the ring, ODB got down on one knee and asked EY to marry her.
He said yes, and it looks like TNA will be having their first-ever storyline marriage. I don't count the Jeff/Karen Jarrett ceremony, as they didn't get married on the show. They just renewed their vows.
I suspected that this storyline would be leading to something like this, but not so soon. I figured that they'd lead up to it a bit more before pulling the trigger.
Either way, whenever TNA has the ceremony it'll be quite the interesting one.
Earlier today, Joseph Parks showed up, and wanted to talk to TNA officials. From the last name, I imagine he's related to Abyss in some way.
Well, at least it looks like Abyss will be heading to back to television soon.
Backstage, Bully Ray said that James Storm won't be making it to Lockdown because of him. He wanted Sting to name him No. 1 contender later on in the show.
While I would love to see Bully Ray get a one-on-one title shot, I would much rather see him have a feud with James Storm over the title.
Elsewhere, Austin Aries was checking is phone. He didn't seem happy that Sting booked him to defend his title against Zema Ion later on. He will defeat Ion, which will void his title shot at Victory Road.
Aries will show Sting what showtime was all about!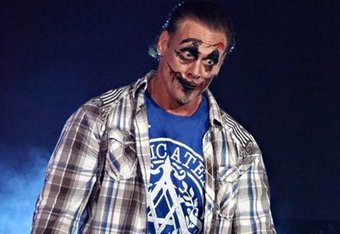 Despite being short, Aries delivered a great promo here. The man is truly main-event caliber, and deserves to be given a shot at the top.
Hopefully, that'll happen by the end of the year!
Austin Aries vs. Zema Ion: X-Division Championship
Zema Ion picked up the win by disqualification when Aries sprayed Ion's hairspray in his eyes.
I thought this was quite the match. It featured some great, back-and-forth action, and saw few high-flying moves.
Both X-Division stars performed great here, and it made for a very enjoyable match.
Ion is really impressing me lately and being able to keep up with someone like Aries only continued that!
Aries was great like he usually is, and continued to prove why he is one of the best in TNA.
I'm not usually a fan of matches ending in DQ, but I thought the ending of this match was a good idea.
If Aries won, then the match at Victory Road wouldn't make sense. If Ion won the title, the match would still be on, but it would be Ion defending against Aries.
The problem with that scenario is that Ion would most likely lose the title back to Aries, thus making his win mean nothing.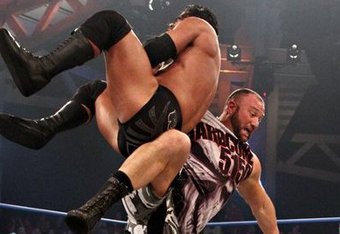 The DQ ending allows for the match to still happen without either wrestler looking weak.
Backstage, Joe Parks approached Velvet Sky. He introduced himself as Abyss' brother and wanted to know if she saw Abyss. She had not seen him and Parks walked out.
I really hope this "Where's Abyss" storyline is going somewhere!
Bully Ray then appeared in the ring. He showed off his calves, and then bragged about taking out James Storm last week. He thought that he deserved to be the No. 1 contender and called out Sting.
The Icon made his way out and said that he felt alive. No one does bully like Bully Ray, and Sting declared that he had the greatest calves in world.
If he wanted Bobby Roode, then he could have him!
Bully Ray was great on the mic here. Since going solo, he has really come into his own and is making the most of his push.
The former Dudley Boy has become the true definition of a heel since becoming the bully. A great heel should be able to get under the crowd's skin with their words as well as their action in the ring. Bully Ray is able to do both of those.
While he acted a bit like a face here, his heel persona was more evident.
Sting was also quite good and delivered his usual "insane" promo.
Sting makes a very good authority figure, but after Victory Road, he needs to stay out of the ring for the most part.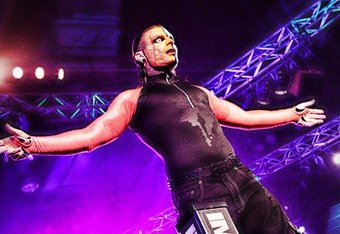 Backstage, Bobby Roode was angered about the title match, but it actually wasn't for the title. Roode called him crazy to which Sting responded with "thank you."
I always enjoy the interactions between these two.
Bobby Roode vs. Bully Ray
This match either ended in a no-contest or with a Bobby Roode victory due to disqualification when James Storm chased away Bully Ray and hit Roode the Last Call.
Despite the confusion with the ending, I thought this was a good match. It featured some nice back-and-forth action and was quite physical at times.
Man, those open hand slaps to the chest have got to hurt!
Both wrestlers performed quite well, but I thought the star of this match was Bully Ray. The bully has been having some really good matches over the past year, and he just performed quite well with the company's world champion.
Being a heel, the bully won't be getting a title shot as long as Roode is champion.
If Storm wins at Lockdown, I'd like to see him and Bully Ray face off for the title at Sacrifice in May or even at Slammiversary in June.
Roode has been a great champion since winning the belt in October, but it's time for someone else to carry the belt for a bit.
Backstage, Garret Bischoff said that stakes were high. He had a partner but wouldn't reveal who it was.
With Kurt Angle being Gunner's partner, it's quite obvious that Garret's partner will be Jeff Hardy.
Elsewhere, Joe Parks approached Matt Morgan and Crimson. He asked them the same question he asked Velvet but they didn't know anything.
He left and Crimson told Morgan that they had to put their problems behind them so that they could defeat the Robbie's and win the belts back.
If Abyss doesn't come back as a monstrous heel, then I will be severely disappointed.
As for Morgan and Crimson, it's about time that their feud got back on track. Morgan should be in the main event picture and shouldn't be wasting his time with Crimson.
Matt Morgan and Crimson vs. Robbie E and Robbie T. No. 1 Contender's Match
Morgan and Crimson picked up the win when Morgan hit the Carbon Footprint on Robbie E and Crimson tagged himself in to get the pin.
This was a decent match, but the two teams didn't really mesh well together at all.
Rob Terry was made to look strong as he dominated Crimson during the beginning moments of the match. Robbie E ended up looking weak when he was tagged in, and then Shore almost immediately lost the momentum and the match.
Robbie E really should be defending his TV title. In fact, the title should be taken off of him and given to someone who'll bring some credibility to it.
The tension between the former champions continued as Crimson screwed Morgan out of the pin fall. They will no doubt be losing at Victory Road due to miscommunication.
Then, I could see them being on opposite sides in Lethal Lockdown, and then go one-on-one at Slammiversary.
Earlier, A.J. Styles declared that he figured out how to handle Christopher Daniels and Kazarian. I figured out how to handle it as well, just end the feud!
Styles and Daniels need to get away from each other. Both are way too talented to be stuck constantly facing each other.
Backstage, Gunner was bragging about having Kurt Angle as his partner. If Angle was my tag-team partner, I'd be bragging, too!
A.J. Styles then made his way out. He mentioned TNA's 10th anniversary and said that he was proud to be a part it.
He had a lot of great moments, but was interrupted by Daniels and Kazarian. Styles used Daniels' friendship to get famous while all it got him was eventually fired.
Daniels will now always put himself first and he got Kaz to do same. Styles then declared that he'll no longer associate with friends and that he was now going to associate with an a**hole.
Mr. Anderson then made his return to TNA and helped Styles clean house.
So Daniels isn't actually holding anything over Kaz?
He just convinced him to put himself first? Well, that was a bit anti-climactic.
That doesn't matter, though, as the a**hole of TNA has returned!
He's been quite a while since fans have seen Mr. Anderson and it's great to see him back!
Hopefully with the inclusion of Anderson into this feud, it'll actually end the thing. When this does end, I'd love to see Anderson take the TV Championship off of Robbie E.
If there's anyone that can bring some legitimacy to that belt, it's Mr. Anderson!
Kurt Angle and Gunner vs. Jeff Hardy and Garret Bischoff
Hardy and Garret picked up the victory when Garret hit a double clothesline on the heels and Hardy delivered the Swanton Bomb onto Angle.
I thought this was a good match, but the structure was different compared to past tag-team main events in TNA.
The entire match was dominated by Angle and Gunner as they beat down Hardy. It wasn't until Hardy tagged in Garret that the faces gained control.
I didn't like that Garret was in the main event, but he didn't do much in the ring so I ended up being fine with it.
Angle and Gunner were great in the ring and Hardy did a great job selling for them. It's because of that I enjoyed the match.
Overall, I thought this was another solid episode of Impact Wrestling! While the show did start out extremely slow with the Bischoff feud, it picked up as the night went on.
There were a few low points in the middle, but the good thankfully cancelled out the bad.
For me, the highlights of the night were the X-Division Championship match, the return of Mr. Anderson and Bully Ray!
TNA Wrestling continues their string of solid shows here, and I'm quite excited for what the remainder of 2012 holds for them.
I can't wait until next week!