10 Dark-Horse Candidates for AL Cy Young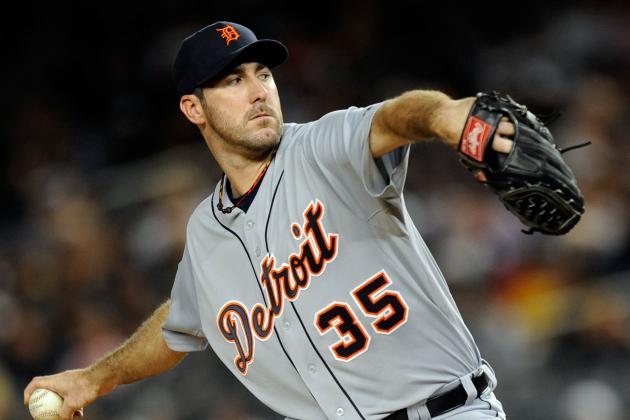 Patrick McDermott/Getty Images
Justin Verlander will enter 2012 as a favorite to repeat as Cy Young Award winner.
If you want to make some safe guesses as to who will win the American League Cy Young Award this coming season, it's pretty easy.
Start with returning award winner Justin Verlander. Throw in a former winner such as Felix Hernandez and add in another big lefty who pitches on a big stage in C.C. Sabathia. Don't forget to include Jared Weaver, James Shields and David Price.
Things don't always work out as planned.
The Phillies had Roy Halladay and Cliff Lee and won over 100 games last season. That yielded zero Cy Young awards and zero World Series rings.
The Red Sox were everyone's preseason pick in the American League, but alas they didn't even make the playoffs.
Raise your hand if you predicted Curtis Granderson would lead the Yankees in home runs last season. If you raised your hand, you're lying.
The point is that things don't always turn out as planned. If any one of those six pitchers wins the Cy Young, no one will be too shocked.
But lurking beneath those pitchers are another group of players. They're all good pitchers to be sure, but they're not the first names that come to mind when one is predicting the AL Cy Young award.
Some names to consider...
Begin Slideshow

»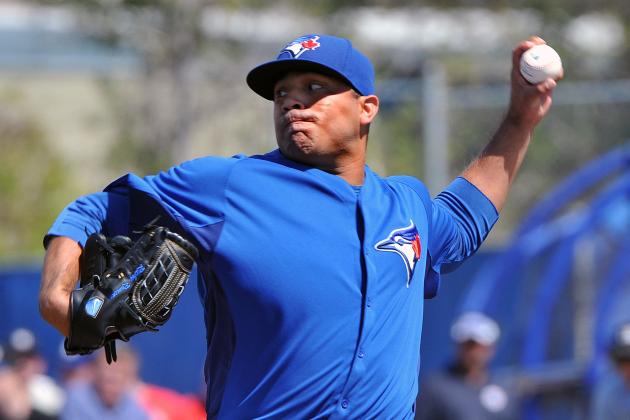 Al Messerschmidt/Getty Images
If Ricky Romero continues to improve, then a Cy Young is a real possibility.
Ricky Romero finished 10th in the AL Cy Young voting last year. Yet I'm betting that unless you're a Blue Jays fan or a fantasy baseball player, you didn't read the first slide and think, " Where is Ricky Romero??"
That could easily change this season. Ricky Romero is 27 years old and was the No. 6 pick overall in the 2005 MLB amateur draft. Guys like Justin Upton, Alex Gordon and Ryan Braun were chosen in front of him.
Last season Romero won 15 games and had an earned run average of 2.92.
Here's the real key to Romero, though. Last season was his third in the majors. Every season his wins, innings pitched and strikeouts have increased. His earned run average and WHIP ratio have decreased.
If you're the type of person that likes trends, then Romero's trends point toward a fantastic season in 2012.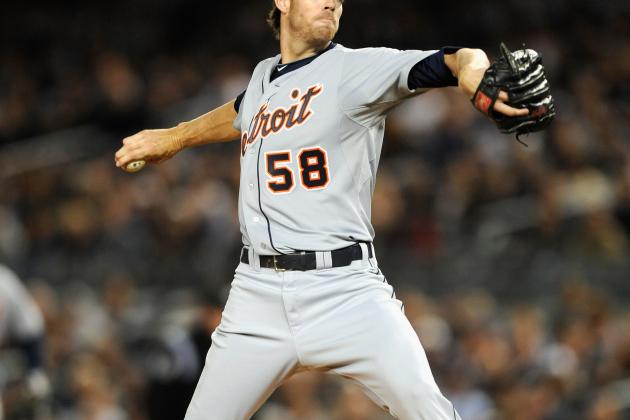 Patrick McDermott/Getty Images
Doug Fister was one of the best pitchers in the league as the season concluded in 2011.
When assessing statistics, sample size is important. That's why Doug Fister represents a "dark-horse" among dark-horses.
Even with the whole "small sample size" issue, Fister's numbers from August 1st of last season through the end of the regular season are worth mentioning.
Ten starts, a record of 8-1, an earned run average of 1.79, 57 strikeouts in 70 innings pitched and a WHIP ratio of just 0.839. For the record, should Fister replicate these numbers for the duration of the 2012 season, the American League Cy Young Award will be a no-brainer.
That probably won't happen, though.
Fister could be good, he could be very good. It's hard to imagine another pitcher on the Tigers winning a Cy Young award besides Justin Verlander, but if someone is going to pull that off, then it's probably going to be Doug Fister.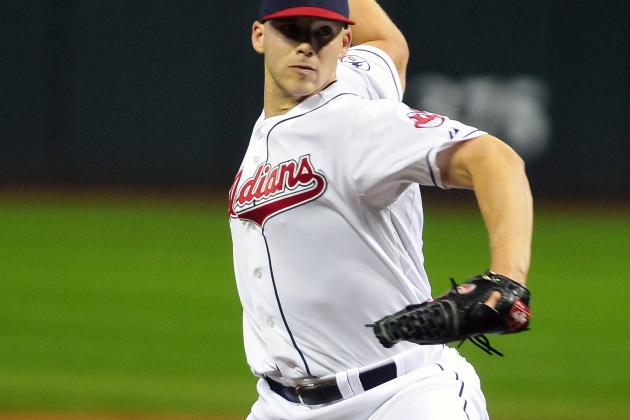 Jason Miller/Getty Images
Justin Masterson still has room for improvement.
He's only been a starting pitcher for a shade over two seasons, but Justin Masterson looks like a pitcher who not only is good, but can get better.
To win the American League Cy Young award he'll need to get better, but to this point that hasn't been as daunting a task as one might think.
He's still only 26 years old, so the potential for improvement is not just some sort of dream. Twenty-six is young enough to continue on an upward developmental trend. Masterson's two years of starting pitching have shown improved earned run average, less walks and less home runs.
Masterson won't appear on any preseason prediction lists, but those aren't lists of " dark horses." This one is, and he's on it.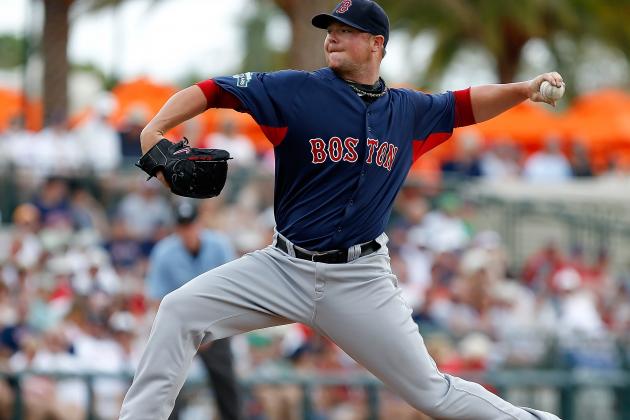 J. Meric/Getty Images
Is 2012 Lester's year?
After the way 2011 ended for the Red Sox, one could almost rationalize putting Boston's entire starting five on this list.
Jon Lester is the best option, though. Even though Lester had his fair share of rocky outings last season, it really wasn't restricted to just 2011.
Lester has made it a habit of running a bit hot and cold for most of his career. He can be completely dominant. He's thrown a no-hitter and had starts in almost every one of his seasons in the majors, in which he looks completely dominant.
Then he goes out the next time and needs to be lifted in the fourth inning.
That's been Jon Lester, and so far it hasn't really showed too many signs of changing. In his four full seasons as a starting pitcher for the Red Sox, his numbers have been fairly consistent. So why will this season be different?
Maybe adding Bobby Valentine to the mix will provide that last impetus to push Lester from "very good" starting pitcher to dominant starter. All Lester has known for his major league career was the restrictive pitch count limited system of using starters employed by Terry Francona and Theo Epstein.
They're both gone now and that could have a negative or positive impact on Jon Lester in 2012.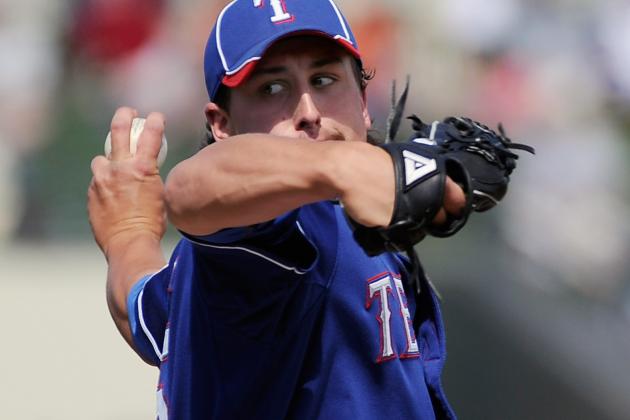 Kevork Djansezian/Getty Images
Derek Holland flashed Cy Young form in last year's world series.
In Game 3 of the 2011 World Series, Albert Pujols put on a show for the ages. Three home runs and six runs batted in led the Cardinals to a big win and a big 2-1 lead in the series.
Game 4 took on added importance to the Texas Rangers, and who did the Rangers turn to?
Twenty-five year old Derek Holland, that's who.
Holland responded by throwing the best game of his career and of the entire World Series. Eight-and-one-thirds innings of two hit, two walk shutout baseball against a lethal lineup that was able to add a designated hitter to the mix while playing in Texas.
Holland enters the 2012 season as a 25-year-old pitcher with postseason experience. He's now in position to move up the ladder in the Rangers' rotation as well. C.J. Wilson was the team's No. 1 starter last season.
This season, Holland will be in the mix. He also could enter the mix for the Cy Young award. A former 25th round pick in the 2006 MLB amateur draft, Holland is used to the whole "dark-horse/underdog role. He is also getting used to bucking that wisdom as well.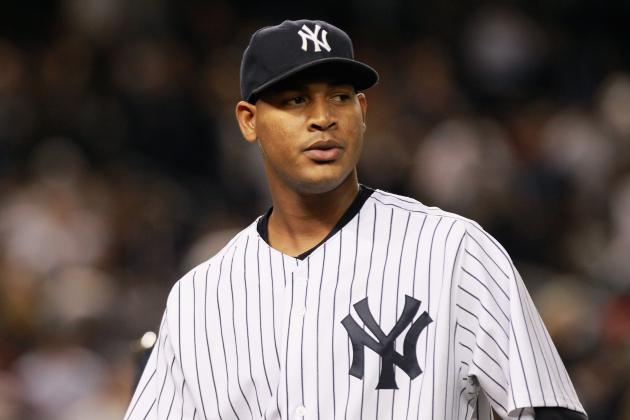 Nick Laham/Getty Images
When Yankee fans think "2012 AL Cy Young" Ivan Nova is not the name that first comes to mind.
You weren't expecting C.C. Sabathia were you? He'd be about as much a "dark horse" as Secretariat.
Ivan Nova, on the other hand?
Consider where Nova was at one year ago.
One year ago Nova was trying to win a spot in the 2011 Yankee rotation. He was 24 years old and coming off an unspectacular 2010 season in which he started only seven games and finished with an ERA of 4.50.
Not much to be too impressed with. Nova even upped the underdog ante when he was sent to the minors in late June.
A few weeks later Nova was back, and then all of a sudden the wins started to pile up. They kept on piling up, too. Eventually they'd reach 16 and Nova would earn himself a spot in the Yankees' postseason rotation.
As the 2012 season is getting ready to start, most of the attention has once again escaped Nova's grasp. Pineda, Sabathia and Kuroda are all names that seem to be grabbing more preseason attention.
It's still early, though. Plenty of time for Ivan Nova to once again grab headlines as the season progresses. Nova is only 25 and he's only made a total of 34 starts. There's plenty of room for improvement, maybe even Cy Young-caliber improvement.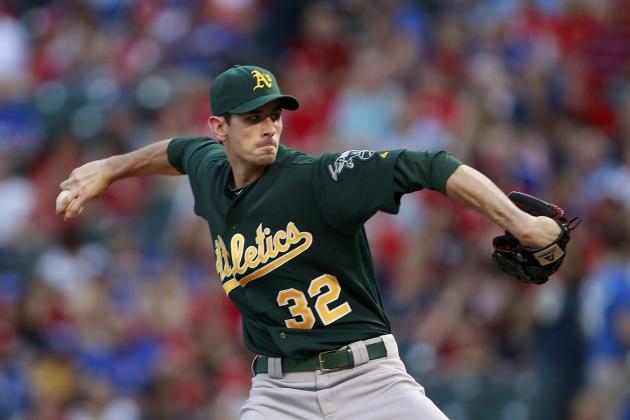 Rick Yeatts/Getty Images
Leaving the hitter-friendly confines of the ballpark in Arlington has served Brandon McCarthy well.
Some ballparks are considered "hitter friendly"; conversely, some are considered more "pitcher friendly." The ball park in Arlington, Texas, where the Rangers play their home games, falls into the "hitter friendly" category, while the Oakland A's home stadium has a reputation for favoring pitchers.
Some might argue that these types of categorizations are not to be believed, but Brandon McCarthy is probably not one of those people. Over the course of three seasons and 45 starts for the Texas Rangers from 2007 through 2009, McCarthy never finished with an earned run average under 4.00.
McCarthy missed all of 2010 with an arm injury, and when he returned to the majors, he wasn't wearing a Rangers uniform. His home team was now known as the Oakland A's.
Pitching for Oakland last season McCarthy seemed to remake himself. He made 25 starts and had career lows for earned run average and WHIP ratio. His win-loss record was a miserable 9-9, but that's not a stat he has all that much control over.
If the trend continues and McCarthy can get a little more run support from the likes of Manny Ramirez and Yoenis Cespedes, then McCarthy could put together a very good season. Good enough to win the award? Probably not, but then again, it could happen.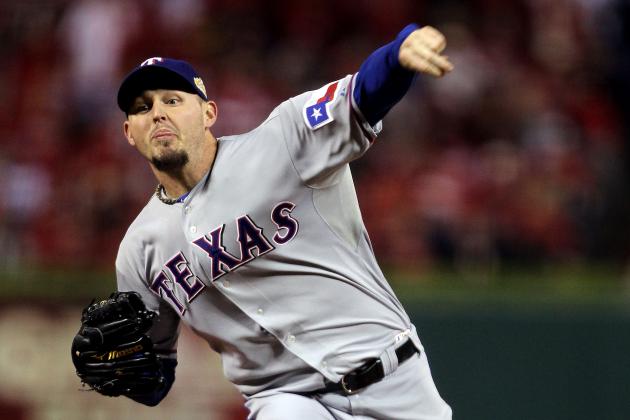 Ezra Shaw/Getty Images
Could Harrison's successful 2011 season be a harbinger of an even more improved 2012?
At this point, nearly every player the Texas Rangers received in exchange for Mark Teixeira when they dealt him to the Atlanta Braves in the summer of 2007 has made a major impact on the Rangers.
Elvis Andrus is the best young shortstop in all of baseball. Neftali Feliz has been the closer on two pennant-winning Rangers teams.
Maybe 2012 is Matt Harrison's year? Last year may have offered up a clue that 2012 could in fact be a pretty good season. Harrison had the best year of his career.
Good enough to probably earn him a spot in the crowded 2012 Texas Rangers rotation. At only 26 years old, Harrison has plenty of time to further develop and improve. His 2011 numbers were significantly better than any of he numbers he produced in his first three seasons in the league.
If 2012 has a similar amount of improvement, Harrison's numbers—such as an earned run average of 3.39 and a WHIP ratio of 1.276—could both become Cy Young caliber. And with the dominant offense that plays behind him, wins shouldn't be that hard to come by.
Harrison isn't even the favorite among "dark horses" on the Texas Rangers. He'd be a major shock if he were to win the award.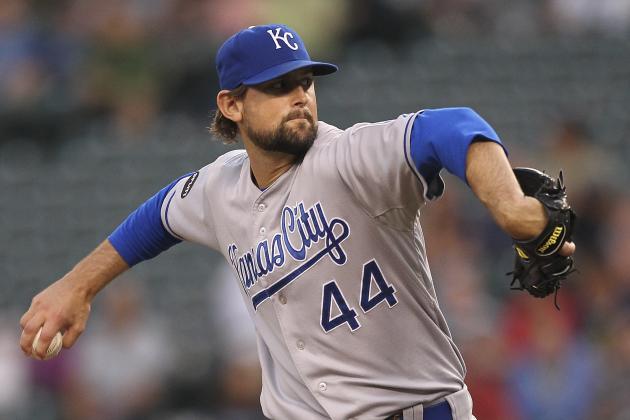 Otto Greule Jr/Getty Images
Perhaps Luke Hochevar finally began to tap into the limitless potential that many fans thought he had.
Quiz time!
Here's the question: What Kansas City Royal was the No. 1 overall pick of the 2006 Major League Baseball amateur draft?
Alex Gordon? Nope. Eric Hosmer? Wrong again.
The No. 1 overall pick of the 2006 draft was Luke Hochevar. Chosen ahead of guys named " Longoria," "Kershaw" and "Lincecum."
Until the middle of the 2011 season, Hochevar was well on his way to claiming the title of "bust." His numbers had been awful and he hadn't even shown an ability to pitch well enough to stay in the majors consistently.
Something clicked in the second half of 2011, though. Hochevar has a career earned run average of 5.29, but in the second half of 2011, it was 3.52. His career WHIP is 1.398, but in the second half of last year, it was 1.138.
Most top draft picks are picked that high for the very reason that the big league clubs don't not want to have to wait too long for that player to develop. A No.1 overall pick in baseball doesn't carry the same type of expectations that a No. 1 pick in the NBA or NFL would.
He's not supposed to take almost five years to show flashes of the potential that earned him that lofty draft status in the first place. That's what Hochevar may have done. If Hochevar picks up where he left off in 2012, then the Royals might be a lot better than we think—and the Cy Young might be headed to Kansas.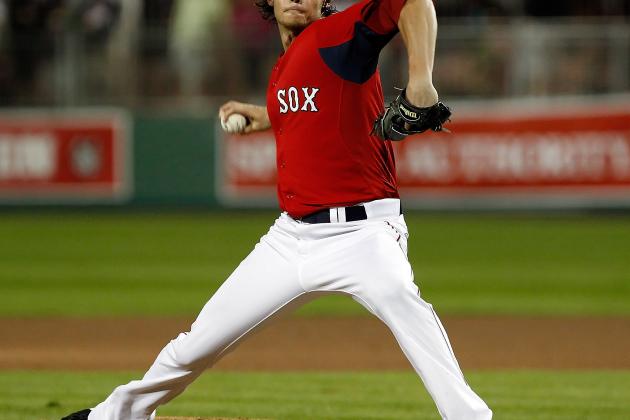 J. Meric/Getty Images
When Clay Buchholz is healthy he can be very good.
In 2010 Jacoby Ellsbury was injured for almost the entire season. That lowered expectations in advance of the 2011 season. Ellsbury responded by finishing second in the MVP voting.
Clay Buchholz actually had a very good 2010 season. It was the one season in his career in which he was completely healthy. He made 28 starts in 2010. He's never even started 20 games in any of his other three professional seasons at the big league level.
Buchholz's 2011 season was a disaster, as he missed nearly all of the second half of the season. Now Buchholz is back and healthy. If he stays healthy, then he may be able to repeat the numbers he posted in 2010.
How good were those? Plenty good. Buchholz was an All-Star and finished sixth in the Cy Young voting. If 2012 is to Buchholz as 2011 was to Ellsbury, then the Red Sox and their fans could witness a very impressive pitching performance. Good enough to win the American League Cy Young award?
We're going to find out.