NBA Trade Deadline 2012: The One Trade the Warriors Must Make
March 9, 2012

Ezra Shaw/Getty Images
WARRIORS TRADE: Stephen Curry and Andris Biedrins
CELTICS TRADE: Rajon Rondo
The Golden State Warriors have reportedly offered anyone and everyone on their roster to the Orlando Magic in hopes of acquiring superstar center Dwight Howard, even though Howard's agent has made it clear that his client will not sign an extension with the team and will leave in free agency for greener pastures.
This is the epitome of franchise insanity on Golden State's part—pure and simple.
Believe me, I understand the Warriors' rationale for trying to acquire Howard. The team feels as if they do not have a legitimate playoff-contending roster and that even if Howard does leave in free agency, they would be better off with a large amount of cap space to spend on free agents than they would with the likes of Monta Ellis and David Lee on their roster.
However, this is lunacy.
The Golden State Warriors are not a hotbed for free agents, not a premier destination for players and as such, they need to build a great team through the draft and via trades, as most of the teams in the league not named Lakers, Knicks, Bulls, Heat, Clippers, and Mavs do.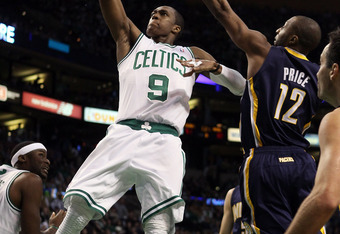 Elsa/Getty Images
If the Golden State Warriors were to trade Monta Ellis and David Lee for Dwight Howard and then watch Dwight Howard sign with another team this offseason, they would indeed have a huge amount of salary cap space to sign free agents. However, none of the available free agents that would seriously consider signing with the Warriors will be as good as Monta Ellis, who they would have just traded away for nothing more than a 30-game rental of Dwight Howard.
In fact, in all likelihood, the Warriors would not even be able to attract a free-agent big man as solid as David Lee, who is just a half-point or so shy of averaging 20 points and 10 rebounds per game.
The wise thing for the Warriors front office to do is to hold onto their valuable assets such as Monta Ellis and David Lee and to simply upgrade their team while shedding a large salary for a bag of chips. Trading Stephen Curry and Andris Biedrins for the Celtics' Rajon Rondo accomplishes both tasks in one simple move.
Losing Stephen Curry, a sharp-shooting combo guard with a great deal of potential, will be a tough loss for the Warriors. However, being able to dump the salary of the extremely disappointing and overpaid Latvian center Andris Biedrins makes trading Curry extremely tolerable.
Couple that with the fact that the Warriors would be receiving the best point guard on planet Earth in Rajon Rondo (Yes, I really mean this statement) and this is a trade made in heaven for the Warriors.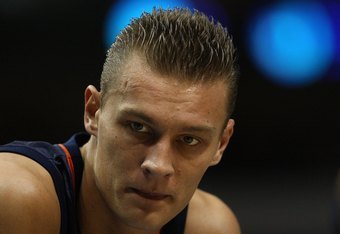 Ronald Martinez/Getty Images
As for the Celtics, it was reported that they tried desperately to trade Rondo for Chris Paul and that they already have tried to acquire Curry and apparently the expiring contract of Kwame for Rondo as well, but were turned down in both cases. I believe that if the Celtics will take back the contract of Andris Biedrins, the Warriors will indeed swap Curry for Rondo without thinking twice.
Such is a trade the Celtics should agree to in a heartbeat.
Curry is more like Chris Paul than Rondo and would be a great fit in Beantown. While Biedrins may be an overpaid center with an extremely limited offensive game, he is also the same player who just three years ago averaged nearly 12 points and over 11 rebounds per game while playing just 30 minutes per game.
Biedrins is also still just 25 years of age—having entered the league as an 18-year-old—and still averages a very respectable 10.4 rebounds, 2.5 blocks and 1.2 steals per 40 minutes while shooting a fantastic 60 percent from the field. It is not time to give up on the 7'0", 240 pound Biedrins just yet.
I do believe this is a trade that benefits both teams and one that may actually be made by the deadline.