NBA Trade Deadline 2012: The One Trade the Hornets Must Make
March 9, 2012

Christian Petersen/Getty Images
HORNETS TRADE: Eric Gordon, Emeka Okafor and Trevor Ariza
CAVALIERS TRADE: Antawn Jamison, Anthony Parker and Ryan Hollins
Before Hornets fans start freaking out and sending me nasty messages, please allow me to explain. The Hornets have a very bright future ahead of them—if they can manage to shed salary and focus on the draft and free agency. Trading Emeka Okafor and Trevor Ariza, even if it means including Eric Gordon, is indeed a very wise move for New Orleans.
If the Hornets follow through on the above trade proposal, they would have just seven players under contract for next season, including their two first-round draft picks, and around $41 million in cap space to spend on free agents. With that kind of cap space, the Hornets could easily afford to sign an entire starting five of free agents.
But with their two first-round picks probably going to be the new faces of the franchise and starting guard Jarrett Jack playing well, they could spend the majority of that $41 million on two stars, such as Dwight Howard and Deron Williams.
Too bad those two probably won't even give the Hornets brass the time of day.
While the Hornets may not have a realistic shot at landing Howard or Williams, they could certainly land a player or players like Brook Lopez, Nicolas Batum, Wilson Chandler, Michael Beasley, Kris Humphries, and/or Spencer Hawes.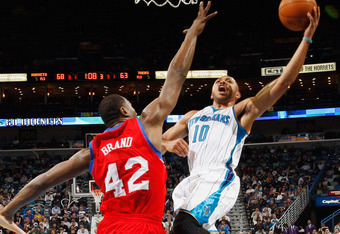 Chris Graythen/Getty Images
As for the Cavs, if this trade is offered to them, they would be insane to pass it up. Ever since LeBron James left frigid Cleveland for balmy Miami and Cavs owner Dan Gilbert went ballistic, Cleveland has had no attraction to free agents.
There is little chance the Cavaliers will be able to lure free agents. And with Kyrie Irving leading them back to respectability, they also probably won't receive high draft picks. Trading, therefore, is a must for the Cavs if they want to become a perennial playoff team.
This trade will set the Cavaliers up with a starting-quality small forward, starting-quality center and a magnificent running mate for the next decade for Kyrie Irving in star shooting guard Eric Gordon.
The Cavs would be crazy to pass on this trade.