The 50 Biggest Questions Heading into the 2012 NFL Draft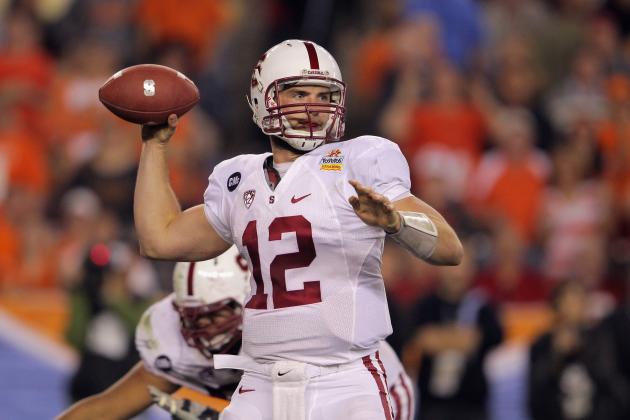 Doug Pensinger/Getty Images

At this point in the 2012 NFL draft process, we have many questions. Many possibilities remain for how the draft will fall, and we don't know what will happen.
Andrew Luck is not at the center of one of these questions. The Stanford star will be the first pick, and he will be an Indianapolis Colt.
Questions do remain, though, about every other player, and team, in the draft.
Begin Slideshow

»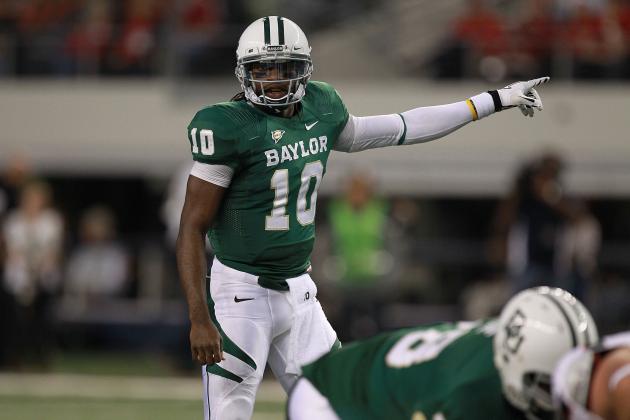 Ronald Martinez/Getty Images

The St. Louis Rams own the No. 2 pick, and they're trading it to a team seeking Robert Griffin III. As of now, the Cleveland Browns, Washington Redskins and Miami Dolphins are the front-runners for the pick. But who will end up with Griffin?
The Redskins will.
Washington is desperate for a quarterback and is ready to win with one. No team is willing to pay as much as the Redskins are, so the Rams will move back to No. 6.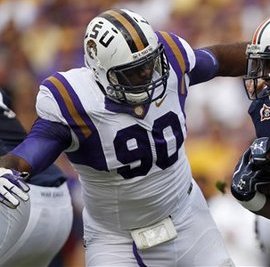 Four defensive tackles have been mentioned in connection with Carolina's No. 9 pick. Dontari Poe, Michael Brockers, Fletcher Cox and Devon Still are all possibilities.
Poe will be the guy.
The 6'4", 346-pounder is one of the most talented players in football, and he has more upside than any of the other defensive tackles. Carolina needs an impact player along the middle, and Poe can be exactly that.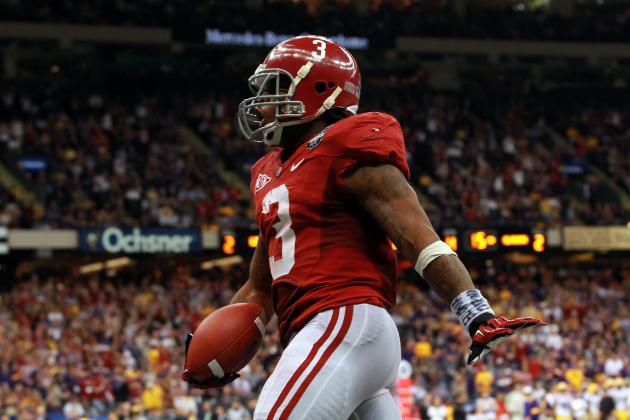 Ronald Martinez/Getty Images

Almost no one denies that Trent Richardson is a top-10 talent, but he may not be worthy of a top-10 pick. For one, Richardson plays running back, a low-priority position in the draft, and he is recovering from recent knee surgery.
However, Richardson will still go in the top 10. In a draft with few elite prospects, Richardson is simply too talented to fall any further. A team requiring a playmaker will take a chance on the Alabama star.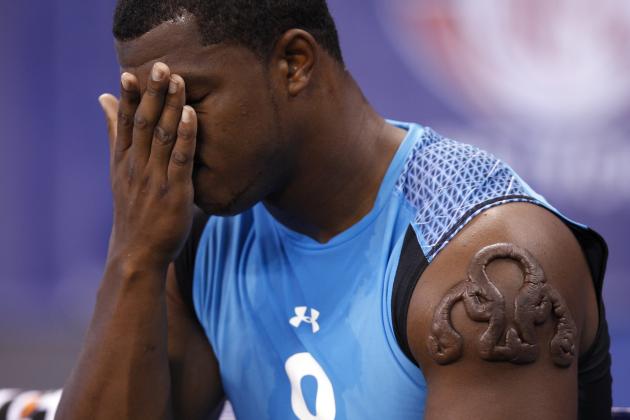 Joe Robbins/Getty Images

The 6'6", 284-pound Quinton Coples is one of the more physically talented players in the draft. Coples disappointed with his play in 2011, but a lot of analysts still love his upside.
Coples has a wide range in which he could go, but the North Carolina product will be a top-10 pick. Jacksonville at No. 7 and Miami at No. 8 both need defensive ends, and either team could select Coples.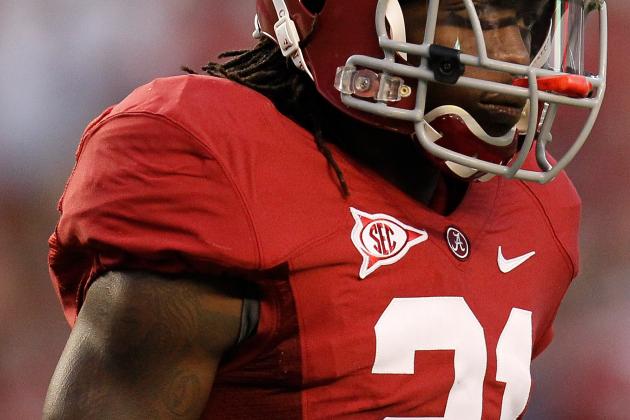 Kevin C. Cox/Getty Images

Morris Claiborne is all but certain to be the first cornerback drafted, but the second spot is up for grabs. Dre Kirkpatrick seemed to have the spot locked up, but he has been falling as of late, and several cornerbacks could claim the spot.
Kirkpatrick will still be the second cornerback taken, though. The 6'2", 186-pounder is a terrific player, and his character concerns aren't serious enough to really hurt his stock.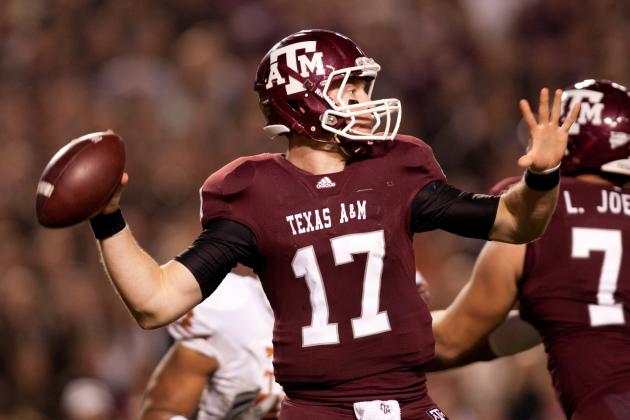 Darren Carroll/Getty Images

The answer here lies with the Miami Dolphins. If the Dolphins sign Matt Flynn or Peyton Manning, then Ryan Tannehill will fall out of the top 10.
If they don't...
Miami seems likely to sign one of the two veteran quarterbacks. Tannehill isn't the ideal pick so early, so the Dolphins will do what they can to address the position in another way.
If Miami doesn't take Tannehill, he will probably fall to the Seahawks at No. 12, but no further.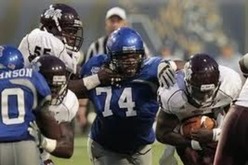 If his stock were based on production, Dontari Poe would be a mid- or late-round pick. However, his insane potential makes Poe a likely top-15 pick. The question is whether Poe's potential or production wins out.
His potential will.
Like Jason Pierre-Paul in 2010, Poe has some issues, but players with his ability don't come along too often. At least one team will fall in love with Poe's ability early.
Christian Petersen/Getty Images

By most accounts, David DeCastro is the best guard to enter the draft in a long time. As most people know, though, guards typically aren't drafted high, and this could cause DeCastro to fall.
Don't expect him to make it past 17, though. The Cincinnati Bengals could use an upgrade at guard, and DeCastro is a fantastic value at that point. There's no reason the Stanford product would fall any further.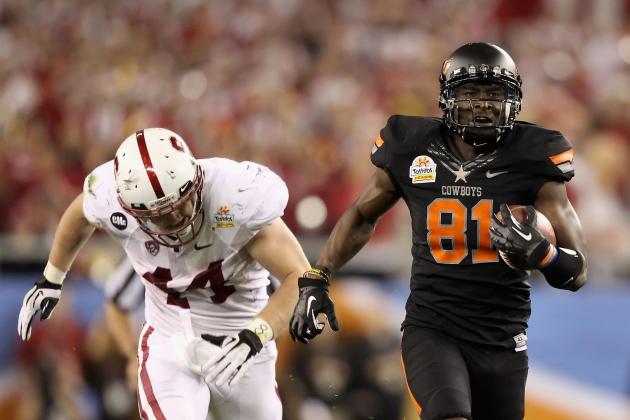 Christian Petersen/Getty Images

The answer is five.
This draft includes a group of wide receivers closely grouped together. Justin Blackmon, Kendall Wright, Michael Floyd or even Alshon Jeffery could be the first wideout off the board.
These four are almost certain to go in the first round, and Stephen Hill will join them. Plenty of teams need wide receivers, and all of these guys are talented enough to go early.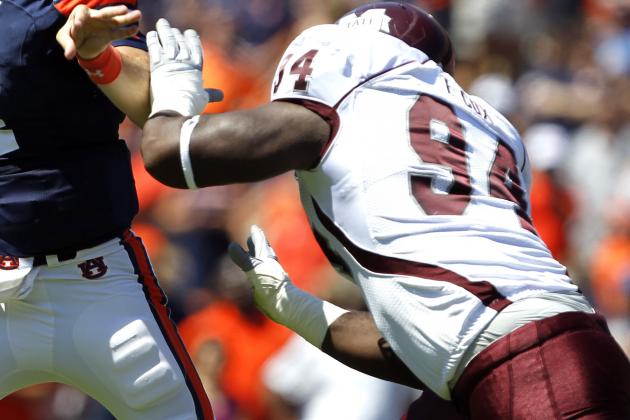 Butch Dill/Getty Images

A 6'4", 298-pounder, Fletcher Cox is certainly an explosive talent. The Mississippi State star has been mentioned as a top-10 pick, but he is frequently projected in the 20s.
Yes, Cox will be drafted in the top 15. He may not go in the top 10, but he doesn't seem likely to fall past the Philadelphia Eagles at 15. Cox is simply too talented, and multiple teams need defensive tackle help.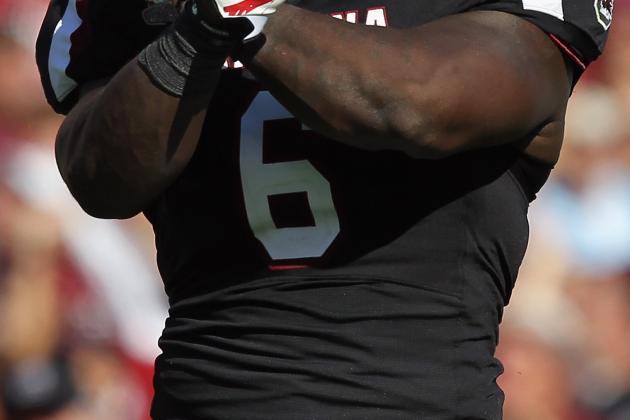 Streeter Lecka/Getty Images

Melvin Ingram's versatility is perhaps his most positive trait. The South Carolina star has played defensive end, defensive tackle and outside linebacker. That's rare.
At the scouting combine, Ingram weighed in at 264 pounds. That's prime size for a 3-4 outside linebacker, and his versatility would be most beneficial in a 3-4 defense, so he will probably stand up in the NFL.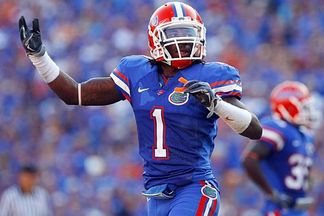 At Florida, Janoris Jenkins was one of college football's best players. He had off-field issues, though, and played his senior season at North Alabama. NFL teams are worried about taking a risk on Jenkins.
As risky as he may be, Jenkins will still go in the first round. Only one team needs to find him worth the risk, and one certainly will. Jenkins may have his issues, but his talent is undeniable.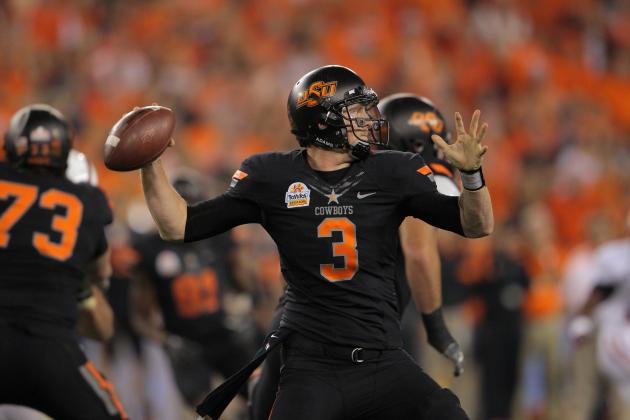 Doug Pensinger/Getty Images

Brandon Weeden turns 29 in October. Many feel that the Oklahoma State quarterback is worthy of a first-round pick based on ability, but will his age hold him back?
Absolutely.
Weeden is far from a perfect prospect, and he needs time to develop. By the time Weeden is maybe capable of playing at a high level, he will be in his 30s and running out of time.
That type of player isn't worth a second-round pick.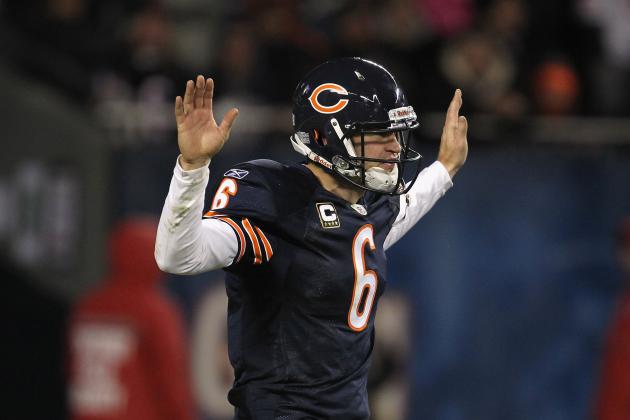 Jonathan Daniel/Getty Images

Yes.
The Bears have tried free agency, and they've tried late-round picks. Neither method has worked, and Chicago needs to devote a high pick to giving Jay Cutler a weapon.
Kendall Wright will probably be available at No. 19. Alshon Jeffery and Michael Floyd could be options as well. If the Bears don't have to reach for a wideout—and they won't—there is no reason for them not to go there.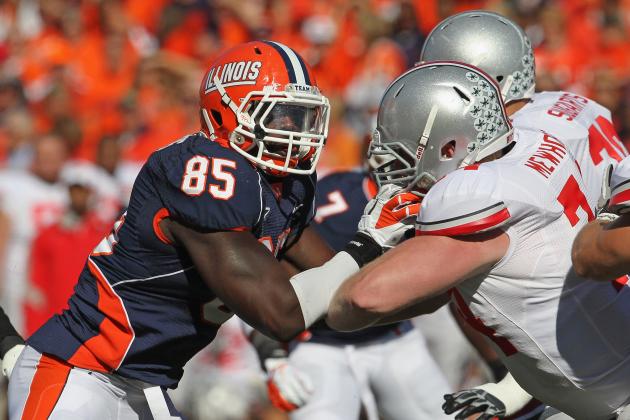 Jonathan Daniel/Getty Images

Whitney Mercilus could go as high as No. 7 or as low as the second round. No player sees as wide of a range of projections, and for good reason. Mercilus was productive, but his skills are nothing amazing.
I'm going to take the middle ground here and say Mercilus will be a mid-first-round pick. The Illinois defensive end will probably go around No. 20—maybe to the Titans—and he won't fall much further than that.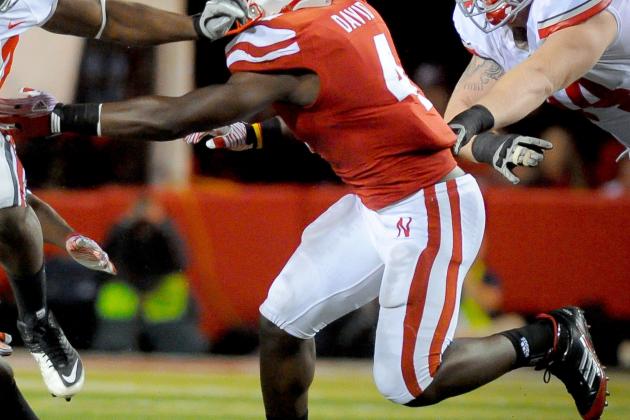 Eric Francis/Getty Images

Since he weighed in at 233 pounds at the scouting combine, Lavonte David has seen his stock rise. Some are now projecting the Nebraska linebacker as a first-rounder, and he could go off the board early.
I will play it conservatively, though, and say David goes in the second round. The speedy linebacker is certainly talented, and he could go earlier, but he would be a reach. There are better values in the first round.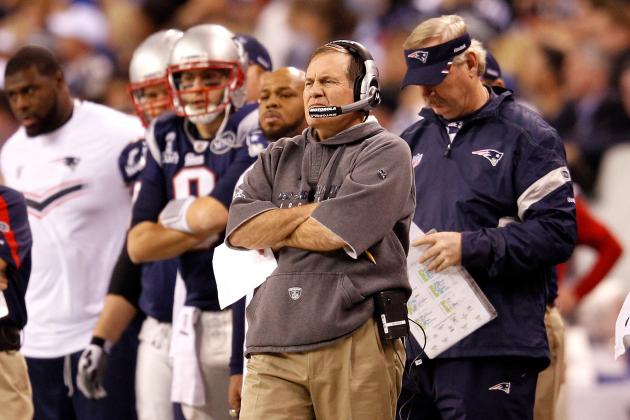 Rob Carr/Getty Images

History tells us no on this one.
Bill Belichick and the Patriots enter nearly every draft with two first-round picks, and they almost always trade out of the first round with at least one of them.
So, no, New England will not keep both picks. Belichick will probably deal one of them for a second-round pick and a 2013 first, continuing his legacy of not actually using first-round picks.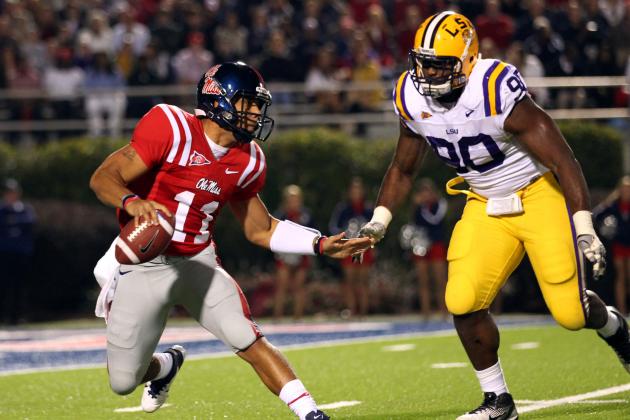 Joe Murphy/Getty Images

At 6'5", 322 pounds, Michael Brockers has perfect size for a 3-4 defense. The LSU defensive tackle's skill set is a better fit in a 3-4, and 5-tech is definitely his best position.
But will Brockers be drafted into a 3-4?
Yes. After the Panthers pick at No. 9, there aren't too many defensive-tackle-needy teams for a while, so Brockers could fall. A team running the 3-4 will trade up for him, and Brockers will play his rightful position.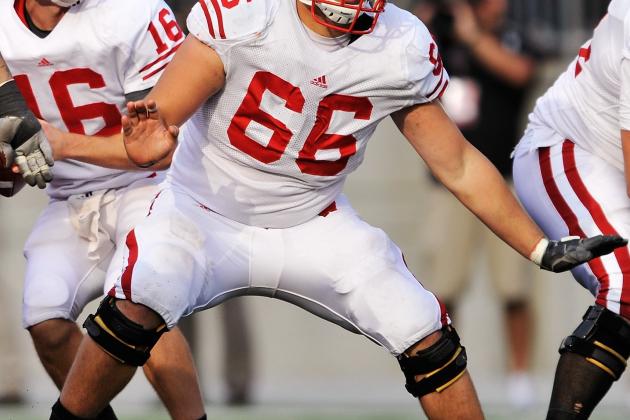 Jamie Sabau/Getty Images

There aren't too many first-round centers, but Peter Konz is one of them. The 6'5", 314-pounder is the rare junior center to enter the draft, and he should go in the late 20s.
Both the Baltimore Ravens and New England Patriots make sense at the end of the first round. The Patriots are losing Dan Koppen in free agency, and the Ravens have an aging center in Matt Birk.
This just so happens to be the exact range a player of Konz's ability should fall in.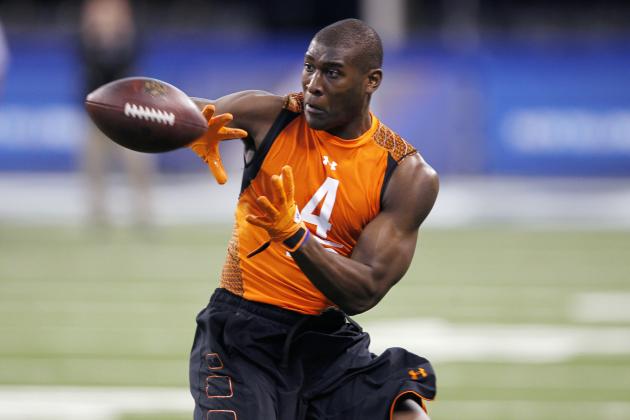 Joe Robbins/Getty Images

The perception of Justin Blackmon is that he's a top-five or top-10 talent. This is not the case, and the Oklahoma State star is destined to be over-drafted.
Too many teams in the top 10 need wide receivers for Blackmon to fall any further. He could go to the Browns, Buccaneers, Redskins or Jaguars, but one of the teams will take him earlier than it should.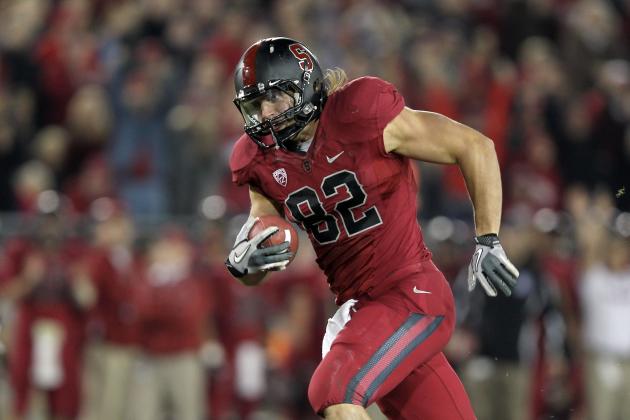 Ezra Shaw/Getty Images

Coby Fleener has been mentioned as a late first-rounder, especially to San Francisco. The 6'6", 247-pounder isn't an exceptional prospect by any means, but he could go in this range.
He won't, though.
Quite simply, a tight end has to be better than Fleener is to go in the first round. Fleener isn't really special or dynamic, and tight ends have to be to go that high. The Stanford tight end will probably go early in the second.
Elsa/Getty Images

Luke Kuechly is undeniably the draft's top inside linebacker, but is he really an elite middle linebacker prospect? Inside linebacker isn't a valued position, and as a result, middle linebackers tend to drop in the draft.
Kuechly will be drafted in the middle of the first round, but not elite territory. Patrick Willis was taken with the No. 11 pick, and Kuechly will go several picks later, possibly in the 20s.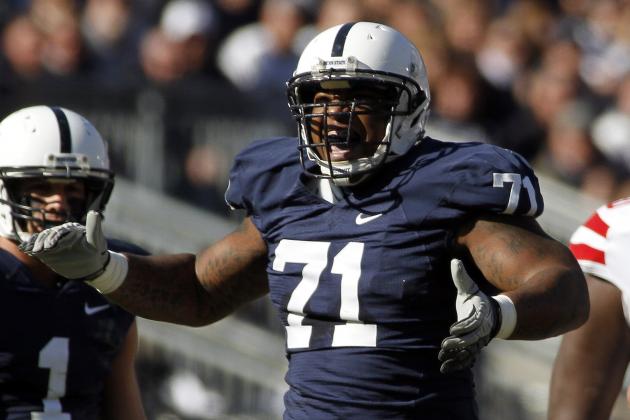 Justin K. Aller/Getty Images

Well, Fletcher Cox, Dontari Poe, Michael Brockers and Devon Still have all been mentioned as top-10 picks, so they will probably go in the first round. But will any other defensive tackles join them?
No.
Jerel Worthy is probably the only other one in consideration, and he isn't versatile or dynamic enough to make the cut. These four will be first-round picks, but no others will be.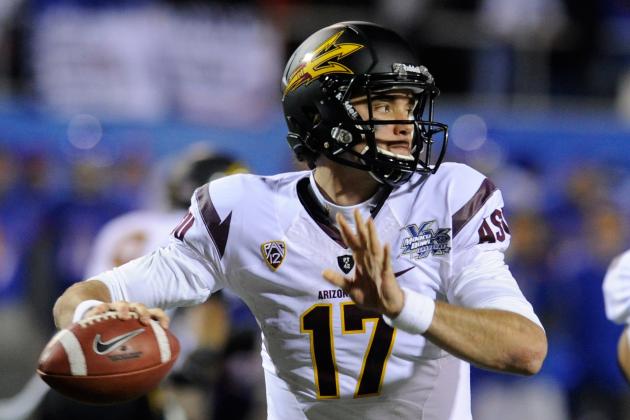 Ethan Miller/Getty Images

The 6'7", 242-pound Brock Osweiler is an incredibly talented quarterback. The Arizona State product needs a ton of work, but he certainly has potential. Several analysts have mentioned him as a first-round pick.
Osweiler won't go in the first round, but he will make it into the second. Multiple teams could use developmental quarterbacks, and Osweiler is too talented to wait on.
Steve Dykes/Getty Images

Nick Perry dominated the scouting combine, running a 4.64 40-yard dash and pumping up 35 bench reps while weighing 271 pounds. Perry was already a likely first-round pick, and now he's being mentioned as a top-10 selection.
Others, though, think he will fall to the second.
In reality, Perry will go in the teens. He's too talented to fall much into the 20s and too undeveloped as a pass-rusher to go top-10.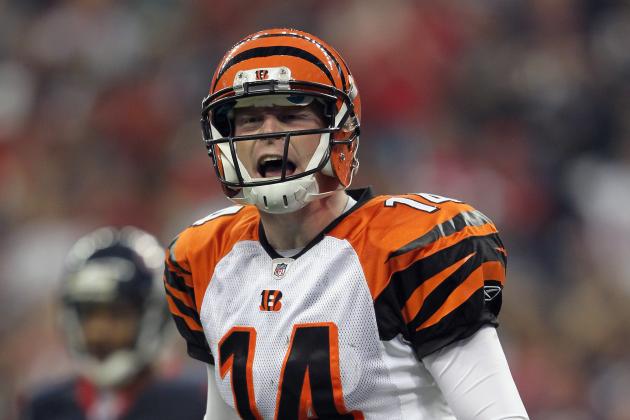 Jamie Squire/Getty Images

The Bengals own two first-round picks, and the team could use a star, like perhaps Trent Richardson. Cincinnati certainly has the ammunition, but does it have the desire?
No, it doesn't. The Bengals will be able to add valuable pieces at No. 17 and 21, so they will avoid paying the costly price to add a star. At this point, Cincinnati is trying to fill its holes, not add elite talent.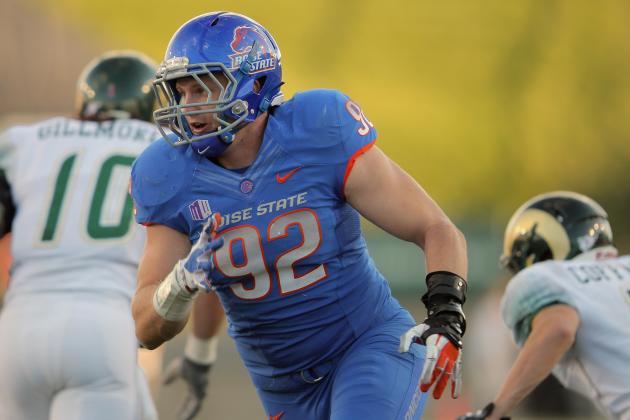 Doug Pensinger/Getty Images

At 6'3", 260 pounds, Shea McClellin is a superb athlete capable of playing defensive end or any linebacker position. The Boise State star is perfect for playing outside linebacker in a 3-4 scheme.
Most aren't aboard the McClellin train yet, but he's starting to gain some hype. Teams running 3-4 defenses will love him, and there's almost no way McClellin falls out of the second round. He could go even higher.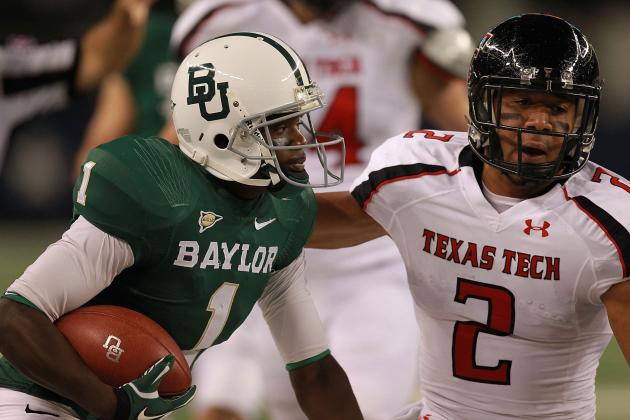 Ronald Martinez/Getty Images

Expected to run a blazing 40-yard dash, Kendall Wright disappointed with a slow 4.61 time. Wright's entire game is based on speed, so this poor showing could lead him to drop.
However, Wright's speed still shows on tape, and he has his pro day to redeem himself. Teams won't read too much into the disappointing combine showing, and Wright will still go in the mid-first round.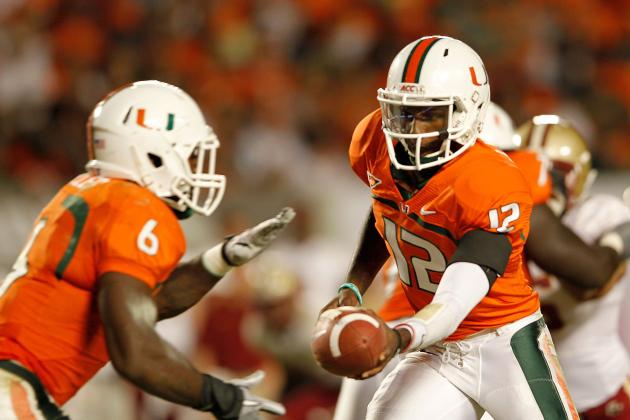 Mike Ehrmann/Getty Images

Trent Richardson is guaranteed to go in the first round. Lamar Miller, David Wilson and Doug Martin could possibly go that high, but they probably won't. So we're left with one likely first-round running back.
All three of these other guys will go in the second, though, and Chris Polk will join them. This makes four second-round running backs, all of whom are capable of starting immediately.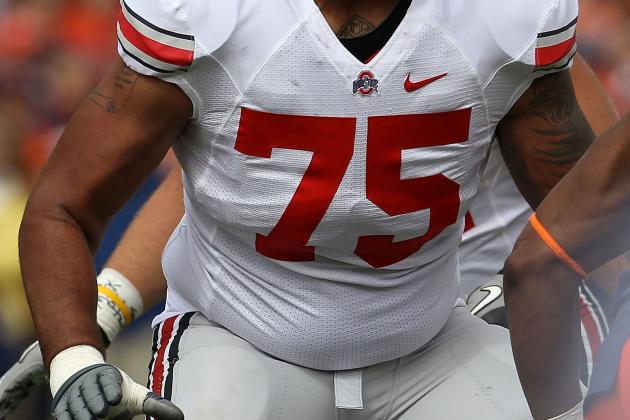 Jonathan Daniel/Getty Images

Jonathan Martin is typically projected ahead of Mike Adams, but Adams is more talented and possesses a higher upside. Martin doesn't really wow anyone, and he could easily end up at right tackle or guard in the NFL.
Because he has the perfect skill set to play left tackle, Adams will go before Martin. At 6'7", 323 pounds, Adams is a terrific athlete, and only his attitude holds him back.
There is almost no reason for Martin to go ahead of Adams, as both are risky picks. Adams offers a much higher reward, though.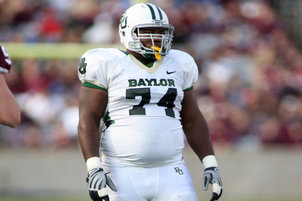 For much of the draft process, Michael Brewster was seen as the first- or second-best center. Now, Brewster has fallen and Philip Blake has taken his spot behind Peter Konz.
At 6'2", 311 pounds, Blake possesses great size and can handle powerful nose tackles or quick 3-techniques. Blake could go as early as the second round, but he will probably end up in the third, well ahead of the third center.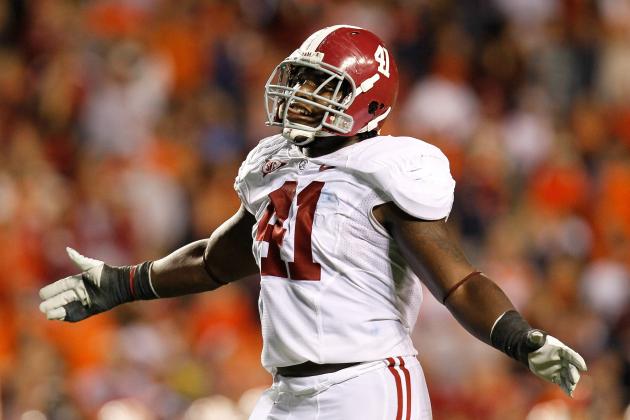 Kevin C. Cox/Getty Images

Courtney Upshaw has been projected as high as 10 or as low as the second round. The 6'2", 272-pounder played outside linebacker at Alabama, and his projection to defensive end is hazy at best.
Most importantly, Upshaw really isn't a dynamic pass-rusher. He is solid against the run and in coverage, but he isn't dynamic enough to warrant a high first-round pick.
Upshaw will go in the second half of the first round, which could definitely be considered dropping.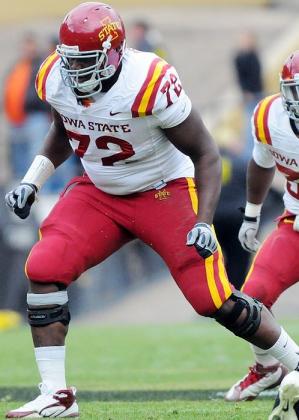 A 6'6", 333-pound offensive tackle, Kelechi Osemele is frequently projected to guard. The Iowa State product played left tackle in college, but he will play right tackle or guard in the NFL.
Because so many teams need right tackles, Osemele will be given a shot to play outside. The big man may not last long there, but he will have a chance to prove he doesn't need to move inside.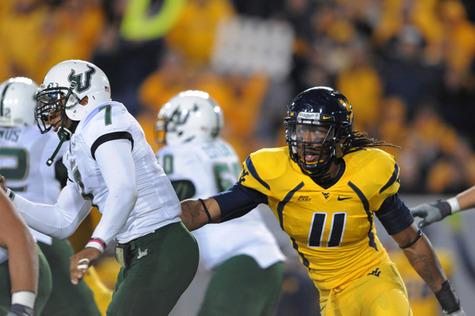 Bruce Irvin is a one-dimensional pass-rusher with terrific burst and athleticism. The 6'3", 245-pounder will likely play linebacker in any defense, but his lack of run-stopping ability is concerning—even at linebacker.
Irvin is simply too explosive to fall out of the second round, though. The West Virginia star has a ton of upside, and every NFL team wants the next Von Miller. Irvin isn't that, but teams might see him as a poor man's version.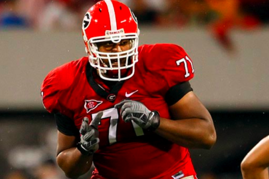 The 6'5", 345-pound Cordy Glenn played left tackle at Georgia, but he will certainly move in the NFL. The question is whether he moves to right tackle or guard.
Glenn is an athletic freak, and many would like to see him get a chance at right tackle. It's not going to happen, though. Glenn is going to be drafted too early for a team to take a chance, and he will move inside to guard, where he could dominate.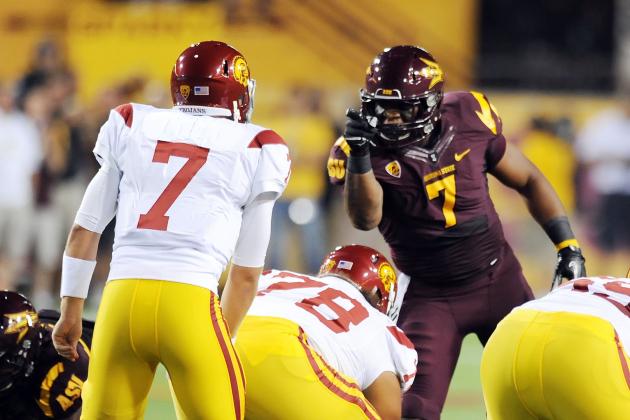 Norm Hall/Getty Images

Once considered a top-10 pick, Vontaze Burfict has fallen out of the first round, and maybe even further. The 6'1", 248-pounder turned in a disastrous scouting combine performance, and he is free-falling.
With his character issues and disappointing junior campaign, Burfict is currently a fourth-round pick. Only there does the potential reward meet the obvious risk, and Burfict could fall even further.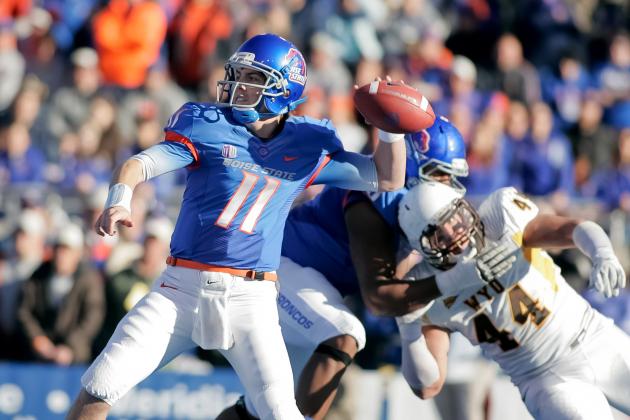 Otto Kitsinger III/Getty Images

One of the least physically impressive college stars in recent memory, Kellen Moore will have to beat the odds to last in the NFL. The 6'0", 197-pounder is short, small and unathletic with poor arm strength. A bad combination, to be sure.
Moore's upside is that of a below-average backup. These types of players aren't drafted, and no one will select Moore because of his college success. NFL teams are smarter than that.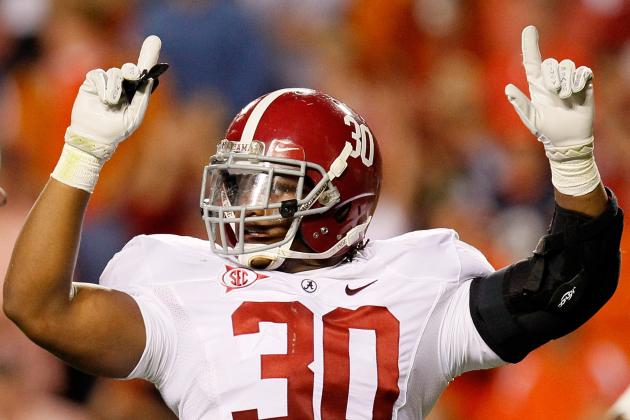 Kevin C. Cox/Getty Images

At 6'2", 265 pounds, Dont'a Hightower could play inside or outside linebacker in a 3-4 scheme. The Alabama star has already played both positions, and he will continue to do so in the NFL.
Hightower may never have a true position. Depending on the situation, he will move around, rushing the passer on third downs and playing in coverage or run support on earlier downs.
So yeah, this is a bit of a cop-out. It is, however, true.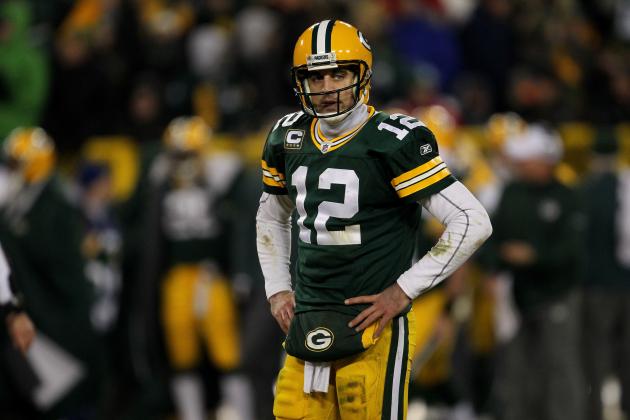 Jonathan Daniel/Getty Images

General manager Ted Thompson is famous for ignoring need and going with the value pick. In the past couple years, the two have intersected in the first round, but Thompson simply does not draft for need.
That's not going to change in 2012. The Packers have few enough needs that they can afford to add the best talent, regardless of position. Green Bay has become a great team through the method, and Thompson will keep it going.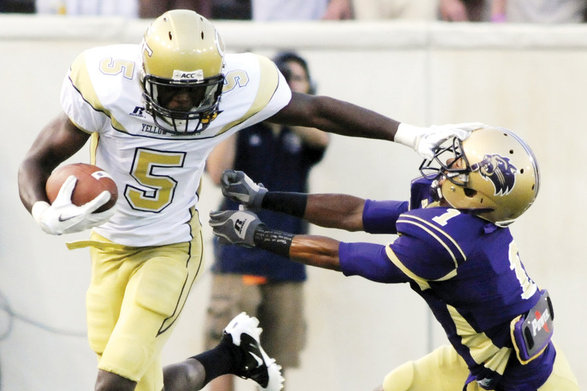 Stephen Hill is an absolute freak. The 6'4", 215-pounder ran a 4.36 40-yard dash and recorded a 39.5" vertical leap. Hill's combine performance certainly made him a second-round pick, and it may have done more.
In the end, Hill will probably go in the first round. The Georgia Tech star is raw, but teams at the end of the first can wait on him, and few players there have more upside.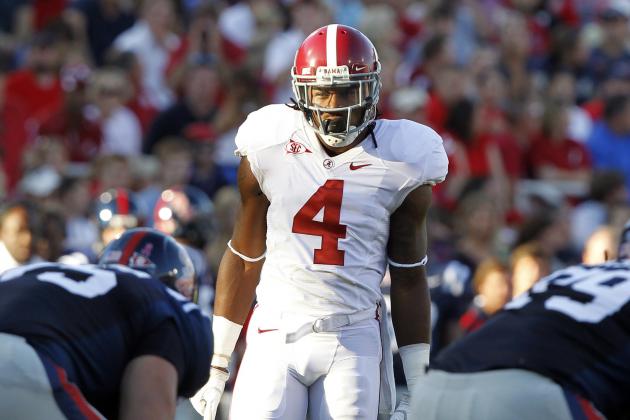 Butch Dill/Getty Images

Though he was never as good of a prospect as some thought, Mark Barron is falling because of a hernia injury. The 6'1", 213-pounder is one-dimensional and desperately needs to improve against the pass.
Barron was already in a situation to drop, and not working out hasn't helped him any. The Alabama safety simply isn't good enough to remain in the first round despite his injury problems.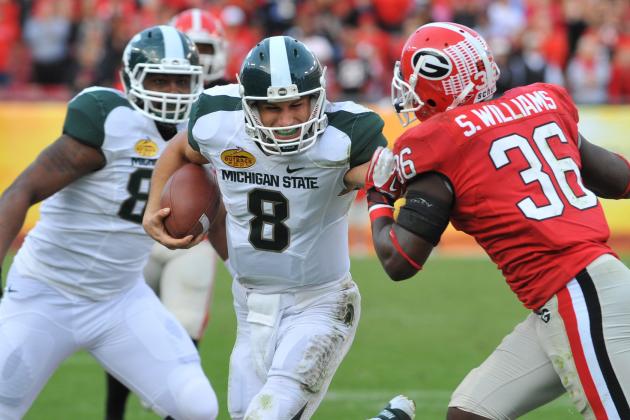 Al Messerschmidt/Getty Images

This time in 2011, Andy Dalton was a projected mid-round pick. He ended up at the top of the second round. Kirk Cousins is also projected as a mid-round pick, and he too is seeing his stock move up a bit.
Cousins was successful at Michigan State, but his physical tools hold him back. Dalton managed to overcome his physical shortcomings, and NFL teams expect Cousins to as well, so he could end up in the second round.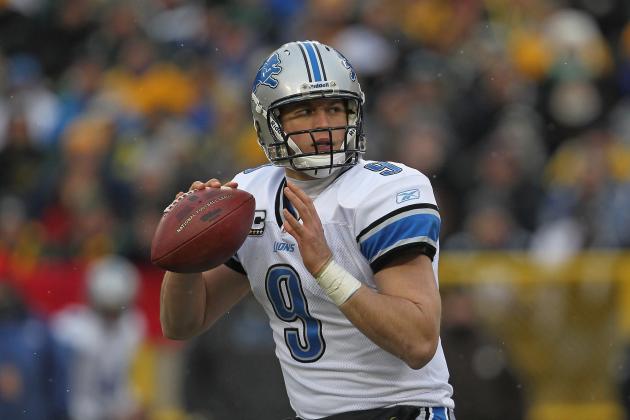 Jonathan Daniel/Getty Images

In 2009 the Detroit Lions took Matthew Stafford and then passed on Michael Oher for Brandon Pettigrew. This showed Detroit's dedication to best player available, not position, and the Lions haven't yielded from this strategy.
The Lions got their first healthy season from Stafford in 2011, and they would love to see more of them. The team should probably look to protect Stafford better, but it probably still won't be in the first round.
There simply isn't any evidence that suggests general manager Martin Mayhew's conviction is wavering.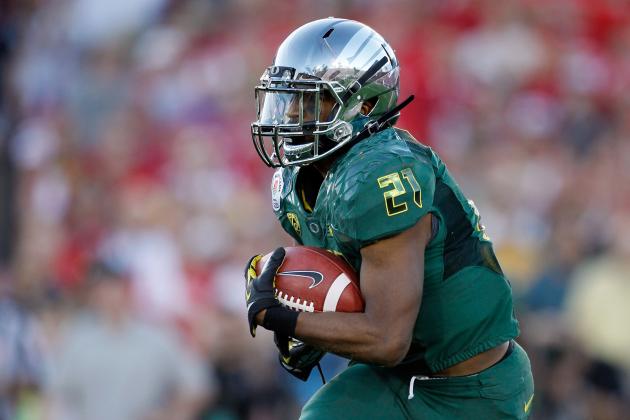 Jeff Gross/Getty Images

A star at Oregon, LaMichael James is a polarizing prospect. Some feel James can contribute enough as a rotational player to warrant an early pick, while others believe he is a mid or late-rounder.
James ran a terrific 40-yard dash at the combine, and many believe he could rise into the second round. James will probably only move into the third, but the late second is not impossible.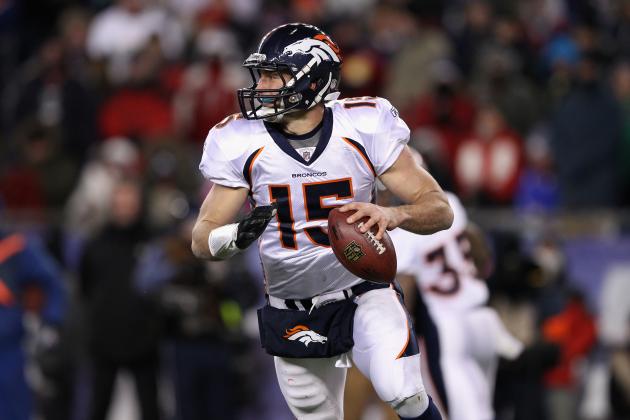 Elsa/Getty Images

Team president John Elway hasn't been too enthusiastic about Tim Tebow, and the Broncos could be looking for other options, especially with Brady Quinn leaving in free agency.
Denver won't draft a first-round quarterback, but the team will certainly take a backup in the later rounds. The Broncos will look at a player who can step in immediately if Tebow goes down, not take over the starting job.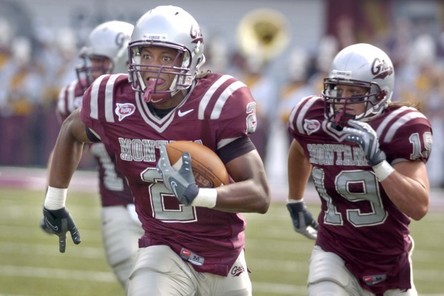 Montana cornerback Trumaine Johnson has frequently been projected as a safety, and some feel he could sneak into the first round. At 6'2", 204 pounds, Johnson certainly is big enough to move back.
Though he probably won't be a first-round pick, Johnson should go in the second. He is simply too talented to fall much further, and his skill set is perfect at safety.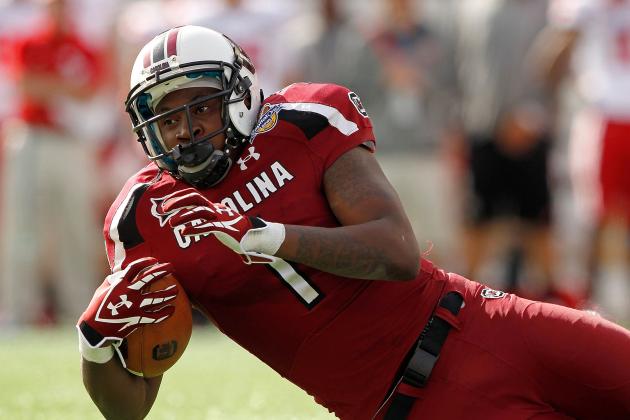 Mike Ehrmann/Getty Images

Throughout 2011, Alshon Jeffery often appeared fat and slow. The star wideout's stock took a beating until he unexpectedly showed up at the combine weighing 216 pounds.
Though he is in shape now, Jeffery's work ethic still worries teams. Fortunately for Jeffery, he is incredibly talented, and his natural abilities are impressive enough to make him a first-round pick.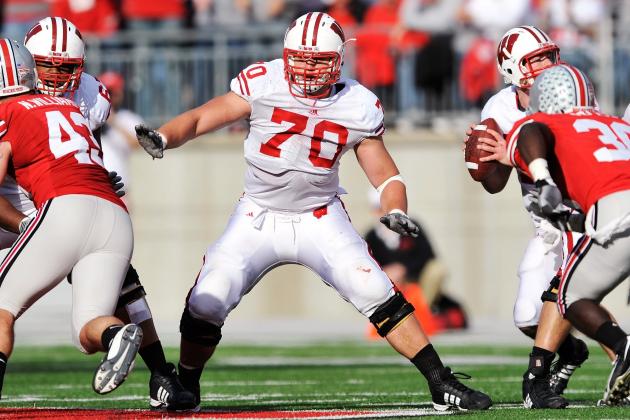 Jamie Sabau/Getty Images

Usually, one guard goes in the first round of the NFL draft. With David DeCastro and Cordy Glenn in line, the 2012 NFL draft could have three guards go that early.
At 6'4", 314 pounds, Kevin Zeitler isn't as athletic as the other two, but he is nastier. Zeitler isn't quite athletic enough, though, and he will end up as an early second-round pick.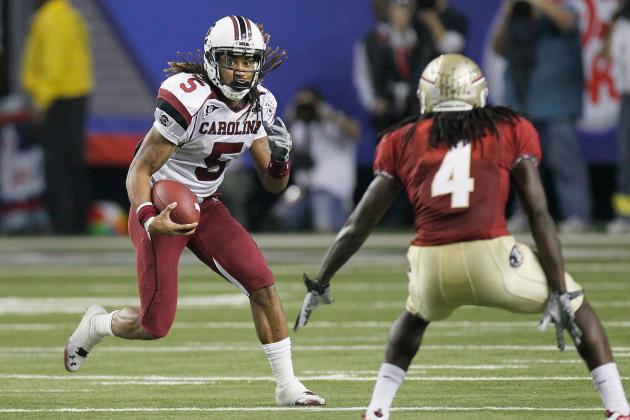 Kevin C. Cox/Getty Images

In the end, four cornerbacks will be first-round picks. Morris Claiborne could go top-five, and Dre Kirkpatrick will probably go in the top 20. The other two are bigger wild cards.
Despite his character concerns, Janoris Jenkins is probably too talented to drop out of the first. Then there is Stephon Gilmore. Gilmore is inconsistent, but he is talented, and several teams at the end of the first need cornerbacks, so he could be a need pick.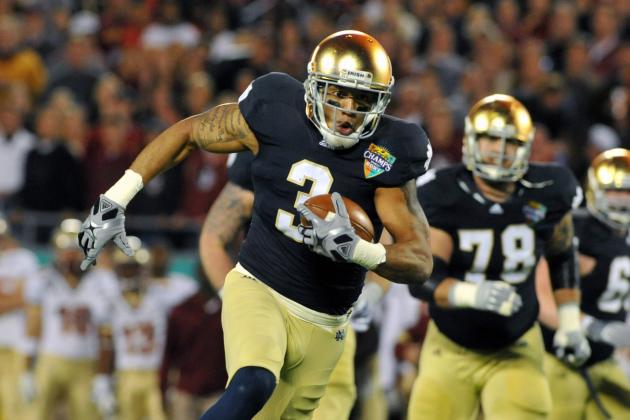 Al Messerschmidt/Getty Images

Absolutely.
At 6'3", 220 pounds, Michael Floyd possesses great size and catching ability. The Notre Dame star can stretch the field, and his body control is simply incredible.
Floyd has been arrested a couple times, but his on-field ability is impressive enough to make him a top-20 pick. In a draft with several first-round wideouts, Floyd is probably the best when it comes to on-field play.