Philadelphia Flyers: How Bryzgalov Got Back on Track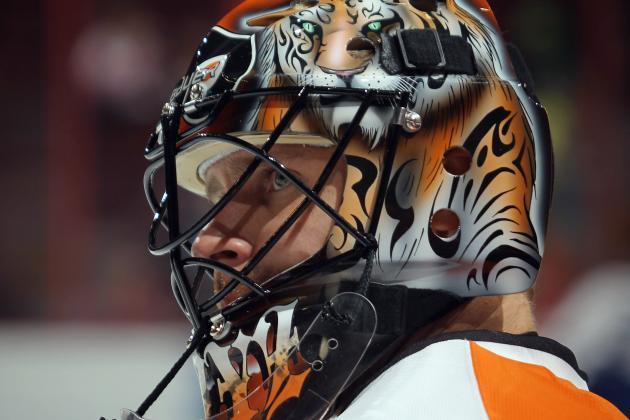 Bruce Bennett/Getty Images

Ilya Bryzgalov was signed by the Flyers to be their savior in goal. He was to be the man who for the first time since Ron Hextall would give the Flyers a legitimate, elite, number one goaltender who could carry the team on his back.
Bryzgalov has turned out to be a flighty fellow, to say the least. But then again, most great goaltenders are. His quirky personality and early season struggles led many to question his signing.
After a period of adjustment and transition to his new home in Philadelphia, Ilya Bryzgalov is now living up to the lofty expectations placed upon his shoulders.
Here are five reasons why.
Begin Slideshow

»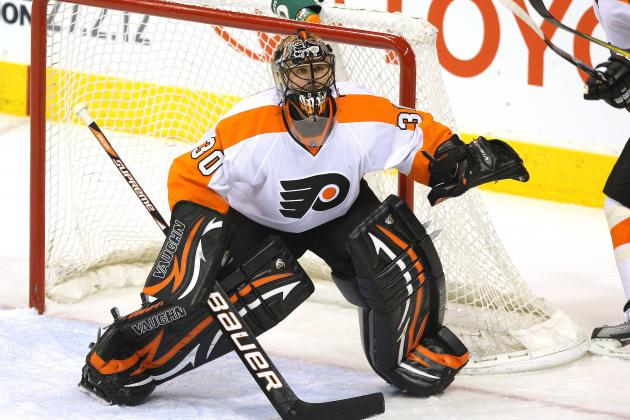 Tom Szczerbowski/Getty Images

On Saturday, February 18, the Flyers played cross-state, division rival Pittsburgh Penguins. Ilya Bryzgalov started the game in the net for the Flyers. After carrying a 2-1 lead into the second period, things went bad—very, very bad.
Bryzgalov gave up two shorthanded goals—and looked bad doing it—and the Penguins took a 3-2 lead.
Flyers head coach Peter Laviolette, never one to shy away from pulling his starting goaltender, yanked Bryzgalov from the net and put backup goaltender (and at the time fan favorite) Sergei Bobrovsky in goal.
Bobrovsky promptly gave up three goals himself as the Flyers lost 6-4.
After the game Bryzgalov, who heard the loud chorus of boos rain down on him as he was pulled, made his infamous statement about finding peace in his soul to play in Philadelphia.
Luckily, the Flyers left Philly immediately for a western road trip.
Had the Flyers had a home game right after Bryzgalov's statements the fans at the Wells Fargo Center would have undoubtedly expressed their disapproval—which could only have made matters worse.
Instead the Flyers' next game was in a slice of Manitoba called Winnipeg, far away from the animated Philadelphia fans.
Bryzgalov was solid, not great. The Flyers rallied and fought back from behind and on a last-minute, equalizing goal by Wayne Simmonds and then a last-minute overtime goal by Jaromir Jagr to clinch the win for the Flyers.
Bryzgalov, an avid reader who follows the press as much as they follow him, was safely halfway across the continent and the opportunity to find that inner peace was his for the taking.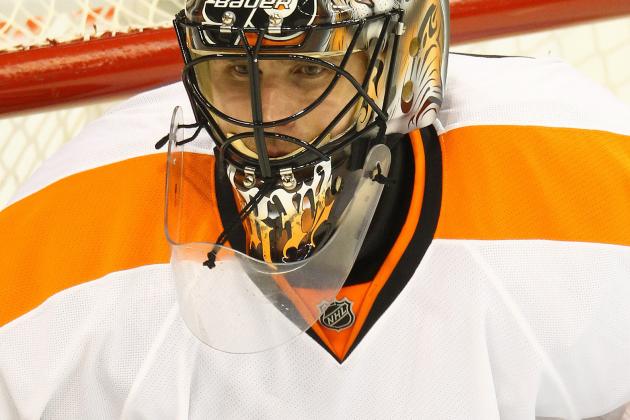 Tom Szczerbowski/Getty Images

On February 25, the Flyers battled the Calgary Flames to a 4-4 regulation tie. The game started with Bryzgalov allowing two very bad goals.
Afterwards the net-minder settled down.
He gave up another goal early in the second, but the Flyers rallied and tied the game at three, before Calgary was awarded a very "iffy" penalty shot, which Alex Tanguay scored on.
The Flyers came back to tie the game at four and it went into overtime.
Ilya Bryzgalov hasn't been successful in shootouts this year. It took him four months before he made a save in a shootout, and on February 25 he had yet to win one. The Calgary Flames seemed to take note of this as it was pretty obvious they were playing sudden-death overtime conservatively hoping to force a shootout.
The Flyers bailed Bryzgalov out by battling back and tying the game after their goaltender let in two shaky goals to start the contest. Bryzgalov returned the favor by being stellar in the shootout.
He saved four of five shots and the Flyers won the shootout—just their second of the season—when Matt Read scored on the Flyers fifth shot.
The Flyers won, 5-4.
From this moment on, Bryzgalov's confidence seems to have been growing.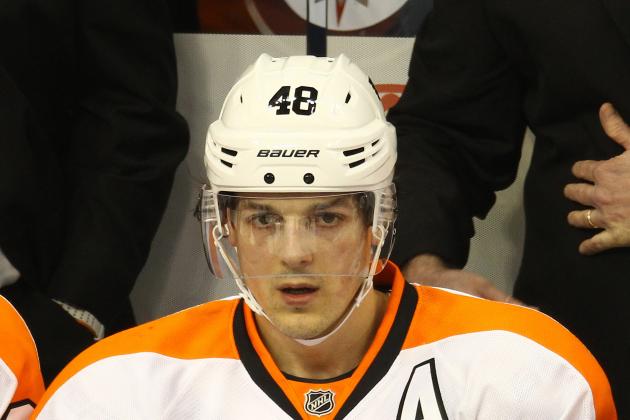 Tom Szczerbowski/Getty Images

Danny Briere, who is one of three players the Flyers have decided are needed to share the captaincy vacated by the injured Chris Pronger, recently went to the press and revealed that the "Leadership Group" of the team called a players-only meeting with Ilya Bryzgalov and set him straight.
They told him they needed him to be more focused and to be a better teammate.
Since then there has been some controversy.
Briere originally said this meeting made Bryzgalov a better teammate which one would then logically conclude to mean that before the meeting Bryzgalov was not a good teammate. This is something coach Peter Laviolette denied by saying Bryzgalov has always been a team player.
The tone of the meeting was also then downplayed as it is now portrayed not as a meeting about Bryzgalov but just one that included him as part of the "Leadership Group."
Briere also back-tracked saying he meant that Bryzgalov was now a better team player in Philly than he was in Phoenix where it was alleged he was not a good teammate. Or something like that.
Either way, apparently there was some meeting of the minds, some hashing of things out between Bryzgalov and some other of the Flyers, the only one of whom who has been confirmed to be present is Danny Briere.
It has apparently helped Bryzgalov's play and his relationship with his teammates. Or not.
Considering Danny Briere has not scored a goal since the Reagan Administration, maybe it's high time for the Flyers "Leadership Group" to sit him down for a stern talking-to.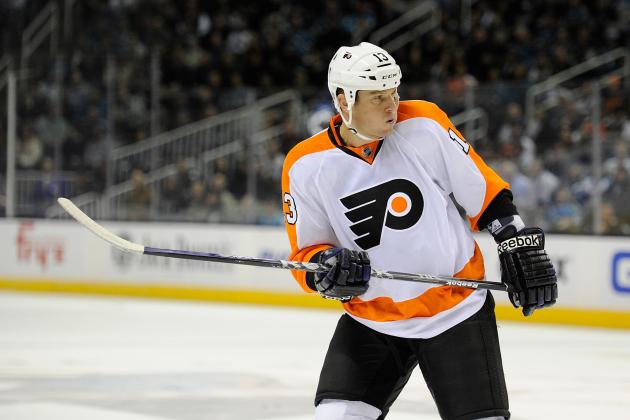 Thearon W. Henderson/Getty Images

When the Flyers lost Chris Pronger for the season, they lost a gigantic piece of their team.
Gone was their captain, their best defenseman and the hulking dude that could clear the front of the net and physically punish any opposition forward who dared to approach the Flyers goal.
From November until late February, the Flyers tried to make do on their defense.
The result was a lot of opposition forwards camping out in front of the Flyers goal.
The redirection and deflection goals scored on Bryzgalov this year have been mind-boggling but may not have been as prevalent if they had a big defenseman clearing the crease and slot areas.
GM Paul Holmgren looked to fix this problem by trading for big defensemen Nicklas Grossmann and Pavel Kubina.
Since their arrival, the play in the Flyers own zone has improved, although it's still not perfect.
As a result, the Flyers are blocking more shots down low and Bryzgalov is seeing attacking opponents more clearly and putting himself in better position to make saves.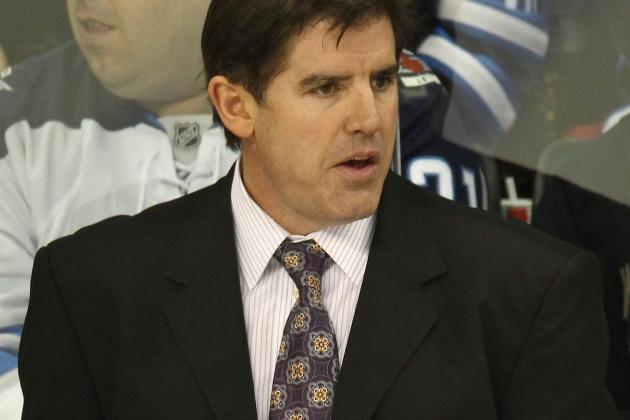 Tom Szczerbowski/Getty Images

Peter Laviolette seems to have no respect for goaltenders.
He won the Stanley Cup as the coach of the Carolina Hurricanes in 2006 by flip-flopping between goalies Cam Ward and Martin Gerber.
As a result Laviolette seems to now have it in his mind that he can handle all of his goaltenders that way and find success.
In his defense, since becoming the Flyers head coach in 2009 he has had some of the most ineffective net-minders in the league...and he actually had to play one of them each night.
Ray Emery, Brian Boucher, Michael Leighton and Sergei Bobrovsky: none of these names would ever strike fear in an opposing offense.
In fact, Leighton is not even in the NHL any more, and Boucher is now a winless third-string goaltender on a terrible team who without the massive NHL expansion of the 1990s would undoubtedly be running a skate shop in suburban Rhode Island right now.
Considering this, maybe one can't blame "Lavy" for having no idea how to handle a legit number one goaltender. But all excuses aside, the way he treated Ilya Bryzgalov during the first half of this season was near criminal.
Bryzgalov, a goaltender who played at least 64 games his last four seasons, was virtually splitting time with Sergei Bobrovsky, a goalie who the Flyers signed on the cheap after he was drummed out of the KHL in 2010.
Bryzgalov, who gets better the more he plays, put together a seven-game wining streak for the Flyers, each time only then to have Laviolette inexplicably sit him in favor of Bobrovsky.
These games off did damage to Bryzgalov's groove and he almost always struggled his first game back after sitting a game. Which would then have Laviolette start Bobrovsky in the next game and thus setting in motion an endless cycle of Bryzgalov struggling during his first start after sitting a game.
All of this was compounded of course by the Winter Classic.
After leading the Flyers to seven straight wins in late November/early December, Bryzgalov was given the night off in Montreal. The Flyers won 4-3, and the next game Bryzgalov started against the white hot Boston Bruins and was torched and pulled for Bobrovsky.
Thus followed three weeks of flip-flopping goalies and Laviolette's infamous and ultimately wrong decision to play Bobrovsky in the Winter Classic.
This slightly embarrassed his number one goalie on a national stage and threatened to undermine the season, all so Sergei Bobrovsky could have the opportunity to surrender two goals to the scoring machine that is Mike Rupp.
Since the All-Star break, Bryzgalov has been stellar.
Unfortunately, there was a week towards the end of January where he suffered from the flu and needed to be taken out of the lineup.
It disrupted his groove, and it did show Laviolette and the Flyers fans how bad things would be if Sergei Bobrovsky was indeed the team's number one goalie.
Since then, Laviolette has seemed to stick with Bryzgalov. The biggest step in this was not pulling him after surrendering two bad first period goals against Calgary. That game has proven to be the turning point in Bryzgalov's and the Flyers' season.
Laviolette has started Bryzgalov in ten straight games since he overcame his flu and the Flyers were stuck relying on Bobrovsky as their starter.
In that time Bryzgalov has gone seven and two with one no-decision (the Pittsburgh game where Bobrovsky allowed three goals in just a little over one period of playing time).
Bryzgalov has shown in the past he gets better with more playing time, that he improves with each successive start.
It's about time the head coach realized that.