Did Roy Roundtree and Kenny Demens' Tweet Violate Michigan's Probation?
March 9, 2012

Everybody knows the story by now.
Michigan put itself on two years probation in May 2010 for four major NCAA violations on practice and training rules under former coach Rich Rodriguez. 
The NCAA added an additional third year of probation for the cherry on top.
As long as Michigan could behave itself in three years, they were destined to be just fine with no loss of scholarships or bowl bans. Now, things are more complicated. 
Mike McCray, a soon-to-be high school senior OLB out of Trotwood, OH just gave his verbal commitment to Michigan on March 6th. However, until February 2013, McCray can't give his letter of intent and is technically not a part of the football team. McCray is rated 4 stars by rivals, scout, 247sports and is also an ESPN 150 watch list member.
NCAA rules prohibit messages being sent to recruits through social media from accounts affiliated with someone from the school.
In other words, a member of the Michigan football team can't contact a recruit through Twitter who hasn't signed his letter of intent yet. This is considered an NCAA secondary rule violation.
So here's what Roundtree and Demens did wrong. They congratulated McCray on Twitter for giving his verbal commitment to Michigan. Roundtree is also from Trotwood, Ohio while Demens is the clear leader of the linebacking core for the Wolverines.
Roy Roundtree and Kenny Demens are both entering their fifth year as redshirt seniors on the Michigan football team. I find it unbelievable they had no idea that this was a rule violation. And again, they're fifth-year seniors so it's not like they're freshmen where they don't know much about NCAA rules and regulations.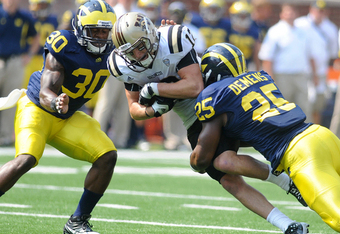 This oversight is inexcusable for Roundtree and Demens. 
Let's just hope the Michigan program doesn't have to pay the ultimate price for their lack of responsibility.
Notre Dame had a similar incident happen recently. Their tight end, Tyler Eifert, posted a message on his Twitter account toward a recruit before he visited campus. Like Michigan, Notre Dame forwarded the information to their compliance department for further review.
While the NCAA figures out what to do with the Wolverines, Brady Hoke must begin educating his players (freshmen and seniors alike) on NCAA rules so they don't violate them. With Michigan on probation, it's imperative they must be more careful than ever.
We can only hope Michigan and Brady Hoke will receive a warning from the NCAA.