Boston Red Sox: 10 Ways Andrew Bailey Is an Upgrade over Jonathan Papelbon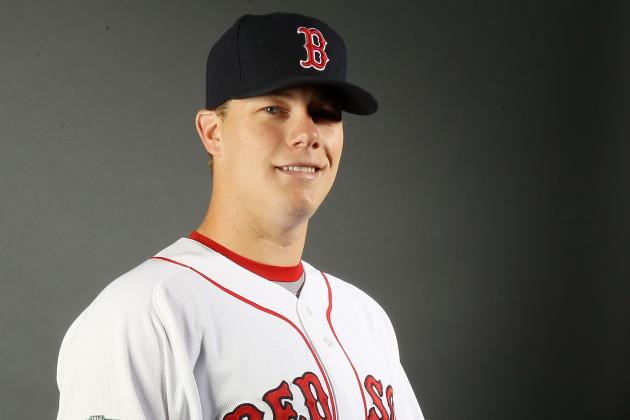 Elsa/Getty Images
New Red Sox closer Andrew Bailey will look to make his mark early in 2012
For the first time since 2006, the Boston Red Sox will start the season with someone other than Jonathan Papelbon as their closer.
After allowing Papelbon to leave as a free agent following the 2011 season, the Red Sox acquired two-time All-Star and former AL Rookie of the Year Andrew Bailey from the Oakland Athletics, shoring up their bullpen with a young and relatively experienced fireman.
Bailey will be tested from the start of the season both on and off the field, as he tries to assert himself and emerge from the shadow of the departed Papelbon. Though his comments yesterday did him no favors, Papelbon is beloved by Red Sox fans, and replacing him is an unenviable task for the young Bailey.
Throw in the brutally-tough AL East lineups he will have to face this season, and Bailey's introduction to east coast baseball appears like it could be rough one.
When a team loses a four-time All-Star like Papelbon, it is easy to assume that whoever replaces him will be a downgrade. However, upon closer examination, the differences between Bailey and Papelbon shrink, and in many cases disappear.
In fact, when comparing the last three years of each player's career, Bailey appears to be the superior player in many respects. It runs counterintuitive to the instincts of all Red Sox fans, who have grown to love Papelbon's enthusiastic celebrations of every save and easygoing nature off the field.
It's time for a step back, though, and to objectively compare the Red Sox's old and new closers as the 2012 season approaches.
Here are 10 reasons why Andrew Bailey will be better than Jonathan Papelbon.
Begin Slideshow

»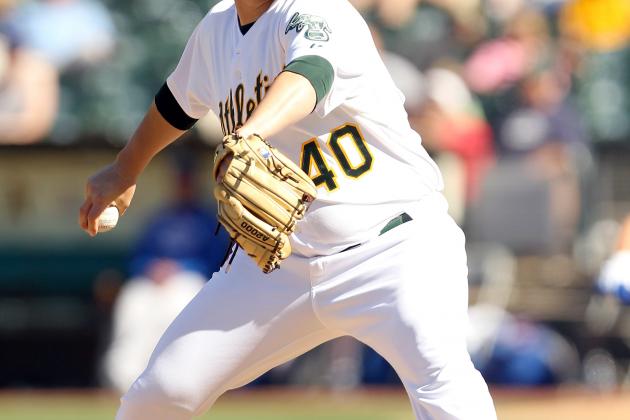 Ezra Shaw/Getty Images
At 27 years old, Bailey is nearly four years younger than Papelbon
Though Papelbon obviously has more experience (seven years to Bailey's three), in many ways this disparity can work against a pitcher. Bailey is four years younger than Papelbon and has pitched 255.1 fewer innings in his career.
While Papelbon certainly achieved great success in Boston and thrived under pressure, the miles are starting to accumulate. While his health has generally been good (apart from a shoulder injury in 2006), Papelbon is the type of hard thrower who can fizzle out quickly if he loses his command, velocity or both.
Bailey does have Tommy John surgery in his past, but this is no longer a problem for most pitchers; indeed, many come back stronger after the extensive rehabilitation.
Though Bailey is also battling some very minor issues in spring training, he has already resumed facing live hitters. This ability to bounce back quickly will serve him well during the season.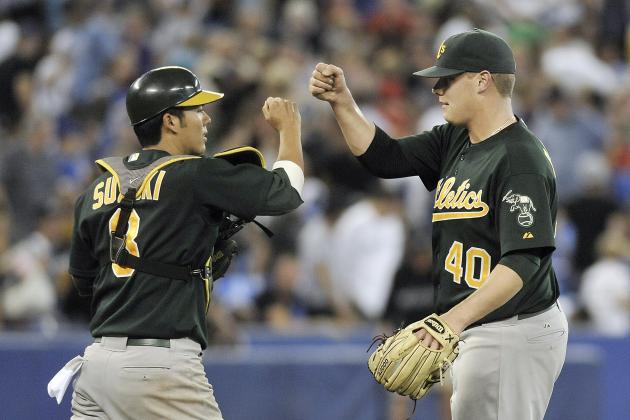 Brad White/Getty Images
Bailey's ability to keep runners off the bases will help him achieve early success with the Red Sox
Keeping runners off the basepaths is a time-tested way of preventing the other team from scoring. Because of the minuscule margin for error that exists in the ninth inning, a closer's ability to perform this function determines whether he keeps his job.
Both Papelbon and Bailey have been very successful keeping the bases clear over their entire careers, but when comparing the two, Bailey has actually been better in recent years.
Bailey has accumulated a 0.95 WHIP over the course of his three-year career. Over that same stretch, Papelbon comes in at 1.19.
While it may not seem like a large gap, over a full season, that number projects to about 15 fewer baserunners allowed by Bailey. Considering that Bailey and Papelbon often pitch just one inning, this difference could make a huge impact on the team's overall record.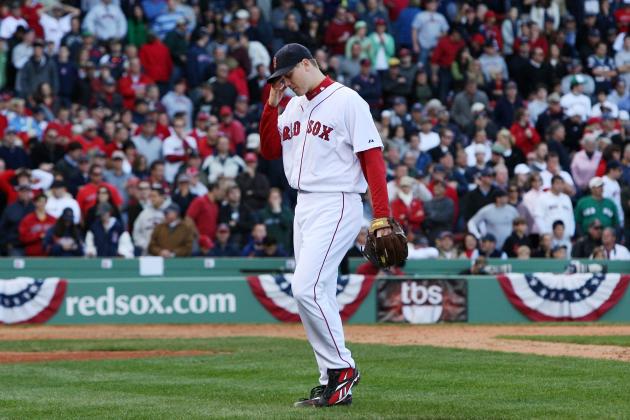 Jim Rogash/Getty Images
Scenes like this one had become increasingly familiar to Red Sox fans, as Papelbon blew 14 saves over the last three seasons
The stat most people point to when praising a closer is saves. As a corollary, blown saves become an equally important figure when discussing why a closer is ineffective.
In this regard, Bailey has far outpaced Papelbon. Bailey has never blown more than four saves in a season, and his nine career blown saves are significantly fewer than Papelbon's total (14) over that same span.
Some might argue that Papelbon has had many more save chances, which would explain his higher number of blown saves. The numbers do skew more in Papelbon's favor when looking at overall save percentage from 2009 to 2011; Bailey's total (.893) just barely eclipses that of Papelbon (.892).
In the ninth inning, every percentage point a team can work in their favor helps. The Red Sox can take comfort in knowing that, at the end of games, the odds will be slightly more in their favor this season.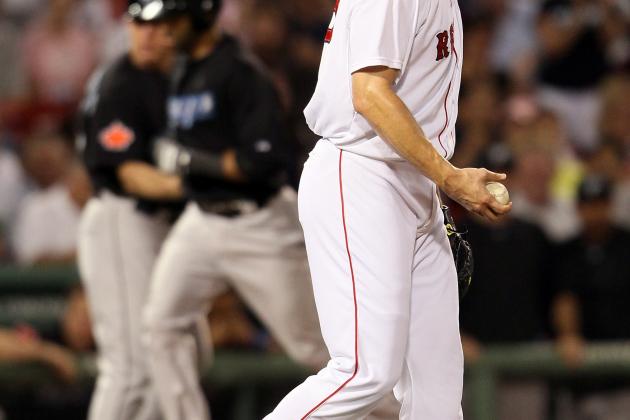 Elsa/Getty Images
Papelbon gave up 15 homers the last three seasons, four more than Bailey
Pitchers are always told that if they must give up a hit, it should do as little damage as possible. This point becomes increasingly more important in the ninth inning, where a single base can mean the difference between winning and losing.
It would behoove the closer, then, to keep the ball in the park. In this realm, Bailey is clearly superior to Papelbon. Over the last three years, Papelbon has surrendered 15 home runs compared to 11 allowed by Bailey.
As with the save percentage—though this disparity may not seem huge when one considers that the closer is only in for one inning—that small gap can make an enormous difference.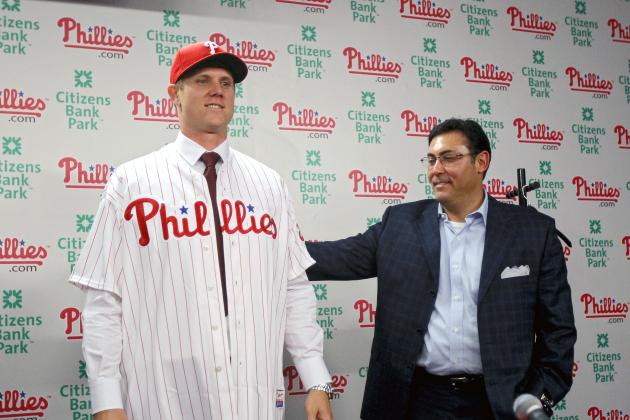 Len Redkoles/Getty Images
Papelbon got big money (four years, $50 million) this offseason from the Philadelphia Phillies
Here, there really is no comparison. Papelbon just inked a four-year, $50 million deal with the Philadelphia Phillies. Bailey will earn $3.5 million this year closing games for the Red Sox. Bailey will also remain under team control through the 2014 season, though he will earn a raise each year.
The number of legitimate closers to hit the open market is generally pretty small, as teams like to hang on to these reliable players if at all possible. When a player with a proven track record becomes available as Papelbon did, he cashes in.
Given Bailey's early success and the enormous dollars made by his peers with similar stats, the Red Sox are getting tremendous value for their $3.5 million. The roughly $9 million they save by having Bailey over Papelbon can be used to get them another vital piece (such as Roy Oswalt) before the trade deadline.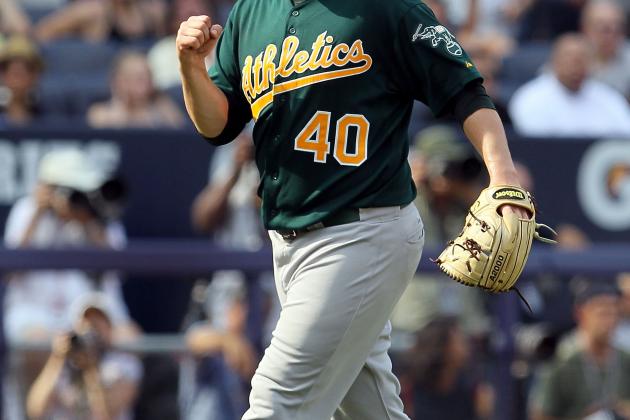 Jim McIsaac/Getty Images
Bailey has been solid in all of his Major League seasons, logging 26, 25 and 24 saves in his first three years
Though he has generally been excellent over the course of his career, Papelbon has been a bit erratic in terms of production the last three years. From game to game, it became difficult to know whether the Sox were going to see the Papelbon of 2009 (1.85 ERA, 38-for-41 in save opportunities) or 2010 (1.269 WHIP, eight blown saves).
Bailey, on the other hand, has been steady in all three of his Major League seasons. His saves, walks and strikeouts have all remained essentially the same, and his uptick in ERA last year can mostly be attributed to a couple isolated poor September outings.
The chief thing the Red Sox will want from Bailey is consistency. Papelbon struggled with this at times, swinging from periods of dominance to periods of constantly putting runners on base. Bailey's excellent control should allow for many low-stress saves in 2012.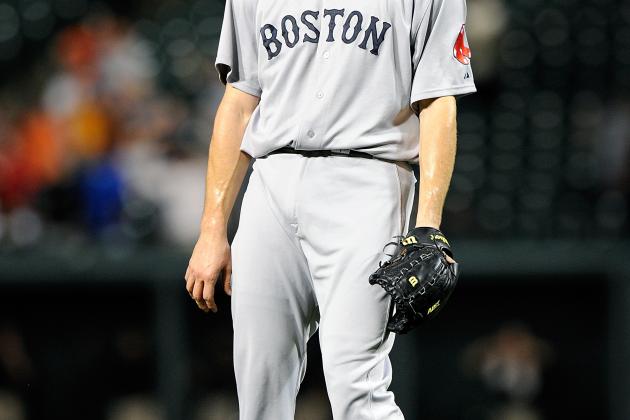 Greg Fiume/Getty Images
It will be hard for fans to shake this image of Papelbon looking on as the Red Sox season came crashing down last September
The Great September Collapse of 2011 has been dissected from nearly every angle and blame has been meted out to nearly all parties involved.
Interestingly, though, Papelbon escaped much of the criticism in spite of the fact that he blew two of his final three save opportunities.
With the fallout from the collapse leading to a massive overhaul of both the on-field and front office personnel, perhaps it is better that Papelbon won't return. He will always have a place in the heart of Red Sox fans, but if he returned and things had not started out well this season, the relationship between "Cinco-Ocho" and the fans could have soured quickly.
Instead, both the team and Papelbon get a fresh start. With Bailey, the Sox have found someone with similar abilities but will not remind fans of the catastrophe of last season.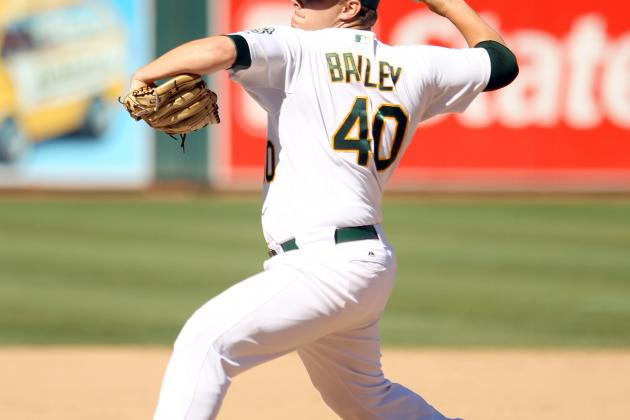 Ezra Shaw/Getty Images
Bailey has done well in preventing extra-base hits
One of the problems Papelbon always seemed to run into in Boston was his penchant for allowing extra-base hits. While most closers allow an opponent slugging percentage of .300 or less, Papelbon's figure over the last three seasons was a robust .325.
Compared with Bailey's more modest .288 allowed, the difference between the two becomes clear. Quite simply, Bailey does not allow nearly as many extra-base hits as Papelbon.
The implications of this reality are obvious: Fewer baserunners means fewer runs, fewer blown saves and fewer losses for the Red Sox.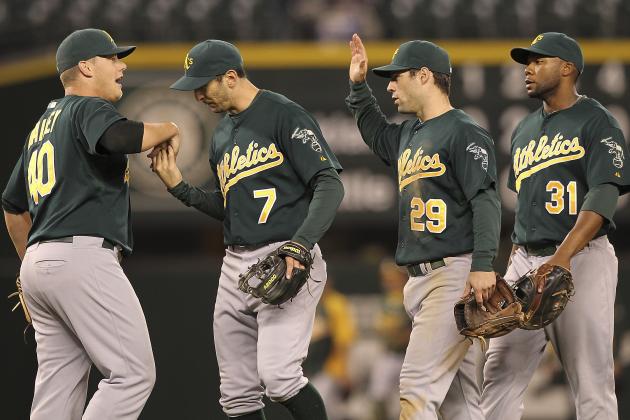 Otto Greule Jr/Getty Images
Bailey will have a much better defense behind him this year than the Oakland group he had last season
Clearly, one of the items not covered in the "Moneyball" philosophy is fielding. Last season, Bailey's Oakland Athletics made the second-most errors in MLB (124) and had the second-worst fielding percentage (.979).
Compare that with the Red Sox, who ranked 10th in errors (92) and fielding percentage (.985). It becomes readily apparent that Bailey is likely to improve upon his effort from the first three years of his career.
Grounders that found holes and fly balls that dropped in will find gloves this season, lowering Bailey's numbers across the board.
Had Bailey been able to make use of multiple Gold Glovers behind him in previous years, as Papelbon did, the differences between the two would be even less noticeable.
Thearon W. Henderson/Getty Images
Bailey has been a force against the AL East, compiling a 1.65 ERA in 43.2 career innings
Both pitchers have been very good over the last three years against the potent lineups of the AL East. However, Bailey has been markedly better.
Over the last three years, Bailey has compiled a 1.65 ERA against the Red Sox's four AL East foes, compared to a 2.71 ERA for Papelbon. While both numbers are certainly good, the full run upgrade the Sox get from Bailey cannot be ignored.
While it is true that Papelbon threw over twice as many innings versus AL East competition as Bailey (89.2 vs. 43.2), both sample sizes are large enough to warrant serious consideration.
When the Red Sox face each opponent 19 times a season, they will be glad to have someone with Bailey's track record of success on their side.