Denver Broncos: Possible Reactions to Signing Peyton Manning
March 9, 2012

Doug Pensinger/Getty Images
To say the least, I was very surprised to see that the Denver Broncos were one of Peyton Manning's top three teams he'd like to play for, according to rotoworld.com.
In a season where Tim Tebow seemingly ruled all that was around him, not to mention being deemed the starting quarterback for 2012, no one thought he would honestly be kicked out of the top spot so soon.
That is until Manning decided that Denver could be a good destination for him. And the more I think about it, the more it makes sense.
Now, I don't believe the Broncos are the frontrunners. In fact, I do believe he's going to end up in Miami because let's be honest—everybody in the sports world is going there (I blame the Heat and LeBron James. It's a lot of fun blaming them for things).
But what about the still-likely scenario where Peyton Manning ends up in a blue and orange uniform?
The part that's sure to lure him the most is to play under the watchful eye of John Elway. It'd be Elway's doing to get Manning here. He'd be crazy not to think of the idea. Not to mention that Reggie Wayne is most likely coming along to any team that Manning chooses.
Denver was a WR or two away from having a legitimate offense before the Manning release. Now if they were able to sign Manning and get Wayne along with him, that fixes a major problem and gives Denver a major upgrade at QB.
We in Denver trust what Elway does. After all, he sold us cars for nearly a decade.
There's still that lingering issue though about what to do with Tebow. Anyone who's watched him would know that he would respect being behind Manning and would welcome the opportunity to learn from the future hall of famer more than anything.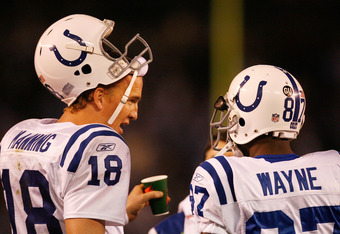 Harry How/Getty Images
This is where agents come into play.
Manning's agent, Tom Condon, is with the Creative Artist Agency (CAA) and has been called one of the most powerful agents in sports. Another member of the CAA is Tim Tebow's agent Jimmy Sexton, according to Woody Paige of The Denver Post. Agents don't like to have their clients in the same place, so we could expect Tebow to be moved elsewhere via trade.
In a perfect world we would love to see Tebow back up Manning and learn from the best. It won't happen though.
If the Broncos get Manning, then half of the Denver fanbase would be more than upset. The man that they petitioned to start for the past couple years would be on the bench. Yes, it'd be behind one of the greatest quarterbacks of all-time, but if we've learned anything from the Tebow faithful, it's that it's him or no one.
On the other side, half of Denver would be extremely excited to see that we finally have a traditional QB who has succeeded in the NFL and will continue to succeed throughout the remaining four to five years he has left in the NFL.
So here are the possible outcomes if Manning signs with the Broncos:
They sign Reggie Wayne, leaving the draft to fix issues on the defensive side of the ball and find a decent back up QB (OSU's Brandon Weeden in the 2nd round, perhaps?). The Broncos would have a third string QB in Adam Weber, who looked good during the preseason last year, so the QB situation all around would be set.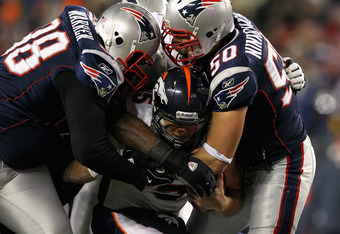 Al Bello/Getty Images
Weeden's age and maturity would make him a good second stringer so that if Manning were to get injured, he could fill in. Weber would be able to learn from both and be able to take over for Weeden if the former minor leaguer didn't succeed.
Trading Tebow wouldn't be too hard either. It's easy to say he could land in Jacksonville, but I'm one of the few who think that wouldn't work out too well for them, especially since they already have Blaine Gabbert, who's a more traditional QB. I believe Tebow would be traded to either Washington or Miami.
Whichever one doesn't end up getting the No. 2 draft pick from St. Louis (which will most likely be used on RG3) inherits Tebow. Seattle could be a good possibility as well for him. A wildcat style offense with Tebow and Marshawn Lynch would make Seahawk fans ecstatic.
Who knows what the Broncos would get back from these teams, but it's surely to be worthwhile for the former first-round draft pick.
The only downside I see to signing Manning would be the backlash from fans who watched the Broncos simply for Tebow. The man brought Bronco football back to life in 2011 whether you're a fan of his style of play or not. The No. 1 selling jersey would be shipped out of town and all the new Bronco fans would likely leave with it.
In the end, though, I don't see Manning signing with the Broncos. He most definitely would be a welcome addition to the Mile High, but I think he'll be more attracted to playing in Miami with his boy Wayne across from former Bronco Brandon Marshall.
Playing Tom Brady twice a year as well has to be attractive to him.
But if Elway lures him to Denver within the next week, then expect nothing short of controversy every time Manning steps onto Sports Authority Field at Mile High in 2012.
We're a bit used to that with Tebow already, though.