New York Giants 2012 Mock Draft: What the Experts Around the Web Are Saying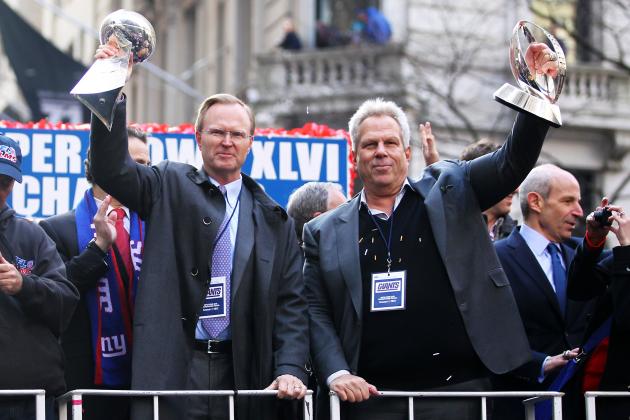 Al Bello/Getty Images

In this version of the New York Giants 2012 Mock Draft, I will present what the experts around the web are saying about each pick for the New York Giants.
I will use experts such as Mel Kiper, Todd McShay, Mike Mayock, and our own Matt Miller to show you how the gurus see it, and make a conclusion based on their analysis or, in the more fun-for-me scenario, ignore what they say and give my own pick.
Sometimes you just have to go with your gut feeling, no matter what they think.
This article is not necessarily my mock draft, but rather a combination of my estimation of the Giants needs and my reaction to the expert opinions.
Some slides I will agree with a pick and choose that player for the round, even though I might have gone with another player if this was my own mock draft. Only if I absolutely cannot justify picking one of the expert picks will I go away from their selections.
Begin Slideshow

»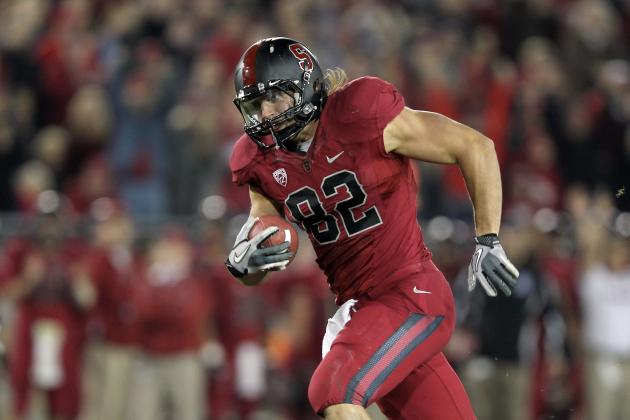 Ezra Shaw/Getty Images

Mel Kiper, ESPN says: Coby Fleener TE, Stanford
The Super Bowl was great for the party, but the Giants took a hit on the personnel side, where they lost a pair of tight ends to injury. Fleener has overtaken Dwayne Allen of Clemson as the top tight end on my board, and the Giants need one. He has great hands, will run a lot better than people think and knows how to work in a pro-style system, lined up on the line of scrimmage. He's a great red zone target. The Giants also need offensive line help, or could target a linebacker here, but Fleener makes a lot of sense.
Todd McShay, ESPN says: Coby Fleener TE, Stanford
If one of the top defensive tackles were available here the Giants might go that route, and I would also not be surprised to see them take a running back like Virginia Tech's David Wilson. However, tight end is a clear need area and Fleener should cement his status as the top player in the class with a good pro day workout on March 22. He gives good effort as a blocker and has the tools to improve in that area, and I think he'll surprise some people with his speed and elevate himself above Clemson's Dwayne Allen and Georgia's Orson Charles.
Mike Mayock of NFL network has a list of the top five at every position and, though he does not add any commentary to the article, he lists tight end Orson Charles from Georgia as his top tight end. Making the assumption that no other team drafts a tight end, which is likely, he would probably go with Charles here.
Matt Miller, Bleacher Report says: Orson Charles TE, Georgia
Orson Charles impressed me the first time I saw him play and continues to do so time and time again. He's a physical specimen that will open up new doors in the New York Giants offense.
Tom Coughlin, while addressing the media at the combine, said the team wanted to add a tight end after ACL injuries hit Travis Beckum and Jake Ballard during the Super Bowl. Charles is the top-rated tight end on the board and would give New York an immediate presence in the middle of the field.
My take:
So the experts have it as a split right down the middle, and it should come as no surprise that they are all picking tight ends. Most experts are.
Of the two, I like Coby Fleener much better. One thing you cannot teach is his height and speed, which are far better than Charles's.
Charles was very disappointing at Georgia's pro day, running a 4.75 with the wind and 4.9 against it. His stock rose after the combine but took a hit after his pro day.
Fleener still has yet to participate in his pro day and did not run the 40 at the combine, but he still provides more upside than Charles.
Conclusion: Coby Fleener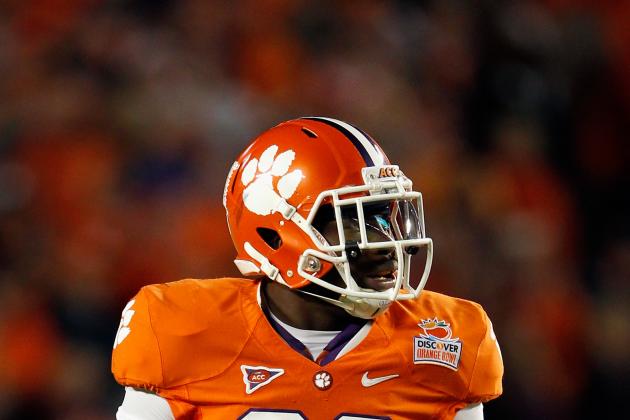 Streeter Lecka/Getty Images

Matt Miller says: Jonathan Massaquoi OLB, Troy
He does not offer any explanation for the picks after round one, and I do not blame him, but I cannot for the life of me figure out where he is going with this pick. Not only does Massaquoi fit much better in the 3-4 system, but he does not fill a need for the Giants. Miller should understand the stubbornness of Jerry Reese with his linebackers.
DraftTek says: Dwayne Allen TE, Clemson
Finally, the model assigns the Giants a TE! Until the Superbowl, the Giants looked to be set at TE with the surprising play of Jake Ballard, supplemented by Beckum the pass catcher and Pascoe the blocker. When the smoke cleared and Eli hoisted the Lombardi trophy, Pascoe was the only TE to survive without a torn ACL or trade. Obviously, TE is a great need in April. Earlier in the year, no one would have thought that Clemson TE Dwayne Allen could fall to the end of the 2nd round, but in this mock, the Giants do not hesitate to grab him. The 2011 Mackey Award winner is a prototypical TE: he can block and catch, which is becoming somewhat of a novelty act in this age of specialists. He's 6'4" and 255 pounds, he can separate from d-backs, and while his blocking skills will need to be refined, he has the capability and is known as a very hard worker. He's anywhere from the #1 to #3 TE in this class, but is definitely a steal at 64.
Draft Countdown says: Dwayne Allen TE, Clemson
Not overly dynamic but is well-rounded and can be effective as a pass catcher and blocker.
My take:
Seeing as how Kiper and McShay only have their first-round mocks out right now, I cannot continue to use their analysis, so we're going to have a bit of a discrepancy.
Frankly, I do not agree with any of the picks, as DraftTek has the Giants taking a defensive tackle in Round 1 and Draft Countdown has the Giants taking Mike Adams of Ohio State.
I think tight end is not deep enough to pass up snagging the best talent at No. 32, and this whole Jerry Reese going as the best player available is bogus.
He did it really only once with Jason Pierre-Paul in 2010 (that worked out well, eh?). The Giants did need depth at corner last year and took Prince Amukamara. They needed a wide receiver in 2009 and took Hakeem Nicks. They needed a safety in 2008 and took Kenny Phillips, and they needed a corner in 2007 and took Aaron Ross.
Each one of these first-round picks were high priorities for the Giants that season.
Seeing as how the Giants get a tight end by my estimation in Round 1, I'll go with someone I've liked for a long time.
Conclusion: Kelechi Osemele G, Iowa State.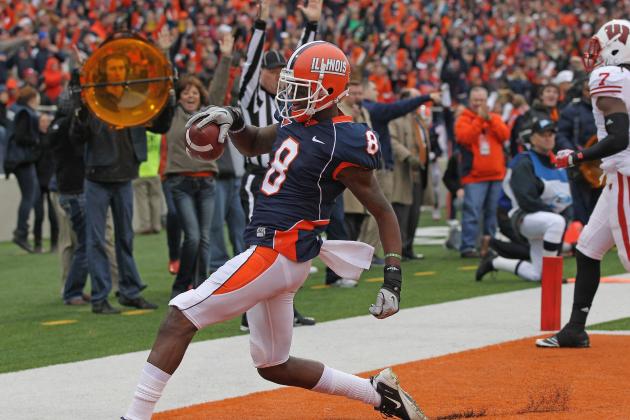 Jonathan Daniel/Getty Images

Matt Miller says: A.J. Jenkins WR, Illinois
Miller is likely undergoing the assumption that Mario Manningham will be gone, which is a very high possibility, but I'm not sure that warrants such a high pick on a position that is overflowing with talent.
DraftTek says: Senio Kelemete G, Washington
They went DT, TE, OG with the first three picks, which is not how I would do it, but you couldn't complain if these were the results of the draft.
Walter Football says: Brandon Brooks G, Miami (OH)
New York's offensive line has been better lately, but the left guard position still needs to be addressed. David Diehl is done. He's been awful this year, and he's all but gone considering that he's owed $8 million over the next two years.
My take:
Seeing that I went with a tight end in the first and then a guard in Round 2, I have to shy away from agreeing with either of the two bottom selections. Miller's pick is a good player, but he doesn't fit an immediate need.
The third round will be very interesting and depends on a few factors. One will be the amount of free agents or current players they let walk out the door. Aaron Ross, Terrell Thomas and Will Blackmon are all corners that need deals. Deon Grant may not return; Brandon Jacobs or Osi Umenyiora could be cut or traded.
I actually think the Giants could look to shore up some secondary depth they will lose to free agency.
Conclusion: Josh Robinson CB, Central Florida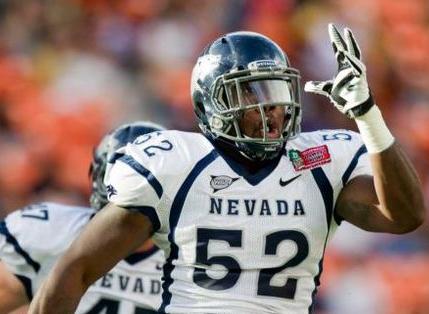 Source: Eugene Tanner / AP
Matt Miller says: Josh Robinson CB, Central Florida
Robinson impressed a ton with his combine-best 4.33 40 (officially, unofficially clocked at 4.29).
DraftTek says: James-Michael Johnson ILB, Nevada
Although a bit undersized, Johnson showed off some ridiculous athleticism with a 4.68 40, 37" vertical, and 10'4'' broad jump.
Walter Football says: Jarius Wright WR, Arkansas
The Giants will probably lose Mario Manningham this offseason, so they may look into drafting a receiver in the middle rounds.
My take:
I obviously cannot take Robinson since he was my pick in the previous round, but of these three I actually love the James-Michael Johnson pick, who I was not privy to until very recently.
He was impressive at the combine, showing off some impressive athleticism. He could be a developmental project for the Giants as a future middle linebacker, and in the short term be an excellent addition to special teams.
Conclusion: James-Michael Johnson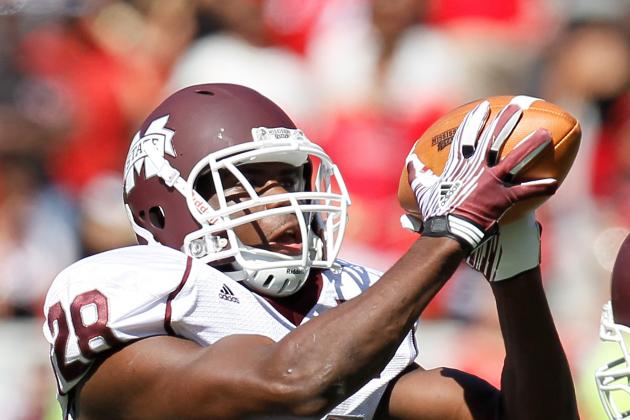 Kevin C. Cox/Getty Images

Matt Miller says: Vick Ballard RB, Miss St
Depending on what happens with the Brandon Jacobs situation (he is owed $500K on March 17), the Giants could be in the market for a running back. Honestly, I'd be OK with this pick regardless of what happens, but if they cut Jacobs loose, they might look for a helper for Ahmad Bradshaw earlier.
DraftTek says: Jermaine Kearse WR, Washington
I'm not sure the Giants would draft a wide receiver that does not have return abilities as well, but Kearse was a nice red -zone threat for Washington, scoring 19 touchdowns over the previous two seasons.
Walter Football says: Deangelo Peterson TE, LSU
Jake Ballard [is] a decent tight end, but he tore his ACL. The Giants needed competition at the position anyway
My take:
This one is pretty simple. Vick Ballard makes the most sense here, with or without Brandon Jacobs on the team. DJ Ware and Da'Rel Scott were not great backups last season, and Ballard's bigger strengths are his pass catching and blocking ability, something only Bradshaw seemed to possess last season.
Deangelo Peterson had dismal stats at LSU playing in a run-dominated offense, but he claims to have the athletic prowess of Rob Gronkowski, Jimmy Graham, and Vernon Davis.
The problem is each one of those Pro Bowl tight ends have at least one significant advantage over Peterson (whether it be height, weight, or speed). He may be 6'3'' like Davis, but Davis clocked a full .4 seconds faster with his 40-time. That's a HUGE difference.
I don't like the Peterson pick, especially having already found an elite receiving tight end with the first pick. If the Giants select two tight ends in the draft, one of them will be a dominant blocker.
Conclusion: Vick Ballard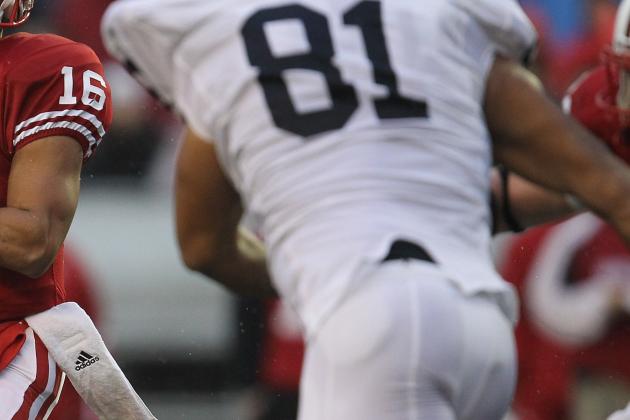 Jonathan Daniel/Getty Images

Matt Miller says: Tysyn Hartman FS, Kansas State
DraftTek says: Jack Crawford DE, Penn State
My take:
Allow me to take you back to the middle of February, where I scouted Jack Crawford as a potential sixth-round pick. Jerry Reese hinted at the combine that the Giants will be looking for pass rushers, most likely due to the fact that Osi Umenyiora and Mathias Kiwanuka are entering the final year of their contract.
Here is what I had to say:
Another pass-rusher? Knowing Jerry Reese, I wouldn't be surprised to see him sneak in another defensive end late in the draft.
The Giants rode their pass rush all the way to the Super Bowl and it makes perfect sense to try and find the next sleeper pass-rusher. Crawford finished the season strong for Penn State, but only finished with 6.5 sacks in 2011. He has a lot of potential but has yet to live up to it. Maybe playing along side Jason Pierre-Paul and Justin Tuck could get the best out of him.
Of the two picks, I definitely like Crawford better, though you couldn't go wrong with either selection. Crawford can be a sleeper-pick of the draft, much like Ahmad Bradshaw or Jacquian Williams.
Conclusion: Jack Crawford
Christian Petersen/Getty Images

Matt Miller says: Trevin Wade CB, Arizona
DraftTek says: Sean Cattouse SS, California
My take:
I like where Miller is going with his pick, because it is never too late to add CB depth, but with him giving the Giants a CB in Round 4, what is the thinking? Terrell Thomas and Aaron Ross may be free agents, but at least one is expected to sign.
The Giants might in fact need a safety to replace Deon Grant, or at least fill Tyler Sash's role if Grant should leave and the Giants promote Sash.
Catthouse is a big hitter with below-average speed and surprisingly good man-cover skills. His skill set is odd for his position, because he does not recognize plays well, but could be a good find in the final round.
Having already selected a corner in Round 3, this decision is simple.
Conclusion: Sean Catthouse