2012 NFL Draft: Tracking Pro Day News from Clemson and Nebraska
March 9, 2012

Streeter Lecka/Getty Images
It was a whirlwind day on the pro day beat, with stops in Florida, Washington, Nebraska, Mississippi and South Carolina. Draft boards continue to be fluid as these workouts give us more data and also some clues into team interest.
We start at Miami-Florida's pro day, where SI.com's Tony Pauline brings us the news about some more obscure prospects. Pauline reported that two wideouts who hurt their stock in 2011 have begun to create positive momentum heading into the draft.
Aldarius Johnson was suspended for the season, but Pauline wrote that he weighed in at about 6'2" and 208 pounds, and ran in the low 4.4s.
Laron Byrd, who lost a lot of draft stock while underperforming in his senior season, ran in the mid-4.4s according to Pauline. Pauline said both receivers adjusted to the ball in flight and caught well.
On the defensive side of the ball, Pauline reported that defensive end/outside linebacker Olivier Vernon ran under 4.7 in the 40 and looked "explosive and fast" in linebacker drills.
A small school pass rusher also made an impression. Bethune-Cookman defensive end/outside linebacker Ryan Davis weighed in at 6'2 1/2" and 259 per Pauline's report, and had a 35" vertical and 40 just under 4.8, while looking faster than that in linebacker drills. Vernon should be a mid-round pick, while Davis, Johnson, and Byrd are striving to get drafted late.
Russ Lande from The Sporting News gives us the scoop from Clemson's pro day. According to Lande, tight end Dwayne Allen showed "excellent foot quickness and body control getting in and out of his cuts while running good routes" with "soft, yet strong hands showed up as he plucked pass after pass away from his body throughout the workout."
Lande thinks Allen has established himself as the No. 1 tight end in the draft, with a shot to be a first-round pick.
Rob Rang of CBS Sports reported that New York Jets head coach Rex Ryan met with Allen again after talking to him at the combine. According to Rang, Allen had a good reason for not re-running his 40 despite a 4.89 at the combine.
"I'm not a track guy -- I'm a football player," Allen said. "Just watch me on film. If you watch me on film, I play way faster, and that's all that matters." 
Lande also reported that defensive end/outside linebacker Andre Branch displayed "outstanding lower body flexibility, agility and long speed" and looked good in pass drops and catching the ball.
Defensive tackle Brandon Thompson was explosive with his initial quickness and flexibility, but Lande dinged him for getting tired during the workout, calling him a third- or fourth- round rotational player.
Back to Pauline for Mississippi State's pro day, which revolved around stud defensive tackle Fletcher Cox. Pauline reported that Cox was "outstanding" in drills and opened up the possibility of Cox cracking the top 10. I believe he could be the best pick for the defensive tackle-poor Carolina Panthers at No. 9.
Pauline also said offensive tackle James Carmon "turned a few heads" and that his "upside is enormous." NFL.com's Gil Brandt noted that Green Bay Packers director of college scouting John Dorsey was in attendance, which usually means "there's a prospect he's interested in."
The Pittsburgh Steelers and Kansas City Chiefs defensive line coaches were also on hand.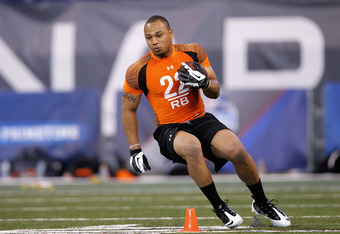 Joe Robbins/Getty Images
A trip out to Seattle brings us news on Chris Polk from CBSSports' Rob Rang. Rang reports that Polk shaved time off of his 4.57 combine 40 time, coming in at the high 4.4s. He also demonstrated "soft, reliable hands and route-running ability" according to Rang, who puts Polk in the mix to be the second back off the board next month.
The Cincinnati Bengals have two first-round picks, and they've had a strong presence at many pro days, Washington's included. Rang reported that the Bengals defensive line coach Jay Hayes worked out the massive defensive tacke Alameda Ta'amu, who pleased scouts in Rang's eyes.
The Cincinnati Bengals thought enough of defensive tackle Alameda Ta'amu to send their defensive line coach Jay Hayes to work out the big (6'2", 347 pounds) run-stuffer personally. Ta'amu has surprisingly light feet for a man of his size and scouts on hand seemed pleased with his performance in the shuttle and three-cone drills. 
Our last stop is Nebraska, where defensive end Jared Crick showed the league that he is over his torn pectoral muscle by bench pressing 225 pounds 26 times. Rang gave us that news. Running back Marcus Mendoza ran a reported 4.37 40 and soared to a 45 1/2" vertical, which would have been the best at the combine by two inches.