Randy Moss to Patriots: Why Ex-Titans WR Would Look Good in New England Again
March 9, 2012

Mike Zarrilli/Getty Images
On Oct. 6, 2010, the Randy Moss experiment in New England came to a sad end. The Patriots sent the disgruntled wideout back to the Minnesota Vikings along with a seventh-round draft pick in exchange for a third-rounder.
The departure was a relief off the field for the organization, which grew tired of Moss' attitude. His post-game press conference rant brought negativity to an all new level.
"This will probably be my last year in New England," Moss said after a Patriots' 38-24 victory over the Cincinnati Bengals. "When you have done so much and put so much work in, it kind of feels like I am not wanted."
There's one thing Moss is wrong about. He has been wanted—on the field at least. The Patriots have sorely missed Moss' deep-threat ability.
The numbers don't lie: 259 catches, 3,904 yards and 50 touchdowns as a member of the Pats between 2007-2010.
The potent passing game has lost some venom, with Brady primarily dinking and dunking defenses. In Moss' words, his job is to "take the ball deep and take the top off the defense." Spreading the field is vital in an NFL offense. Currently, New England can't get separation.
After leaving New England, Moss' short stint with the Vikings ended miserably as well. While criticizing ex-Vikings coach Brad Childress, Randy called Patriots head coach Bill Belichick "the greatest coach in the history of the NFL."
"I just want to be able to tell the guys in New England I miss the hell out of them," Moss said.
This post-game blowup must have touched the heart of Patriots faithful, though it definitely didn't have the same effect on Minnesota fans. Soon after, Moss was waived and picked up by the Tennessee Titans where he finished the 2010-2011 season.
In August of 2011, Moss decided to retire from football. But sometimes people do things they don't mean. Right, Randy?
A year removed from the game left the great receiver hungrier than ever. On Feb. 13, 2012, Moss announced his plan to return to the NFL.
Pretty much every team has been linked to acquiring the big target. A few days ago, Moss worked out for the New Orleans Saints and it apparently "couldn't have gone better," according to a league source.
However, New Orleans isn't the only team which could land the former Marshall route-runner. Randy Moss could jell in New England if the Patriots elected to reel him back.
Why would the Patriots want to bring the headache back into the locker room?
Well, for for starters, he would have Brady's blessing. Back in September, TB12 was asked about the possibility of a Moss comeback in New England.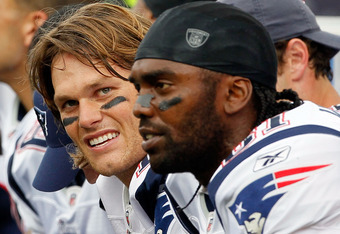 Jim Rogash/Getty Images
"I talked to Randy just before the start of training camp," Brady said. "I love Randy. He's one of the greatest wide receivers in the history of the game, one of the greater players I've ever had the chance to play with."
"Unfortunately, I don't make personnel decisions. If I did, I'd still have all my friends here - Troy [Brown], David Patten, Deion [Branch] never would have left. I've seen so many guys move on, then guys come back. Who knows? You never know what situation we'll be in here next week, for that matter."
Winning Brady over is half the battle because Belichick listens to his quarterback. But ultimately, director of player personnel Nick Caserio and the man in the hoodie make the final decisions.
"I don't want to speak for Randy, but of course I think he was a great player," said Belichick. "I think that will be recognized in time, at some point, really how exceptional of a player he was. He made a lot of contributions to our football team during the time he was here. I enjoyed coaching him, and I enjoyed our relationship off the field as well as on the field."
As far as Belichick's dry personality is concerned, his statement on Moss appeared to be honest and sincere.
Why would the Patriots want to sign a 35-year-old wide receiver?
New England has struggled with developing young talent at wide receiver in the past. Former second-round draft picks Bethel Johnson and Chad Jackson combined for just 43 catches during their respective tenures with the Pats. 2010 third-rounder Taylor Price caught just three catches when he was with the team as well.
Failing to draft dependable receivers has been a recurring problem for Belichick and company. If they play their cards right, re-signing Moss while also drafting a receiver in April could pay dividends down the road.
Behind the recently franchise-tagged Wes Welker, the Pats are thin at wide receiver. Deion Branch and Chad Ochocinco have questionable futures in New England. That leaves the Patriots anemic and quite short in stature at the position. Their tallest wideout is practice squad player Britt Davis at 6'3". 
With that said, Moss certainly suits the Patriots' needs.
Even though Moss' exit from New England was a train wreck, he still has shown flashes of nobility. NESN reported that Randy visited Patriots owner Robert Kraft soon after the death of his wife Myra. Their bond has proven to stand the test of time.
Last summer, Sports Illustrated's Peter King reported that Moss will always be a Patriot in the hearts of many.
When Randy signed with New England, "Kraft brought him into his office and told him if he played for the Patriots, he'd always be in the Patriot family," King said. "So when he opened Moss' sympathy card, he knew Moss remembered the family speech. Moss signed his sympathy card: 'Randy Moss Kraft.'"
Still waters run deep in Foxborough. The connection Moss has shared with Brady, Belichick and Kraft is unbreakable. That is why adding Randy Moss could very well answer some of the New England Patriots' problems.