NBA Rumors: Three Teams Who Could Make a Play for the Disgruntled Josh Smith
March 9, 2012

Christian Petersen/Getty Images
According to Michael Cunningham of the Atlanta Journal-Constitution, Josh Smith has informed the Atlanta Hawks front office that he wants to be traded in the coming days. Despite spending his entire professional career in Atlanta, the disgruntled star is looking for a "fresh start" away from the organization. Smith also wants to be on a team with a larger chance to win the title.
Since being selected out of high school with the 17th overall pick in the 2004 NBA draft, the Atlanta Hawks and Josh Smith never seemed to be a match made in heaven. Even though Smith's childhood took place in Atlanta, the relationship between the two parties has definitely been bumpy to say the least.
Smith, who is averaging 17.1 points and a career-high 9.8 rebounds per contest, would be a fantastic addition for any championship-caliber squad. Not only is Smith still young, as he is only 26 years old, but he has a will to succeed and is still improving. This year, Smith has refined his game by limiting his three-pointers attempted.
Even though Smith has never been labeled the best teammate in the world, the forward is gleaming with talent and there will be numerous teams checking on the availability of the 6'9" star.
Teams Who Could Make a Play
Orlando Magic
The Orlando Magic are in a state of flux. Not only are they trying to acquire a second star for franchise cornerstone Dwight Howard, but the organization is trying to decide if trading their superstar is the best move for the team going forward.
However, as the time passes, it has seemed more and more likely that the Orlando Magic will retain their All-NBA talent past the NBA trade deadline, as the team believes they have a shot at signing Howard to a long-term deal this summer.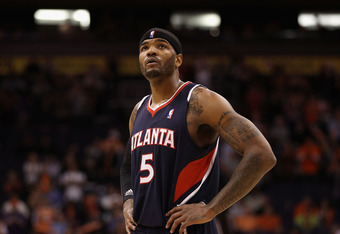 Christian Petersen/Getty Images
So, to boost Orlando's chances to keep the 6'11" center, the Magic should obtain his childhood friend Josh Smith. Smith would be the sidekick Howard has been begging for and help strengthen Orlando's weak frontline. 
Boston Celtics
The Boston Celtics, who have been linked to Smith in the past, have many questions surrounding their roster: none bigger then determining if their core is too old to make one last title run.
The "Big Three," consisting of Ray Allen, Kevin Garnett and Paul Pierce, is definitely in its twilight years. All three of these former stars are averaging relatively low numbers for their standards this season and aren't nearly as dominant as they were in the past.
Sure, the roster is still playoff-worthy, but there is no doubt that this squad needs an infusion of youth. Besides Rajon Rondo, who is arguably the NBA's most underrated player, the Boston Celtics have no young prospects within the franchise.
Josh Smith would definitely add two qualities to the Celts that the team desperately lacks: youth and athleticism.
To acquire Smith, however, GM Danny Ainge would probably have to ship either Allen or Garnett, a few role players and maybe a draft pick or two.
Nonetheless, this would be a wise investment for the Boston Celtics, as it would make their future look much brighter.
Los Angeles Lakers
The Los Angeles Lakers, who are currently fifth in the conference, are trying to maintain their stranglehold on top of the West that they have possessed for years. However, it seems their grip on the top is loosening, as young teams like the Oklahoma City Thunder and Los Angeles Clippers look like the new faces of the West.
If the Lakers want to boost their chances to win a title before Kobe Bryant retires, the Lakers should pursue Josh Smith of the Atlanta Hawks. Smith, who is an excellent defender and can create shots off the dribble, will help solve many of the team's woes.
However, acquiring Smith would come at a steep price, as they would have to give up either power forward Pau Gasol or center Andrew Bynum. In my opinion, Bynum should be considered "untouchable," but a Gasol-for-Smith swap would be beneficial for Los Angeles.