Chad Henne to Jets: Why Ex-Dolphins QB Would Look Good in New York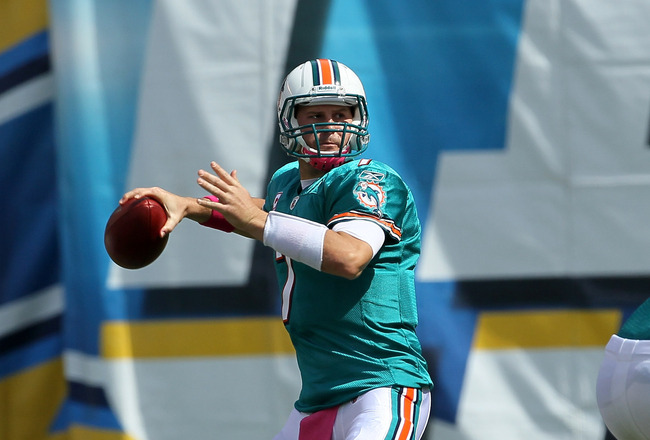 Stephen Dunn/Getty Images
The Jets have a lot of questions to answer this offseason, but one thing is certain: The backup quarterback situation will undergo significant change between now and the start of the 2012 season.
The Jets brought in Mark Brunell to help Sanchez with wisdom that only a battle-tested veteran could provide. For at least one season, he appeared to work. Sanchez progressed in his development, and the Jets made another deep playoff run.
However, the results from 2011 showed that the Jets need to shake up the quarterback position as a whole. Sanchez took a step backward. A lot of the blame can come from his supporting cast, but Brunell was unable to help a young quarterback that was struggling mentally.
The Jets need a guy who can come in and win games in Sanchez's relief. Rex Ryan was close to benching Sanchez, but he knew there was no one behind him that would get the job done or at least provide a spark.
There are a lot of candidates as to who would be the best fit, but to me, Chad Henne brings more to the table and is the best fit to backup Mark Sanchez. Here is why.
Chad Henne Will Push Sanchez in Practice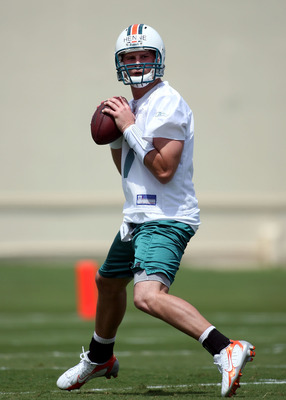 Marc Serota/Getty Images
Competition brings out the best in us. It applies to all areas of life, and it certainly will have an affect on Mark Sanchez's performance.
I was always skeptical of the claims that Sanchez was lazy. Rex Ryan has glowed repeatedly about his work ethic. However, with Brunell around, Sanchez's expectations for himself were relatively low. Why? Because the Jets did not ask him to do a whole lot compared to some of the elite quarterbacks in the league.
When Sanchez was given the keys to the entire offense and the Jets tried to throw all over the place, Sanchez struggled to raise his expectations of his own play after becoming comfortable with one style for two years.
Bringing in a quarterback of comparable talent will force Sanchez to elevate his expectations for his play. Whatever Henne is doing, Sanchez will have to top it.
If Sanchez is unable to match what Henne is doing on the practice field, the Jets will have quite a controversy on their hands, especially with Tony Sparano helping to make the decisions.
Connection with Tony Sparano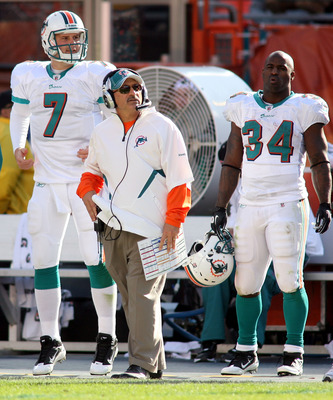 Marc Serota/Getty Images
What really separates Henne from other candidates for the backup quarterback position on the Jets is Henne's obvious connection to new Jets offensive coordinator, Tony Sparano.
Sparano basically staked his head coaching career on the success of Henne as a starter. Long story short, Henne was inconsistent, and so were the Dolphins, which is why Sparano is back at a coordinator position in the first place.
However, Sparano spent a second-round pick on Henne for a reason. Henne actually may have more arm talent than Sanchez. After working with Sparano for three years, he knows the offensive system well. As a backup, he will be able to help Sanchez digest a new playbook and become acquainted with the terminology as fast as possible.
It is not just Sanchez that needs to learn the offense; every player on the offensive side will have to undergo some major adjusting this summer, and Henne will go a long way toward implementing the new system with every player.
During training camp, Henne can take additional reps with the "1s", helping to make the correct line checks and audibles. Rex will certainly go for this strategy, as he knows how much Sanchez hates giving up reps.
Henne Is the Most Talented Backup Avilable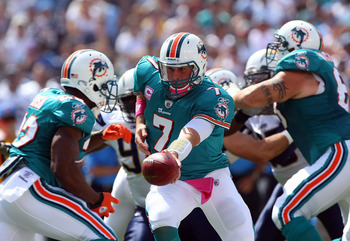 Donald Miralle/Getty Images
Bottom line is, the Jets need to add more talent to the quarterback position. Looking at some of the other candidates for the backup quarterback job in Florham Park, Henne is by far the most talented player available with the most upside.
Young, talented quarterbacks with upside are extremely valuable commodities in the NFL. Yes, Henne has struggled at times during his career, but he has had some bright spots and has played quite brilliantly at times.
Actually, Sanchez and Henne have a lot more in common than they realize. Both are talented, young and extremely inconsistent. The only difference is that Sanchez has won playoff games (and was drafted a round higher).
Had the Jets not had success in 2009 and 2010 in the postseason, Sanchez could be the one backing up Henne.
Just like Sanchez, Chad Henne is looking to save his career as an NFL starter. Through that commonality, both players have plenty to play for and will push each other to be better quarterbacks.
What more can you ask out of a backup quarterback?
Keep Reading

New York Jets: Like this team?