Boston Red Sox: The Second Coming of Billy Buckner
March 9, 2012

Christian Petersen/Getty Images
An intriguing footnote to last week's spring training updates was the news that the Red Sox had signed Billy Buckner. Without exception, each report included words to the effect of. "No, not THAT Billy Buckner!" (Example here.)
Earlier this year, speculation via Michael Vega of The Boston Globe that Bobby Valentine might hire his old buddy and former Red Sox first baseman Bill Buckner as a coach. Buckner managed the Brockton Rox of the independent Can-Am League last season.
"He's been a friend for years," Valentine said. "We played together with the Dodgers. We played together in the Dominican Republic. I've watched his kids grow up and I respect his every opinion in baseball and in worldly matters."
That Buckner signing never came about, but what are the chances that a second Billy Buckner would materialize and end up wearing a Red Sox uniform? 
Buckner No. 2 is a 28-year-old right handed pitcher, signed out of South Carolina by Kansas City in the second round of the 2004 draft. He came back from labrum surgery in 2005 to earn a late-season call-up to the majors at the end of the 2007 season. He was traded that December to the Arizona Diamondbacks for second baseman Alberto Callaspo.
At the time of that trade, Tim Dierkes of MLB TradeRumors wrote, "Buckner, a labrum surgery survivor, has a plus curveball according to Baseball Prospectus' Kevin Goldstein. Goldstein adds that he's able to get groundballs and projects as a fourth starter." 
In June of 2010, Arizona traded him to the Tigers as part of the Dontrelle Willis deal. He was released seven weeks later and was not picked up again until the end of the year, when the Rockies signed him to a minor-league deal.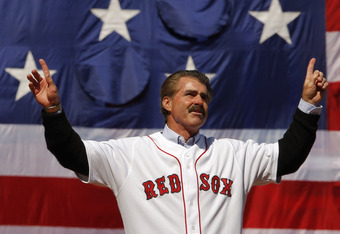 Pool/Getty Images
Dierkes weighed in again: "Heading into the '09 season, Baseball America ranked Buckner eighth among D'Backs prospects. At that time, they suggested Buckner had the 'weapons to pitch in the middle of a rotation'."
According to Dierkes, Rockies player development director Marc Gustafson said, "We've seen a lot of him, and he's a hard worker and he still has some upside as a prospect."
Unfortunately for Buckner, that upside has never manifested itself on the field.
He spent the entire 2011 season in Triple-A with the Colorado Springs Sky Sox, where he was 4-8 with a 6.03 ERA in 23 appearances.
Although he has spent parts of four seasons in the big leagues, his numbers have been pretty bad: in 36 appearances (21 starts), he has struggled to a 6-11 record and a 6.25 ERA.
His minor league numbers have not exactly been overpowering, either. In 172 games (152 starts), he has managed an ERA of 4.65 with an unremarkable WHIP of 1.502.
One bright spot: His minor league K/9 ratio of 7.4 did hold up in the big leagues.
In 2007, Baseball Prospectus called him a "solid but unspectacular righty" who was making a "steady climb up the ladder, pitching well enough at Triple-A to get a major league look."
The scouting report made two positive points: Buckner has a plus curveball that nets him a lot of strikeouts, "a big looper that he can throw for strikes or into the dirt." He also generates a lot of ground balls with a good sinking fastball. 
It's a little puzzling to me that GM Ben Cherington would pick him up, especially given the gaggle of other minor league arms that are in the Red sox camp right now. However, the answer may be in that scouting report: As is the case with so many of his reclamation projects, virtually all have one thing in common—they are ground-ball pitchers, led by Aaron Cook.
And what about Buckner No. 1?
According to the Idaho Statesman, he has been working with the Better Boise Coalition, stumping for a new multi-sport and entertainment complex to replace the outdated Memorial Stadium and become the new home to the Boise Hawks. The Hawks are a Class A short-season farm team for the Chicago Cubs.