Bubble Teams 2012: Washington Huskies' Bubble Pops Against Oregon State
March 9, 2012

Stephen Dunn/Getty Images
I was with you Washington, and was willing to listen to discussion of the Huskies as worthy combatants in the NCAA Tournament. That sentiment died the second Oregon State won on Thursday. 
The Huskies came into Thursday's Pac-12 tournament game with the gait of an unsure team. They may have taken the conference in the regular season, but they knew there were still some things left to prove. 
Any amount of self-doubt showed through when the Huskies failed to put away a team they beat twice in the regular season. There would be no clean sweep, and that will mean the world to this program heading into Selection Sunday. 
Washington coach Lorenzo Romar sounded optimistic despite the loss to Oregon State, 86-84. Via USA Today:
We certainly didn't help ourselves today, but I would think we could find ourselves in (the NCAA tournament). We talked about how important the little things are. If we have an opportunity to play again, that's something we've got to make sure we focus on.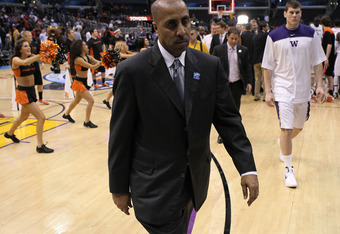 Stephen Dunn/Getty Images
That is now the question for the team with an RPI of 57. Can they get into the tournament. They needed an amazing surge at the end just to be in the mix. 
Washington shocked the conference by closing out with an 8-2 record over the final 10 games. Their loss to UCLA in the finale of the regular season was supposed to serve as a wake-up call. Instead it was a sign of things to come. 
ESPN's Eamonn Brennan doesn't like the Huskies' chances headed into the weekend. 
... When you have this resume—when your best non-conference win is UC Santa Barbara and your best league win (and the only top-75 victory) is at home against Oregon—you simply cannot afford to end the Pac-12 tournament the way the Huskies ended theirs...They'll stay on the page for now, but it really isn't looking good. 
The Pac-12 was a mess this season, blanketed with teams that were pummeled in non-confernece games. 
Washington may have been the favorites going into the Pac-12 tourney, but their loss exemplified what is wrong with the west. 
This is a soft set of teams that Washington should have been able to handle. It will take a while to get over this upset, and it will be made worse on Sunday when we fail to hear Washington called.