Los Angeles Lakers: Worthy of Criticism
March 9, 2012

Rob Carr/Getty Images
James Worthy said the most shocking thing after the Lakers' loss to the Pistons. He doesn't think the Lakers will make the playoffs. He said this on the Lakers' postgame show that airs on the local affiliate K-Cal9, a show he co-hosts with Jim Hill. I gasped aloud when he said it.
And then I went and looked at the standings. He's right. They could easily miss the playoffs. 
Saying that in Los Angeles is tantamount to saying that the sun will not rise in the East. 
Everyone in LA is trying to pretend that the Lakers are still a team that can go deep in the playoffs. The best I can see for them now is an early first-round exit. 
Why? Because they are a mess at every level.
General manager Mitch Kupchak correctly identified this team's needs in the offseason: Youth, three-point shooting and a point guard. And then he went out and got all three. The jury is still out on Darius Morris, whom the Lakers drafted in the second round, but Andrew Goudelock is the real deal and can hit the three-point shot consistently. Do NOT get me started on why Mike Brown will not give him more minutes. And point guard Chris Paul? We all know how that turned out.
Kupchak did his job. It's not his fault that David Stern killed the deal. Do NOT get me started on that either. Basketball reasons? Psh.
I don't think the Lakers are going to make some blockbuster trade at the deadline. One, I don't think there is anything out there that will work within the team's financial situation. Two, I don't think other teams are that interested in helping the Lakers.
Harry How/Getty Images
I can picture several GMs putting their feet on their desks, lighting a cigar and laughing through every embarrassing loss like the ones against the Pistons and Wizards. (Prediction: The Lakers will lose to the Timberwolves too. Kevin Love can smell blood in the water. Huge statement game for the T-Wolves coming up.) The Lakers might add a piece or two, but this is the squad that Laker fans have going forward.
There's another problem. In my opinion, Mike Brown is in way over his head. I love the emphasis on defense. But the offense is a mess. This business of having Kobe play sanctioned hero ball is terrible.  (Why do I have the distinct feeling that Brown probably did the same thing with LeBron James in Cleveland? We don't get to see a lot of the Cavs here in LA, so if anybody can enlighten me in the comments, fire away.) Bottom line: I don't think Brown has the gravitas to direct this team away from their mistakes. 
But the players are proud and do not like to lose. I will not be the least bit surprised if the players start disregarding him offensively. Not blatantly, like, say, out of a time-out. But I think they'll start running the floor the way they feel more comfortable: more read and react instead of strict playcalling/offensive sets. Keep an eye out. 
So far, my opinion of Mike Brown is this: he's like a defensive coordinator for a football team who is terrific at what he does. He then gets promoted to head coach and because he doesn't totally trust his offensive instincts and is a little intimidated by his star players, he plays it safe.
It's like going for a field goal at the goal line on 4th-and-1 instead of going for the touchdown. Every time he puts the starters in at the end of a game I think that. I can just see the imaginary press conference: Mike, why do you think you lost? I don't know, we had our starters in. Translation: It's not my fault. The starters didn't get it done.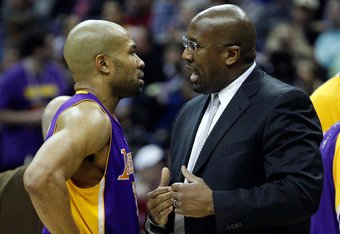 Rob Carr/Getty Images
When your team has weaknesses, you have to get more creative. At the end of the Pistons game, I kept screaming at the TV: put Goudelock in and use Kobe as a decoy. Let AG shoot. At least throw in a wrinkle the other team isn't prepared for. 
Speaking of not prepared for, I don't think Mike Brown has any idea of the fan backlash that is going to be coming his way. You can see rumblings of it in blogs and forums now. It's only a matter of time until the big guns in the LA media start weighing in, something that's inevitable because this squad is on very shaky ground. The win against the Heat was a mirage, a moment of hope soon dashed by the reality of the terrible losses in Detroit and Washington. 
Everyone assumed those two games were gimmes. But I've written about this before: if you're a cellar-dwelling team playing a high profile team like the Los Angeles Lakers, it's your version of an NBA Finals Game 7. Reminding guys of that and not to slack off is 100 percent on the coaching staff.
The Lakers just got beat by Rodney Stuckey and Kevin Seraphin. Who? Where were the adjustments when those two started to get hot? Again, poor coaching. That said, I'm not giving the players a free pass here. Poor shot selection, turnovers and lack of hustle are on them. 
It's way too late for these types of issues to be consistently showing up. And it saddens me to say that I don't see them getting better any time soon.