Red Sox: Can They Win the Division? The Answer Is Yes
March 9, 2012

Jim Rogash/Getty Images
In 2011, the Boston Red Sox suffered one of the most historic collapses in Major League Baseball. In 2012, they will win the division.
The 2011 campaign was one of injuries and a cancerous finish in September. If the history of Major League Baseball tells us anything, it's that teams of Boston's caliber very seldom repeat short comings of that magnitude.
First let's take a look at what it took for Boston to even be in position to collapse.
Injuries
The injuries that occurred throughout the season for Boston were no doubt a strong contributing factor to their season's end. We saw numerous key players find their way to the disabled list—especially in the pitching rotation.
Dice-K and Buchholz both suffered season-ending injuries in late May. Lester and Jenks also spent significant time on the DL. Both Beckett and Bedard dealt with aggravating injuries causing them to miss starts. Outside of pitching, we saw Youkilis miss a large chunk of the season.
Under-Performing Players
When thinking of which players did not perform to even half of their potential, one name comes to mind—Carl Crawford. Boston fans also saw the worst season by a pitcher in history with Lackey, and a very disappointing September with Beckett and Lester—two Cy Young-caliber pitchers. Young spot starters such as Andrew Miller and  Kyle Weiland failed to help the injury-riddled staff. Overall, the team just didn't perform as expected.
Distractions
I don't think I have to go into much detail here. There was chicken. There was beer. There was a bad locker room environment and a manager spiraling out of control with his team.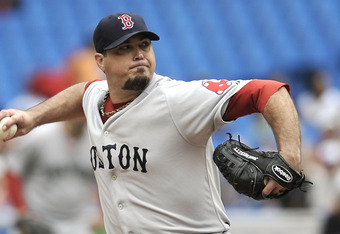 Brad White/Getty Images
Well, writing about the 2011 season and reliving it sure doesn't leave a sweet taste in my mouth. But there is a reason to be excited again. Believe it or not, the Red Sox will actually have a better team in 2012. As you mathematicians out there know, there was addition by subtraction.
The worst pitcher in Red Sox history, John Lackey, will miss the season. Never has an injury sounded so refreshing. Dice-K will be out until at least June, sparing us from the season-opening beating he would take, and Hideki Okajima is no longer pitching for this Boston club.
I guess it is true, addition by subtraction works. Simply ridding the season of the poor play by these pitchers makes the 2012 Red Sox a better team. Oh, and do not forget the stigma that was the J.D. Drew contract is now gone.
The start of a new season also brings new-found health. Youkilis will be back at 100 percent at the plate and his natural position, third base. Buchholz will be ready to continue his almost impressive pitching we saw when he was healthy.
Beckett and Lester will no longer have the nagging injuries to deal with—dare i say they may just return to their Cy Young form? With a few low risk, high reward signings, things may just start to work out in our favor.
Regardless of the healthy status of our three best pitchers, starting pitching is still not a strong point. We did however upgrade in the bullpen. Signing Mark Melancon and Andrew Bailey after losing Papelbon to Philadelphia helps.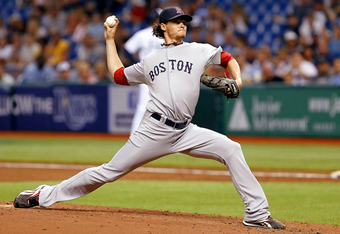 J. Meric/Getty Images
Now the reasons we will win the division.
Vengeance
As little as you may think this plays a role, it does. Players often perform at higher levels when playing with a chip on their shoulders—and you can add the entire Red Sox squad to the list of players with a chip on their shoulders.
You know Beckett will be eager to silence the talks of him as a cancer with a strong year, and Buchholz will be ready to continue success he has shown when healthy. The entire team will be tired of hearing how overrated they were and how bad they must be to finish the season with a 7-20 record.
New Coach, New Life
As little as I like Bobby Valentine, I have to admit he does add a certain edge to the team that Francona couldn't deliver. In a city like Boston, you have to have that edge. I am not saying Francona wasn't a good manager—he did win us two World Series. I think Valentine will handle the players in a more strict and outgoing way, and in return the players will feel more of a need to perform.
Youkilis and Crawford
What I consider most important, Youkilis is healthy and Crawford is determined to start earning some of his pay. If Youkilis can stay healthy and Crawford can live up to even part of his contract, the Red Sox will have quite possibly the best lineup in baseball.
I expect Crawford to have a much better stat line with 80 R, 13 HR, 80 RBI and 35 SB. If that happens, I implore you to find a better 1-6 lineup in baseball.
The Yankees Are Old
It is no secret that the New York Yankees have upgraded their pitching staff. Fortunately, the Red Sox have one of the best offenses and can counter a good rotation. This is the year the Yankees finally regress because of age.
Derek Jeter has steadily seen decreasing numbers, Alex Rodgriquez has become injury-ridden and doesn't have the same offensive production he used to, and Curtis Granderson has to prove that 2011 wasn't a fluke.
Tampa Bay's Offense
The Rays, without a doubt have a very, very good pitching staff. On offense though, after Evan Longoria, there isn't much power or consistency. B.J. Upton can't stay hot, and Desmond Jennings has yet to live up to his potential. Tampa Bay, a team usually surging into the playoffs, should finally lose some of that magic.
Overall, I think the Red Sox have just as good of a chance to win this division as the Yankees or Rays. Yes there are question marks with pitching. Yes, players need to finally perform.
I am confident that last year's disaster was a fluke, and as history shows in the MLB—it will not repeat itself.