Peyton Manning to Help 49ers, Not How You Think
March 9, 2012

Ezra Shaw/Getty Images
What has really started to become a fiasco in the NFL has been the release of Peyton Manning from the Indianapolis Colts. And many commentators and analysts, including Manning's former head coach Tony Dungy, think San Francisco is the ideal landing spot for the NFL great. And it seems the 49ers are going to get a great deal of help from Manning this free agency, but not in the traditional sense.
The 49ers' approach to free agency is basic: they don't overpay, they don't care greatly about the past and they look for the most bang for their buck. Right away, it's a virtual certainty that the Niners will not allow themselves to get tangled in the middle of potentially the largest bidding war in NFL history.
San Francisco likes to fly under the radar and no one is going to make that easier for them than Peyton Manning. While the 12 or 18 or so teams are busy making a go at Manning, the 49ers can turn their attention to some free agents that are more their speed.
The Niners could kick the tires on guys like Marques Colston, Vincent Jackson, Pierre Garcon, Robert Meachem or even Brandon Carr depending on what happens with Carlos Rogers. The deal with Alex Smith is expected to get done, and he's going to need weapons when it does.
Trent Baalke and Jim Harbaugh could use this whole Manning circus as a smokescreen while they secretly corner the market and get guys of need. And more so, this is a realistic strategy.
It's imperative that the 49ers find a go-to weapon at the receiver position, and this might make that search that much easier. Teams are going to be so busy making pitches, restructuring contracts and doing whatever they have to do to acquire Manning, that other great value players are going to fall right through their fingers.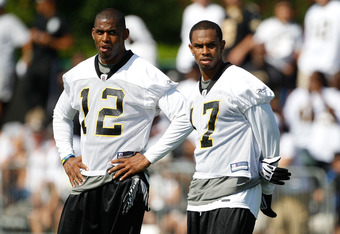 Chris Graythen/Getty Images
And who is going to be there to catch them? The 49ers.
Sure, San Francisco is going to have to duke it out with a couple teams if they wanted to get a Vincent Jackson or Marques Colston, but guys like Meachem and Garcon could be signed before the league even knew they were gone.
So, to me, Manning is a godsend from Jim Irsay and the Colts. The 49ers could use Manning to their advantage even if they choose not to pursue him, which I don't think they will. Get ready for some slight of hand from the 49ers front office.
Follow me on Twitter: @DeSimone80