Michael Bush to Giants: Why Ex-Raiders RB Makes Sense in New York
Ezra Shaw/Getty Images

Michael Bush may be the most sought after backup running back this offseason after two impressive seasons for the Oakland Raiders in place of oft-injured starter Darren McFadden.
With an uncertain future facing running back Brandon Jacobs as a member of the Super Bowl champion New York Giants, one cannot ignore how good the former Louisville product would look in the colors of Big Blue.
Due a roster bonus on March 17, Jacobs and the Giants have yet to come to an agreement on a restructured contract which could signal the end of their seven-year relationship.
Jacobs' potential release will open a hole at the running back position that will need to be filled. While guys like Da'Rel Scott and DJ Ware—both already on the roster—might be easy assumptions, Bush's resume as a player in the Raiders' rotation of backs should give the Giants plenty of reasons to consider him when overlooking their options.
Begin Slideshow

»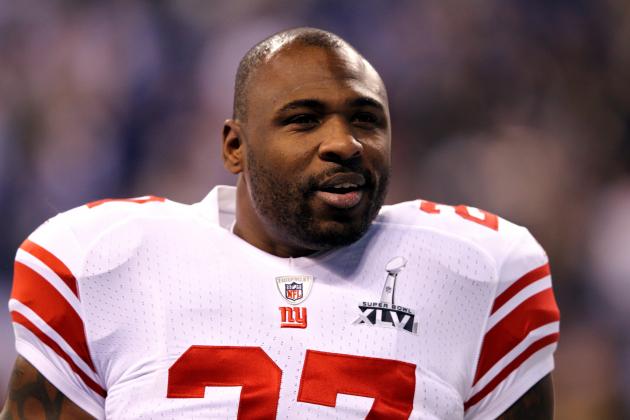 Al Bello/Getty Images

There's nothing a general manager loves more than talent at a cheap price. Michael Bush is exactly that for the New York Giants.
Though Bush has had some success rushing for the Oakland Raiders, he is not a No. 2 running back that will demand a hefty contract this offseason.
Bush, who rushed for 977 yards and seven touchdowns in just nine starts for the Raiders, signed a $2.6 million deal as a restricted free agent prior to the 2011 season. His pay will certainly go up in 2012, but it will still be less than the $4.4 million Jacobs is expected to make in 2012 while churning out half the production Bush did in 2011.
Bush is a talent with obvious value. His contributions as a member of the Giants roster would be rewarding simply on the play he would give you at such a comfortable price.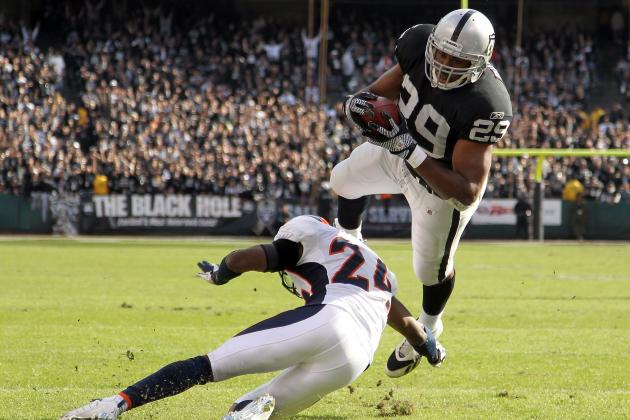 Ezra Shaw/Getty Images

Michael Bush's career started with a hitch as he was coming off a serious broken right tibia injury suffered during his senior season at Louisville. However, since that time Bush has evolved into one of the most dependable backups.
In four seasons with the Oakland Raiders, Bush has rushed for an average of 4.2 yards per carry. He has excelled while doing fill-in work for injured running backs Darren McFadden and Justin Vargas, having his best years yet in 2010 and 2011.
Bush has rushed for 1,632 yards and 15 touchdowns. He has also proven to be a great receiver at the backfield with 612 receiving yards and a touchdown on 55 catches in that same stretch of time. When needed, Bush has played at the fullback position as well, showcasing a great ability as a lead blocker.
He has been more than happy to do whatever has been asked of him and has done well in doing so. In a league full of prima donnas focused on themselves first, Bush is a diamond in the rough.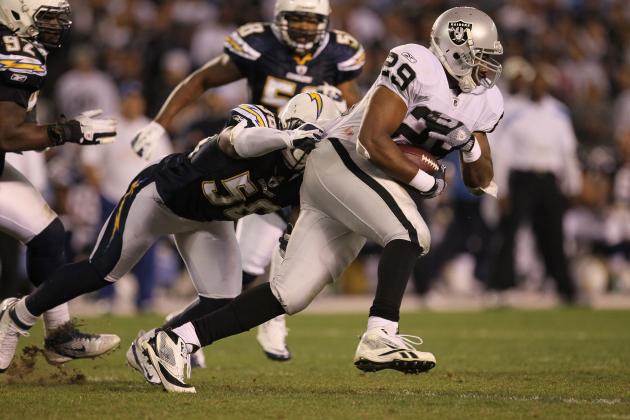 Stephen Dunn/Getty Images

Despite a horrible leg injury that brought early concerns about his durability in the NFL, Michael Bush has been surprisingly stable.
In four seasons since missing his rookie year due to that injury, Bush has played in at least 14 games each year.
With starting running back Ahmad Bradshaw constantly going down with injuries, the New York Giants have to value a guy like Bush who rushes as hard as he does and manages to stay off the injury report. That durability becomes even more valuable when the star rusher goes down like Darren McFadden did for the Oakland Raiders in 2011, and Bush was able to carry the load as if nothing changed.
Jonathan Daniel/Getty Images

There is something that has been missing that the New York Giants loved from Brandon Jacobs—his brutal, punishing running style.
For the last couple of season, Jacobs has regressed from that bulldozer style of running the football and has become much more of a tip-toeing, upright swinging pendulum of doom crashing to the ground at the slightest touch. His ability to wear down opposing defenses has become nonexistent, and thus, renders Jacobs useless.
Michael Bush, on the other hand, runs in a similar style to that which the Giants surely yearn for from their ground attack.
At 6'1", 245 pounds, Bush is a monster with the football, almost never going down on first contact. This style makes him an effective goal-line back, similar to Jacobs, and helping him to tally 21 touchdowns in four seasons for the Oakland Raiders.
That is not something Da'Rel Scott can boast, nor can any of the running back prospects in this year's draft class.
With Jacobs' future looking like might grim in New York, the Giants must be looking for potential replacements for their veteran star with a similar skill set.
Look no further than Michael Bush.