Cincinnati Reds: Analyzing the 2012 Pitching Staff
Kevork Djansezian/Getty Images

Expectations are high in Cincinnati this season. Expectations for the pitching staff are much higher in comparison to the performances turned in by most of the starters last season.
With the addition of Mat Latos to the starting rotation, Ryan Madson and Sean Marshall to the back end of the bullpen, this year's staff is much improved.
Let's take a look at the starters and relievers who make up what should be a very solid pitching staff in Cincinnati.
Begin Slideshow

»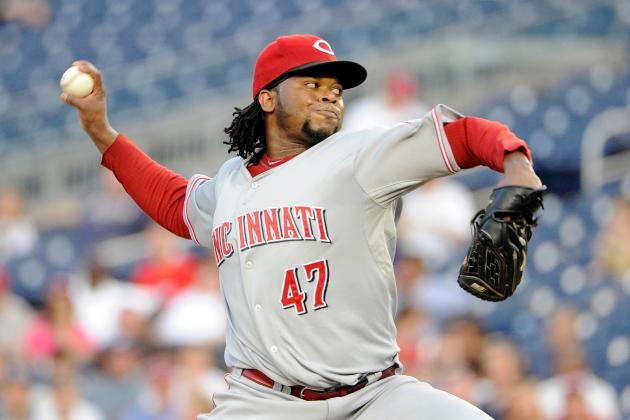 Greg Fiume/Getty Images

Last year was a breakout year for Johnny Cueto. In 2011 Cueto made just 24 starts, in those 24 starts he went 9-5 with a 2.31 ERA, 1.09 WHIP and a BAA of just .220. Equally as impressive, Cueto allowed just eight home runs in 2011, only three of which were at Great American Ball Park.
He missed qualifying for the ERA title by six innings. Had those been six scoreless innings, he would have taken the title. Although this didn't happen, it doesn't take away from Cueto's impressive season.
Cueto just turned 26 years old and he's improved over each of his four seasons with the Reds. There's little to show that he won't be equally as good this year and if he makes 30-plus starts, he could legitimately contend for the 2012 Cy Young Award.
Cueto should continue to make progress, and if he makes 30-plus starts he could win 17-20 games this year.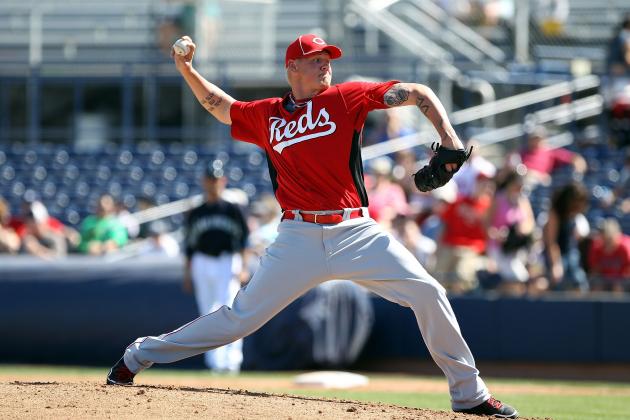 Christian Petersen/Getty Images

Say what you want about the Latos trade. "Oh they gave up too much." I see your Yonder Alonso and Yasmani Grandal and raise you Neftali Soto, Donald Lutz and Devin Mesoraco. Boxberger? How about Sean Marshall and Ryan Madson coming in?
The fact of the matter is, they got rid of Edinson Volquez and brought in a guy who can immediately help the front end of the rotation and there's still plenty of talent left on the farm.
Latos is a stud. Prove me wrong. He's only 24 years old and was in the Cy Young conversation in 2010. Last season he had a slow start but he was phenomenal in the second half. In said second half, Latos was 4-4 with a 2.87 ERA, 1.00 WHIP while averaging 8.8 K/9 and 3.83 K/BB.
That's the type of pitcher Latos is capable of being year in and year out and with the trade the Reds made, he'll be under club control for a while. I look forward to him progressing with Cincinnati.
Latos should win about 14 games in his first season as a Red.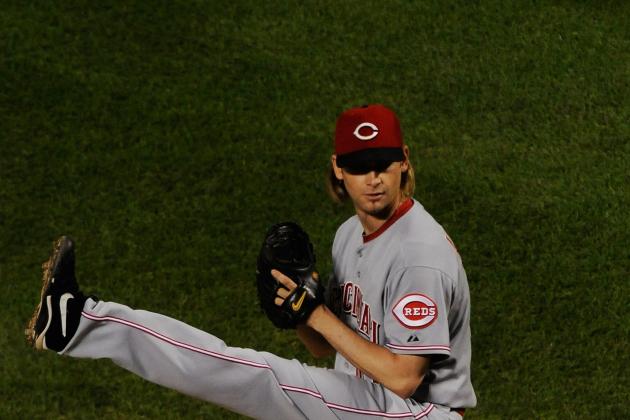 Patrick McDermott/Getty Images

Bronson Arroyo is a workhorse, innings eater, whatever you want to call him. The point is, he's consistent. Last year Arroyo battled mono and backaches all year and still managed 199 innings (one short of his seventh consecutive year with 200 or more).
2011 was one of the worst years of Arroyo's career. He just turned 35 and in a contract year and he'll likely be looking to get paid once more, so I expect a decent year based on that. I also base this claim on the fact that a really bad year like he had last year is somewhat of an anomaly.
Arroyo has been a solid middle-end of the rotation guy during his major league tenure and pitching under 200 innings and having an ERA of 4.50-plus is not something he does often.
The good news is, you could see him starting to get better as the year went on. In the second half of the season, Arroyo's ERA was a full run better than it was in the half (4.45 to 5.58) and his WHIP improved as well.
Arroyo has been consistent his whole career and seeing as he's 100 percent coming into the season, I expect much of that consistency to return in 2012. 12-15 wins is likely for Arroyo.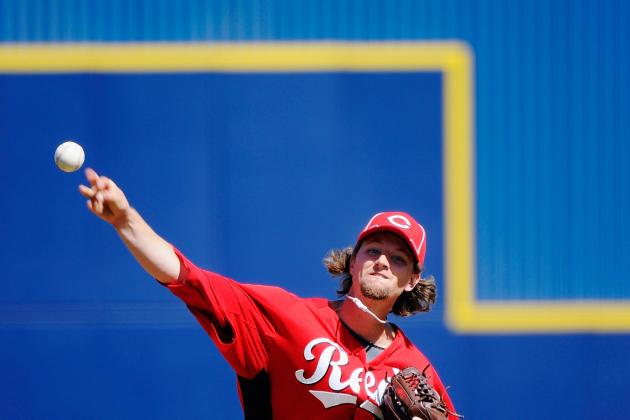 Kevork Djansezian/Getty Images

Let me start by saying there's a lot to like about Mike Leake. Leake's gotten better between his first and second seasons and won 12 games in just 26 starts last year.
Leake features pitches that are relatively average in terms of movement and velocity, however, Leake has accuracy which drew comparisons to Greg Maddux. Last season, Leake had a K/BB ratio of 3.11. For a second-year pitcher who spent no time in the minors prior to his first major league start, that's pretty impressive.
Leake's workload has also increased since his first year. Last season, Leake pitched 167 innings in 26 starts (29 games total). This year, Leake won't spend time between AAA and the bullpen, he'll be a starter all season long and will make 30-plus starts.
In those starts I expect Leake to compile about 200 innings worth of work and somewhere in the neighborhood of 15 wins. In 200 innings Leake will probably strike out about 140-160 batters, a nice number for a fourth starter. If Leake can cut down on his home runs allowed, expect a big season.
Look for Mike Leake to assert himself in the rotation with a breakout season and lock down a spot for years to come.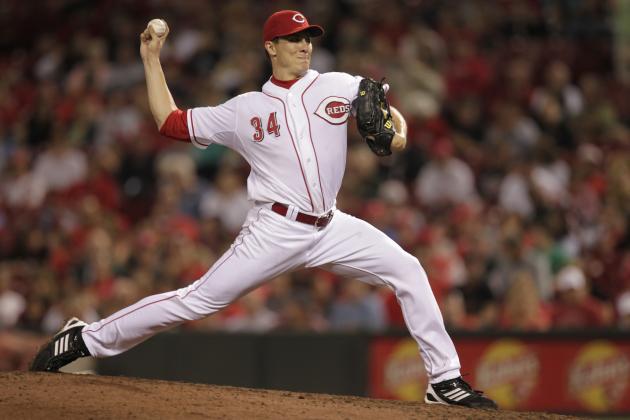 John Sommers II/Getty Images

Homer Bailey is going to have a breakout season in 2012. He put on muscle this season in order to increase his durability which honestly has me thinking that he can withstand a full season's worth of work.
If Bailey can start 30 games this year he could definitely win 15-plus games. Bailey has the talent of a perennial 20-game winner, he's just got to put that talent together with a healthy body and clear mind. If Bailey makes 30 starts, he should compile between 180 and 200 innings along with 180-200 strikeouts.
That type of season could finally allow him to break through to the level that he's been believed capable of for the last several seasons.
However, we've all seen Bailey's bipolar pitching performances and how they can sometimes effect his morale. He has the potential to be very streaky and should that trend continue, he could bust this year. If Homer doesn't perform well this year I think it's his last in Cincinnati.
For a more in-depth look at Bailey and my expectations for the 2012 season, check out an earlier article I wrote on him.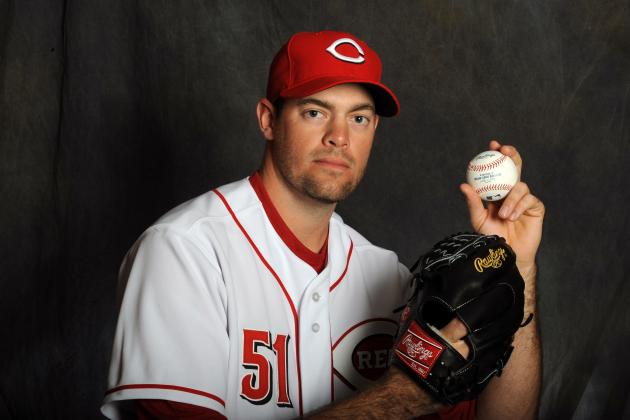 Rich Pilling/Getty Images

The Cincinnati Reds bullpen got a nice shake-up this offseason. This shake-up led me to wonder if theirs is the best in baseball. Before diving head first into the analysis, I can tell you it very well might be. With Ryan Madson, Sean Marshall, Bill Bray, Nick Masset, Jose Arredondo, Logan Ondrusek and Sam LeCure it isn't out of the question that this group is the best in the league.
Of the pitchers I mentioned above, last season they combined to pitch 454.9 innings in 2011. The seven pitchers also combined for a record of 29-27, 3.03 ERA, 1.20 WHIP, 409 strikeouts K/BB rate of 2.54 and a K/9 rate of 8.09.
Those numbers are very good for a bullpen. In comparison to the best bullpens from 2011, the Reds would-be 2012 bullpen would have ranked T-1 in ERA and 14th in strikeouts. The big thing to take away from that is bullpen ERA. At 3.03 they would have finished tied with the Atlanta Braves last season. I don't know how many of you saw the Braves bullpen pitch last year, but they were electric.
I think the Reds can be as effective, just with less strikeouts. I'll leave you with this, if the Reds bullpen inherits a lead from a starter, don't expect it to be given up easily, if at all.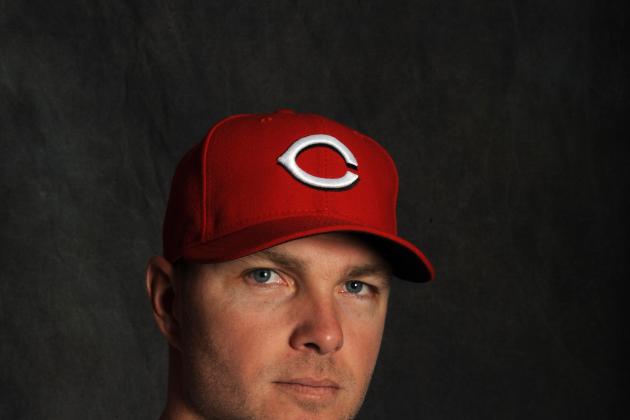 Rich Pilling/Getty Images

2011 was Ryan Madson's first full season as a closer and he was nothing short of impressive. In 34 attempts, Madson closed out 32 games for the Phillies, that's a 94 percent conversion rate. In 2011, only two closers converted at a higher percentage, those two were Jose Valverde and John Axford.
Just by that stat alone Madson is impressive, however, if you look at his other numbers he continues to stand out. Madson finished 10th in ERA amongst 2011 closers with a 2.37 ERA (.08 lower than Cordero last year). Madson also finished eighth in K/BB at 3.9 and 10th in K/9 at 9.22. Madson is very efficient.
The only stats posted by Madson that can prove worrisome are his batting average against and his WHIP. His WHIP was 15th amongst closers at 1.15 and his BAA was 24th at .243.
Now that I've probably scared you off of Ryan Madson, let me explain why there's no need to worry. Madson is a highly efficient pitcher. Last season, Madson struck out 25.2 percent of the batters he faced, walked just 6.5 percent of batters faced, .8 percent of batters hit a home run and produced 1.38 ground outs per fly out. Those last two numbers should pacify those of you who worry about the home-run potential of Great American Ball Park.
Madson should thrive this year with a great setup crew behind him and a potent offense to boot.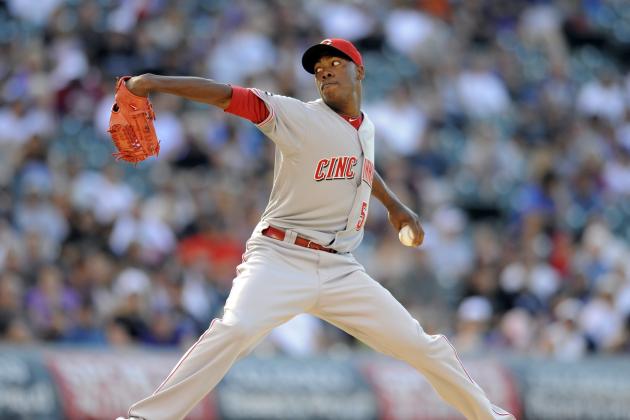 Jack Dempsey/Getty Images

Chapman gets his own slide in this discussion because I'm not overly sure what to make of him. With the news of a possible groin injury for Bill Bray, Chapman could find himself in the bullpen again.
However, if Bray is ready to go in the spring then I think Chapman will end up as a starter working out the kinks in the minors. There's also the possibility that non-roster invitee Jeff Francis could agree to pitch out of the bullpen in which case Chapman will likely begin the year in AAA again.
The whole situation is a bit of a mess to be completely honest and there's a lot of "what ifs" hanging around.
One thing is certain though, Chapman is ultra-talented. I know people think that Chapman should be a closer but I disagree. He has shown that he can't really handle having to pitch as frequently as bullpen work would handle. The recent extension of Sean Marshall also leads me to believe that he will be the Reds closer in the future.
I truly believe Chapman will be a starter before his contract runs out. If he can reign in control of his fastball, he should make an excellent starting pitcher. He should be able to keep his velocity in the high 90s and make starts of six or more innings.
With Chapman's devastating slider and plus changeup he could end up being one of the top left-handed hurlers in the game in one-two years time.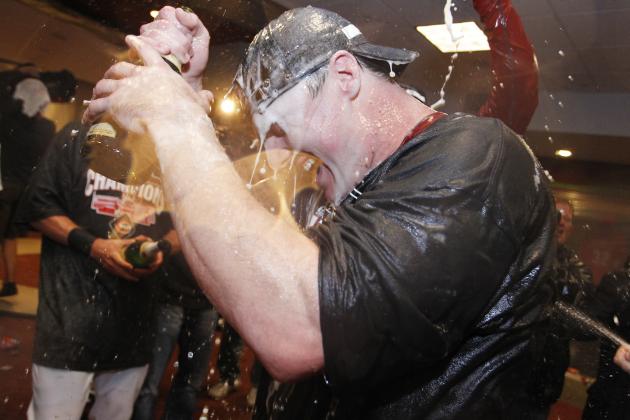 Joe Robbins/Getty Images

The picture choice doesn't seem to gel with the rest of the article, but let me explain. I believe with this year's pitching staff, the Reds will return to the top of the NL Central. They have five starters who, if they make 30 starts each, could each win 15-plus games.
The bullpen is fantastic and is easily one of the best in the game. With an improved, and healthy rotation, starters should be able to go six-seven innings per start leaving the bullpen healthy and fresh all season long.
There are a few question marks out there, like Bray's current groin injury and Madson's elbow, but neither are believed to be serious.
Overall, the Reds are going to be strong on the mound from start to finish and I expect a big season from the 12 pitchers they choose to carry.