Peyton Manning and the 10 Biggest Free Agents in the History of Sports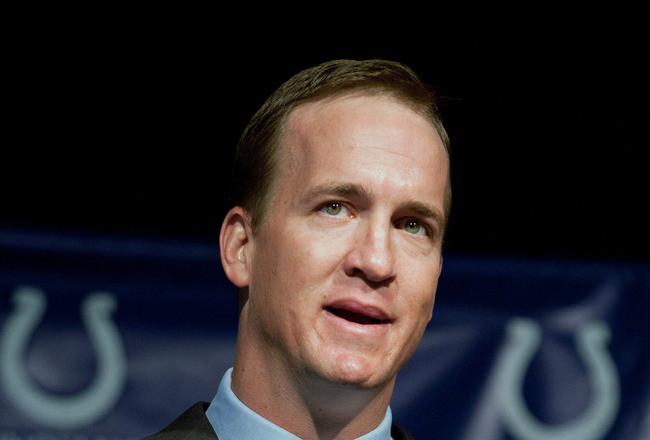 Manning is set to reach free agency for the first time in his career
Joey Foley/Getty Images
After being released by the Colts, many have wondered if Peyton Manning is the biggest free agent in the history of professional sports. Even in his mid-30s, if he is healthy, Manning is one of the best quarterbacks in the league.
Ranking free agents goes beyond mere ability, though. Teams also have to consider things like age, price and marketability. While Manning may be the best player ever to reach free agency, he will be 36 going into next season, and there are still question marks about his health.
Still, there is no doubt Manning will get calls from every quarterback-needy team in the NFL. There is no doubt that the Manning sweepstakes will have a massive impact on not only the team that signs him, but the entire NFL.
But is Manning the biggest free agent ever? He's certainly on the list. Here are the 10 biggest free agents, along with some honorable mentions, in the history of sports.
Honorable Mention
The great one would have made this list had he reached free agency in his prime
Ezra Shaw/Getty Images
Several players could have made strong arguments for placement on this list but for a variety of reasons could not crack the top 10. Here are a few guys who deserve to be noted as honorable mentions:
Wayne Gretzky: The greatest hockey player ever was a free agent only once in his career, in 1996 when he joined former teammate Mark Messier with the New York Rangers. Though he brought a lot of publicity to New York, Gretzky was well past his prime and therefore couldn't seriously be considered for this list.
Michael Jordan: Like Gretzky, Jordan reached free agency a bit too late in his career to make the cut. In 1996, Jordan was only seriously pursued by the Knicks, but as we all know he ultimately returned to Chicago to win two more titles. If this had happened in 1992, Jordan makes the cut, but not in '96.
Randy Johnson: Though Johnson might have been the best free-agent signing ever, his free agency didn't cause the stir of the other guys on this list, so despite winning the Cy Young Award in all four years of his free-agent deal with Arizona, Johnson is left off off this list.
Dwyane Wade: Wade's free agency in 2010 garnered interest from New York, New Jersey, Chicago and even Dallas, but realistically we all knew that Wade wouldn't leave the Heat, so he was not considered for this list.
Drew Brees: Like Johnson, the effect he had on his team is impossible to deny. He led New Orleans to its first super bowl and is hailed as a local hero. But this list isn't about what they did once they signed the contract, it's about the magnitude of their free agency before it. Brees was only seriously chased by the Saints and Miami Dolphins, making it impossible to put him on this list.
Reggie Jackson: The hardest person to keep off the list, Jackson led the Yankees to the World Series title in 1977 as their high-priced free-agent acquisition. The market structure of baseball combined with its lack of a salary cap gives way to too many star free agents changing teams, which in the end led to Jackson being kept off of the list in favor of a few higher-profile players.
10. Deion Sanders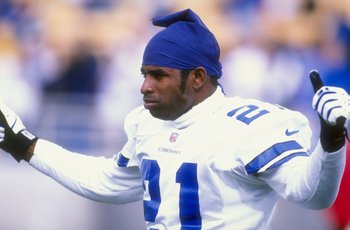 Deion Sanders led the Cowboy defense in their third title of the 90's
Jonathan Daniel/Getty Images
After one incredibly successful season with the 49ers, reigning NFL Defensive Player of the Year Deion Sanders hit free agency expecting to cash in big. Despite his success as a 49er, Sanders feuded with Hall of Fame WR Jerry Rice, which made a return to San Francisco unlikely.
Over a half-dozen teams chased Sanders, and after a prolonged free agency the greatest cornerback of all time chose to sign a seven-year, $35 million contract with the Cowboys. Not only did Sanders lead their defense, but he also returned punts and played receiver.
Sanders' versatility, his legendary coverage skills and his "Primetime" attitude made him a very valuable commodity, so much so that the Cowboys made his the league's highest-paid defensive player. The Raiders reportedly offered him even more money, but Sanders chose to go to Dallas for the chance to compete for titles.
Sanders retired in 2006 as one the greatest defensive players of all time, and his signing with Dallas allowed it to win its third championship of the '90s and become a rare NFL dynasty.
9. Kobe Bryant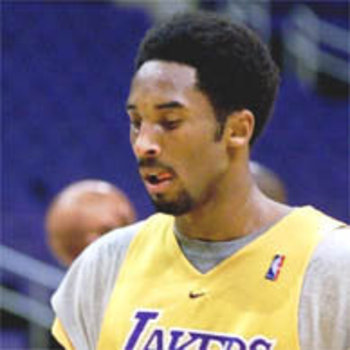 The young Kobe Bryant was chased by many teams as a free agent in 2004
2004 was a tumultuous year for Kobe Bryant. His feud with co-star Shaquille O'Neal finally reached a point where the two could no longer exist. Bryant was called a ball-hog by the media after his Lakers lost the NBA Finals to Detroit, and worst of all he was in the midst of a sexual assault trial in Eagle County, Colorado.
Bryant wanted a change. The Lakers, desperate to appease their 24-year-old star, fired head coach Phil Jackson and traded O'Neal to the Miami Heat. Despite these moves, Bryant explored free agency, meeting with a number of teams, including the Nuggets, Bulls and Knicks before narrowing his choice down to the Lakers and Clippers.
Nobody knows exactly how close Bryant came to leaving the Lakers for the Clippers, but many speculate that he strongly considered it. The media questioned the lackluster package GM Mitch Kupchak was able to bring in for Shaq, and the Clippers were a talented, young team, featuring players such as Elton Brand, Corey Maggette and promising No. 4 overall pick Shaun Livingston.
On paper, the Clippers seemed like a better fit, but Bryant opted to remain with the only team he had ever known and ended up winning two more championships with the Lakers. Kobe would be higher on this list, but his legal troubles gave a few teams pause and it may have cost him an extra $10 or $15 million. Ultimately though, Bryant's choice swung two championships in the Lakers' favor, and it remains one the biggest free-agent decisions in the history of sports.
8. Albert Pujols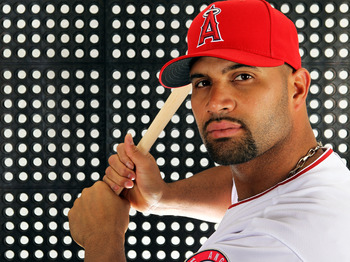 Pujols went west after 10 seasons with the Cardinals
Jamie Squire/Getty Images
Albert Pujols, a three-time National League MVP, played most of his career under a team-friendly contract for the Cardinals. When he became a free agent last winter, he made it clear that he expected to cash in big time.
Pujols was chased by the Cubs, Marlins and his former team, the Cardinals, but in the end nobody came close to the massive 10-year, $240 million contract offered to him by the Los Angeles Angels of Anaheim. His new deal with the Angels is the third-biggest in MLB history, something the small-market Cardinals couldn't hope to match.
The effect Pujols will have on the Angels is twofold. On the baseball side, he gives them a true, middle-of-the-order bat to go along with their dynamic pitching staff. His addition, along with that of C.J Wilson, makes the Angels one the favorites in the American League.
There is also a financial element to his new deal. With the Dodgers floundering, the Lakers looking older and older by the day and no NFL team in sight, the Angels have a chance to make some serious headway in the Los Angeles market.
Pujols is the type of player and person who can put fans in the stadium and get the media more interested in the Angels as a franchise. He is one of the last truly marketable stars in baseball, and the Angels will milk every last penny out of him for advertising purposes.
Pujols is nearing the end of his prime, but for a player like him who still means several seasons left of top-tier production. He will keep the Angels in contention for the foreseeable future and his chase for the career home run record will likely make the Angels a draw for the next decade.
7. Tim Duncan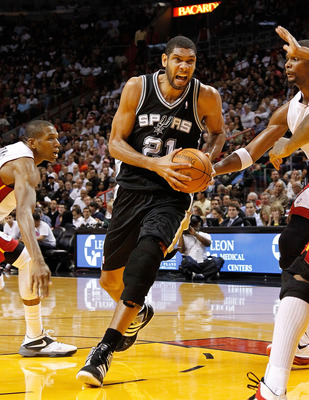 People tend to forget that Duncan almost left the Spurs in 2000
Mike Ehrmann/Getty Images
After only his third professional season, Tim Duncan became a free agent in 2000. Unlike many other players on this list, Duncan limited his search to two teams: the San Antonio Spurs and Orlando Magic.
Orlando, six years after losing Shaquille O'Neal to free agency, had spent the previous few seasons clearing enough cap space to sign both Duncan and former Detroit Pistons player Grant Hill. While Hill signed on almost immediately, Duncan took his time, and after days of deliberation he decided to return to the Spurs.
We know how the rest of the story went, Orlando settled for Tracy McGrady and Duncan's Spurs ended up winning three more championships. But Duncan's free agency was so important because it represented a chance for the Magic to get a future Hall of Famer in only his fourth season.
Today's rules of restricted free agency force players to stay on their original team for at least five years, but more often that stretches to seven or eight. But in 2000? Duncan was free to test the market as he saw fit. It is very rare for a player to leave as a free agent so early in his career, but Duncan had a chance to if he wanted.
Ultimately he stayed put in San Antonio, and it took Orlando several years to recover from missing out on him. but the mere fact that the Magic nearly stole him from the Spurs makes his free agency one of the biggest in the history of sports.
6. Catfish Hunter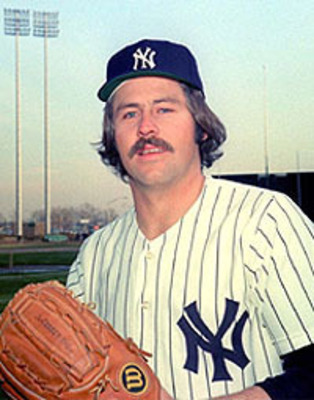 Catfish Hunter was the first ever superstar free agent
Catfish Hunter's free agency isn't so important because of who he was, but rather when it happened. Free agency was new in 1975, and Hunter was the first, true superstar free to test the market. The former Cy Young Award winner ended up signing baseball's richest contract at the time with the New York Yankees.
The move paid immediate dividends as the Yankees won pennants in Hunter's first three years with the team and championships in 1977 and 1978. Hunter was the ace of the Yankees' pitching staff throughout that entire period, making the All-Star team in 1976 and winning 61 games in his first four years with the team.
Hunter was forced to retire far too early due to diabetes, but his effect on professional sports is still felt today. The reserve clause restrained player movement for decades before free agency allowed players to explore the market as they saw fit.
Though Hunter wasn't involved in the legendary supreme court case that made it a possibility, Hunter was the first, true prize of free agency. His success as a Yankee is what led to free agency becoming as important as it is today. While Hunter may not have been quite the player others on this list were, his influence makes him one of the biggest free agents we have ever seen.
5. Reggie White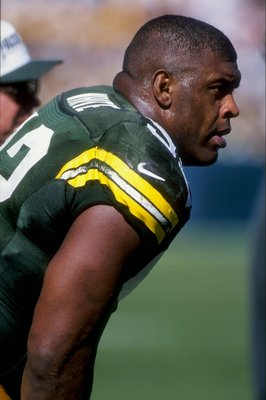 White was the NFL's defensive player of the year in 1998
Jonathan Daniel/Getty Images
Like Hunter, Reggie White was the first, truly great free agent in his sport. White was one of the plaintiffs in the lawsuit against the NFL that eventually led to free agency, and once he was set free he explored the market, looking for the best possible contract. He famously said, "God will tell me where to go". Apparently, God sent White to Green Bay.
In his six seasons as a Packer, White notched an impressive 59.5 sacks. He was voted the league's defensive player of the year in 1998, and most importantly he led the Packers to a win in Super Bowl XXXI.
White is universally recognized, along with Lawrence Taylor, as the greatest pass-rusher of all time. Along with Brett Favre, he is hailed as one of the men who revitalized the Packers. His effect on Green Bay was impossible to measure, and he is one of the only players in all of sports to have his number retired by two teams.
White was only a Packer for six years, but he made his years count. His signing was not only the biggest in Packers history, but one of the biggest in NFL history.
4. Shaquille O'Neal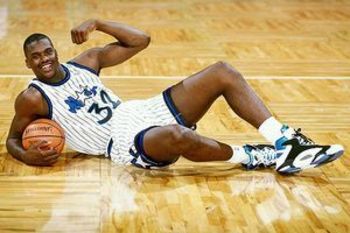 Very few teams are lucky enough to draft a franchise center, and those that do never let them hit the open market. That's what makes Shaq's 1996 free agency so important. Though he had led the Magic to the NBA Finals in 1995, O'Neal began to grow frustrated with the shoot-first style and growing ego of his top teammate, point guard Penny Hardaway.
A famous poll taken by the Orlando Sentinel showed that Magic fans overwhelmingly preferred Hardaway to Shaq and that they wouldn't mind seeing O'Neal go. This angered the notoriously emotional O'Neal, ending any chance for him to come back to the Magic. O'Neal eventually signed a seven-year, $121 million contract with the Los Angeles Lakers.
Shaq would have the last laugh, though, as he and Kobe Bryant led the Lakers to three championships while injuries forced Orlando to trade Hardaway to Phoenix. Other than Duncan, no truly elite center has ever reached free agency at the beginning of his prime, making Shaq's free agency truly unique.
Not many players can truly change the landscape of the entire league with one move, but O'Neal did just that by signing with the Lakers. Had he re-signed with Orlando or chosen another team, the Lakers dynasty of the early 2000s would have never happened. It's rare for one player to change the course of multiple championships, but that was the case with Shaq, making his free agency the second biggest in NBA history.
3. Alex Rodriguez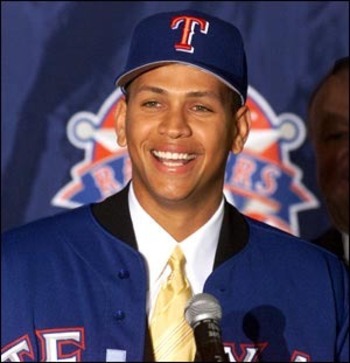 Rodriguez is the owner of the two biggest contracts in the history of sports
Alex Rodriguez shocked the sports world by signing a 10-year, $252 million contract with the Rangers after the 2000 season. Other than the deal he later signed with the New York Yankees, it was the biggest contract in the history of sports.
Rodriguez is the poster child of market disparity in baseball. Though he was universally seen as the best player in baseball, Seattle simply couldn't afford to keep him at the price he demanded, which ultimately led to his departure to Dallas. The Rangers faced a similar problem later in his contract and ultimately traded him to the Yankees.
Argue all you want about the size of his deal, but if anyone deserved that kind of contract it was A-Rod. At 25 year old, the shortstop had averaged 42 home runs with a batting average well over .300 in the previous three seasons. Rodriguez would go on to win an MVP Award for the Rangers, but his contract proved to be too much of a detriment to the the team, which led to his trade to the Yankees.
No other player has ever signed a bigger contract than A-Rod, and it will likely be decades before someone ever does. He will go down as one of the greatest players in the history of baseball, but he will always be known for the incredible contract he signed in the winter of 2000.
2. Peyton Manning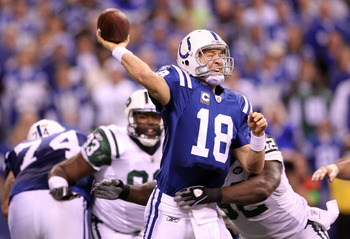 Manning won't be playing for the Colts next year
Andy Lyons/Getty Images
Nobody could have predicted this. Even when the Colts lost game after game last season, it was nearly impossible to think it would reach this point. But Peyton Manning will probably never again play for the Colts.
One of the greatest quarterbacks of all time, Manning has already garnered interest from teams throughout the NFL. Even with questions about his health, Manning is by far the most coveted free agent in NFL history.
Opportunities to add a Hall of Fame quarterback with something to prove are very rare. Teams like Washington, Denver, Miami, Arizona and the Jets are ready to pounce on that opportunity given the chance. The team he signs with immediately becomes a contender, which is practically absurd to say in such a team-oriented sport.
But Manning isn't just any other player. He may be the greatest player in NFL history. His stats through 13 years are mind-boggling, and if not for some terrible defenses and lousy weather in New England he could have three or four rings by now.
The Manning sweepstakes has just begun, and while we don't know where he'll go, we do know this: Whoever signs Manning is getting a player who is capable of single-handedly changing the entire fortune of its team right away. We almost never see that in sports, and when we do it is because of guys like Manning and...
1. LeBron James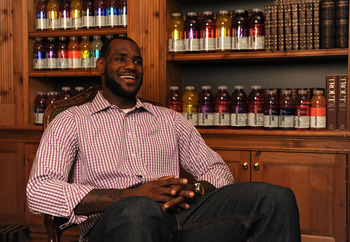 LeBron left Cleveland to take his talents to South Beach
Larry Busacca/Getty Images
On July 8th 2010, LeBron James famously decided to "take [his] talents to South Beach".
At that moment he was vilified as a disloyal traitor to Cleveland, and while elements of that were true the Cavaliers have no one but themselves to blame. Why would someone as talented as LeBron want to play with Mo Williams and Antwan Jamison over Dwyane Wade and Chris Bosh?
LeBron's free agency was so important that many teams spent years carving out the cap space to sign him. New York practically gave away its entire roster, while the Bulls gave Washington a first-round pick just to take Kirk Hinrich's contract off of their hands. The Cavs tried a different approach. By bringing in Jamison and Shaq, they hoped to appease James in the short term enough to convince him to stay.
That's where they failed. Kevin Durant will stay with the Thunder because they have managed their cap correctly and brought in guys like Russell Westbrook and James Harden to play with him. Michael Jordan stayed with the Bulls because of Scottie Pippen. The Cavs could simply never find LeBron his Pippen, which led his decision to leave.
Six teams were granted the right to speak with James: the Cavs, Bulls, Knicks, Clippers, Nets and Heat. While there were enticing elements to each, James couldn't pass on Miami. He has been friends with Wade and Bosh his entire career, so pairing up with the two All-Stars just made too much sense.
While James was the undisputed best player in basketball, there was another factor that made his free agency so important: Chris Bosh. Whoever signed James would also likely land Bosh. Signing one All-Star is good enough for most teams, but getting two takes you to the top of the league immediately. No other free agent has ever dictated the destination of his All-Star friend quite like James did with Bosh.
Since he was in high school, James has been hailed as a potential successor to Jordan. Athletically he has no peer, and while he hasn't won a ring yet, he has done everything else you could ask of a player. No other athlete is so talented, marketable and valuable to a team that he could inspire an hour-long TV special to tell us where he's going. LeBron is simply in another stratosphere, and that's why he was the biggest free agent of all time.
Keep Reading