Green Bay Packers: Team Still Waiting on Medical Clearance for S Nick Collins
March 8, 2012

Andy Lyons/Getty Images
Lost in the report from Tom Silverstein of the Milwaukee Journal-Sentinel on Green Bay Packers free-agent running back Ryan Grant this week was the small tidbit at the end on the status of injured safety Nick Collins. 
Speaking with Alan Herman, who represents both Grant and Collins, Silverstein learned that the Packers are still awaiting word on Collins' medical status.
The wait stems from the fact that Collins has yet to do any medical testing to confirm either way.
According to Herman, Collins "probably wouldn't for a couple of weeks" go through the battery of medical tests necessary for the former All-Pro safety to resume his playing career after a neck injury cut Collins' 2011 season short and put his NFL future in serious jeopardy.
While attempting to make a tackle on Carolina Panthers running back Jonathan Stewart during the Packers' Week 2 win, Collins' helmet made contact with Stewart's underside at an awkward angle. He remained on the turf and was stretchered off the field later with complete movement in all his extremities.
The prognosis was dim: Collins would need surgery, and his 2011 season was undoubtedly over.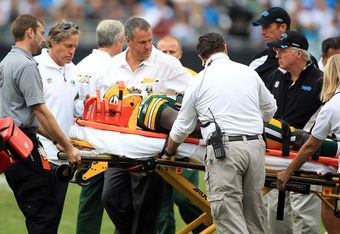 Streeter Lecka/Getty Images
A couple of weeks later, Collins underwent cervical fusion surgery to repair the bulging disc between his C3 and C4 vertebrae. It's a similar surgery to the one Peyton Manning underwent before last season, forcing the quarterback to miss the 2011 season and then part ways with the Indianapolis Colts on Wednesday.
There were questions immediately on whether Collins would ever play football again, and most speculation on the issue has been pessimistic about his chances. 
Collins made it clear early on that he wouldn't drag on the decision. A March doctor's appointment would light the path one way or another.
This is what Collins told the Journal-Sentinal after the Packers' playoff loss to the New York Giants:
It's cut and dry. If the doctor says I can go back, I'm definitely going to go back. If he says to stop, I'm definitely stopping. That's it. I'm not going to linger around and make this team suffer from waiting on a decision from me. That's not the type of person I am. I want them to be able to make a decision early. We have the draft coming up. Maybe they want to draft somebody.
But in recent interviews, Collins has seemed optimistic about his chances. You could gather the sense that Collins is simply waiting for the "go-ahead" on playing again now, not a decision whether he could or not in totality.
In a couple of weeks, the Packers will know that answer definitely.
Hearing that Collins is done with football could drastically change their offseason, as safety would vault near the top of the Packers' offseason needs list—a list that has more positions on it now than you'd assume a 15-1 team from the season before would have the next offseason.
There would still be a degree of worry if Collins can come back, and I wouldn't doubt for a second that the Packers would take a safety somewhat early to safeguard themselves against the atrocity of play that they suffered through last season at the safety position. 
Regardless, the outcome of that doctor's appointment in the coming weeks could send ripples through the Packers' offseason.