SEC Tournament Bracket 2012: Biggest Roadblocks for Kentucky
March 9, 2012

Joe Robbins/Getty Images
The Kentucky Wildcats are one buzz-beater away from a perfect record and enter the SEC tournament as far and away the favorites.
That's what happens when you win the league by a ridiculous six games.
But with three games in three days and a roster full of freshmen and sophomores, the Wildcats are certainly no lock to win this week.
With that in mind, here are the three teams that can shock the 'Cats and land an automatic bid. (Click here for full bracket)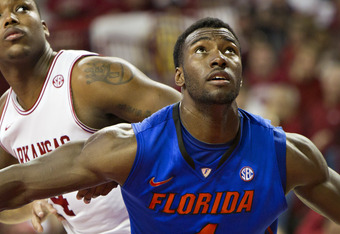 Wesley Hitt/Getty Images
No. 2 Florida Gators
The combination of Kenny Boynton, Bradley Beal, Erving Walker and Patric Young make Florida a potential Final Four sleeper.
But for now, it is focused on Kentucky. The Gators are ranked 24th in the country in scoring (76.8) and have a tendency to live and die by the three. UK doesn't have many weaknesses, but the Wildcats do get lazy with their perimeter defense at times and can be susceptible to hot-shooting teams like Indiana in their only loss.
Nobody has the talent to match Kentucky like the Gators.
No. 3 Vanderbilt Commodores
The reason to love Vandy is its experience. Nobody in the SEC has five of its top six scorers as seniors, with the other being a junior. The Commodores are tournament-tested and are the one team that has the strong mental edge of the young bucks of Kentucky.    
John Jenkins is the purest shooter in the conference and will be given plenty of opportunities to show why. A team that hits 46 percent of their shots makes this team just as dangerous as Florida, without the reliance on three-pointers.
No. 5 Alabama Crimson Tide
The Tide are rolling of late, winning eight of 11 including a win in Round 1 against South Carolina.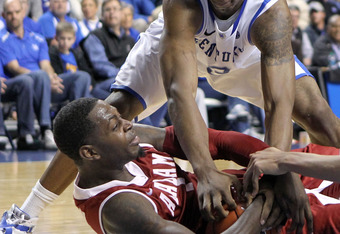 Andy Lyons/Getty Images
With JaMychal Green, Tony Mitchell and Trevor Releford, they possess three versatile scorers that all shoot for a high percentage. The depth they hold off the bench is a reason they can hang with UK as long as they keep the tempo to their liking. That means as slow as a snail.
Keeping the Wildcats' possessions to a minimum is a huge key for the Tide to shorten the game. They are capable of beating Kentucky, which means they can win the whole thing.