Big Ten Tournament Schedule and Bracket 2012: Top Seeds with Most on the Line
March 9, 2012

Leon Halip/Getty Images
The Big Ten has five ranked teams and then Purdue. All six are locks for the Big Dance and will likely make some noise, as well.
Ohio State, Michigan State and Michigan all finished the regular season with the same conference record, with Wisconsin and Indiana not far behind.
But the four top seeds in the tournament—the Spartans, Wolverines, Buckeyes and Badgers—all still have work to do.
Michigan State and Ohio State
These teams have a remote, outside chance of landing a No. 1 overall seed. They would need UNC, Duke, Missouri and Kansas to all fall short in conference tournament wins, and while it is not likely, it is not impossible.
The best thing the Spartans and Buckeyes can do is keep winning. If one of them is able to win the Big Ten tournament, and the aforementioned ACC and Big 12 powers fall, they might be able to snag that last No. 1 seed.
Michigan
Although the Wolverines are seeded higher than the Buckeyes in the conference tournament, the best they can do with eight overall losses is a No. 2 seed.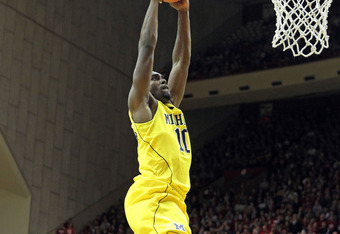 Andy Lyons/Getty Images
Their only bad loss this year was to Arkansas, so all they need to do is advance to the quarterfinals to hold on to that No. 3 seed at worst. An early exit could easily knock them down, though.
Wisconsin
A likely No. 4 seed in the Big Dance, the Badgers will potentially have a chance to knock off Michigan State in the second round.
That would be a huge boost for the Badgers after falling to the Spartans twice in the regular season.
They have to get through Indiana first, though, and the Hoosiers are hardly a small task.
Friday, March 9th (all times are ET)

Game 5: No. 1 Michigan State vs. Iowa, 12 p.m., ESPN
Game 6: No. 4 Wisconsin vs. Indiana, 25 minutes following Game 5 conclusion, ESPN
Game 7: No. 2 Michigan vs. Minnesota, 6:30 p.m., BTN
Game 8: No. 3 Ohio State vs. Purdue, 25 minutes following Game 7 conclusion, BTN
Saturday, March 10th
Game 9: Game 5 Winner vs. Game 6 Winner, 1:40 p.m., CBS Sports
Game 10: Game 7 Winner vs. Game 8 Winner, 25 minutes following Game 9 conclusion, CBS Sports
Sunday, March 11th
Game 11: Tournament Championship, 3:30 p.m., CBS Sports