VCU Basketball: Keys to Rams' 2012 NCAA Tournament Run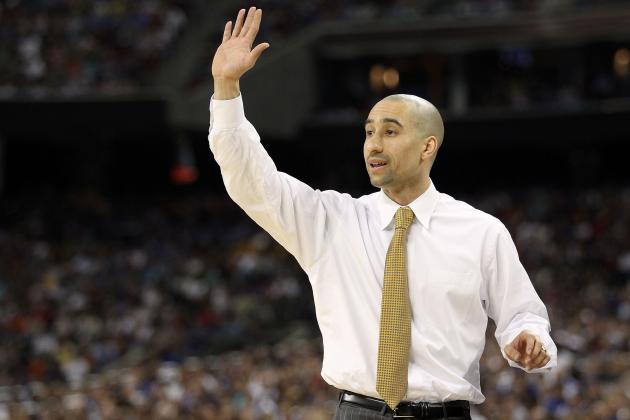 Andy Lyons/Getty Images
VCU head coach Shaka Smart in the 2011 NCAA Tournament.
Before our very eyes, the Rams of Virginia Commonwealth University are becoming a powerhouse.
Last season, VCU shocked the world with an improbable run to the Final Four, which was spearheaded by killer three-point shooting and excellent coaching by Shaka Smart.
The Rams picked up right where they left off in 2011-2012, going 28-6 and winning the Colonial Athletic Association tournament. When the brackets for the NCAA tournament were announced on Sunday, the Rams were revealed to be a No. 12 seed in the South Region.
The Rams are not a heavy favorite to win the Big Dance by any stretch of the imagination, but another Cinderella run through the tournament cannot be ruled out.
Here's a look at how things are shaping up for VCU heading into the NCAA tournament.
Begin Slideshow

»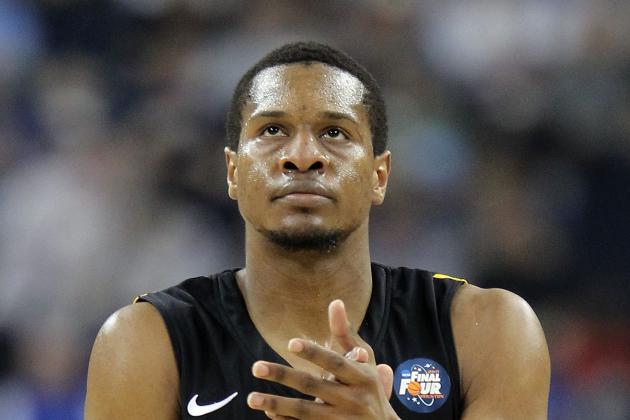 Andy Lyons/Getty Images
Bradford Burgess
The Rams are not a team loaded with superstars. They're not even a team loaded with experience. They lost a handful of key players from last year's Cinderella team, and the only reason they were able to make it back to Big Dance is because the new guys stepped up and performed as the season went along.
Regardless, here are two players that absolutely must step up in the NCAA tournament.
Bradford Burgess
Bradford Burgess is easily the most important player on this Rams team. In addition to being their leading scorer, Burgess is the Rams' most experienced starter.
Burgess wasn't quite as effective in 2011-2012 as he was in 2010-2011. He averaged fewer points per game, and he saw his shooting percentage take a sharp decline.
The most troubling part of Burgess' season is the fact that his three-point shooting wasn't sharp at all. He had his moments, but he ended the season shooting just 36.6 percent from distance. He shot better than 43 percent from distance last season.
Burgess will have to do better from three in order for the Rams to make another run through the tournament. It's also imperative for him to be a leader on a team filled with inexperienced players.
Juvonte Reddic
Juvonte Reddic was a bit player in his freshman season at VCU, averaging roughly 11 minutes per game and generally making a minimal impact.
This season, Reddic emerged as one of VCU's most important players. He was the team's leading rebounder, and the team's second-leading scorer behind Burgess.
Reddic will not be participating in the three-point fun in the NCAA tournament. That's not his style. His M.O. is to pick up points in the paint, including garbage points off missed shots from VCU's shooters.
Reddic is going to face some tough competition as VCU advances further and further into the tournament, so he better be ready to play his very best basketball.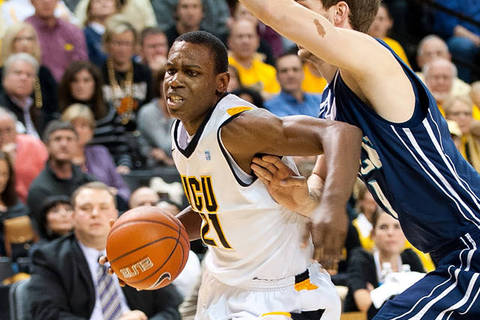 Treveon Graham; Photo Credit: CAASports.com
You might say the Rams are a team of role players, but one player in particular stands out: Treveon Graham.
Graham didn't log an excess of minutes in his freshman campaign, but he had a couple of big games throughout the course of the season.
One of them was the CAA championship game against Drexel. He played 21 minutes and scored 13 points, in large part because he was successful in getting to the line.
Graham is not an elite three-point shooter. But like all VCU players, he has the ability to get hot from beyond the arc, and that ability will come in handy in the tournament.
If not, the Rams will gladly settle for any energy that Graham brings off the bench.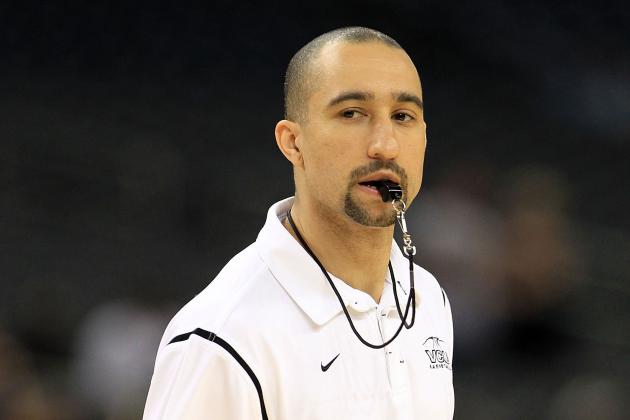 Streeter Lecka/Getty Images

The Rams have a well-deserved reputation as being primarily a jump-shooting team, and that's what we're going to see from them in the NCAA tournament.
VCU doesn't do anything overly fancy when it has the ball on offense. The Rams create shots with ball movement and balls screens, and it will ideally all work off the pick-and-roll.
None of it works if the Rams go cold from the field, which is something that happened more than they would have liked this season. VCU showed us all last year how good it can be when it gets hot from the field, and the Rams will have to get hot again in order to survive in the tournament.
This is particularly true, of course, of VCU's three-point shooting. If the Rams aren't knocking down threes, they're going to make a quick exit.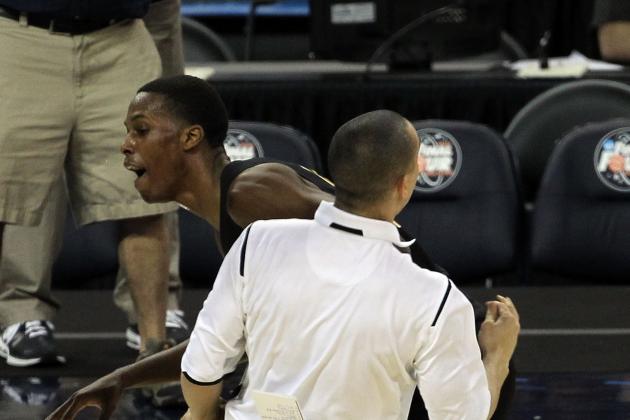 Ronald Martinez/Getty Images

Shaka Smart runs a defense that he calls the "havoc" defense. In many ways, it's just what it sounds like.
VCU's defense is designed, naturally, to wreak havoc. It requires heavy pressure and trapping, and Rams players must keep their hands moving at all times. It's essentially meant to force opponents into making mistakes or making plays.
The numbers suggest VCU's opponents make mistakes more often than they make plays. Per TeamRankings.com, VCU allowed just 59.8 points per game, and forced 17.5 turnovers per game. That figure was good for third in the country, and VCU actually led the nation in steals.
VCU is going to need as many turnovers as possible. These turnovers will give them more shot opportunities, and they're going to need those if they continue to be inconsistent from the field.
Chris Graythen/Getty Images

The Rams could potentially meet the top-seeded Kentucky Wildcats in the Sweet 16, which is a troubling thought.
There would be hope for VCU against Kentucky. Nobody should forget that it was the Rams who knocked off Kansas in the 2011 tournament, largely thanks to their fantastic perimeter shooting. Against Kentucky, perimeter shooting would at least help VCU stay out of Anthony Davis' paint.
Even still, knocking off Kentucky would be an extremely tall task.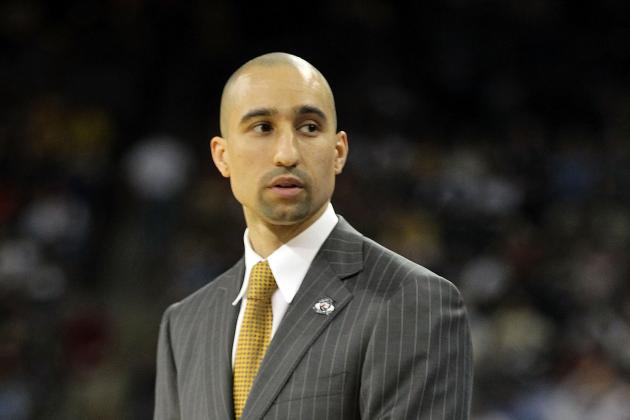 Andy Lyons/Getty Images

I don't think VCU is going to make it as far as the Sweet 16 for a potential matchup against Kentucky. Before the Rams can worry about getting to that point, they have to worry about potentially squaring off against Indiana in the round of 32.
The Hoosiers are a team that could beat VCU. They're an outstanding shooting team, particularly from three. If the Hoosiers were to face off against VCU and start knocking down threes, the Rams would be overmatched.
My prediction is that VCU and Indiana will indeed meet in the round of 32, and that the Hoosiers will indeed get the better of the Rams.
After that, the question will be if Smart would leave to accept another job.