Draft Impact: My Thoughts on Mel Kiper Jr. Conference Call
March 8, 2012

Eric Francis/Getty Images
ESPN draft guru and original self-made draftnik Mel Kiper Jr. spent some 100 minutes on a conference call with the media today, giving us all plenty to chew on. Here's some highlights with my thoughts:
On Trade Partners for St. Louis (via Washington Times):
"I think Washington goes above and beyond the chart. Obviously it's going to take a lot. Cleveland has that 22nd pick [in addition to the fourth overall pick], which is critical for St. Louis to get that 22nd pick. That helps Cleveland. How much are they going to be willing to give up? Are they going to be willing to match what Dan Snyder is looking to part with?"
My Take: Assuming Washington doesn't get Peyton Manning, this feels like what will come to pass. It's just not in the Browns organizational character to make a bold move like giving up picks No. 4 and 22. I'm going forward with a belief that it is greater than 50/50 right now that RG3 ends up with the Redskins.
On South Carolina WR Alshon Jeffery (via Geoff Mosher, Wilmington News-Journal):
Kiper very down on South Carolina WR Alshon Jeffrey. Questions ability to separate. Says mid-to-late second round, maybe even third.
My Take: Jeffery is one of those players that dazzle on highlight reels, but fail to execute consistently or display the skills to make plays on a regular basis. No matter what time he runs in the 40 at his pro day, teams will be wary of spending a first-round pick (or possibly even a second as Kiper indicated) on a player with weak senior tape.
On Texas A&M QB Ryan Tannehill (via Nate Ulrich, Akron Beacon-Journal):
ESPN's Mel Kiper Jr. thinks Texas A&M QB Ryan Tannehill is a lock to be drafted by the middle of the first round.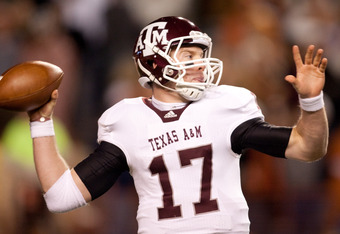 Darren Carroll/Getty Images
My Take: Some are mystified by Tannehill having this high draft stock despite only a one and a half year track record and mixed results in the win-loss column at Texas A&M. We have heard this assertion from enough sources now that we have to assume it is true, even if we don't think it is wise. Cleveland, Miami, Washington, Kansas City, Seattle, Arizona, and even the New York Jets are all teams in the first half of the first round that will have to give Tannehill a long look if they haven't addressed QB through other avenues.
On Nebraska LB Lavonte David (via Nate Ulrich, Akron Beacon-Journal):
ESPN's Mel Kiper said Nebraska OLB Lavonte David would be ideal fit for Browns defense; could be target at No. 22 if CLE doesn't trade it.
My Take: Surprise first-round picks happen every year, but if we look back through the information released before the draft, there are always signs that would have made the pick less of a surprise. Kiper is connected and he wouldn't throw something like this out there (he even has David going at No. 22 to Cleveland in his latest mock) if he didn't know that David was a first-rounder on at least one draft board. David is a very athletic LB who can hang in coverage with the new breed tight ends like Rob Gronkowski and Jimmy Graham, so his skills might be valued by the NFL more than we realize.