5 Dirtiest Players in the EPL This Season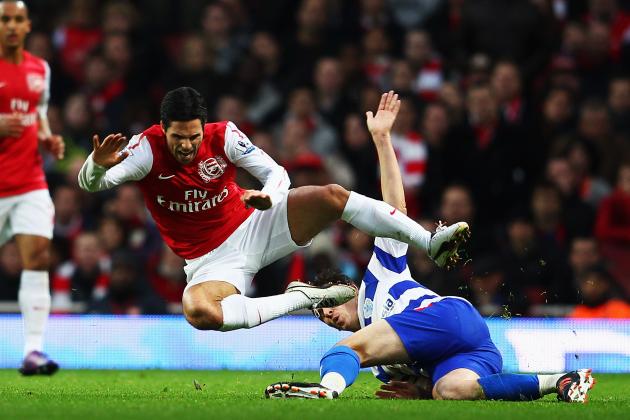 Clive Mason/Getty Images

Whether it be for poorly executed tackles or for generally unsporting play, certain members of the EPL have gained a reputation for being "dirty."
Indeed, judging how "dirty" a player is can be a fairly subjective task, so I've decided to use statistics as much as possible to back up my ranking of the dirtiest players in the league.
In particular, I've looked at both the average fouls committed by a player during a game and the number of yellow and red cards a person has received during the current season.
Players have earned one point for a yellow card, two points for a second yellow, and three points for a straight red. In addition, their average foul per game count has been considered as a tie-breaker.
I have decided to prioritize cards over fouls, in order to concentrate on the players who have most regularly committed severe acts of "dirtiness."
Accordingly, players like Cheik Tiote, Marouane Fellaini and Alex Song don't make my top five.
All rate highly on the average fouls per game count, but have better disciplinary records than the players I've decided to focus upon.
So, who do I think are the dirtiest players currently operating in the EPL?
Find out after the jump.
Begin Slideshow

»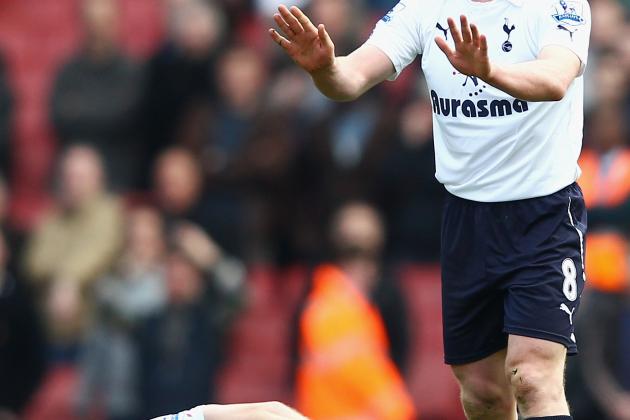 Clive Mason/Getty Images

Recently given the captain's armband for England's friendly against the Netherlands, Scott Parker's displays in the EPL this season have featured a bit too much of the rough stuff.
An average of 1.7 fouls per game is only the 11th worst in the EPL.
But the seriousness of his infractions has pushed him up the list into fifth place due to his disciplinary record.
Seven yellow cards this season and one red card for a second booking give Parker a score of nine points in my disciplinary table
That's the fifth worst in the league.
So, while justifiably known for being a great tackler—he has the second best rate for average tackles per game in the EPL with 4.1 per game—he also needs to time some of his tackles more adroitly.
Otherwise, Parker could face his marching orders a few more times this season—as he did in the recent North London Derby (pictured above).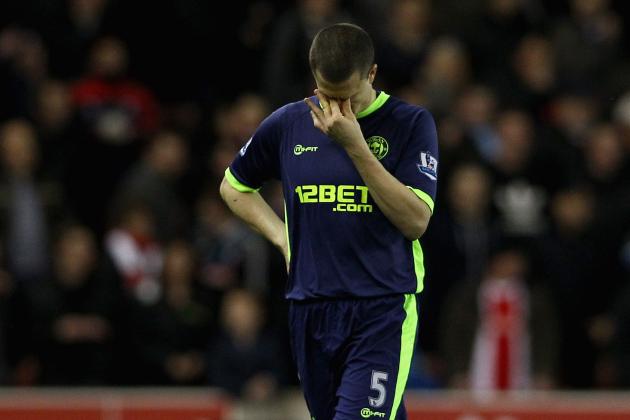 Clive Brunskill/Getty Images

A major reason for Wigan's appalling defensive record this season may well be the dreadful performances of Gary Caldwell.
The Scottish defender has completed only 0.5 successful tackles on average per game. To put this in perspective, 224 players in the EPL can boast a better record than this.
Maybe it's because when Caldwell tries to make a tackle, he quite often fails—and fails badly.
His 1.1 average fouls per game is not too bad, but seven yellow cards and one straight red tells its own story.
This gives Caldwell 10 points on my poor-discipline scale, earning him fourth place in the hall of shame.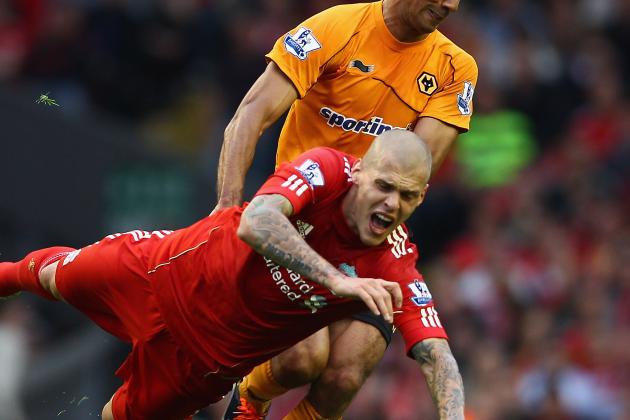 Clive Brunskill/Getty Images

Karl Henry's average of 1.2 fouls per game is actually not too bad. He's well outside the EPL's top 20 in this regard.
But it's his penchant for repeated, severe acts of foul play which have earned him a place in the top five.
In the first season after Wolves earned promotion to the EPL in 2009, Henry earned six yellow cards and one red card. In the 2010-11 season, he upped his game and received eight yellow cards an one red card.
So far this season, he's on course to break his record once more, with seven yellows and one red card. Owing to his slightly higher average foul per game count, he edges out Gary Caldwell into third place in our listing.
Even Henry's own managers have despaired at his foul play this season. Former Wolves boss Mick McCarthy described Henry's red card against Aston Villa as "stupid."
Unlike other players in this top five, Henry isn't even in the top 100 players for successful average tackles per game in the EPL.
Clearly, he needs to tidy up his tackling, or stay on his feet.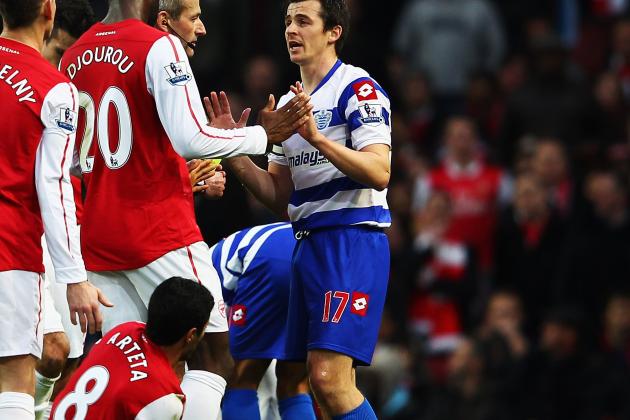 Clive Mason/Getty Images

Anyone surprised to see Mr Barton near the top of this list?
Thought not.
Barton has received eight yellow cards and one straight red this season while playing at two different EPL clubs: Newcastle and QPR.
QPR's then-manager, Neil Warnock, claimed that Norwich's Bradley Johnson feigned injury to get Barton sent off in the match between the two sides in January. Even if this was the case, Barton was extremely lucky to not get sent off during the first match of the season.
While still a Newcastle player, he grabbed Arsenal's Gervinho by the neck for an alleged dive, in a scuffle which somehow saw the Ivorian attacker given his marching orders, rather than Barton.
It seems like karma is a dish best served cold.
Barton scores 11 points on my scale for poor discipline. He also averages 1.5 fouls per game.
If this foul count were any higher, he might have taken the top spot.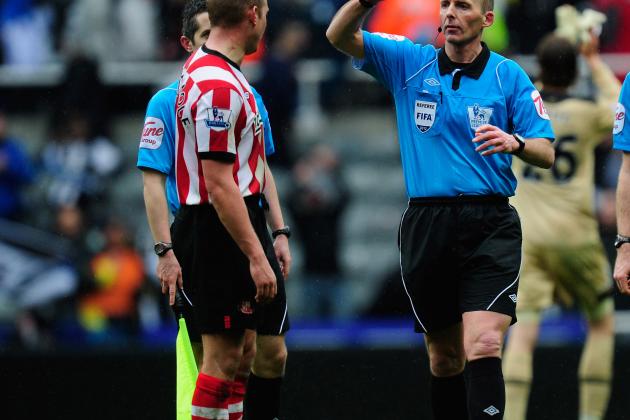 Stu Forster/Getty Images

There is simply no way around it: Lee Cattermole has been the dirtiest player in the EPL this season.
Not only can he match Joey Barton's eight yellow cards and one straight red, he also commits, on average, 2.1 fouls per game—the fifth highest figure in the EPL.
Put simply, Cattermole commits a lot of fouls, and he also commits a lot of fouls that are dangerous enough to receive a caution.
Cattermole has great form in this part of the game.
Last year, he racked up eight yellow cards and two reds in the EPL, while in 2009-10 he received seven bookings and one red card.
At present, Cattermole is on course to improve on his worst year in the EPL. During the 2008-09 season, he received 10 yellow cards and two red cards while playing for Wigan.
If he maintains his dedication to foul play, he'll undoubtedly outdo his personal best (or should I say worst?) this season.