Big Ten Tournament 2012: Assessing Top Players from Today's Games
March 8, 2012

Andy Lyons/Getty Images
The Big Ten tournament begins today with eight of the 12 teams seeing action over the next several hours. Teams like Indiana and Northwestern will be looking to pick up tournament berths while other teams like Minnesota and Penn State simply hope to be spoilers. 
Today's first game saw Iowa beat a woeful Illinois team that had lost eight of its last nine regular season games. The game was close but ultimately Iowa prevailed 64-61 thanks to 20 points from senior guard Matt Gatens.
The second game had the nation's No. 15 team, Indiana, take on Penn State. One of the mismatches of the Big Ten tournament, Indiana took out Penn State easily with a final score of 75-58.
Iowa and Indiana will be advancing to the next round largely due to the effort of several players. Meanwhile, Illinois and Penn State—even though their tournament dreams are over—can take comfort in the fact that they got good performances from some of their players. 
Here's my assessment on the top players from today's first two Big Ten tournament games.
Matt Gatens 
Matt Gatens' big game was a huge factor in Iowa's victory. He scored 20 points while also getting three rebounds, an assist and a steal. 
For this season Gatens has successfully taken on the role of being the team's top scorer. He's averaged 15.7 points a game with a total of 488 points for the season. He also leads the team in free-throw percentage with an impressive .846 percent, which was demonstrated in today's game where he finished four-for-four from the free-throw line.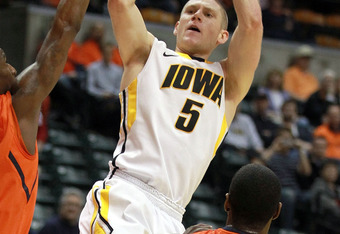 Andy Lyons/Getty Images
With Iowa taking on Big Ten champions Michigan State in the next round, Gatens will likely be needed to provide another big game. Iowa was throttled by Michigan State 95-61 in their previous meeting and Gatens only had 11 points. For Iowa to keep their faint tournament aspirations alive, they need to frequently put the ball in Gatens' hands.
Meyers Leonard 
Despite losing, Illinois has little to be ashamed of from today's game. The Fighting Illini played hard with perhaps no player playing harder than Meyers Leonard. The sophomore center had 18 points, six rebounds, two assists, one steal and one block.
Leonard and junior guard Brandon Paul are clearly the focal points of Illinois' struggling offense. Paul however was essentially a non-factor in the game as he finished with only four points. This put the burden on Leonard who mostly carried the team by himself.
Unfortunately Illinois was forced into shooting three-pointers. They only made seven of their 26 three-pointers, with zero shots from Leonard. The worst three-point shooting team in the Big Ten should not have attempted nearly as many threes, which clearly are not Leonard or Illinois' strengths.
Illinois really needed to run the offense through Leonard in the low post. It's a disappointing end to the Illini's season, but they should have a strong foundation if Leonard decides to play another year with them.
Cody Zeller 
The freshman phenomenon was efficient in Indiana's victory, finishing with 19 points and 10 rebounds. Today he was important but he wasn't the only person putting up points. Junior guard Jordan Hulls had 20 points while junior forward Christian Watford had 14 points.
Zeller was recently named the Big Ten's freshman of the year by coaches. It's a pretty obvious pick as Zeller has put up great statistics while also transforming Indiana's team.
Even though they didn't win the regular season Big Ten title, the Hoosiers are a very dangerous team having now won five consecutive games and nine of their last 11. Zeller has been at the forefront of the team's success, scoring double-digit points in nine of their last 10 games. With the way Zeller is playing, Indiana is a very dangerous team with a very real chance at winning the Big Ten tournament.
Tim Frazier 
Even with the game being a blowout, amazingly it was a Penn State player who had the most points. Junior Tim Frazier had one of his best games of the entire season with 26 points and two rebounds. Yet Frazier's 26 points were not enough to keep Penn State in this game. 
Things were actually close in the first half, which ended with the Hoosiers winning 38-32. Frazier had been red-hot at that point, having landed 19 points so far. In the second half, Indiana neutralized him and basically the entirety of Penn State's offense. 
Frazier would only manage seven points for the remainder of the game. When Indiana started the second half with a 10-0 run, it was clear that the Nittany Lions were in way over their heads. They never recovered again and although Frazier ended the season strong, it's got to hurt that the game got so out of hand in the second half.