NHL Trade News: The Biggest Steal in Each NHL Team's History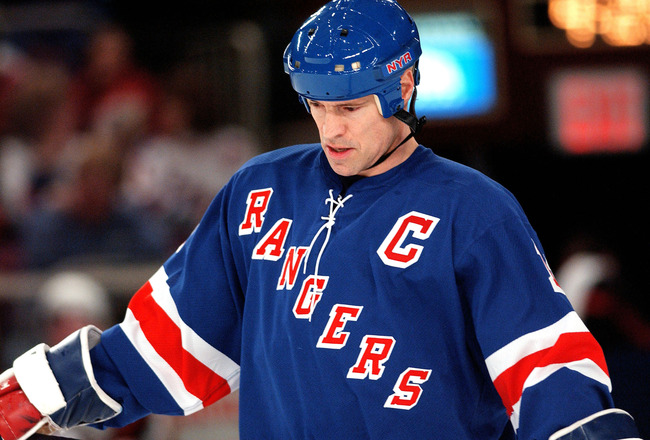 Stephen Chernin/Getty Images
When an NHL trade is made, the general managers from the teams involved usually stick to the script, saying how they got exactly what they were looking for and that they hated to see the player that they traded go, but it was in both sides best interest to make the deal.
Well, 99 percent of the time, those words are empty platitudes, the GM saying what he is supposed to say with the bright lights and microphones shoved in his face.
The reality is that in almost all trades there is a winner and there is a loser. Sometimes the difference between the two is hardly noticeable. Other times the difference is huge, noticeable to anyone that follows the game on any level.
What follows is a list of the trades, signings and deals that make one wonder what the thought process was when the deal was made.
Some of these selections are not trades, instead they are oversights and mistakes that still qualify as steals. You'll notice those when you get to them and like the bad trades, you'll wonder how they could have ever occurred.
Anaheim Ducks: Teemu Selanne
Jeff Gross/Getty Images
This is the type of trade that financial difficulty and franchise uncertainty can bring. Teemu Selanne was a scoring machine for the Winnipeg Jets. In his rookie season he potted 76 goals and added 56 assists.
In 1995-96 he was scoring higher than a point per game, with 72 points in 51 games when the Jets decided to move him.
Ducks general manager Jack Ferreira must have struggled to keep a straight face when he gave up Chad Kilger and Oleg Tverdovsky and a draft pick for Selanne and Marc Chouinard.
Selanne would play parts of six seasons in Anaheim during his first stint, scoring more than 100 points in two of those seasons and becoming one of the all-time fan favorites with the Anaheim faithful.
Boston Bruins: Cam Neely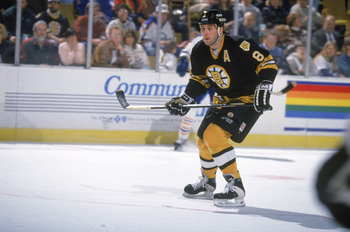 Rick Stewart/Getty Images
It's funny that the Vancouver Canucks are looked at as a "soft" team. That image may have never taken hold if they hadn't been so quick to give up on their first-round pick in the 1983 entry draft, Cam Neely.
Neely never topped 40 points during his three seasons in Vancouver, but once they shipped him off to Boston along with a first-round pick in the 1987 draft (used to select Glen Wesley) in exchange for Barry Pederson, everything changed.
Neely would make an immediate impact with the Bruins, scoring 72 points in his first season in Boston and becoming the definition of a power forward.
Injuries would limit his playing time and eventually force him to retire far too early in his career, but while he was on the ice, he did it all.
Neely, now the president of the Bruins, had his number retired by the team and is now enshrined in the Hockey Hall of Fame despite the fact that he only played 726 NHL games.
Buffalo Sabres: Dominik Hasek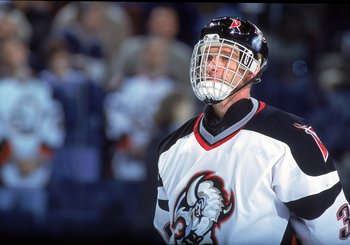 Rick Stewart/Getty Images
Ah, what could have been. Sure the Chicago Blackhawks ended their Stanly Cup drought in 2010, but had they given a goaltender from Czechoslovakia a chance, perhaps that drought would have ended sooner.
Dominik Hasek played 25 games over two seasons in Chicago before being shipped to the Buffalo Sabres in exchange for Stephane Beauregard. Initially he served the same role in Buffalo as he did in Chicago, sitting at the end of the bench and opening and closing the door for the players coming off the ice.
An injury to starting goaltender Grant Fuhr provided Hasek the chance he needed and he never looked back, earning six Vezina Trophies, two Hart Trophies and two Lester B. Pearson awards during his tenure in Buffalo.
He also took the Sabres to the Stanley Cup, falling in six games after the Dallas Stars' Brett Hull scored a controversial goal in triple overtime.
Calgary Flames: Lanny McDonald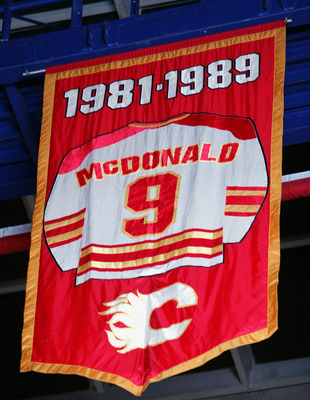 Tim Smith/Getty Images
One could argue that Lanny McDonald is the most popular player in Calgary Flames history. Maybe it's the instantly recognizable mustache or perhaps it's due to how he played the game, or the fact that in his last game in a Flames sweater he raised the Stanley Cup over his head.
The Flames had long coveted McDonald, trying to deal for him during the 1975 season when the franchise was still located in Atlanta. The Flames were unable to land their man then, but they did obtain him during the 1981-82 season. The Flames traded Bob MacMillan and Don Lever to the Colorado Rockies (now the New Jersey Devils) in exchange for McDonald and a draft pick.
During the next season, McDonald would set his career high in points with 98 and would also capture the Bill Masterton Trophy.
McDonald's crowing achievement came in his last NHL game when he raised the Cup, a storybook ending to his career.
Carolina Hurricanes: Rod Brind'Amour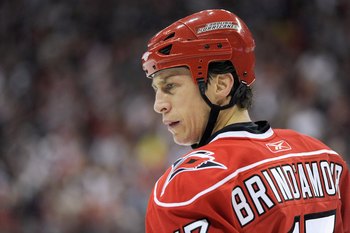 Grant Halverson/Getty Images
This one could be controversial and is best judged by the reaction from the fans of the team on the other side of the trade, the Philadelphia Flyers.
Flyers fans were heartbroken when the team shipped who many believed to be the heart and soul of the team to the Carolina Hurricanes in exchange for Keith Primeau. Brind'Amour was a workhorse. He played hurt, he played solid two-way hockey and he did everything that was asked of him, always giving 100 percent.
When he would return to Philly as a member of the 'Canes, the Philly faithful always acknowledged him in a friendly manner.
When he arrived in Carolina, the jersey changed, but the style of play did not and with Brind'Amour at the helm, the team captured the Stanley Cup and he won two Selke Trophies with the Canes.
Age eventually caught up with him and his play slowed, but without a doubt, the 'Canes won in this deal.
Chicago Blackhawks: Tony Esposito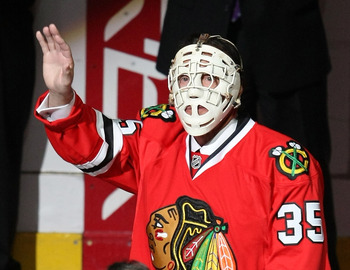 Jonathan Daniel/Getty Images
Tony Esposito was once a member of the Montreal Canadiens, playing 13 games with the team during the 1968-69 season before being sent to the minors. The Blackhawks picked Esposito up for nothing, grabbing him off waivers as Montreal was deep in net at the time.
Esposito would go on to play the rest of his career in Chicago, winning the Calder Trophy as well as three Vezina trophies and finishing his career with a record of 423-306-151.
One wonders just where Esposito would have ranked among the all-time Montreal greats had he stayed with the Canadiens.
Colorado Avalanche: Peter Forsberg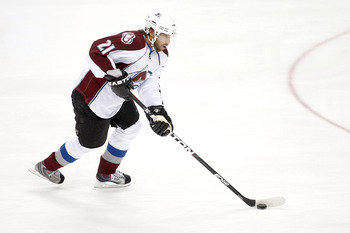 John Grieshop/Getty Images
Just think, the Philadelphia Flyers though they got the better of this deal, giving up Peter Forsberg, Ron Hextall, Chris Simon, Mike Ricci, Kerry Huffman, Steve Duchene, two first round picks and $15 million for Eric Lindros.
Sure, the trade allowed the Flyers to build a new arena and keep it stuffed with fans hoping for a Stanley Cup (that never came), but outside of that, it accomplished little.
Most likely the worst trade in NHL history, unless of course you are a fan of the Avalanche franchise, then of course, it was the best.
Columbus Blue Jackets: Geoff Sanderson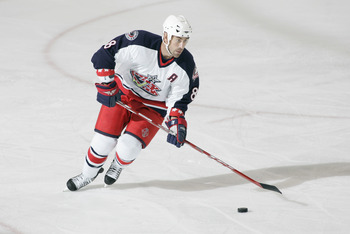 Gregory Shamus/Getty Images
There were some slim pickings for the Blue Jackets, and Geoff Sanderson, a long-time NHL veteran, gets the call by default on this team. Sanderson was picked up by the Blue Jackets at the expansion draft, playing 261 games in Columbus and scoring 168 points.
It's not exactly a super deal, but you can't really say that the Blue Jackets have really stolen anyone as of yet, cough, Jeff Carter, cough.
Dallas Stars: Sergei Zubov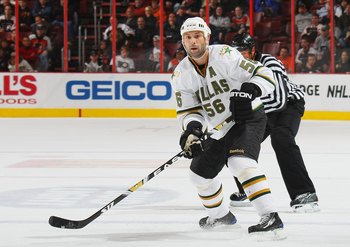 Bruce Bennett/Getty Images
Sergei Zubov was drafted by the New York Rangers playing parts of three seasons in New York before being shipped to Pittsburgh in exchange for Peter Nedved, Ulf Samuelsson and Luc Robitaille. That trade did not work out in the Pens' favor as they traded Zubov the following season, getting Kevin Hatcher in return.
Zubov may have not worked in Pittsburgh, but he fit in fine in Dallas, playing in three All-Star games, earning Norris Trophy consideration and winning a Stanley Cup.
He would play parts of 12 seasons in Dallas.
Detroit Red Wings: Nicklas Lidstrom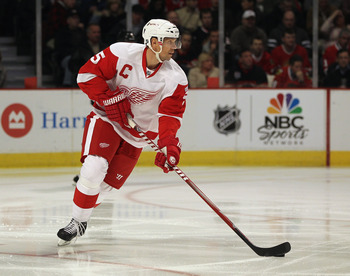 Jonathan Daniel/Getty Images
You may be asking yourself how Nicklas Lidstrom, a player that has played his entire career for one organization could be a steal. It's a legitimate question until you look at his draft position. Lidstrom was drafted in the third round of the 1989 entry draft with the 53rd pick. That's a steal, especially when you look at the players picked in front of him.
Hindsight being 20/20, Lidstrom would have easily given Mats Sundin competition for the No. 1 pick in the '89 draft and surely should have at least been No. 2, knocking Dave Chyzowski, who was selected by the New York Islanders, from that position.
Edmoton Oilers: Wayne Gretzky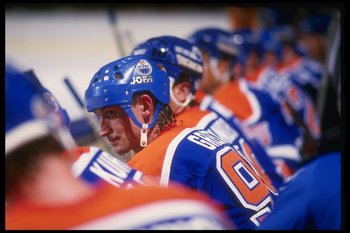 Mike Powell/Getty Images
OK, technically this one is not an NHL steal, it's a WHA steal, but the WHA deal allowed the Oilers to hold onto Gretzky when the team was absorbed into the NHL.
In a stroke of genius. Edmonton Oilers owner Peter Pocklington signed Gretzky to a 21-year personal services contract, which essentially contracted him to Pocklington and not the Oilers.
What that move did was allow the Oilers to protect two skaters and two goaltenders and Gretzky from the 1979 entry draft while other teams were able to protect only the two skaters and two goaltenders.
A brilliant move by Pocklington, but as we know, that 21-year contract didn't last all 21 years in Edmonton.
Florida Panthers: Roberto Luongo and Olli Jokinen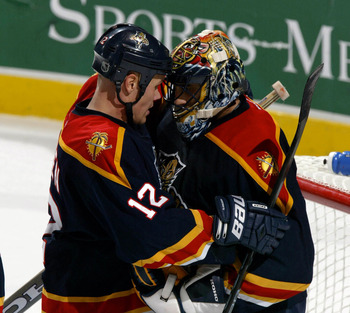 Eliot J. Schechter/Getty Images
This is a two-for-one bad deal, but when the general manager on the other end of the deal was Mike Milbury, well, it's not so shocking.
After selecting Rick DiPietro with the first overall pick in the 2000 NHL entry draft, Milbury shipped Luongo and Jokinen to the Florida Panthers in exchange for Mark Parrish and Oleg Kvasha.
Chalk it up as another move that didn't work out so well for "Mad Mike."
Los Angeles Kings: Wayne Gretzky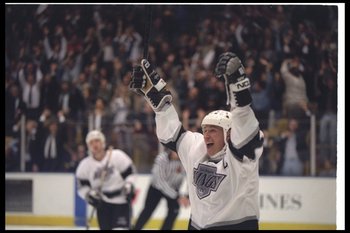 Al Bello/Getty Images
When a team trades the best player in NHL history, you think they would do so when he was on the downside of his career or that it would be done to vastly improve their team for the future.
When the Oilers traded Wayne Gretzky to the Los Angeles Kings it was for neither of those reasons, it was a financial decision as Oilers owner Peter Pocklington needed the cash for his non-hockey dealings.
Gretzky was shipped, along with Marty McSorley and Mike Krusheinyski for Jimmy Carson, Martin Gelinas, first-round draft choices in 1989, 1991 and 1993 and $15 million.
The trade resulted in the Kings' home arena being the place for Los Angeles' elite and may be the single most important reason for the huge southern expansion of the NHL.
Minnesota Wild: Niklas Backstrom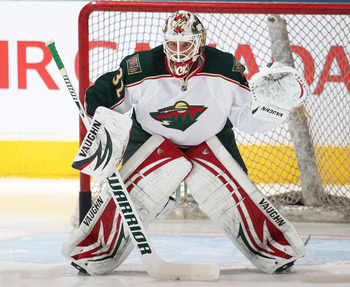 Claus Andersen/Getty Images
As with the Columbus Blue Jackets, this one is kind of a default award. In 2009, Minnesota Wild goaltender Niklas Backstrom finished third in the voting for the Vezina Trophy. He has proven to be a solid goaltender in his time with the Wild, a team that signed him in 2006 as a free agent, effectively costing them nothing. So, not a bad deal.
Montreal Canadiens: Peter Mahovlich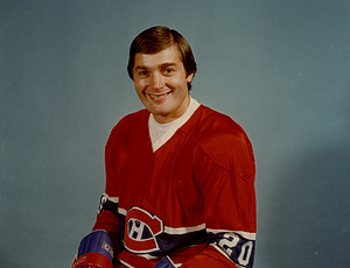 As the younger brother of Frank Mahovlich, Peter had some big skates to fill.
The Detroit Red Wings, who he started his career with, seemed to have difficulty finding a place for him and so, after 82 NHL games spread over four seasons they shipped him off to the Montreal Canadiens in exchange for Garry Monahan and Doug Piper.
Mahovlich would find his place with the Canadiens, winning four Stanley Cups. He was also a member of Canada's 1972 Summit Series team.
Nashville Predators: Pekka Rinne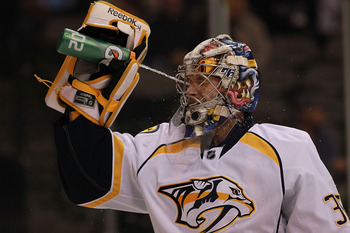 Ronald Martinez/Getty Images
It seems as if the recent expansion teams have not had that easy of a time breaking through in the steals department by way of trades, instead relying on stealing players in the draft. The Nashville Predators are an example of that, picking up goaltender Pekka Rinne with the final pick in the eight round of the 2004 entry draft.
That's correct, the goalie that the Preds just signed to a monster contract was drafted 258th, one spot behind Gennady Stolyarov and one spot ahead of Brian Ihnacak.
New Jersey Devils: Scott Stevens
Al Bello/Getty Images
There are three players that epitomize the New Jersey Devils: Ken Daneyko, Martin Brodeur and their long-time captain, Scott Stevens.
Stevens, one of the toughest players to ever skate on an NHL sheet of ice, started his career with the Washington Capitals before signing with the St. Louis Blues. He only lasted one year in St. Louis.
The Blues had signed Brendan Shanahan as a restricted free agent and the Devils were due compensation. The Blues, having signed Stevens as a restricted free agent and without first-round picks to offer, instead offered the Devils a young Rod Brind'Amour, but the Devils wanted Stevens.
The case went to arbitration and the Devils got their man and the rest, despite an initial holdout from Stevens, is history.
On paper, Stevens for Shanahan does not seem like much of a steal, but ask any Devils fan what they think of the deal and see if they think it was a steal.
New York Islanders: Butch Goring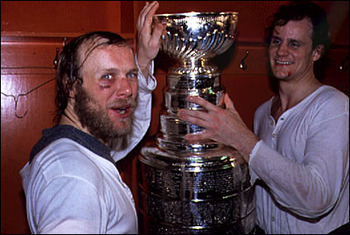 At the end of the 1977-78 NHL season the, Islanders finished in first place in the Patrick Division. That regular season success did not translate to playoff success as they fell in the quarterfinals to the Toronto Maple Leafs.
In 1978-79 they again won the Patrick Division, this time making it to the Stanley Cup semifinals before falling to their metro-area rivals, the Rangers, in six games.
At the 1980 trade deadline, they traded Billy Harris and Dave Lewis to the Los Angeles Kings in exchange for Butch Goring. The Islanders would then go on a run that saw them win the Stanley Cup in four consecutive seasons.
New York Rangers: Mark Messier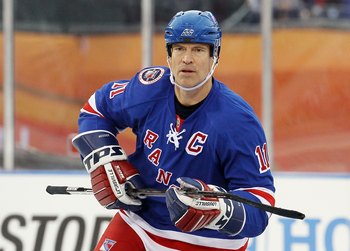 Jim McIsaac/Getty Images
Sometimes when it rains, it pours and in the late 1980s and early '90s that was the case in Edmonton. The Oilers dynasty was being dismantled piece by piece and Mark Messier had seen enough and requested (demanded?) a trade.
On October 4, 1991 he was sent to the New York Rangers in exchange for Louie DeBrusk, Bernie Nicholls and Steven Rice.
In 1994 Messier became the first player to captain two different teams to Stanley Cup victory. It just so happened that the win also ended a 54-year Cup drought for the Rangers.
Ottawa Senators: Zdeno Chara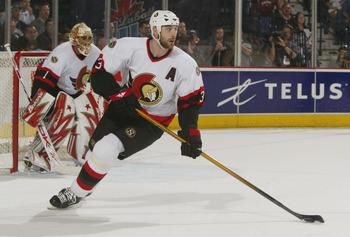 Dave Sandford/Getty Images
Oh Mike Milbury, you are one crazy man. To think you once traded Zdeno Chara, Bill Muckalt and a draft pick that turned into Jason Spezza, all for Alexi Yashin, a player that was bought out of his contract in 2007; a deal that cost the Islanders $17.63 million just to make him go away.
While Chara's time in Ottawa was short, it was where he began to bloom into the player that he is today.
Philadelphia Flyers: Bernie Parent
Bernie Parent initially came to the Flyers as part of the 1967 expansion draft, but that wasn't a steal, that was just fate. In 1971, Parent was dealt to the Toronto Maple Leafs and from there he signed with the WHA.
His stay in the WHA lasted one season and he looked to return to the NHL. A trade from the Leafs in exchange for Doug Favell and a first-round pick sent him to Philly where he would backstop the team to two Stanley Cup victories.
Parent would also earn two Vezina and two Conn Smythe Trophies in Philadelphia and is still one of the most beloved players in Philadelphia sports history as was evidenced by the rousing cheer he received when he played in this year's Winter Classic.
Phoenix Coyotes: Jeremy Roenick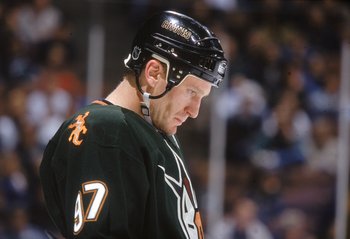 Kellie Landis/Getty Images
Another team whose financial difficulties seem to make them more the victims than the thieves are the Phoenix Coyotes. The best they could do in the theft department was grab Jeremy Roenick from the Chicago Blackhawks in exchange for Alexei Zhamnov, Craig Mills and a first-round pick.
While it's not a terribly lopsided trade, it is one that gave the Coyotes JR— one of the most dynamic players of his era.
Pittsburgh Penguins: Ron Francis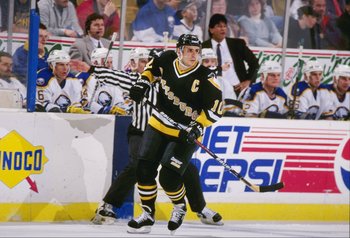 Rick Stewart/Getty Images
On paper, the Hartford Whalers were receiving John Cullen, one of the top scorers in the NHL, in exchange for Ron Francis. They were exchanging a player that had never scored more than 69 points in a season for a player that had topped 90 points.
Cullen would only last one full season for the Whalers. Francis would play parts of eight seasons in Pittsburgh, winning two Stanley Cups.
A steal for the Penguins for sure.
St Louis Blues: Brett Hull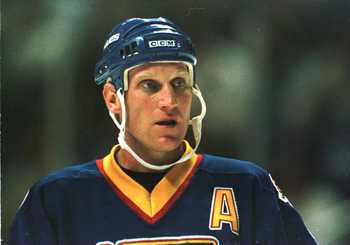 Jamie Squire/Getty Images
Brett Hull started his career with the Calgary Flames, where he did not seem to get along with head coach Terry Crisp. Hull would play in 52 games for the Flames during the 1987-88 season, scoring 50 points, which, for a rookie, is not too shabby.
However he was still moved at the deadline, traded to the St Louis Blues along with Steve Bozek in exchange for Rob Ramage and Rick Wamsley.
Hull would play 744 games with the Blues, scoring 527 goals and 936 points. His goal total is by far the highest in Blues history and his points total put him in second all-time.
San Jose Sharks: Joe Thornton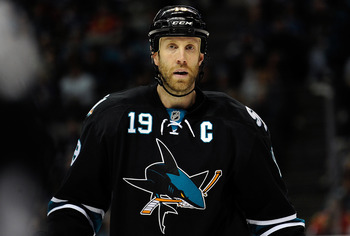 Thearon W. Henderson/Getty Images
Joe Thornton had worn out his welcome in Boston. He was the scapegoat for all of the Bruins' failures and when he was traded to the San Jose Sharks it was not the biggest surprise. In exchange for Thornton the Bruins received Marco Strum, Wayne Primeau and Brad Stuart.
After being shipped to San Jose, he scored 92 points in 58 games and then followed that up by scoring 114 points in his first full season in San Jose.
Thornton has, for the most part, shed the choker and underachiever tag that ran him out of Boston.
Tampa Bay Lightning: Martin St. Louis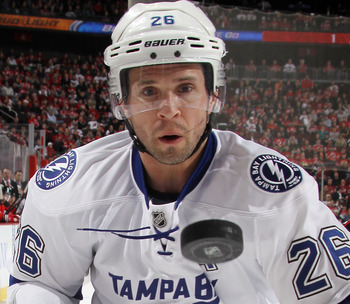 Bruce Bennett/Getty Images
The Tampa Bay Lightning are another one of those teams that does not have a deep trading history and so Martin St. Louis is the player that makes the cut.
St. Louis was never drafted and bounced from the Ottawa Senators organization to the Calgary Flames and then eventually to the Tampa Bay Lightning, who inked him as a free agent.
During his time with the Lightning, St. Louis has won an Art Ross, Lester B. Pearson, Hart and two Lady Byng Trophies to go along with the Stanley Cup the Lightning won in 2004.
Toronto Maple Leafs: Doug Gilmour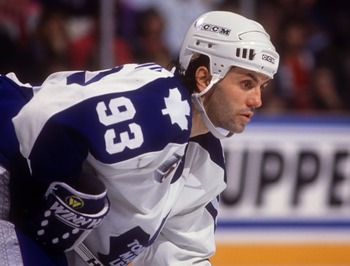 Getty Images/Getty Images
The trade that sent Doug Gilmour to the Toronto Maple Leafs was not a simple one-player exchange. No, the trade sent Gilmour, Jamie Macoun, Ric Nattress, Kent Manderville and Rick Wamsley to Toronto, while shipping Gary Leeman, Alexander Godynyuk, Jeff Reese, Michel Petit and Craig Berube to the Calgary Flames.
While there were many players involved, the centerpiece was Gilmour, who would go on to become a folk hero of sorts during his time with the Leafs, a heart and soul player that bled blue and white.
Gilmour would go on to have two 100-plus points seasons with the Leafs, with his 127 points in 1992-93 still standing as a team record.
Vancouver Canucks: Markus Naslund
Jeff Vinnick/Getty Images
Along with the Ron Francis to Pittsburgh trade, this one seems to come up very often when discussing terrible deals, and with very good reason.
On March 20, 1996, the Pittsburgh Penguins traded Markus Naslund to the Vancouver Canucks in exchange for Alek Stojanov.
Naslund would go on to become one of the most beloved players in Canucks history, wearing the captain's "C" on his sweater for eight seasons in Vancouver. He would also capture the Lester B. Pearson Award in 2003.
A great deal for the Canucks, obtaining the player that became the face of the franchise for quite a few years.
Washington Capitals: Rod Langway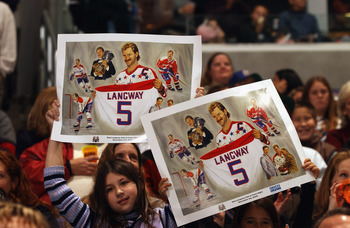 Mitchell Layton/Getty Images
In September 1982 the Washington Capitals traded Ryan Walter and Rick Green to the Montreal Canadiens in exchange for Doug Jarvis, Brian Engblom, Craig Laughlin and Rod Langway.
Looking at the trade now, one wonders exactly why Montreal would have ever made that deal, essentially handing the Washington Capitals a player that they could build a franchise around. Even Langway knew the trade was bad, saying the Canadiens had made "the worst trade in the history of the NHL."
While I would not call it the worst trade in the history of the NHL, it surely ranks pretty high.
Winnipeg Jets: Marc Savard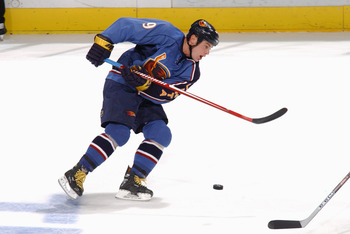 Scott Cunningham/Getty Images
The Winnipeg Jets, in their current form, do not have a long history of trading under their belt, but one trade does stand out.
In 2002, they traded the rights to Ruslan Zainullin to the Calgary Flames and in return received Marc Savard.
Zainullin never played an NHL game, Savard would go on to put up a 97-point season in Atlanta in 2006 before signing with the Boston Bruins as a free agent.
Keep Reading