Big 12 Tournament 2012: Texas Fans, Where Is the Support for You Team?
March 8, 2012

Streeter Lecka/Getty Images
Texas is squarely on the bubble as it enters the Big 12 tournament today—but do fans really care?
The Longhorns (19-12, 9-9 in the Big 12) have had a pedestrian season thus far, at least for the standards of the Rick Barnes era, and unless they get a win in the Big 12 tournament, they're in danger of missing the NCAA tournament for the first time in 13 seasons, which would break the fifth longest such streak in the nation.
One would think a desperate push like this would have fans in a frenzy supporting their team, but all you really see around the 40 Acres is a lukewarm buzz about whether Texas will squeak in or not.
I understand that this is Texas, and football is the above-all sport in this part of the country. But when your team is making a push towards the "Big Dance," it should be the top news.
Instead, it seems that fans in Austin would rather hear about the latest high school junior that committed to the team, and these are players who won't see any playing time in Darrell K Royal-Texas Memorial Stadium for another two years! 
Anyone see an issue with that?
This may not be the best team in school history, but they still deserve fan support. There should be people arguing the merits of Texas' resume, but instead they are talking about what Tyrone Swoops can do under center in 2014.
If a school like North Carolina was on the bubble, there would be absolute panic in Chapel Hill. It would be the only thing students, staff and members of the community would be discussing. They wouldn't even be thinking about spring football.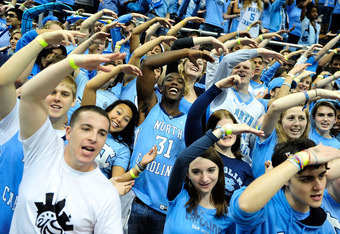 Grant Halverson/Getty Images
I do understand that North Carolina football is nowhere near the level of Texas' program, but there is no reason for Texas fans to utterly dismiss their basketball team. The program is one of the best in the country, and even though this is a rebuilding season, the team still deserves a vocal and supportive fanbase, as this young team puts it all on the floor for a shot at its own slice of "March Madness."
People can argue all they want that the basketball program gets plenty of love, but the number of people in the seats during home games this season tells a different story.
Sure, against the Kansases of the world the Erwin Center was packed to the brim with Texas supporters, but on weekday games against sub-par competition, often times you could hear players' sneakers squeak thanks to the lack of fan noise, and if people wanted to they could have laid out across rows in some sections—there were that many empty seats.
At a Duke game there is never an unoccupied seat in the house, and on top of that they are deafeningly loud, making their own impact on the game. Texas fans, on the other hand, rarely get above the octave of an average unruly fourth-grade class.  
While it's understandable that Texas fans will never reach the level of support that basketball "bluebloods" show their teams—this town is run by football after all—but when a season reaches crunch time like it has for this Longhorn squad, fans should be there fighting right alongside their team.
So, when Texas faces off with Iowa State on Thursday fighting for a spot in the "Big Dance," tune in and display your orange and white proudly. Besides, if this team gets knocked out now, football won't start any faster.