Peyton Manning: Free-Agent QB Faces Biggest Decision Since 'The Decision'
Jamie Squire/Getty Images

Rarely are professional athletes totally in control of their destinies.
Only elite talent have the luxury of being welcomed into any franchise that will have them in the first place, plus the right set of circumstances must also take place in order for that athlete to be in a position where no team has dibs on him and no contractual obligations apply.
Albert Pujols was the most recent household name for whom those stars aligned, who on November 3, 2011 became a free agent for the first time in his illustrious 10-year MLB career. The result was stunning: The two-time World Series champion changed teams, trading St. Louis for sunny Anaheim and earning himself a cool $254 million contact in the process.
When it comes to star athletes picking which franchise they feel like blessing with their presence, however, nothing comes close to the hysteria surrounding the NBA's LeBron James during the summer of 2010, when the then-reigning league MVP faced a decision about his future so earth-shattering people simply called it "The Decision."
The choice LeBron ultimately settled on—quite infamously—was to "take his talents to South Beach," also known as the Miami Heat, and even though the contract he received in return was for a measly $110 million (he could have made at least $18 million more by staying in his home city of Cleveland), he did join a Heat team that made the NBA Finals in his first season and should be a serious title contender for many years to come.
And then there was Peyton.
Now that former Indianapolis Colts quarterback Peyton Manning is officially a free agent, he faces a situation very similar, though also vastly different, than what the NBA's James did just two summers ago.
Just like James, Manning will enter free agency as a winner of multiple MVP awards.
Just like James, Manning will be leaving behind the only team he has ever played for until this point in his career, and, just like James, he's leaving a city in which he has built strong roots.
Finally, interesting enough, Manning is probably just as hungry for a championship right now as James was at the time of his decision (Peyton has just one ring right now, James still has none). When you consider how important winning it all would be for each of these guys' legacies after switching teams, it's hard to imagine any single factor being more influential when both were weighing their options than that one elusive pursuit.
But those are just coincidences. In reality, the dilemmas surrounding these two superstars were actually very unique in both cause and effect, and as tempting as it may be to link them on the basis of star power alone, doing so fails to acknowledge just how complex the situations each athlete experienced really were.
So whose decision is bigger?
Let's find out.
Begin Slideshow

»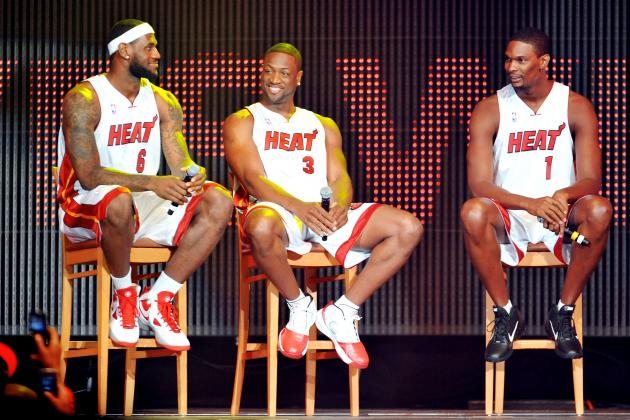 Doug Benc/Getty Images

Manning is clearly outmatched in this one, but it's not his fault. Any NFL star would be humbled in this regard when compared to an NBA counterpart, no matter the circumstances.
Basketball teams only utilize five players at a time, and all of them play both ways. Football players, even ones as important as Manning, have nowhere near that capacity to impact the games in which they play, as over 20 players are on the field at any given time and almost every single one of them is dedicated to lining up on just one side of the ball.
Consider too that NBA teams play every other NBA team at least twice during any given season, while NFL teams play at most 13 of the other 31 other franchises during the regular season, and that eight NBA teams make the playoffs each year in each conference, compared to only six in the NFL.
Any one NBA player is automatically more important in the bigger picture than any one NFL player, then, and in this case especially, it's not even close.
When LeBron James entered free agency in 2010, the power he held to single-handedly change the landscape of his entire sport was completely unprecedented. James was the first reigning NBA MVP to change teams since Moses Malone in 1982, and he did it in the prime of his career amid the deepest free-agency pool in NBA history.
Manning's landing spot will definitely rock a division and at least has the potential to alter the NFL hierarchy for the next two or three seasons, but that's nothing compared to what James accomplished, transforming the Miami Heat into a league powerhouse overnight and instantly setting the new standard for what a professional sports "super team" looks like in the process.
Advantage: LeBron
Again, this one's not even close.
Sure, anticipation has been building steadily over where Peyton Manning will land, because even though only unofficially, it's been pretty well-known the Colts would be parting ways with their franchise quarterback for several months now.
Financially, there was just no way Indy would be able to keep Peyton while also paying a rookie No. 1 draft pick to play the same exact position. Considering Colts' management has been openly committed to taking a quarterback with that very pick at least since the end of last season, yesterday's announcement certainly comes as no surprise.
But LeBron?
LeBron was playing coy about his potential venture into free agency for at least a year before it happened, and other teams were openly courting the game's undisputed King as early as 2008.
The build-up to "The Decision," which garnered so much hype ESPN eventually spun it into an hour-long prime-time special watched by almost 10 million people, was so extensive the network even went so far as to post a running clock on its website counting down the seconds until the verdict was announced.
The Decision was also The Discussion for the entire first half of 2010, and even with all the hoopla Peyton's release has spawned in recent months, it would take a team of Hollywood producers to outdo the LeBronathon ESPN put together the summer before last.
Advantage: LeBron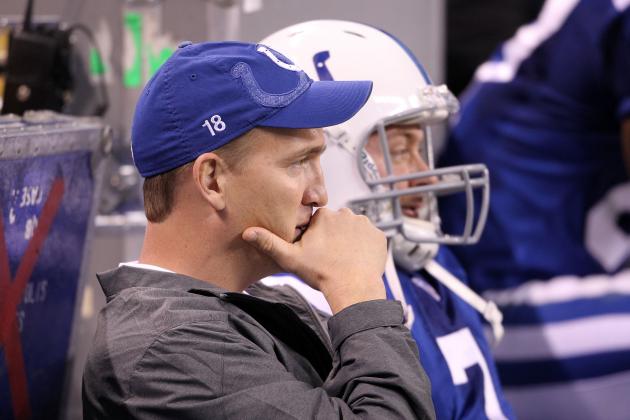 Andy Lyons/Getty Images

The biggest difference between Manning's upcoming decision and LeBron's is timing.
Even though it's safe to say he was already in his prime when it happened, James hit free agency while still relatively young and with a long career still ahead of him.
Sure, James will be 32 by the time his deal expires, but he does have the option to re-enter free agency in 2014 if wants to, and even if he doesn't, he should still have plenty of productive years left in him whenever the day (The Decision II?) finally comes (Kobe Bryant is the NBA's leading scorer right now at the age of 33, after all, and the great Michael Jordan kept hooping—sporadically—until he was 40).
For a guy like Peyton Manning, on other hand, the future consists of tomorrow and little else.
Manning's career is on life support right now. He knows it, we know it, and that's just the way it is. He has undergone at least four surgeries that we know about in the last four years, his 36th birthday is less than three weeks away and he also happens to possess one of the most physically demanding jobs known to man.
Peyton Manning has to get this decision right. His legacy and, infinitely more importantly, his health are on the line every time he takes the field from now on, and if his next home doesn't prove to be a perfect fit, we probably won't be going through this ever again.
If LeBron James sours on South Beach, he can just do the whole thing all over again in a couple of years.
That's a luxury Manning simply does not have, and that makes the decision he faces right now that much more important.
Advantage: Peyton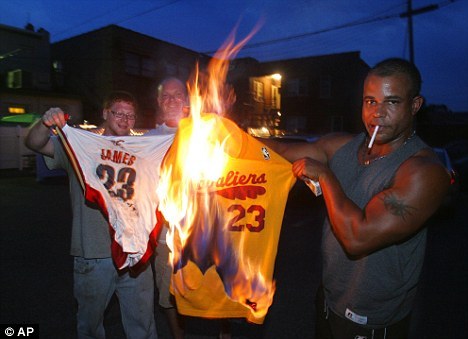 Now this is tough.
The LeBron James saga will never be forgotten. ESPN made sure of that, and rightfully so: Nothing like that had ever happened before.
Not that huge, over-hyped free-agent signings hadn't happened before, of course, just never one with a superstar so equally popular and talented at the top of his game with the level of expectation James faced at the time.
Let's not forget this was a guy we'd already anointed as the greatest athlete prospect ever while he was still in high school, a guy who stole the NBA spotlight before he even joined the league and a guy who, at the time, truly looked like he was finally blossoming into the superstar phenomenon we expected he'd become.
It was huge.
Then again, every story is huge when it comes to Peyton Manning.
Manning transcended his sport before LeBron James could legally buy alcohol. His run from 2003-09 alone was arguably the best a quarterback has ever played, and his presence in the public eye has only grown more prominent over the years. This guy sneezes and Canton asks for his Kleenex. If the NFL were a college, Manning would teach the professors. There's nothing about this guy that isn't historical.
The fact he's changing teams now, for the first and probably only time ever after 14 incredible seasons as an Indianapolis Colt and with hopefully enough left in the tank for at least one more championship run, has all the potential to be incredibly memorable. Just how memorable depends on how successful that run proves to be, but the potential is there nevertheless.
The deciding factor in this one is simple: Big-name free-agent signings happen fairly often, but it's hard to imagine any in our lifetime surpassing the spectacle that surrounded LeBron James in 2010. LeBron blindsided his hometown on national television for the whole world to see. People rioted in the streets. They sent him death threats. It wasn't sports when LeBron made his decision, it was news.
Congratulations, LeBron.
Turns out you screwed up your biggest moment in the spotlight so royally no one will ever be able to forget it.
Advantage: LeBron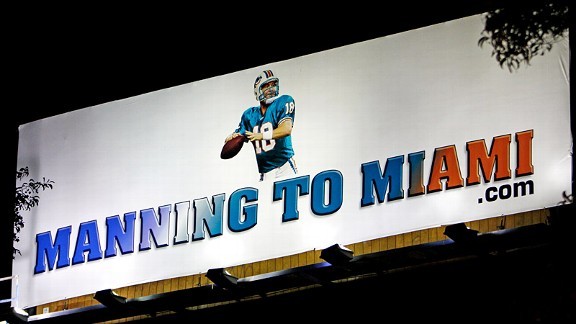 Sometimes fine lines need to be drawn, and in this case one definitely applies.
There's no question "The Decision" attracted more of the nation's total attention than the Peyton Manning saga has, if nothing else simply because of the excruciating way it unfolded over such a long time, but did people really care about the LeBron move as much as they do Manning's?
Good basketball players seem to change teams all the time. Rarely are they reigning MVPs at the time, but it does happen. Look at Chris Bosh, Amar'e Stoudemire and all the other free agents who changed teams that same summer. Look at all the other great NBA players who have made moves since or plan to soon. How many teams did Shaquille O'Neal play for in his career? Was anyone even paying attention there at the end?
That's not to say franchise quarterbacks always stay put either, but one as elite as Peyton Manning? You definitely don't see a switch like that very often.
Brett Favre is the most recent guaranteed Hall of Famer to skip town, and he was 38 years old at the time. Drew Brees changed teams in 2006, but he wasn't yet the record-breaking, Super-Bowl-winning QB we know today when it happened. Tom Brady, Dan Marino, John Elway, Johnny Unitas—all played for one team their entire careers and Brady, the only active player on that list, isn't going anywhere anytime soon.
Football is also more popular than basketball in this country. Twelve teams have already expressed interest in Manning, within 24 hours of his official release, mind you, and the push from each of them to bring No. 18 to their towns has already rivaled what we saw from NBA cities leading up to LeBron's decision.
Hell, the Manning saga has been so dramatic it overshadowed the freaking Super Bowl a few weeks ago. How many NBA players can make a claim like that?
LeBron definitely garnered our collective attention in 2010.
But Peyton Manning, especially after the tear-jerking press conference he delivered yesterday, has stolen our hearts.
Advantage: Peyton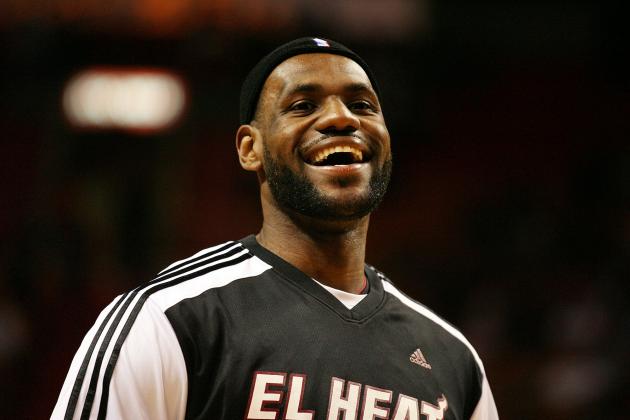 Marc Serota/Getty Images

LeBron has Peyton's number in this one, but it's probably closer than it appears.
LeBron's decision changed his sport for at least a decade. It's not only what he did for Miami, it's what he didn't do for all the other teams who were clamoring to sign him at the time. The move has influenced the decisions of other NBA teams, and other NBA players, in both the short-term and long-term, and that's an effect Peyton's release just cannot match.
Of course, if Manning ends up winning a Super Bowl with his new team, the whole dynamic changes, and we might at that point just have to call it a draw.
Until that happens, however, LeBron is safe, and the unforgettable "Decision" remains the biggest we've ever experienced.
Not that Manning's own version of "The Decision" is any less significant in its own right, nor that ESPN would be unjustified in hyping the hell out of this suspense-filled process to the same extent as they did LeBron's.
There is a certain children's hospital in Indianapolis that probably wouldn't be opposed to holding a fundraiser in a certain quarterback's honor once his decision is finally made here in about a week, after all.
What do you say, Jim Gray, are you free?
For old time's sake?