Pac 12 Tournament 2012: Predictions and Picks for Today's Games
March 8, 2012
Stephen Dunn/Getty Images
The second day of Pac-12 action starts today at 12pm PT with no. 9 seed Oregon State Beavers facing off against the no. 1 Washington Huskies at the Staples Center in Los Angeles.
In what has mostly been a down year for the west coast super conference, the excitement and vigor that sweeps up fans is sure to ensue as we get closer to March Madness.
Here are some predictions for today's matchups.
Gm. 1: #9 Oregon State v. #1 Washington, 12pm PT (FSN)
Oregon State (18-13, 7-11 Pac-12) reached this round by way of beating the Washington State Cougars in a close game on Wednesday.
Junior Jared Cunnigham leads the Beavers, averaging 17.8 points per game on a team that is 10th in the nation in scoring (79.3 ppg).
The Beavers will need to meet those figures today, as the Huskies (21-9, 14-4 Pac-12), led by Tony Wroten's 16.3 ppg, are 36th in the country in scoring. However, their rebounding average (40.2 per game) gives them the edge.
I like Washington in a close one.
Gm. 2: #5 UCLA v. #4 Arizona, 2:30pm PT (FSN)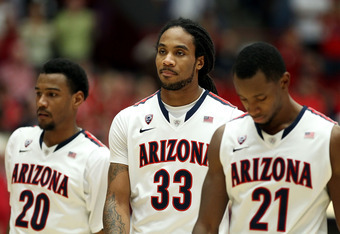 Christian Petersen/Getty Images
UCLA (19-13, 11-7 Pac-12) got by USC in the first round with relative ease, winning 55-40. But they now face much stiffer competition in the Arizona Wildcats.
With no real standout stars, the Bruins rely on depth to get them through, as four players average double-digit points.
Arizona (21-10, 12-6 Pac-12) has a similar look, as they too spread out the ball. But it has really been the combination of Solomon Hill and Jesse Perry that have kept them in games with their combined 15.2 rebounds per game.
UCLA is still trying to get over the fallout of a Sports Illustrated article that exposed their fall from grace. With that in mind, they use that as motivation as UCLA takes the game from Arizona.
Gm. 3: #7 Stanford v. #2 Cal, 6:00pm PT (FSN)
The Stanford Cardinal (21-10, 10-8 Pac-12) is here by way of beating the Arizona State Wildcats on Wednesday 85-65.
A lack of depth has really hurt the Cardinal as its scoring is limited to their top three players. Without a day's rest, it could catch up to them.
Cal (23-8, 13-5 Pac-12) is poised to make a run at the conference as the no. 2 seed. With 16.1 assists per game, they like to spread the ball and give everyone touches, something that could come in handy in this compact schedule.
Cal beat Stanford to end the regular season and I expect a repeat of that today.
Gm. 4: #6 Colorado v. #3 Oregon, 8:30pm PT (FSN)
The Colorado Buffaloes (20-11, 11-7 Pac-12) outlasted the Utah Utes in the first round 53-41 to earn the right to play the Oregon Ducks today.
Beating Oregon earlier in the season at home should give them some motivation to pull off the upset today. Senior guard Carlon Brown will have to be at the top of his game if they are going to make it any kind of a contest.
Oregon (22-8, 13-5 Pac-12) will look to repeat what they did in Eugene a week ago as they beat the Buffalo 90-81. With a strong core of shooters, they can really hurt a team from the outside, but if they are off it could be Colorado's game.
The two played close games each time they faced off this season. I see Colorado pulling off the upset in another tight battle.