MLB Free Agency 2012: 50 Bold Predictions for Winter's Free Agents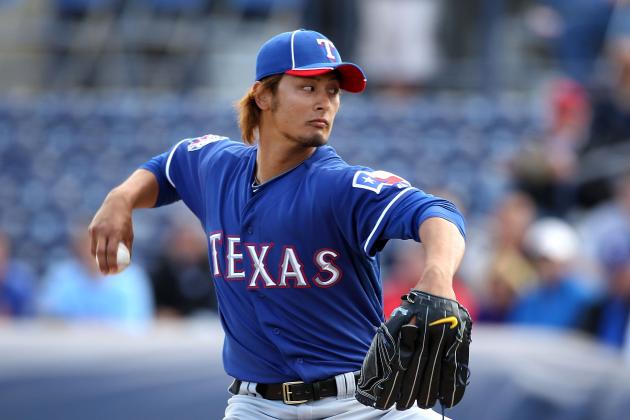 Christian Petersen/Getty Images

Few considered this a deep or overwhelming free-agent class, but as 2012 MLB spring training hits its stride, it's clear that plenty of teams have a lot to be excited about. It's not just Albert Pujols and Prince Fielder. As many as 10 2012 All-Stars may be new to their respective teams.
The Arizona Diamondbacks, Colorado Rockies, Detroit Tigers, Los Angeles Angels of Anaheim, Miami Marlins, Oakland Athletics, Philadelphia Phillies, Texas Rangers and Washington Nationals all made big free-agent splashes over the winter. All but Oakland are contenders for 2012, and the fate of each club's season will be closely tied to the performance of its shiny new talents.
It's exceptionally difficult to predict how changing teams will affect a player mentally—be it through a change in motivation, a change in coaching, a psychological swing, a comfort level in a new city or a cultural transition. We can analyze the differences new ballparks and new teammates might make, but that will be a small part of any change in a player's performance.
Here are 50 bold predictions for the 2012 seasons of those players who found new homes on the open market this winter.
Begin Slideshow

»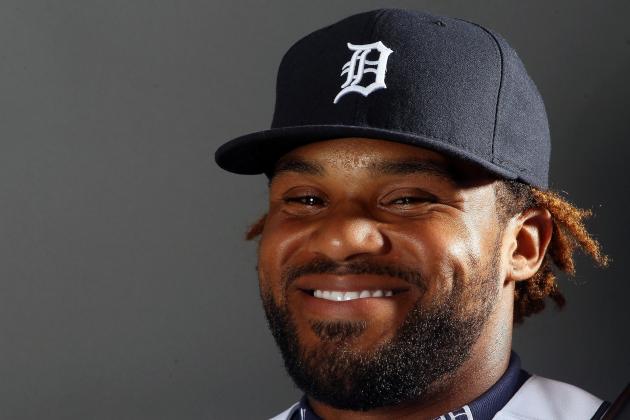 Elsa/Getty Images

Much has been made of Fielder's move from homer-friendly Miller Park to pitcher-friendly Comerica Park, but 23 of his 38 home runs last season would have left at least 90 percent of all MLB parks, according to Hit Tracker. He's huge and he hits the ball so hard that it just doesn't seem like his transition will impact his power numbers substantially.
On the other hand, it could dampen Fielder's overall numbers because the park will be cold early in the season and because the American League is a higher level of competition. I project him for a .269/.380/.531 line, which would not be quite up to a $23 million standard.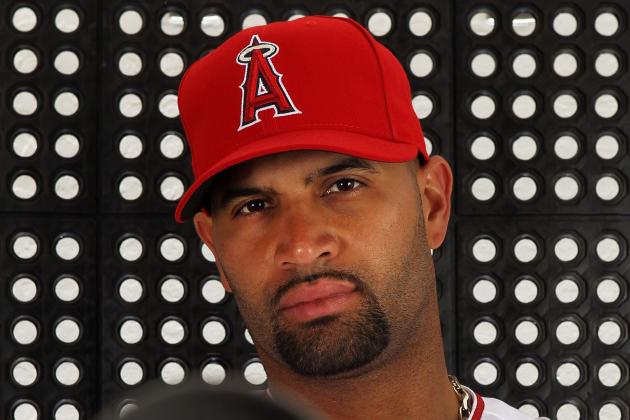 Jamie Squire/Getty Images

I project Pujols for 39 home runs, a .284/.388/.556 batting line and 6.8 WAR. He will be great, one of the five best players in the league again. It will not be enough, though.
Too much has been made of the Angels' offseason spending. Their roster is not fundamentally reinvented. It is better by two players, Pujols and C.J. Wilson. The rest of the team remains good, but not as good as the Rangers, and not as good as the Rays or Red Sox.
Vernon Wells will get way too long a leash again, Torii Hunter will continue his sharp decline and third base will remain a mystery. Barring some gutsy choices that manager Mike Scioscia simply is not going to make, the Angels will waste a 40-man roster good enough to reach October.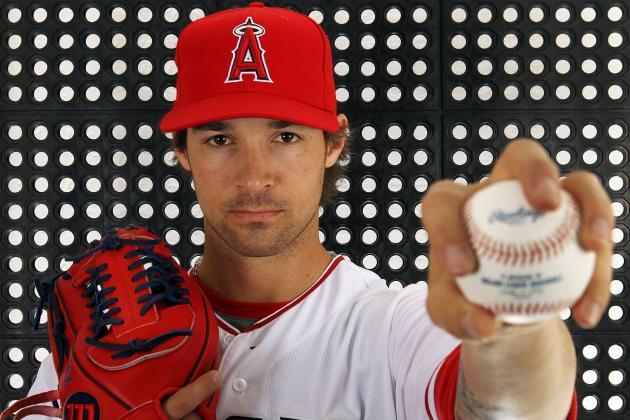 Jamie Squire/Getty Images

Wilson is 31 years old, and after two very good seasons as a starter, he's due to regress. He was good in the bullpen before that too, but he's simply not the ace he looked like in 2011.
Last year, he fanned 22.5 percent of the batters he faced, but after correcting for his swinging-strike rate and other truer skill indicators, I project him for only 17.4 percent whiffs in 2011. That's one example, but not the only one.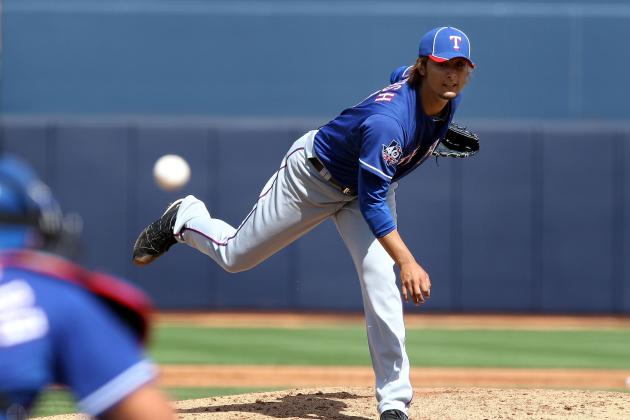 Christian Petersen/Getty Images

They tried to warn us.
Scouts and analysts repeated their praise of Yu Darvish until blue in the face, but at times it was like shouting into the abyss.
Daisuke Matsuzaka's failure to meet the massive hype that swelled up around him as he arrived in the big leagues made cynics of so many fans that, despite considerable hype around Darvish in his own right, the Rangers' newest hurler actually seems underrated right now.
He's huge, he throws hard and Darvish showed off two different breaking balls in his Cactus League debut that each should make life difficult for batters all year. He could be one of the top 10 to 15 pitchers in baseball right away.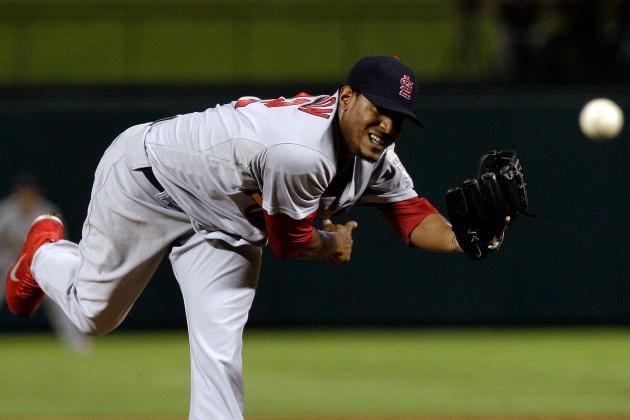 Pool/Getty Images

For a pitcher to suddenly discover an elevated strikeout skill after more than three years in the big leagues is exceedingly rare. Jackson, however, has always underachieved in terms of missing bats. He has one of the league's fastest fastballs and a power slider that can be devastating.
He should be striking out more batters, and in 2012 he moves into a division inhabited by a number of strikeout-prone batters. I predict he will strive for more punch-outs in order to augment his free-agent value after being somewhat disappointed by what he found this winter. I also predict it will work.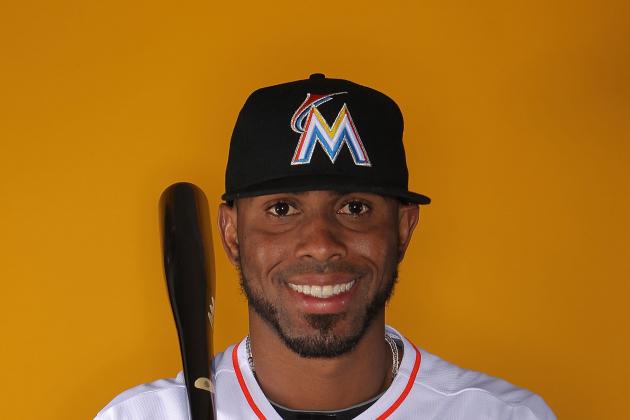 Marc Serota/Getty Images

Reyes is an electric athlete, and when he's healthy, 60 bases are easily within his reach. Healthy years are few and far between for Reyes, but he has never entered a season with fewer question marks surrounding his coming performance.
He has everything to prove and a good environment in which to thrive. Reyes will get MVP votes again this year.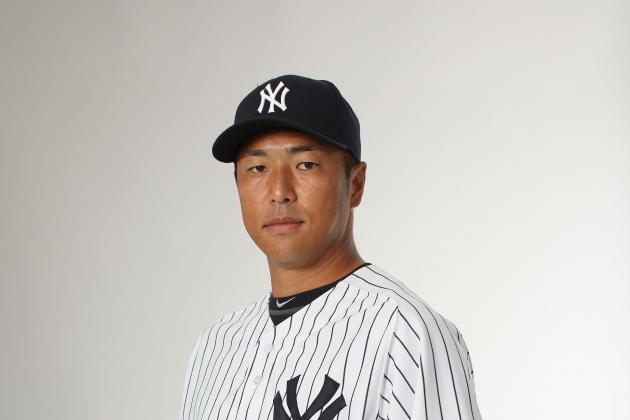 Nick Laham/Getty Images

With a 3.45 career ERA and a great strikeout-to-walk ratio, Kuroda is no obvious candidate to sag toward the back of a rotation. On the other hand, he's 37, has always given up a lot of home runs and moves to hitter-friendly Yankee Stadium from pitcher-friendly Dodger Stadium.
Add to those factors the AL East's tougher opposing lineups, and Kuroda's prospects for dominating in pinstripes the way he did when he donned the red numerals are not promising.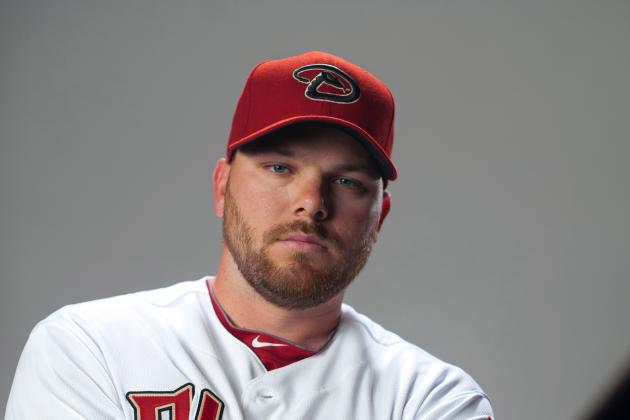 Rob Tringali/Getty Images

No one seems to foresee this, and no one has yet suggested it. The Diamondbacks believe Jason Kubel is best used in left field, making Gerardo Parra a drifter.
That's a bad plan. It's grossly sub-optimal. Paul Goldschmidt is not as good as he may have looked in 2011, and Parra is as good as he looked.
With right-handed pitchers on the mound for opponents, Kubel and Parra should be in the lineup absolutely every time, whether they play at the expense of Chris Young or Goldschmidt.
Manager Kirk Gibson is open-minded and likes Parra, and by the trading deadline Kubel will start to get some looks at first.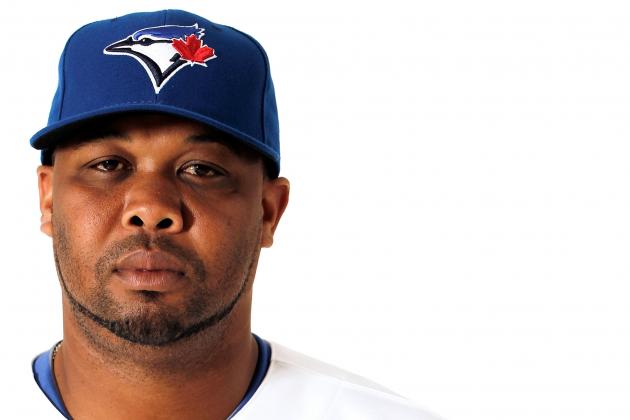 Jonathan Ferrey/Getty Images

Over the winter, Toronto GM Alex Anthopoulos overhauled his bullpen. He traded for White Sox closer Sergio Santos, who will be the closer for most of this season. He also added Darren Oliver, an ancient but excellent left-handed middle reliever.
His biggest acquisition, though, was Francisco Cordero. Not in terms of impact, of course, but on a sheer and physical basis, it's true. Cordero will carry some serious weight at the back end of the bullpen, and Santos (whether because of injury or a temporary loss of slider) will need to be spelled at some point this year. Cordero will be a serviceable short-term replacement.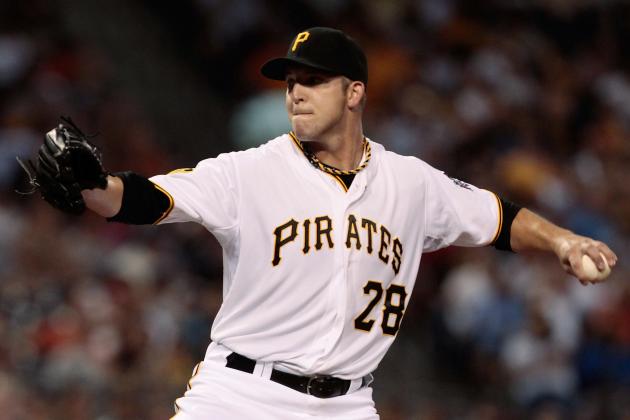 Jared Wickerham/Getty Images

Since arriving in MLB in 2005, Maholm has had two good, full seasons. They were 2008 and 2011. Capitalizing on the latter, Maholm signed a one-year deal (with a club option) with the Cubs this winter.
He's likely to sit comfortably in the middle of Chicago's rotation, but by midseason, the Cubs will have little use for him. They will not be in contention, and they will be eager to add minor-league depth. If Maholm has a good first half, as I suspect he will, he should be trade bait in late July.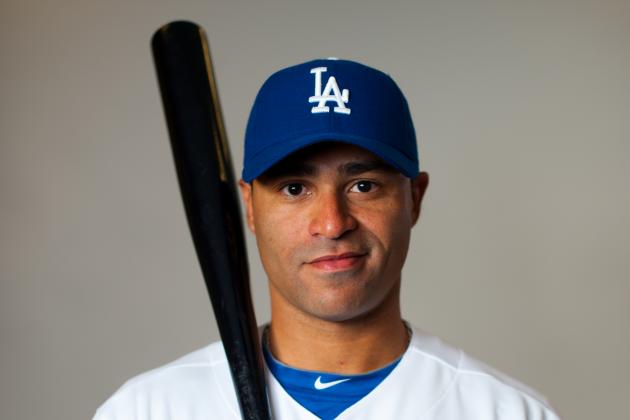 Rob Tringali/Getty Images

Reading through the Dodgers' offseason transaction list is funny, at its beginning. It doesn't stay that way. After a few items, even a diehard Giants fan must pity the team's fans and wish on their behalf that whichever new owner takes over in Los Angeles immediately shows GM Ned Colletti the door.
Colletti signed Juan Rivera, Mark Ellis, Matt Treanor, Chris Capuano, Aaron Harang, Jerry Hairston, Todd Coffey, Adam Kennedy and Mike MacDougal this winter, committing a total of $43.2 million to them.
It would be easy to dismiss those moves as simple payroll-conscious penny-pinching, but for the fact (perhaps I mentioned this) that Colletti promised the group $43.2 million over the next two years. From those nine players, I project that Colletti will get a return of roughly two aggregate wins above replacement.
To put that into perspective, for the same cost through 2013, Colletti could have signed Albert Pujols and C.J. Wilson. Luckily for him, no local team jockeying for the Dodgers' media share could afford such a lavish expense. Right?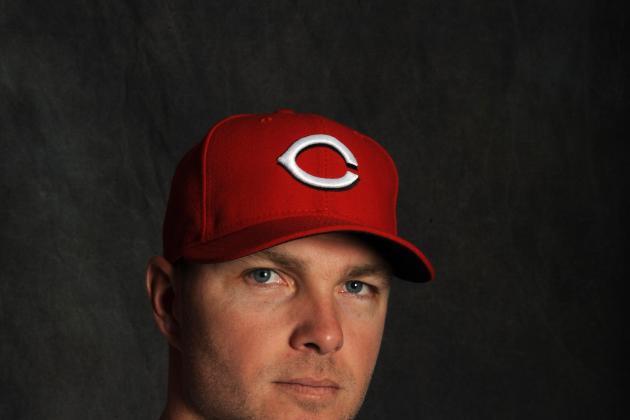 Rich Pilling/Getty Images

Madson only saved 32 games as the Phillies' closer in 2011 and didn't get the job until April 22. However, he signed in the perfect place this winter. On a one-year deal, he can build huge value by shutting the door for a team I project will win at least 94 games and cruise into October.
His skills are pristine. Since 2008, Madson has nearly a strikeout per inning pitched—over three-and-a-half strikeouts per walk—and a 2.86 ERA. Pitching for by far the best team in by far baseball's worst division, he should do even better in 2012.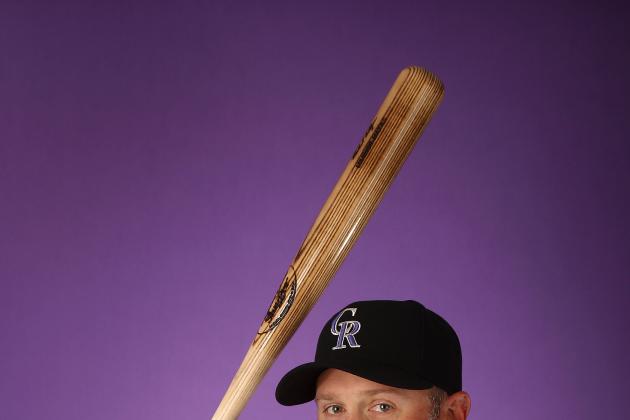 Christian Petersen/Getty Images

When the Rockies spent $31.5 million to sign Michael Cuddyer through 2014, most applauded the move. It may yet work out for Colorado, but it was not a good baseball decision. There are a few reasons.
Cuddyer hit 32 home runs in the final baseball season under the fragile roof of the Metrodome. When the Twins moved outside and into spacious Target Field, though, Cuddyer managed only 34 combined home runs in his final two seasons there.
The latter is closer to his true skill level, especially thanks to his age. Power peaks a bit later than most baseball skills, but at 33 years old when the season starts, Cuddyer is past that peak by two or three years anyway.
He'll get help from the move to Coors Field (and to the NL West generally, where the homer-friendly Chase Field and Dodger Stadium more than outweigh the ravages of roomy PETCO and AT&T Parks, especially for right-handed pull hitters), but he will never hit 30 home runs again.
Those are all good reasons not to like this deal much for the Rockies. The best, though, is on the next slide.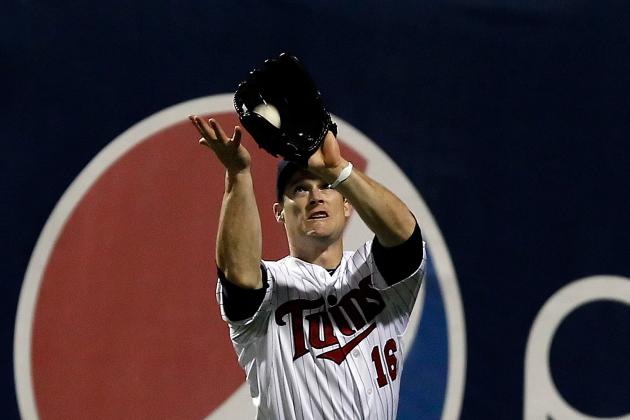 J. Meric/Getty Images

I do not mean to suggest that Michael Cuddyer and Josh Willingham are the same player. Despite surface-level similarities of profile, they're actually distinctly different. Cuddyer is a markedly better fielder, and Willingham a much better hitter.
While they are different, though, neither is much more valuable than the other. Willingham's superior power and patience offset Cuddyer's superior glove and versatility. They're essentially the same age.
Yet the Rockies guaranteed Cuddyer $31.5 million over three years, while Willingham will get $21 million over the same span. That's the best reason the trade-off is a good one for the Twins and the acquisition of Cuddyer is a poor one for Colorado.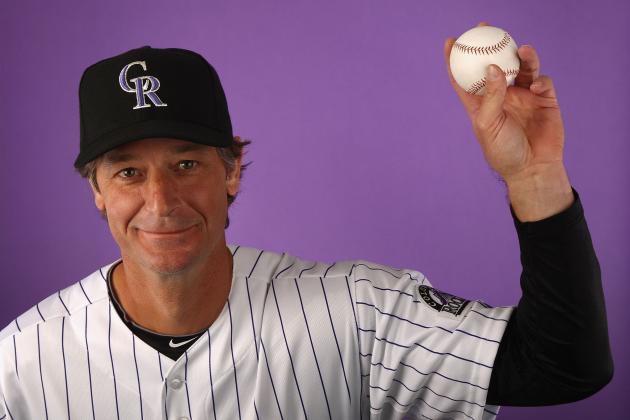 Christian Petersen/Getty Images

He looks like the easygoing dad from a teen comedy by now, but Moyer still has something to offer a big-league club. Well, not any big-league club, but this one anyway.
Colorado will not break camp with Juan Nicasio (neck injury) or Alex White (extreme DUI) in its rotation. Tyler Chatwood and Drew Pomeranz would be best served by more time in the minor leagues to gain polish. Jorge De La Rosa will not be back until at least June after Tommy John surgery last summer.
The door is wide open. Even the guys in the Rockies' projected rotation (Jeremy Guthrie, Jhoulys Chacin, Guillermo Moscoso and Josh Outman, for the moment) don't look anything like a competitive group. Moyer will pitch, pitch fairly well, give up many home runs and be done by the trade deadline, but it will be a terrific story by then.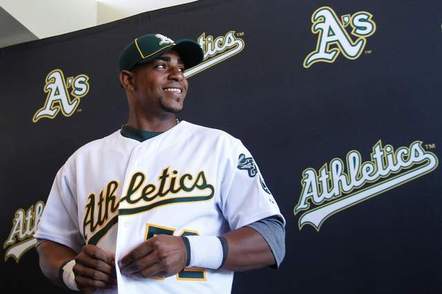 Cespedes is not Darvish. He's an awesome international talent, a bit of an enigma and a player with an exceptionally high ceiling, but he has gaping holes in his game right now.
He swings at everything. That swing is long, produces many whiffs and sometimes gets badly out of rhythm. He's a poor defensive center fielder right now because he takes bad routes and has poor instincts.
On the other hand, he has tremendous power. He has a plus-plus outfield arm. He can run. It's silly to call him a five-tool player; he's a three-tool player who uses those tools to cover his deficiencies.
On a number of teams, he would have stayed half the season in Double- or Triple-A, learning how to approach a plate appearance and polishing the defensive side of his game. Oakland, however, signed him to a four-year contract, at the end of which he will become a free agent. It needs quick return on the investment, and Cespedes will show enough this spring to get an early call to Oakland.
It will go fine, but some things will be ugly. He will strike out in over a quarter of his plate appearances and walk less than five percent of the time. On the other hand, he will hit 20-plus home runs and provide perpetually-improving defense in the outfield. I project .245/.299/.450 with 25 bombs and 11 stolen bases.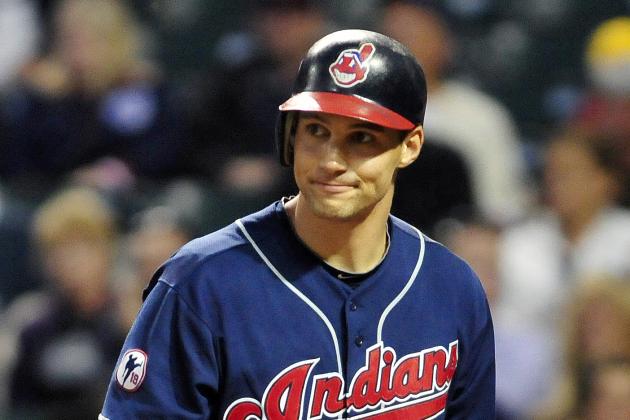 Jason Miller/Getty Images

Attachment between a player and an organization is an endearing thing, but it's usually bad for business. Sizemore's 2012 contract with the Indians is a poignant, painful example.
He was banged-up in 2009 and missed most of 2010, but 2011 should have been the end. He didn't play often, and when he played, he played poorly. For an offense loaded with left-handed bats already, Sizemore was an obvious candidate to be cast off in 2012. Instead, the team guaranteed him $5 million.
Already, back trouble has pushed back the start of Sizemore's season substantially. That's not good.
Worse, though, is this: In baseball, the richer you are, the dumber you can be.
The Yankees are grossly overpaying Derek Jeter, but it doesn't matter much, because they have oil wells for pockets. The Indians have a shallow stream and are mining it for gold in vain. When a middle- to small-market team like Cleveland spends $5 million on a blank spot or a sinkhole in its everyday lineup, it has no shot.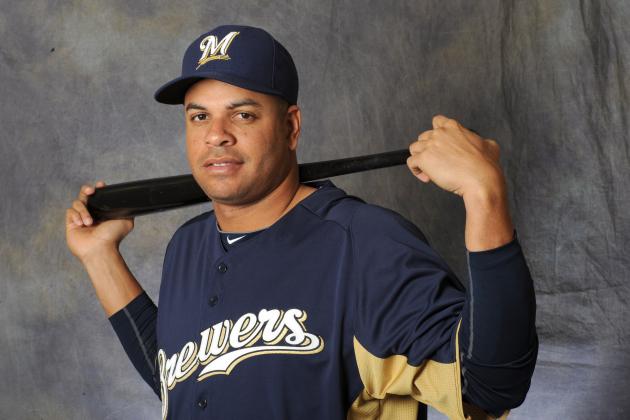 Rich Pilling/Getty Images

At 33, Ramirez is an awful defensive third baseman and has absolutely no speed. He might struggle with his batting average (.241 in 2010 before straightening himself out to a more usual .306 in 2011), or he might struggle to stay healthy (149 games played last year, but only 82 and 124 in the two previous years), or both.
What Ramirez will not struggle to do, though, is hit for power. In 2011, he hit 22 of his 26 home runs in June, July and August. In 2010, he hit 19 of his 25 after June 30. His career slugging percentages by month tell the tale clearly:
| | |
| --- | --- |
| MONTH | SLG |
| April | .458 |
| May | .447 |
| June | .504 |
| July | .545 |
| August | .539 |
| September | .489 |
One could draw a line of virtually the exact same curvature as the one that charts those figures through the average temperature in Chicago over the course of the season. He's a warm-weather hitter in as real a sense as any player ever has been, and now, rather than fighting the bitter cold of windy Chicago Aprils, he will play indoors when the weather is unsuitable in Milwaukee. That difference means more to Ramirez than virtually anyone else in baseball.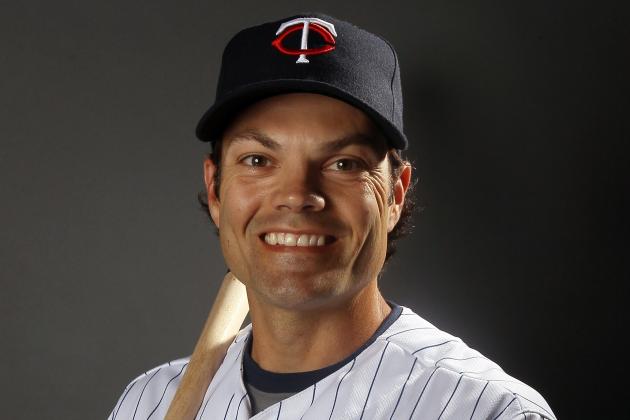 Elsa/Getty Images

New old Twins GM Terry Ryan made a pretty brilliant move in grabbing Carroll on the (relatively) cheap last November, and it will pay off. Carroll is getting old, but if on-base skills are not based on power or speed, they are unlikely to fade easily simply because one gets steadily less athletic.
On the other hand, defense is a skill that peaks early, and the notion that Carroll will be the everyday shortstop for the club is a bit absurd. The Twins have both Tsuyoshi Nishioka and Alexi Casilla on their middle-infield depth chart too, and while neither is the offensive threat Carroll is, both should be better shortstops.
All three are likely to play both positions this season, but Carroll will see more time on the first-base side of second than in the hole.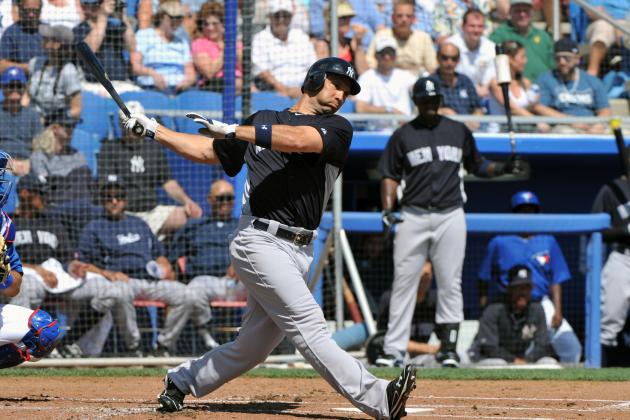 Al Messerschmidt/Getty Images

At some point, the Yankees' need for Raul Ibanez is simply not going to be there anymore. That point will come sooner than later.
As it stands, Ibanez will get the better half of a platoon in the DH role with Andruw Jones. At some point this season, though, the team will realize it's time to stop standing bad players in the way of good and let Eduardo Nunez take over as a semi-regular third baseman. Alex Rodriguez will move to DH, and Ibanez will join a crowded bench.
The Yankees have left-handed-hitting Eric Chavez on that bench already. Ibanez can't take plate appearances from the corner outfielders, because the whole Yankee outfield bats left-handed with right-handed opponents on the mound.
In camp on minor-league deals are Chris Dickerson (left-hitting outfielder), Russell Branyan (left-hitting DH type), Bill Hall and Jayson Nix (infielders who would provide better flexibility if Nunez actually took over a major role).
Ibanez is better than any of those options right now, but the worse Alex Rodriguez's hip gets, the worse Ibanez's prospects look. The longer a player plays baseball without prolonged rest, the worse his hip gets, so Ibanez is headed downhill.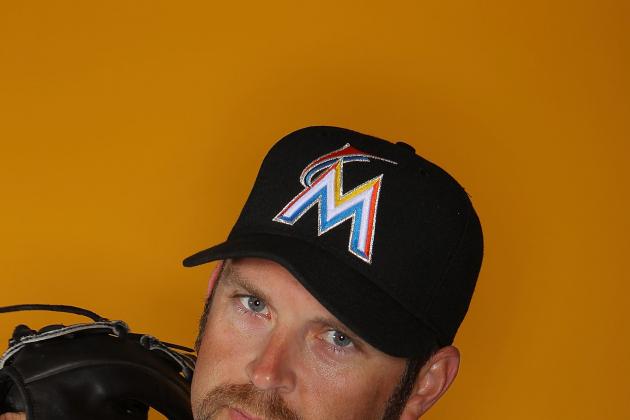 Marc Serota/Getty Images

Bell is not fooling anyone. He's right-handed, but as you'll note in this picture, he spent the Marlins' photo day pretending to be left-handed for the cameras.
He's also not fooling me, though, with his shallow imitation of durability. Bell has never been to the DL, nor near it. However, since 2007, his innings totals read thus:
| | |
| --- | --- |
| Season | Innings |
| 2007 | 93.2 |
| 2008 | 78 |
| 2009 | 69.2 |
| 2010 | 70 |
| 2011 | 62.2 |
The downward trend is as much about usage as anything, but relievers affect their own usage patterns more than most fans realize. A constant dialogue exists between a hurler, his bullpen and pitching coaches and the manager. Sometimes, even the GM is involved.
Teams occasionally push their relievers during big playoff runs, but for the most part, a guy throws as much as he is comfortable throwing. San Diego toned down Bell's workload considerably over the years, and whatever the reason, the Marlins are about to pay for a hidden chink in Bell's armor.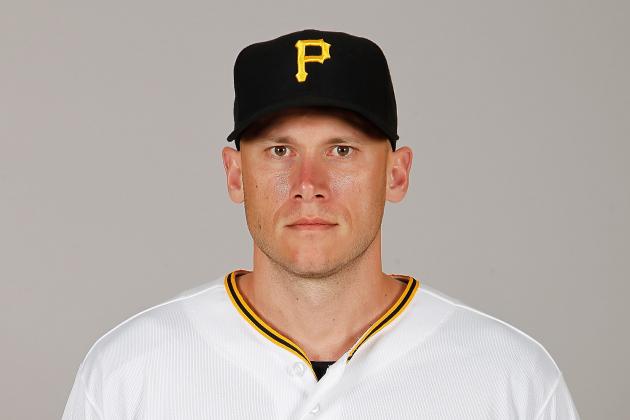 J. Meric/Getty Images

The Remorseless Clint Barmes Apologists' Club's membership has waned through the years. It's lonely here now. Still and all, the case is there, and so I shall make it.
Barmes signed for $10.5 million with the Pirates over the next two seasons. The move was generally panned. In light of what we now know as regards the Pirates' ability to lure top free agents, perhaps many of those critics would now shrink from their remarks, but at the time, it was unpopular.
It ought not to have been. Barmes is a sound defensive shortstop, maybe better. Probably better. He's one of the game's 10 best regular shortstops with the glove alone. He's also something like 90 percent of a league-average hitter, maybe a bit better, with emphasis on power down the left-field line and on a moderate contact rate.
That skill set should easily be worth $6-7 million per year, making the Bucs' acquisition a smart one. I project Barmes for .249/.304/.403 with 15 home runs and stellar defensive value at shortstop in 2012, a 2.6-WAR combination.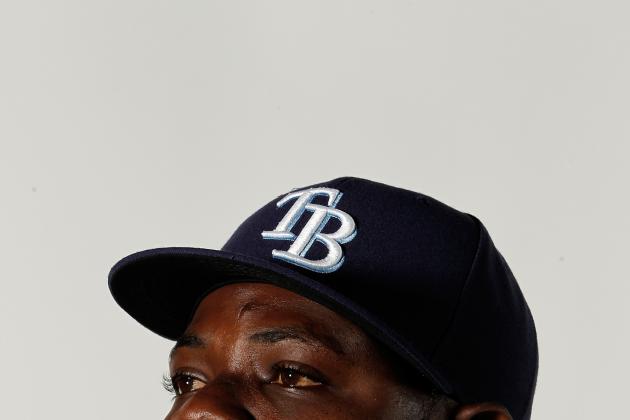 Jonathan Ferrey/Getty Images

For senior pictures in high school, the guy taking my photo directed me to look off to the side and up, away from his camera. He called the shot "looking ahead to my future."
I wonder if 17-year-old me saw 22-year-old me writing about the experience in my underwear in order to introduce Fernando Rodney as a bounce-back candidate for 2012. It's doubtful. I hated Fernando Rodney when I was 17.
Rodney had a terrible 2011, but before that, he really was basically a league-average pitcher. He has a big fastball and a change-up he uses to induce as many ground balls as he can. In 2011, he introduced a power slider (or possibly a cutter or two-seam fastball; no one is really sure) that didn't help him. It may, in fact, be a big reason for his backward steps.
Tampa Bay loves it some fastball-changeup pitchers. The Rays thoroughly encourage reliance on those two pitches, so Rodney will probably have that new third mystery pitch tossed out this spring, and he will probably recover some value as a solid seventh- and eighth-inning reliever. In this picture, he stubbornly turns up his nose and chin to his crummy 2011 and looks ahead to his future.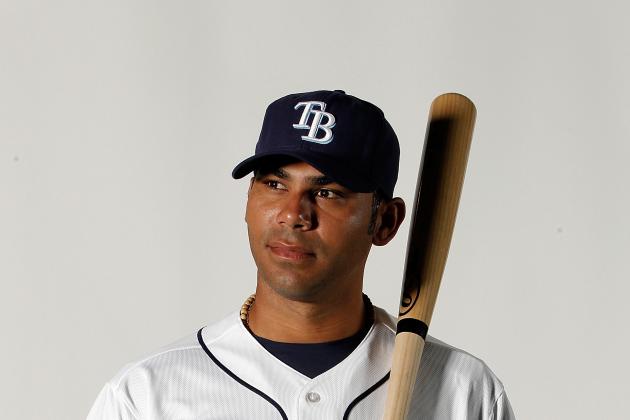 Jonathan Ferrey/Getty Images

I promised bold predictions, so perhaps this is an ill fit, but it's true nonetheless. Pena had 28 home runs in 2010 with the Rays and 28 in 2011 with the Cubs. In 2012, he will be with the Rays again, and I project him for 28 home runs, along with a .221/.320/.444 batting line.
The interesting thing is that I project he will do it all in only 496 plate appearances over 120 games, with very few doubles, and will either get hurt or be benched against left-handed pitching.
Christian Petersen/Getty Images

When the Rockies traded Chris Iannetta (.370 OBP in 2011) for Tyler Chatwood and announced they had signed Ramon Hernandez to a two-year deal, it was difficult not to reread the piece over and over, until "Rockies" read as "Dodgers." That might have made the move completely understandable.
As it is, the trade-off is unusually bad. The Rockies invested in the age-36 and age-37 seasons of Hernandez, who has been solidly above average in a part-time role the past two years but was markedly below average for the three previous years in larger roles.
They divested themselves of a catcher seven years Hernandez's junior, and with a better career OPS+. Iannetta is guaranteed $2.6 million less than Hernandez.
At age 36, not many catchers retain their value. At age 36, Jorge Posada took the plate roughly 400 fewer times than at age 35, and his OPS dropped almost 200 points.
Mike Piazza's OPS dipped under .800 at age 36 for the first time over a full season in his career.
Jason Varitek's OPS plunged from .787 to .672 at age 36, and he never recovered.
Javy Lopez and Bengie Molina played their last MLB games at age 35.
I project Hernandez (.790 OPS in 2010-11) for a .217/.319/.360 line in 2012, despite the move to Coors Field.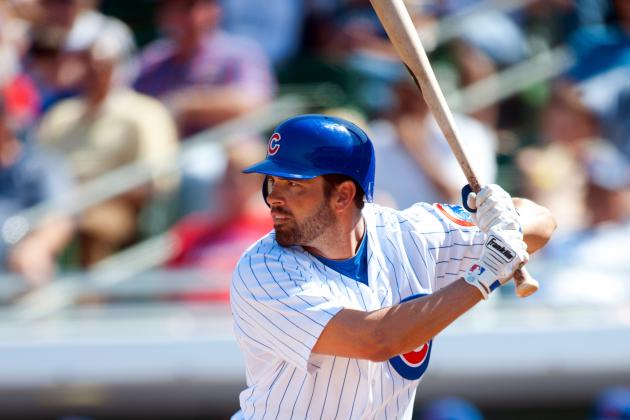 Rob Tringali/Getty Images

The first substantive acquisition of the new Cubs regime was a savvy one, as the revamped front office put their heads together and came up with an offer for two years, $10 million and a club option on free-agent outfielder David DeJesus. Better still, DeJesus accepted it.
For most (if not all) of this season, DeJesus will be the Cubs' leadoff man. I project him for 522 plate appearances despite some injuries, and for a .364 OBP.
That puts him on base 190 times, and given that the Cubs have at least some talent near the top of the batting order behind him (Starlin Castro is the best of them), he could well score on almost half those occasions. If Drew Stubbs (reached base 219 times) scored 92 runs in 2011, DeJesus can get to 80 in 2012.
Eighty runs, of course, is an arbitrary number, and of little use except in fantasy baseball. Then again, fantasy baseball will be among the few good reasons to watch this year's Cubs if one is not a Cubs fan, so enjoy.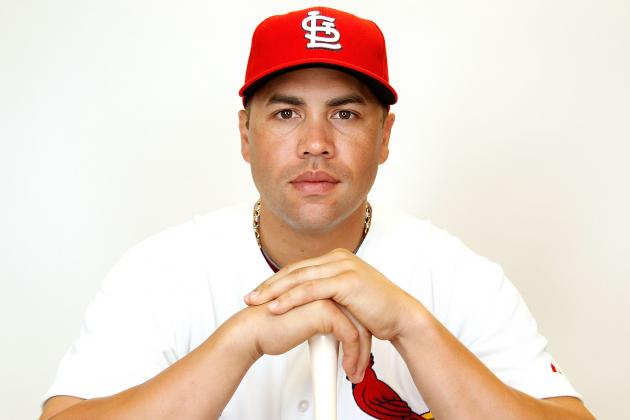 Mike Ehrmann/Getty Images

In a vacuum, Carlos Beltran is not a very projectable player for 2012. He stayed healthy at long last in 2011, or as healthy as Beltran stays anymore, and he hit the cover off the ball. That was no surprise. He would not normally be expected to keep that up, though.
The important note is this: Normal expectations are of no use when evaluating Cardinals acquisitions. Their new players pay no transitional penalty, nor do they age quickly or regress easily.
I can't tell you why Lance Berkman was a superstar in 2011 in St. Louis after looking nearly finished in 2010; nor why Jon Jay and Skip Schumaker are productive big-league regulars; nor how they have resurrected Troy Glaus, Julio Lugo, Rick Ankiel and Ryan Ludwick within the past five years, only to watch all those players flounder when they tried to take their rediscovered youth across county lines.
All I can tell you is that the Cardinals run a different and better operation than virtually any other team in baseball, and I don't think that was all due to Tony La Russa. I project Beltran for only 111 games and 468 plate appearances, but he will thrive while he plays, and the rabid Cardinal fanbase will ensure he is rewarded.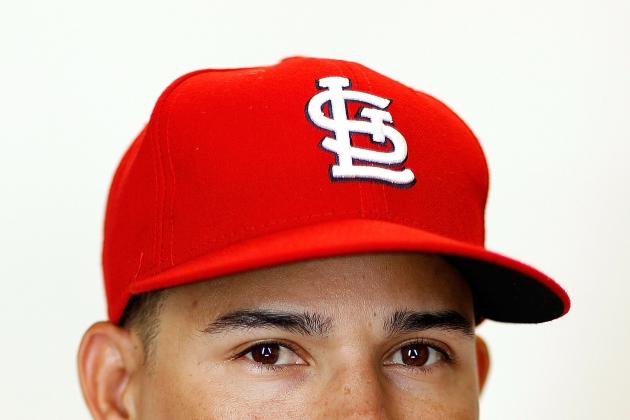 Mike Ehrmann/Getty Images

The organization's one Achilles heel, though, is the pesky shortstop spot. Furcal still looks good in a uniform (albeit a very small one), still has a rocket arm and still goes by "El Enano" (Spanish for "The Dwarf," which is cool).
All his other skills, though, are long gone. He will be lucky to take the field more than 75 times, and when he does play, the Cardinals will wish he hadn't. Tyler Greene deserves that spot, if only on a trial basis, and would have it already had St. Louis not won the World Series with Furcal out there.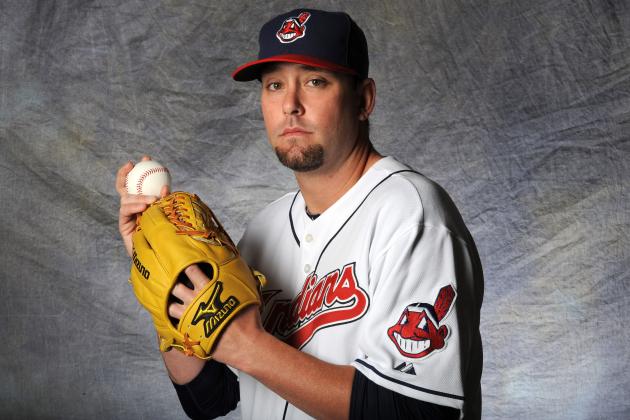 Rich Pilling/Getty Images

With Chris Perez out, the Indians bullpen is a muddle.
Vinnie Pestano might be the most intuitive heir to the closer's role as Perez recovers (and whenever he eventually gets hurt again), but Pestano is so reliant on his slider as to be very ineffective against left-handed batters.
Dan Wheeler has experience in the role (however limited), is more versatile in his skills and fits Cleveland well. He will get the first crack and will do very well.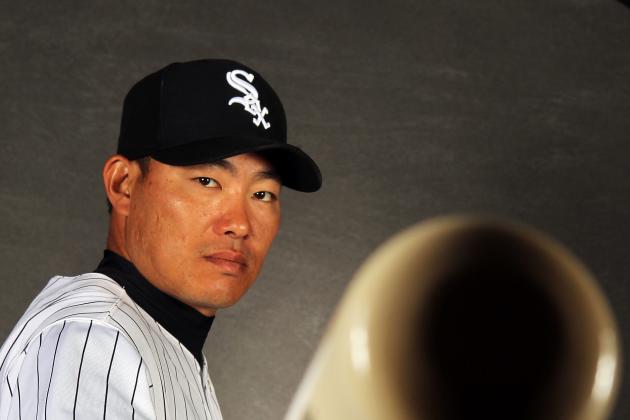 Jamie Squire/Getty Images

This may be like saying Fukudome will have the best gas mileage among SUVs, but it's almost certainly true. His career OBP is .361, and that dwarfs those of projected starting outfielders Alejandro De Aza (.337), Dayan Viciedo (.324) and Alex Rios (.323).
Fukudome is likely to get more and more playing time as the season progresses, because Rios seems pretty clearly done as a productive (or even motivated) big-league player, and the other two are rookies very much in need of occasional days off and platoon help. It wouldn't register as a major surprise if he hit his way into the Sox picking up his 2013 option at $3.5 million.
Christian Petersen/Getty Images

Given the constraints of age and his recent injury history, I project Blake for only 209 plate appearances in 2012.
However, he will produce at a league-average rate offensively during those chances, play solid defense at third base and eliminate the potential need to move Michael Cuddyer to third base (he's terrible there) or to rush Nolan Arenado (a great prospect who is not ready yet).
He will also generate at least five or 10 half-clever signs alluding to the "Blake Street Bombers," which is nice. Fan signs can get excruciatingly dumb, so anyone who hangs a curveball for Joe Tagboard is doing us all a favor.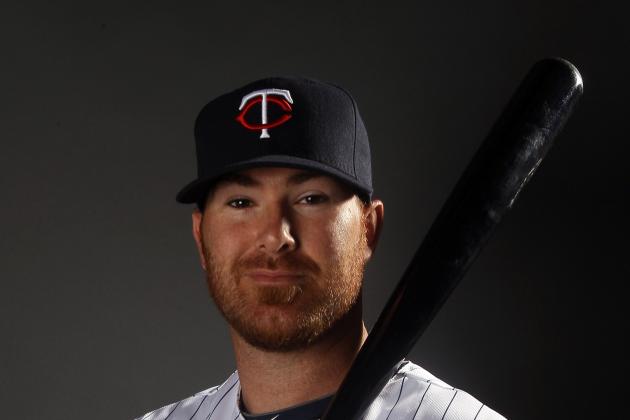 Elsa/Getty Images

Ryan Doumit is a better hitter than most fans or even analysts think he is. Though fragile and only marginally effective behind the plate, as a DH who spells Joe Mauer at catcher on occasion, Doumit should be able to stay healthy and could top 500 plate appearances for the first time in his career in 2012.
If he does so, look out. In his two most prolific seasons, Doumit has averaged a home run every 30 or so plate appearances and has posted an average OBP just under .345. He's a solid batter, and the more chances he gets, the better he does.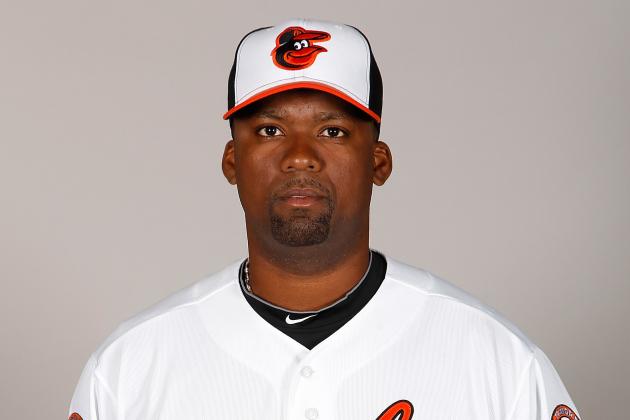 J. Meric/Getty Images

To suggest that Adam Dunn flopped in 2011 because he was asked to DH would be folly. To suggest it's impossible to be a great hitter as a full-time DH would be, too. David Ortiz and Edgar Martinez are ample evidence of the potential for great production from that position, and in that role.
In general, though, it's hard to be a DH. The game loses its rhythm, players get too much time to think through their last trip to the plate and it can be very hard to stay warm and alert. As Tom Tango and others have shown, a DH penalty of four to nine runs per season should be applied to any projection for a given player who is taking on the role full-time.
Wilson Betemit is a very bad third baseman. If he were even average there, he would be as good as Alberto Callaspo, and he would be starting at third base somewhere. As it is, he doesn't really belong on the field, so despite the difficulty of the transition, the Orioles will ask Betemit to make it. They just should not expect it to end all that well.
Even in very cozy Orioles Park at Camden Yards, I project Betemit for an uninspired .258/.326/.445 batting line and 13 home runs. That OPS is 67 points off his two-year average, despite the move to a much better offensive environment.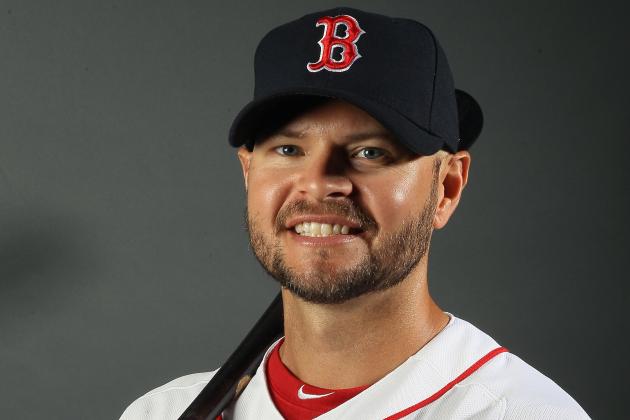 Elsa/Getty Images

I only project Ross for 338 plate appearances, but given his propensity for pulling fly balls to left field, it's still not beyond the realm of possibility that he would collect 25 two-baggers.
He's built for Fenway Park, and if Ryan Sweeney and Carl Crawford both miss some time this year, Ross will find a place to shine. Officially, by the way, I have Ross for 15 doubles, a triple and 12 home runs in those 338 trips. Call the rest an upside gamble.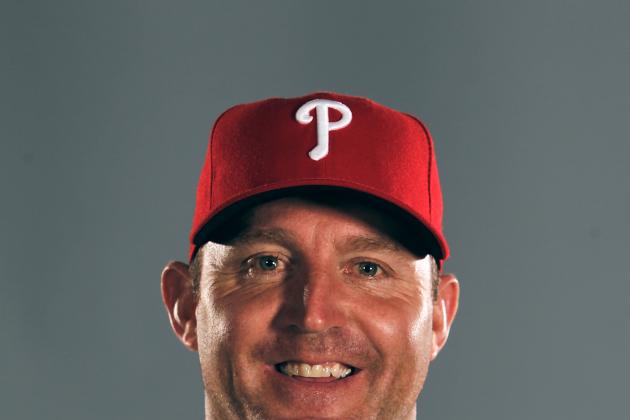 Jonathan Ferrey/Getty Images

Though Thome signed a standard, full-season contract with the Phillies, one couldn't resist the feeling even then that he was signing the old "thanks for the memories" deal. He and Charlie Manuel would be reunited, he could give it one last run at the World Series and no one would get hurt, because Ryan Howard already was.
Howard will be back, though, and about the time he does return, expect to start hearing about Thome leaning toward retirement. He'll be a tight squeeze onto a roster featuring Howard, John Mayberry Jr., Ty Wigginton, Michael Martinez, Laynce Nix and a backup catcher.
No one will push Jim Thome out the door. In fact, with the team very much expecting to return to the World Series, many will encourage him to stay on for as long as possible. Before the trade deadline, though, Thome will retire with dignity, and the countdown clock to Cooperstown can begin.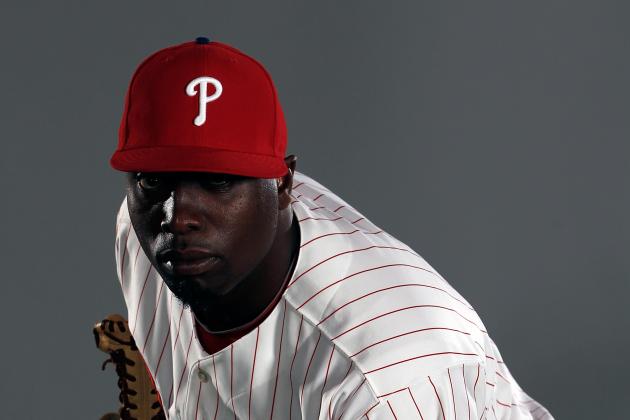 Jonathan Ferrey/Getty Images

Whatever may be gone for good, Willis' swagger is slowly coming back as he prepares for his first season as a power reliever, rather than a fairly tepid starter. He's looked very bad this spring so far, but he has time yet to sort things out. He belongs in the big leagues but needs to find some semblance of command in order to make it happen.
He might not stick with the parent club for long, but while he is on the roster, look for Willis to rack up some strikeouts as a lefty specialist. Top Phillies rival Atlanta has a lineup loaded with left-handed hitters (Michael Bourn, Jason Heyward, Freddie Freeman, Brian McCann), so Willis might be around more during divisional play than otherwise.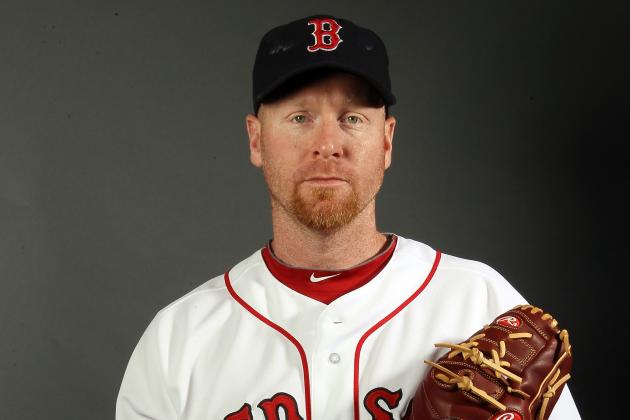 Elsa/Getty Images

Most minor-league contracts provide a player with substantial big-league experience the opportunity to walk away from the deal on or after a certain date, if they haven't been added to the roster by then. Whenever that date comes for Aaron Cook, look for him to shrug and stay right where he is, in Pawtucket.
Before long, the Sox are going to need starting pitching reinforcements. Daniel Bard might completely collapse as a starter. Alfredo Aceves, Josh Beckett and Clay Buchholz all have long injury histories, and Jon Lester had a back injury in 2011 that should give fans and the organization pause before assuming he is their anchor.
Cook stands sixth on the depth chart for a rotation spot and will get his chance early. He won't make anyone forget John Lackey or Daisuke Matsuzaka, much as they might want to. He will, however, serve as a fine stopgap until injured hurlers return, or until a higher-level replacement arrives.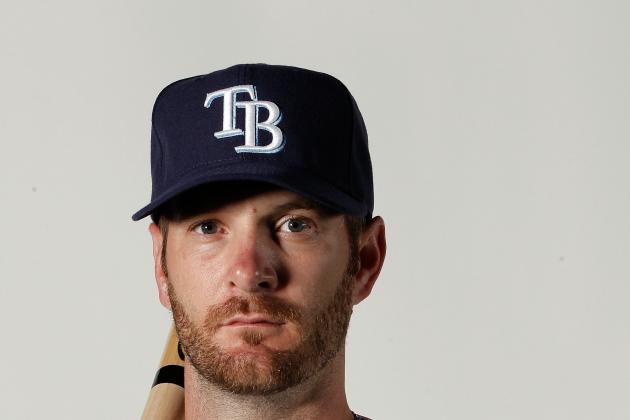 Jonathan Ferrey/Getty Images

History says Evan Longoria will miss two weeks or so over at third base. Regression says Matt Joyce or Desmond Jennings will need occasional mental days, during which Ben Zobrist will move to the outfield and the Rays will have a hole at second base. Logic says Carlos Pena can only be allowed to face left-handed pitching if there is really and truly no other choice.
Everything suggests, then, that Jeff Keppinger will find time to make an impact in Tampa Bay. He will probably play three of the four infield positions and could moonlight a time or two in left field. He might even get a DH assignment or two as a platoon partner for Luke Scott.
In total, I project Keppinger for 269 plate appearances this season, in which time he will hit .284/.353/.402 with five home runs. That may not blow away fantasy folks, but it would be an awesome line from a part-time glove-first player in the AL East.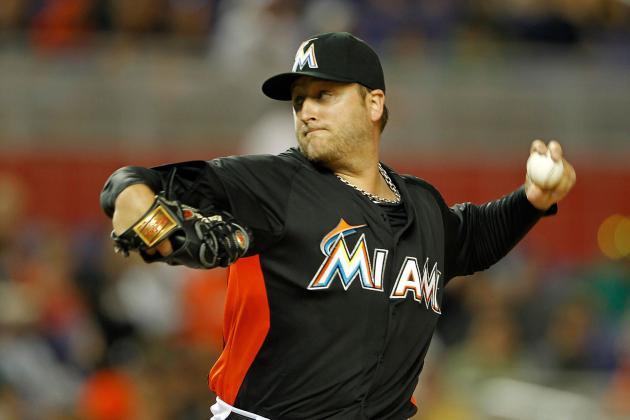 Mike Ehrmann/Getty Images

Logic would dictate that if a pitcher were to suddenly turn sharply downward in production based on a weak fastball and the inability to miss bats, it would happen while playing in the American League and pitching in one of baseball's most homer-friendly home parks. In Buehrle's case, though, I project that the drop will begin precisely because he left that environment.
Although he sheds U.S. Cellular Field and its ballooning influence on ERAs, Buehrle also loses pitching coach Don Cooper. As Dave Duncan was to the NL, Cooper remains to the AL. He is the best pitching coach in baseball, and Buehrle benefited from his advice, however marginally.
A psychological component also exists for Buehrle. He knew AL Central hitters better than they knew themselves. He out-pitched them only insofar as he could out-think them.
He has a whole new set of batters to learn as he makes the switch to the loaded NL East. There is safety in stasis. Buehrle has broken his. If his fastball slows down even a tick, he is done, and that seems eminently possible just now.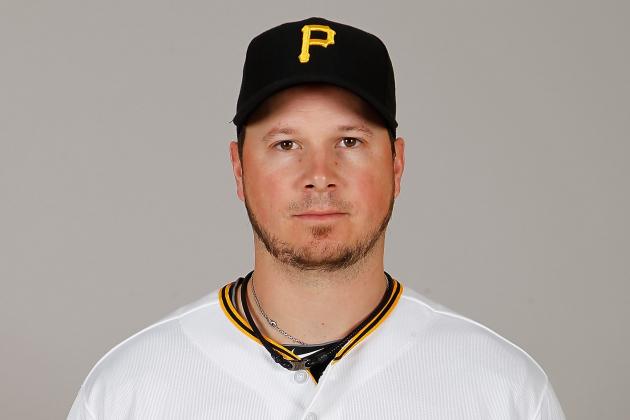 J. Meric/Getty Images

Just so everyone knows, Erik Bedard only wears the No. 23 or 45. I'm pretty sure it's an homage to Michael Jordan, which is strange for a baseball pitcher from Ontario. Also of note: I have no evidence of that. It's a gut feeling.
Whatever number Bedard wears on his back, the number teams will see when they scout him this summer is $4.5 million.
That is the very reasonable sum the Pirates paid to bring Bedard aboard, and because he is both good (or hurt, but never bad) and inexpensive, he's a very good candidate to finish 2012 on whichever contender (and really, who's not a contender in this cowardly new world of the double Wild Card?) bids the most in terms of talent returned to the Pirates.
After fewer than 100 innings in 2011, Bedard netted the Mariners Trayvon Robinson and Chih-Hsien Chiang at the trade deadline. This year, the Pirates hope to do even better.
By the way, Erik Bedard played with Mike Bordick on the 2002 Orioles. That was Bedard's first taste of the big leagues, and he wore No. 57. Bordick played alongside (you guessed it) Steve Sax in 1994 with the Oakland A's, and Sax earlier that season played for the Double-A Birmingham Barons—where he was teammates with Michael Jordan. So you see, it all fits.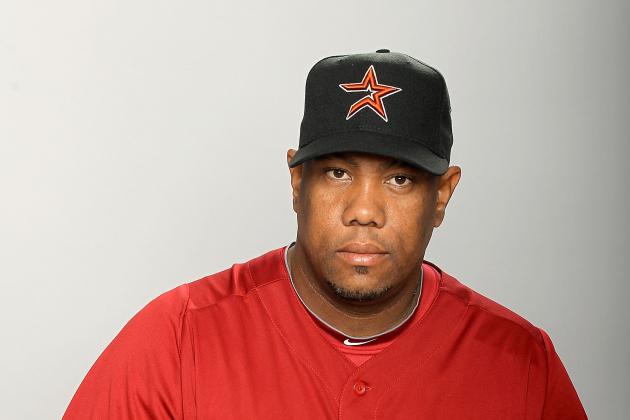 Matthew Stockman/Getty Images

If all we remember of Livan Hernandez is that he was durable, let's at least remember that he was very, very durable.
As soon as the season begins and Tim Wakefield's retirement becomes official, Hernandez will become the active leader in innings pitched. After that, unless he remains active as some sort of oddball reliever, he should retire with 600 innings on the nearest guy.
Houston will mark Hernandez's sixth stop in the last six seasons, and it's likely he would not make the roster for any other team in baseball. With Houston, though, he could toss 200 frames.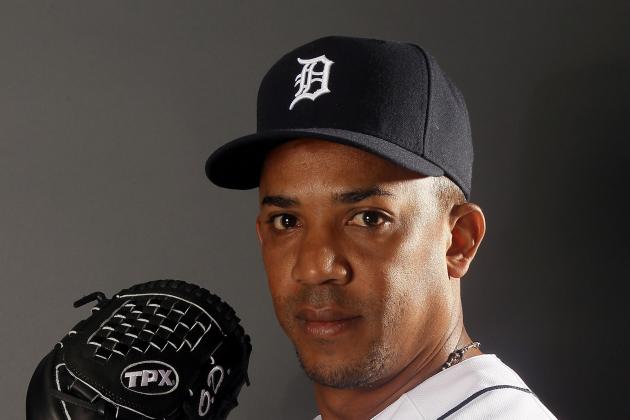 Elsa/Getty Images

Octavio Dotel looked great down the stretch for the Cardinals in 2011. He even struck out 14 batters and walked just one unintentionally in the playoffs. He mowed down Ryan Braun and Ian Kinsler more than once.
Dotel is excellent in the right role, and Tony La Russa knew that. Hopefully, the retired Cardinals skipper will pass the message along to Tigers manager Jim Leyland while spending time in Tigers camp this spring.
Dotel's job should be to make right-handed batters look bad and never, ever to face left-handed batters. Opposing right-handed hitters had a .410 OPS against him last year; lefties had an .845.
Here's the problem. The best hitters in the AL Central are these, in some order: Carlos Santana, Shin-Soo Choo, Jason Kipnis, Lonnie Chisenhall, Travis Hafner, Casey Kotchman, Joe Mauer, Justin Morneau, Denard Span, Josh Willingham, Alex Gordon, Eric Hosmer, Mike Moustakas, Billy Butler, Adam Dunn, Paul Konerko and Alexei Ramirez.
Of those, only Willingham, Butler, Konerko and Ramirez bat right-handed. Since the Tigers had Jose Valverde and Joaquin Benoit in their bullpen already, they really did not need another right-handed hurler to set them up. Dotel could have a miserable season ahead.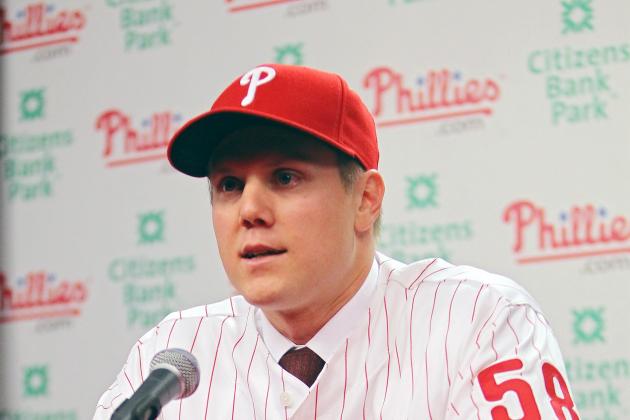 Len Redkoles/Getty Images

Last year, the Phillies won 102 games. They went 87-3 when leading entering the ninth inning and lost the NLDS to St. Louis largely because of a tepid offense and poor middle relief.
Those problems are over. With a fell swoop, GM Ruben Amaro solved everything that ailed the 2012 team and made sure the leaks stayed closed through 2015. He signed Jonathan Papelbon for $50 million over four years, a new CBA, the impending free agencies of Cole Hamels and Shane Victorino and a draft pick be damned.
Papelbon might well make all the difference between 87-3 and 90-0. Last year, the Red Sox were 76-1 when they held a lead in the ninth. They were 89-2 in those situations when they won the World Series in 2007. Papelbon is a great closer, and he might make all the difference in holding late-inning leads.
Of course, a bigger difference might have been made by ensuring the team procured more late-inning leads, and incumbent Ryan Madson turned out to cost only $8.5 million and no draft pick, but $42 million is a small price to pay for peace of mind.
The 2010 Red Sox were 81-4 with ninth-inning leads, markedly worse than Madson did for Philadelphia last year? Oops. Strike everything, reverse it.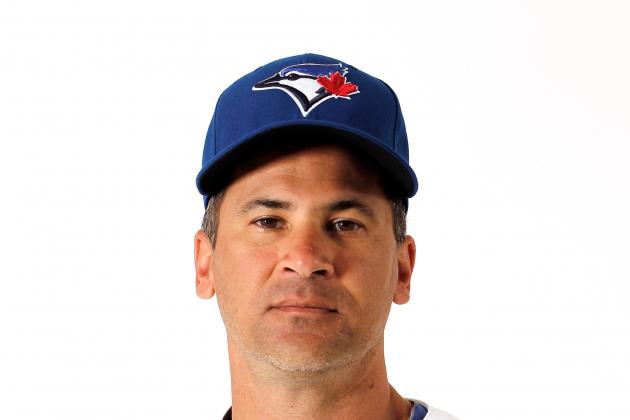 Jonathan Ferrey/Getty Images

When you've been around so long that your new team's new retro uniforms hearken to the good old days during which you were already a three-year veteran, it's time to consider moving on. Omar Vizquel deserves a world of credit for his true passion for the game:
I think you always wait for this moment every year, when Spring Training is going to come, how you're going to get ready. You just get really excited to face a new team, to be on a new team and you're just happy to be around guys every year. I guess it's something that's in your blood and I don't think it ever gets old.

My motivation is to challenge myself to play another year. I know every year it starts to get a little harder for yourself and it's always a challenge to be on a Major League team at an older age. I think as long as time has been going by, I feel more pride in the things I have accomplished in my career.
For him, then, the choice to continue playing is not about achievement—3,000 hits are tantalizingly close, but realistically out of reach—but pride. That's awesome. That explains his longevity, in large measure.
Ultimately, though, the crowded Blue Jays camp reflects the direction of the organization. Vizquel will delight in acting as unofficial player-coach for half a season, and might even bring one more level of underrated excellence out of Yunel Escobar, but he will eventually feel frustrated by a lack of playing time and a feeling of idleness.
Like Jim Thome, Vizquel will have the right of self-determination, but he will hang it up before the September call-ups arrive.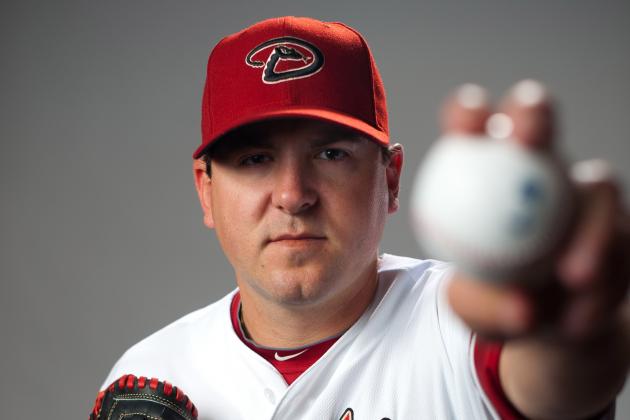 Rob Tringali/Getty Images

Don't count on Joe Saunders to put up another 3.69 ERA. I have him at 4.64 in 2012, and fewer than 200 innings. He is not a world-beater, and the Diamondbacks knew it when they non-tendered him in December.
That was a savvy move, though. Arizona re-signed Saunders at 70 percent of a reasonable arbitration estimate and now have some cushion and depth if and when Josh Collmenter falls apart.
The rotation already ran five deep, if you include Trevor Bauer (and you should; the team's top pick from last year's draft is ready right now), but with Saunders, the team can wait to start Bauer's free-agent clock until Collmenter either gets hurt or proves utterly ineffective.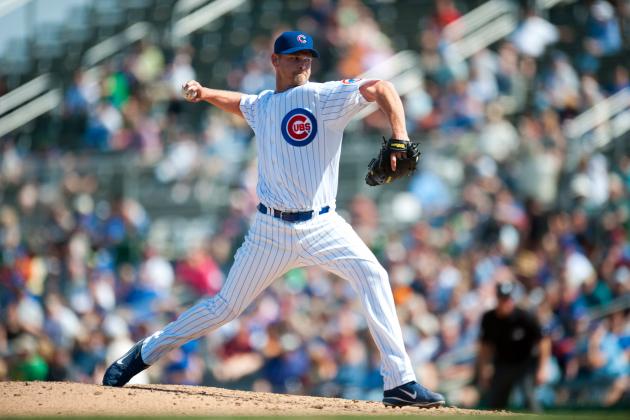 Rob Tringali/Getty Images

Last year on Opening Day, Cubs fans thunderously welcomed Wood back from a two-year sojourn in Cleveland and New York. He had given the team a massive hometown discount and said he wanted to be attached to the organization forever.
That robbed him of a bit of leverage this winter, and Wood seemed to have one foot out the door before the team caved a bit and gave him $3 million to stick around.
He got a prolonged standing ovation when he appeared (and the contract was first announced) at the team's annual winter fan convention, and he will get another this Opening Day. From that point onward, fans will continue to adulate him in close encounters, but the masses will remember that he is a middle reliever at this stage.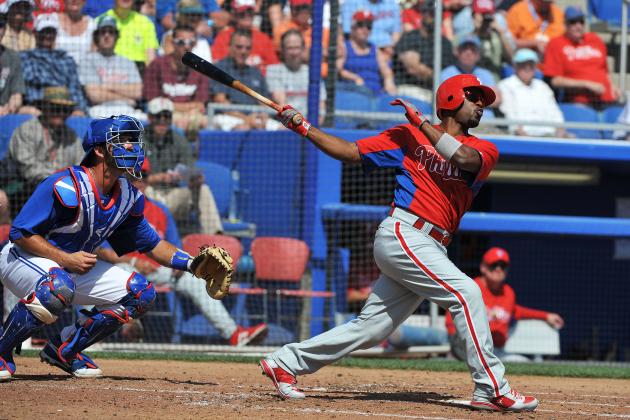 Al Messerschmidt/Getty Images

Since the mid-2000s, when Jimmy Rollins was at his peak of both prowess and popularity, a feeling of malaise has come upon his career. Fans and analysts have largely expressed a unison opinion that his decline is real, inexorable, inevitable and precipitous. As usual, the conventional wisdom is wrong.
Rollins is a very good player yet. He has modest power, a solid average, speed (miraculously maintained, by the way, in the face of the injuries he has had to overcome) and terrific defensive skills.
Alarmingly, a player once overvalued (back when he was considered a top-echelon player despite low OBP numbers) is now the East Coast's least appreciated asset. He will be a huge reason for the Phillies' sustained success, as the rest of the roster ages faster than he. His new contract was a great one for Amaro.
Christian Petersen/Getty Images

This is actually a bold statement. Ramirez could play no more than 112 games, of course, under the terms of his performance-enhancing drug-related suspension, so 74 is a healthy number.
Specifically, I project him for 286 plate appearances and a .257/.368/.427 batting line. That's actually quite good for a man of his age, playing in Oakland after a year away from the game. Ramirez would be worth about one win under that scenario.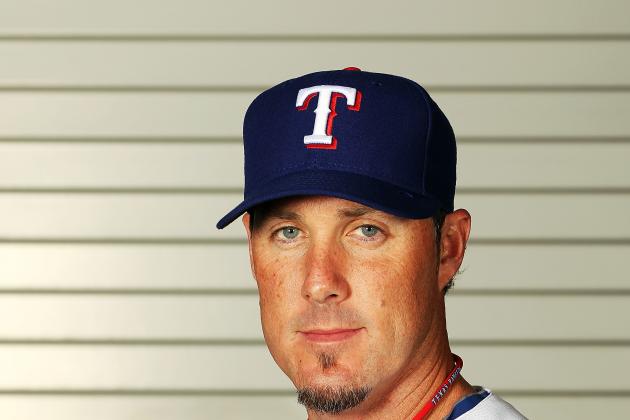 Jamie Squire/Getty Images

Nathan is a great pitcher; I do not underestimate him. As the season progresses, though, it will soon become clear: He is not what he once was, or honestly, anything close to it.
He will not cost the Rangers many games, if any, but he will be sufficiently shaky so as to fluster Ron Washington, and the Rangers skipper will turn the gig over to Mike Adams as the calendar turns to July.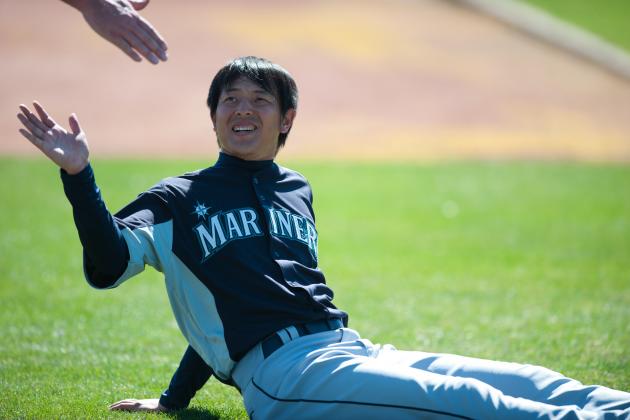 Rob Tringali/Getty Images

Last winter, Iwakuma could have had pretty good money from the A's but felt they didn't show respect with their bid and turned away. It cost him dearly, as injuries limited his workload, took zip off his stuff and made scouts uneasy heading into this offseason.
Seattle signed him for $1.5 million, or roughly 10 percent of the posting fee alone that the A's had offered to negotiate with Iwakuma the year before.
Yet he's still not a terrible pitcher. His command ratio reflects as much about Japanese baseball as about him, but nonetheless, it's impressive. Iwakuma can easily pitch to a 3.50 ERA in Seattle, if only because he will have lots of help when the ball is put in play.