Big East Tournament: Syracuse Orange vs. Connecticut Huskies Live Blog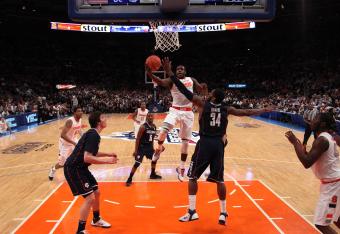 Chris Trotman/Getty Images
They're back!
The Connecticut Huskies (20-12, 8-10 Big East) advanced to the quarterfinals of the Big East tournament to face top seed Syracuse Orange (30-1, 17-1 Big East).
The Orange may have won both regular season matchups, but the Huskies have now won 13 straight postseason games and look to continue their magical run of success against the conference favorite.
I'll be here throughout the game providing in-game updates and analysis, so Tweet me your questions or comments @dioselev.
Final Thoughts: Connecticut
The Huskies had a chance to earn a signature win over a ranked opponent and threw the game away with stupid turnovers, poor shot selection and nonexistent ball movement. It was an uninspired finish for a team that at times looked as good, if not better, than last year's championship team.
Jeremy Lamb is a stud and a magician with the ball, but there doesn't seem to be any fire in the sophomore. He repeatedly passed up opportunities to go to the basket and relied on his teammates to do all the work. There's no doubt that Lamb misses a playmaker as prolific as Kemba Walker, but as the de facto leader of the team he has to do better.
The Huskies are tremendously talented and can match up with almost any school in the country, including Syracuse. But for whatever reason they can't seem to play 40 minutes of good basketball. Don't hold your breath on another deep run into the NCAA Tournament.
Final Thoughts: Syracuse
The Orange won their 31st game of the season, but it wasn't easy. Despite outshooting the Huskies (38.5 percent vs. 34.4 percent) the Orange trailed for large parts of the game and were thoroughly outplayed for 5 minutes at a time. Syracuse lost the rebounding battle again (39-32), but for the first time against Connecticut. Definitely not a good sign for a team that has struggled to rebound the ball all season.
C.J. Fair and Scoop Jardine were useless, and Kris Joseph struggled for most of the game. The Orange have enough depth that they can win without three of their leading scorers, but they'll need to play a more well-rounded game as the level of competition goes up. Jardine in particular needs to play better.
Freshmen Rakeem Christmas (5 rebounds) and Michael Carter-Williams (4 assists) showed flashes of competency, but likely didn't prove enough to warrant extended playing time in the NCAA Tournament. James Southerland, however, broke out of his shooting funk today and could be a major part of Syracuse's pursuit of a national championship.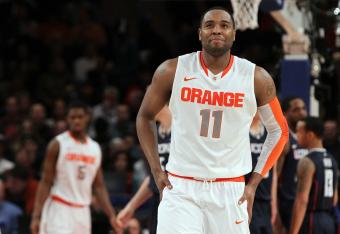 Goats of the Game:
Scoop Jardine, G, Syracuse - For all the talent in the world, Jardine can't help but make bad decisions. An ill-fated jump shot in the first half banished the senior to the bench for the rest of the game. In 18 minutes he scored just 2 points and made 1 assist.
Shabazz Napier, G, Connecticut - Napier may be the Huskies' leading scorer with 15 points, but it took him 17 shots to get there. Connecticut's primary ball handler committed a game-high 5 turnovers and finished with only 3 assists.
Alex Oriakhi, F, Connecticut - It'd be easy to victimize Jeremy Lamb for not being more aggressive on offense, but he didn't actually play poorly. Oriakhi, on the other hand, left his team short-handed with four quick fouls and chipped in with only 3 points and 3 rebounds.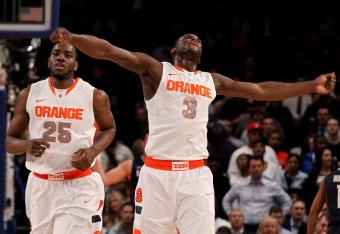 Players of the Game:
Dion Waiters, G, Syracuse - Waiters took over the game for the Orange, scoring a game-high 18 points and breaking down the UConn defense. He stepped in after Jardine was banished to the bench for stupidity.
Andre Drummond, C, Connecticut - Lamb and Napier both scored in double figures, but Drummond is the only starter who played consistently. The freshman finished with 14 points and dominated the paint with a game-high 10 rebounds (including 7 offensive rebounds).
James Southerland, F, Syracuse - The seldom-used Southerland had a coming out party today at the Garden with 10 points, his highest total since January's loss to Notre Dame. The junior knocked down key shots in the second half and closed the door on the Huskies with free throws.
Syracuse will take on the winner of Cincinnati-Georgetown, coming up right now.
Well the Huskies made it interesting but the Orange walk away with the win, 58-55.
Post-game analysis and reaction in a few.
Melo is not ready for the NBA. His decision-making is about as good as a high school freshman. Four quick points for the Huskies.
Syracuse 57-53.
The Huskies really threw this game away. Jeremy Lamb has disappeared. Shabazz Napier has 5 turnovers. Alex Oriakhi has 4 fouls.
The Orange have 28 more seconds to secure the win and a trip to the semifinals.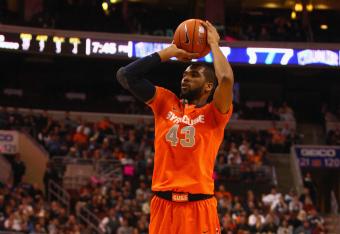 HUGE SHOT by Southerland to push the lead to 6. He's played terrific in place of Fair and Christmas in the frontcourt. The junior now has 8 points.
Syracuse 55-49. 1:06 left.
Joseph finally on the board with his first field goal of the game. He picked a terrific time to get going. Under two minutes left.
Syracuse 53-49
And now both teams are in the bonus after a Triche charge. Never a dull moment between these two teams.
The Connecticut offense has completely shot down. No field goals in about 5 minutes and no shots in the last couple of possessions. It's like they're playing against a 10-man zone.
Meanwhile, Melo takes the stupidest shot since Jardine's brick in the first half and gets an earful from Boeheim. Can't really afford to take him out at this point with the way he's playing.
Waiters (16 points) gives the Orange the lead back with an open jumper. Not sure why the Huskies aren't doubling him when half the Syracuse players on the floor can't hit a jump shot. ORange on an 8-0 run with under 5 minutes left.
Syracuse 51-47
Lots of stupid fouls in this game. It'd be a shame to see this game between two great teams come down to free throws.
C.J. Fair and Scoop Jardine are apparently banned to the bench for the Orange. Haven't seen either player much this half. Not sure what Fair did wrong other than play poor basketball, but Boeheim's strategy seems to be work.
Woahhh buddy! Southerland hits a three to cut the lead to one and the crowd is pumped up!
UConn 47-46 with 7 minutes to go. We have another thriller in the making.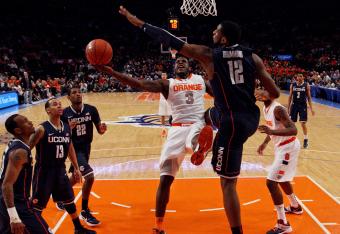 The two teams are trading punches now with Dion Waiters attempting to take over. He leads all scorers with 16 points.
If the Huskies aren't careful they could give this game away on free throws. The Orange are already in the bonus with more than 10 minutes left.
UConn 42-39
Orange making noise now with some impressive passes and dribbling. Oriakhi picks up his fourth foul and Brandon Triche has a chance to make this a four-point game with two free throws.
Looks like Joseph has given up trying to hit a field goal and is just driving to the basket hoping to get fouled. It'd be a good strategy if he actually hit his free throws. 0-7 from the field and 4-6 from the line.
UConn 42 - 34
The Orange have just 4 points in the second half and are shooting 31.6 percent for the game (11.1 percent from three). They're getting killed in every offensive category and yet still have a shot at a win if they can put together a little run.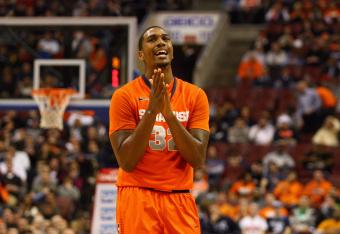 If Kris Joseph is pouting because of a jammed then he doesn't belong anywhere near the NBA. Either start hitting some shots or go to the bench for someone that can.
Connecticut 39-31
The Huskies are building their lead now, 35-31, after a Niels Giffey three. The Orange freshmen may be the only players who can get this game under control now. Everyone else, with the exception of Fab Melo, looks sloppy and lethargic.
Terrible shot by Jardine. MCW back in the game for the Orange. That's probably an upgrade at this point.
Joseph can't even hit a free throw. Will Boeheim continue to play his starters with nothing to prove in this game and Joseph and Fair struggling?
This article is
What is the duplicate article?
Why is this article offensive?
Where is this article plagiarized from?
Why is this article poorly edited?

Syracuse Basketball: Like this team?