Association Aggregation: Wizards Shock Lakers, Rose Barely Misses Triple Double
October 25, 2015
Rob Carr/Getty Images
While every night seems crazy in the NBA with the shortened season this year, Wednesday nights are always especially mad with a ton of games packed into the schedule.
We've already gone through the point guard goodness that took place last night (Derrick Rose's game-winner in Milwaukee, Kyrie Irving's coast-to-coast game-winner in Denver, Isaiah Thomas' steal and assist and Jordan Farmar's dagger in Jersey), but there's still lots that happened.
Much like Rose being two rebounds shy of a triple-double, there's always that little nugget of information.
Let's not forget the Lakers having another offensive meltdown on the road. Absolutely brutal performance by the Lakers, particularly in the third quarter, where they were outscored 32-19 by the Wizards.
Consider this: The Lakers lost to Washington with John Wall scoring four points (two of those points came from free throws in the final seconds) and Jordan Crawford and Nick Young going 13-of-38 from the floor.
Kobe Bryant went 9-of-31 from the floor and just 1-of-10 in the fourth quarter while logging more than 40 minutes. It hurts when he's playing extended minutes and the team isn't coming away with the win.
After the game, Andrew Bynum was honest as always:
I was out there kind of loafing around and having a good time. ... They played up, got the home crowd into it, and they were able to hit shots.
Yeesh. The lesson: You need to show up ready to play every night because if you don't, the Wizards (or the Bobcats, as Orlando learned) could embarrass you.
In Oklahoma City, the Thunder defeated the Suns 115-104, and Russell Westbrook was able to celebrate, which is always a very, very good thing.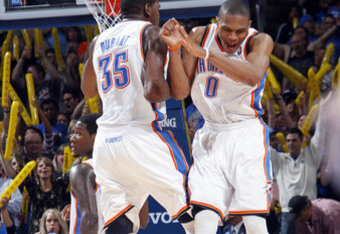 The Thunder also posted a wonky little box score, with only five players scoring for the entire game. Westbrook, Kevin Durant and James Harden each topped 30, and Serge Ibaka had 18 points and a career-high 20 rebounds as the Thunder came back from 16 down in the third quarter. Those 30 points were a career high for Harden.
Despite the offensive numbers the foursome put up on the scoreboard, coach Scott Brooks wasn't as impressed on the other end of the floor. Check this quote from Brooks via Darnell Mayberry of The Oklahoman:
You have to play both ends of the floor, and I don't think that they played the defense that they needed to in the first half. ... It's great that they played well. That's their job is to play well. But their job is also to play defense in both halves.
There isn't a team that is more enjoyable to watch than the Thunder when they're killing at home and getting fired up. The crowd feels like you're watching a college game. The players are so into it, and the bench is incredible at rooting for their teammates. They've got a really special thing going.
For those of you hoping that Steve Nash will find a new home after the trade deadline, Alvin Gentry is here to crush those dreams. Prior to the game against the Thunder he said there's been no talk about trading Nash:
I think that there's a lot of teams that would like to see him traded. We're just not one of them. ... We never talk about trading him.
One night after the best game of his career, Bismack Biyombo had a rough outing against the Jazz. Biyombo finished with two points, nine boards and five turnovers. Al Jefferson poured in 31 points to go with nine rebounds and five assists for the Jazz, who got the 99-93 victory.
Jefferson had the quote of the night:
Hey, it's taken me eight years to realize that if I pass the ball outside and guys hit open shots, it helps free me up. ... I guess better late than never.
He's right. Better late than never, and there are a lot of talented players who never end up learning the obvious. Good for Jefferson owning up to the fact that it's taken eight years to trust that he'll get the ball back if he kicks it out.