Jon Jones and 7 of the Strangest Techniques in MMA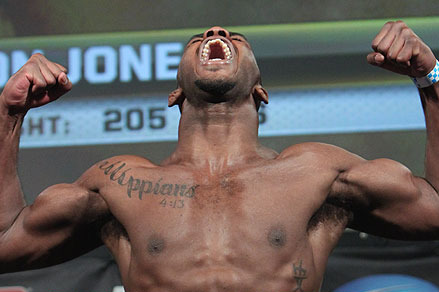 Jon Jones/ Ken Pishna for MMAWeekly.com
When was the last time you've seen a spinning back elbow? Oh, that's right. Jon Jones is doing that stuff now, isn't he?
The reigning UFC light heavyweight champ has many tools at his disposal, though he has since been able to ascend the ranks of the division all through his unorthodox approach to the MMA game.
Along with Jones exist a bevy of fighters whose awkward techniques have proven effective in mixed martial arts today.
Photo credit: Jon Jones/ Ken Pishna for MMAWeekly.com
Begin Slideshow

»
Budding UFC heavyweight contender Mark Hunt had made his way to the top of sport with some recent memorable performances.
However, Hunt first made a name for himself in Japan with fan-friendly performances, particularly his battle with then-Pride middleweight champion Wanderlei Silva, dropping down all 265-plus pounds of man atop "The Axe Murderer" via atomic butt drop.
Zaromskis belongs in a Tekken video game. NOW.
The Dream welterweight champion has always had some flashy kicks at his disposal, but he's never showcased anything nearly as memorable as this knockout to his unassuming opponent.
Though the UFC incorrectly dubbed this move the "Superkick," Pettis had made history regardless of the flub.
In his final appearance in the WEC, Pettis sealed a decision win over then-champion Benson Henderson with a memorable wall-walking kick off the cage, knocking the Arizona fighter to the canvas from the telling blow, making him an instant victim of a highlight reel that will never die.
Ironically enough, Ebersole was suspended after this bout, because the governing commission believed the fight had to be fixed.
They believed there was no way that Ebersole could have won this bout in such dramatic fashion, while doing a cartwheel no less.
Jones (right)/ Cagepotato.com
Wouldn't it be cool to have that signature move that defines your career?
Obviously, it's hard to accomplish that as a fighter.
WWE stars have their own, with the Undertaker implementing his "Tombstone Pile Driver" or even Shawn Michaels' "Sweet Chin Music."
Jones has put himself in rarefied air by utilizing a spinning back elbow to bludgeon many of his opponents, in particular Stephan Bonnar, who went down in a heap from the telling blow.
If there was anyone that would rival the creativity of Jones, it would be Anderson Silva, hands down.
The Brazilian dynamo scored this gem against Tony Fryklund in his Cage Rage days, downing the UFC vet with an awkward, upward-angled elbow that caught him right on the chin.
It's seems like an innate reaction to want to hoist up your opponents, though so few fighters actually have the kind of strength and fortitude to pull off such a maneuver.
Quinton Jackson doesn't suffer from the same affliction, as he demonstrates here by hoisting Ricardo Arona well over his head and slamming him viciously to the canvas for the knockout.