Detroit Lions: Five Potential Salary Cap Casualties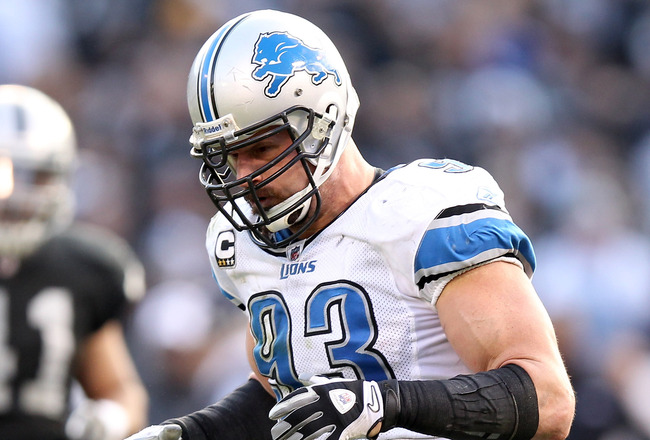 Ezra Shaw/Getty Images
We all hate this part of the NFL.
The number squeezing that goes with reaching the agreed-upon salary cap.
The Detroit Lions are in a difficult position that was exacerbated by the old rules in the last collective bargaining agreement.
Primarily, the rookie wage scale that became otherworldly at the end of the last decade coincided with the Lions' worst stretch of football in franchise history.
As a result, the Lions were routinely picking either No. 1 or No. 2, meaning that they were forced to draft players that carried high salaries.
Luckily for Detroit, those players have panned out. Matthew Stafford, Ndamukong Suh and Calvin Johnson are studs that will likely be Detroiters for life.
But they will be making a collective $35 million or so this year. Add to that the recently franchise-tagged Cliff Avril and that number jumps to about $46 million. Finally, if you factor in bonuses owed to each of the above, you could be looking at another $10 million or so.
Considering this year's salary cap will probably be around $122 million, you are committing a huge percentage of your team salary on four players.
Sure, the Lions need those players above all else, but a competitive team needs to have talent at all levels. That is truly difficult with such a lopsided team salary structure.
Now, there are plenty of bullets in GM Martin Mayhew's arsenal of solutions.
If the Lions can re-sign Johnson to an extension, they will be able to get his salary cap hit number down and have some room to maneuver.
But that still might not be enough considering the fact that the Lions still need to consider the draft, and at least two of their picks will be relatively pricey.
On top of that, the Lions still need to re-sign left tackle Jeff Backus, middle linebacker Stephen Tulloch and a whole host of others, not to mention free-agent targets from other teams to help plug holes.
As a result, there are sure to be some salary-cap casualties.
Here are five that could be on the chopping block.
Kyle Vanden Bosch, Defensive End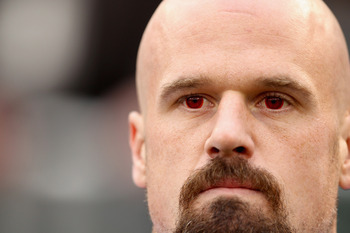 Ezra Shaw/Getty Images
KVB is one of my all-time favorite Lions.
His intensity is palpable, and he never gives up on a play.
You routinely see him 10, 20 or even 30 yards downfield trying to make a tackle.
But he is the fifth highest paid player on the team, making $5 million each of the next two years.
Luckily for the Lions, they have a solid replacement for KVB in Lawrence Jackson, although he hasn't always been consistent.
Add to that the fact that KVB had a very good season last year, and you have a very unpopular salary cap casualty.
Hopefully the Lions can avoid cutting him since he is such a popular player.
But the Lions wisely front-loaded his contract, meaning that there shouldn't be any acceleration of a signing bonus should they drop him.
Corey Williams, Defensive Tackle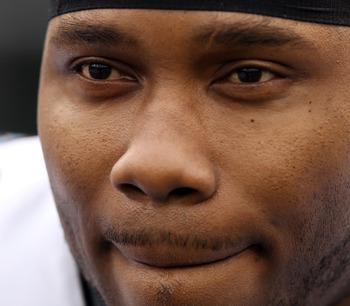 Ezra Shaw/Getty Images
Corey Williams has been a pleasant surprise for the Lions.
Originally signed by Cleveland, Williams came over in a trade and immediately settled in as a nice compliment to Ndamukong Suh.
Whereas Suh is a beast that disrupts the quarterback, Williams is your classic space-eater that helps quite a bit in the run defense.
But he is the team's sixth highest paid player, and the Lions have the highly-touted second-year player Nick Fairley waiting in the wings.
Ideally, the Lions will keep Williams to compete with Fairley for the starting gig and work as a rotation player.
But if the Lions can't restructure some deals, he might be on the chopping block.
Should the Lions cut him, they would still owe him a prorated signing bonus of just over $1 million plus his workout bonus of $100,000.
That's still better than tacking on an addition $4.9 million in base salary.
Chris Houston, Cornerback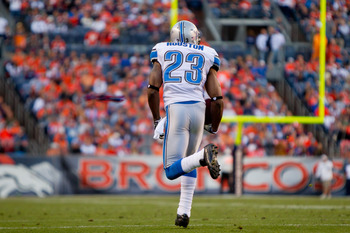 Justin Edmonds/Getty Images
Chris Houston was a really good player for Detroit last year, and probably a little bit of a pleasant surprise.
But he will be making $3 million in base salary this year, making him one of the top 10 highest paid players on the team.
The Lions will likely take a cornerback with their first pick in the draft. If they are able to do so, Houston could possibly be sent packing, although Detroit needs all the cornerbacks that they can get.
They would still take a cap hit of $1 million, but that could make a big difference.
Nate Burleson, Wide Receiver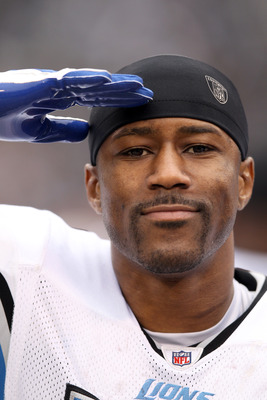 Ezra Shaw/Getty Images
Nate Burleson has become a nice compliment to Johnson in the receiving corps.
That being said, he is due to earn $4 million this season, and the Lions saw glimpses of promise in Titus Young.
There is also the option to cut Burleson and then go after a lower-priced free agent .
The one question about Burleson is exactly how his contract is figured. He is owed about $14 million over the next three years and when he signed with Detroit two years ago, he was guaranteed $11 million over the life of the contract.
How much exactly the Lions have already paid of that is anyone's guess, so the cap hit isn't exactly clear.
But one can guess that they still owe him a decent chunk of change.
If the salary hit can be prorated over the next three years, then that clears some space. But if the Lions can't get a great advantage by cutting Burleson, they might as well keep him.
Shaun Hill, Quarterback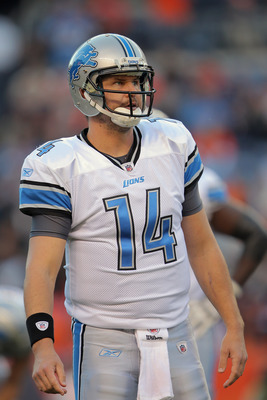 Doug Pensinger/Getty Images
Okay, so this one is a technicality.
Technically, Hill is not under contract, so there wouldn't be an official salary cap cut. But if the Lions can't figure out their salary cap situation, they likely won't have an extra $2 million or so lying around for their backup quarterback.
Often times, teams elect to carry only two quarterbacks. But with the injury history of Matthew Stafford, the Lions probably would like to have three.
Right now, they only have Stafford under contract, with both Hill and Drew Stanton becoming unrestricted free agents.
Detroit could elect to bring back Stanton, who showed flashes of potential two years ago, instead of Hill and then grab a third quarterback in the later rounds of the draft to develop.
I like Hill as a backup, but not if he wants anything near the $2.3 million he earned last year.
Keep Reading

Detroit Lions: Like this team?