Why Orlando Magic Big Man Dwight Howard Should Be Labled a Quitter
March 8, 2012

Sam Greenwood/Getty Images
The Dwight Howard trade saga has taught us a lot of things about Superman.
The most important lesson? He's just not that super.
From a statistical standpoint, there is no doubting how dominant he's been. With averages of 20.7 points, 15.0 rebounds, 1.1 steals and 2.2 blocks on 56.7 percent shooting, Howard is playing his typical game in the paint with great success.
However, that is not what it takes to be a leader. That's not what it takes to win in this league.
And that's rather ironic, isn't it? We've heard overtures about his desire to win at the highest level and his desire for a championship, but actions speak louder than words.
Before the season began, Howard demanded a trade out of Orlando.
In the middle of an embarrassing loss to the New Orleans Hornets earlier this season, Howard ripped into his teammates and questioned their desire.
"I look at guys and they don't look like they want to play," Howard said following the lopsided loss. "I told them at halftime, 'If you don't want to play, just stay in the locker room, because it don't make sense for a team who we should beat to just demolish us.'"
How is his team supposed to rally around him when he's been asking out of the situation since before the season began?
How are his teammates supposed to be inspired by a guy who has no interest in sticking with them long term and is already contemplating his next move?
In February, Howard went on another rant discussing how he wants the ball more often down the stretch and would like to be seen as a closer: "That's one thing that I want for myself, so I can become the guy who finishes games for my team. I want to be that guy whose team wants him to close games out for them. Coach just needs to have confidence in me."
This is the same guy who is converting on less than 50 percent of his free-throw attempts. This is the same guy who has asked for a trade away from his current team, and now it's the same guy who wants to garner increased confidence from his coaching staff and teammates.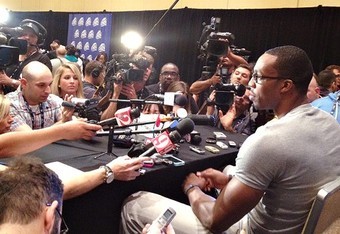 Good luck with that.
And after all the hoopla that has gone on this season, Howard has seemingly begun to change his tune.
Brian Schmitz of the Orlando Sentinel spoke with a person close to Howard who said "we want to work it out in Orlando."
There would be nothing to work out if Howard has not requested a trade. There would be no circus surrounding and distracting his team all season. And, most importantly, we could focus on the actual basketball going on with this Magic team rather than focusing solely on what kind of mood Howard is in on any particular day.
Each and every time Howard has been asked about his trade request, he gives the same bland answer that he has been all season: "Right now, I'm with the Magic. And that's all that matters."
Wrong. It's not all that matters. It's about so much more than that, and Howard is missing the point.
He might be with the Magic, but it feels like his heart is elsewhere.