Arsenal Transfer Rumors: Lukas Podolski Could Be a Summer Steal for the Gunners
March 8, 2012

Clive Rose/Getty Images
During the last several weeks, Cologne striker Lukas Podolski has been heavily linked to a summer transfer to Arsenal.
Today, ESPN Soccernet reported that the German striker is set to move to Arsenal in a €13 million move in the summer to the Gunners.
Throughout the last several years, Podolski has been with Cologne and has been linked in the past to Arsenal. Yet it seems that Podolski really wants to make a move to England.
It has already been reported in Germany that Podolski wants to make a move to Arsenal, telling fans, "There are still ten games. I'll give everything to the end," after last week's match with Hoffenheim.
With all indications pointing at a move to London for the Polish-born striker, it looks like Arsenal have made a smart decision with this transfer.
Podolski is a very talented player who knows how to work as a supporting striker. That will be helpful assuming that Robin van Persie will stay at the Emirates for at least another season.
We also know that Podolski is a gifted offensive player when he is put into the correct offensive system. In Germany's 4-2-3-1 system, Podolski is able to start off on the wing and is able to help supply the German attack of Miroslav Klose, Thomas Mueller, Mesut Ozil and Mario Gomez (among others) with great scoring opportunities.
Podolski would probably not be asked to have the same role at Arsenal with both Gervinho, Theo Walcott and Alex Oxlade-Chamberlain all capable of starting on the wing.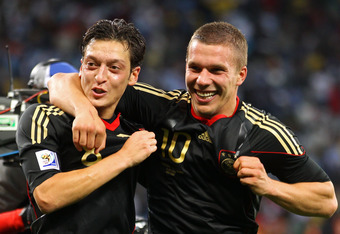 Joern Pollex/Getty Images
Arsenal will probably have to change their offensive system when Podolski joins the club, but we have to wait to see what Arsene Wenger's offensive plan is before we determine Podolski's future with the club.
No matter where Podolski is placed, he will provide a strong amount of creativity that will probably startle many people. The Premier League is by no means the most creative league in the world, which only should glorify Podolski's abilities even more.
If the reports are true that Arsenal acquired Podolski for €13 million, it could easily be a gigantic steal. Podolski is worth around €20 million according to Transfermarkt's website. Podolski's transfer price has increased dramatically in the last year, and will be poised to increase even more this summer.
Podolski will be playing with Germany in Euro 2012, and considering the overall strength of the German squad, he will probably have a strong tournament.
Knowing that international tournaments are known for raising up prices on players, Arsenal were smart to make their move now in order to save money. This also prevents other clubs from getting involved, which would raise the price even more on Podolski.
Right now, the Premier League has only three German players. Yet Podolski should not have a problem adjusting to a foreign league like most players do. Arsenal already have Per Mertesacker, who has played with Podolski for years on both Germany's U-21 team and with the national team.
Mertesacker has already said that Podolski has contacted him to ask about a potential move to the Emirates.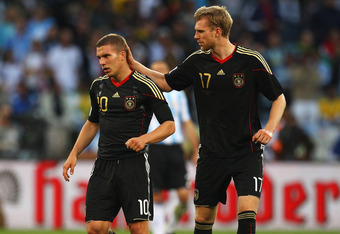 Cameron Spencer/Getty Images
Considering that both players have long been starters with the German national team and have played together in three major international tournaments, it should help Podolski to have Mertesacker at Arsenal.
Podolski also has shown that he can work well with young and talented players on the German national team, which will benefit everyone at Arsenal considering their strong core of young players that populate the club.
The experience that Podolski has will benefit everyone at Arsenal. He has played in important matches with Bayern Munich and with Germany, and that experience will be a plus for everyone at the club.
Who knows, maybe Podolski is the final piece in the puzzle that will allow Arsenal to win a title for the first time since 2005.
Follow me on Twitter @Andrew_Jordan