Chael Sonnen, Ronda Rousey and the 10 Wittiest Fighters in MMA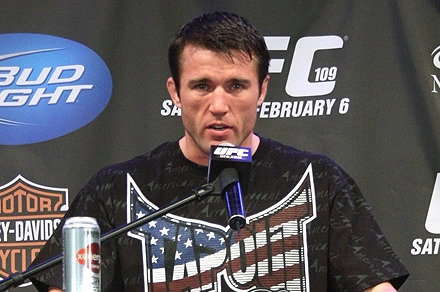 Chael Sonnen/ Ken Pishna for MMAWeekly.com
Is Ronda Rousey the female Chael Sonnen?
Well, if she is, that would be some pretty big shoes to fill for the newly minted Strikeforce women's 135-pound champion.
Sonnen has carved a niche for himself in the MMA world, being regarded as the most crafty man on the mic. His silver tongue and quick-wit humor have endeared him to the MMA world, garnering him all kinds of attention that he so desperately enjoys.
Here, we will take a look at some more fighters who wield that same kind of inventive passion to make people laugh.
Begin Slideshow

»
Is there anything funnier than scaring the crap out of a reporter just moments before a main event tilt? No? Yeah, didn't think so.
Don't think you can get away with ripping flesh during the impending Zombie apocalypse, Barnett. Be careful.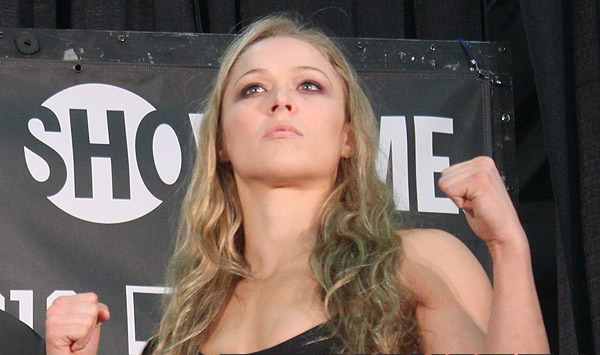 Rousey/ Damon Martin for MMAWeekly.com
@criscyborg you don't just have a (expletive), you are a (expletive) for posting that picture of Gina, you cheater.
Fill in the blanks my peeps, it's not like you haven't heard this one before.
Rousey is unrelenting and unapologetic, and that's exactly why we like her.
Ever feel nostalgic and look back at these gems from the old Pride days?
The best duo to pit in a room together, camera in hand, would always be that of Bas Rutten and Quinton Jackson.
Here, the two go over the finer things in life: food and women.
While his exploits on Twitter certainly didn't earn Torres any high praise, the mullet-bearer remains one of the more colorful and under-appreciated fighters in the business today.
What other fighter would be so willing to let fans don his own patented hairdo? That's a gracious man right there.
Honesty is refreshing, especially in the MMA world where a facade of tough-guy-ness is always in abundance.
Then, we have that one rare dude that's maybe too honest about his own frailty. That dude is Forrest Griffin, who is willing to make someone laugh—even if it's at his own expense.
Long after his UFC career is wrapped up, Bonnar will always find himself with work, as this fan-friendly fighter is equally versed in the cage and in front of the camera.
Here, Bonnar listens in on UFC head honcho Dana White. Perhaps maybe a little too intensely?
What's Benavidez going by these days? I think it's Joe B-Wan Kenobi? The Beefcake? TaiKwon Joe?
Well, whatever it is, Benavidez has found a way to endear himself to his loyal fan following by putting up little snippets like this.
"You're welcome, Dominick Cruz, for giving you life and letting you live." Done and done.
Anderson Silva, Antonio Silva, the Nogueira brothers and Brazilians alike—nobody is safe when it comes to the silver tongue attack of the man, the myth, the legend, Chael Sonnen.