2013 BCS National Championship: The Five Most Entertaining Potential Matchups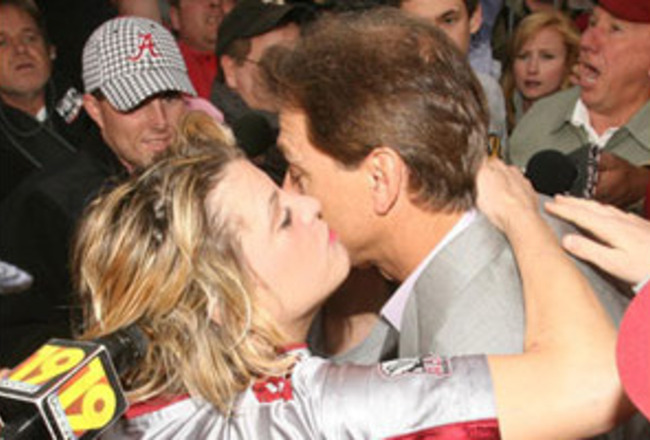 In January of 2013, in the early hours of the night, the two mightiest teams from the 2012 college football season will square off in Miami, Florida, in the BCS National Championship Game. It's one of the greatest scenes in all of sports.
Last year, Nick Saban marched his Crimson warriors into New Orleans, dominated his opponent for four straight quarters and jolted back to tornado-ravaged Tuscaloosa with the crystal ball in tow. He gave the city something to celebrate and made clear to the world that Alabama had regained its status as a football empire. It was the 'Tide's second title in three years, and he captured his third ring.
But this is a new year, and I'm certain that Nick Saban's colleagues are tired of seeing him be the boss of college football. Some conferences, particularly the ACC and the Big East, are without question tired of watching the SEC dominate the championship games. And we all know there are fan bases out there foaming at the mouth to secure a year's worth of bragging rights.
So, I'm going to flip the script a little bit—a little bit—and put together some potential BCS National Championship matchups that could be very entertaining for fans of college football.
5: Arkansas vs. West Virginia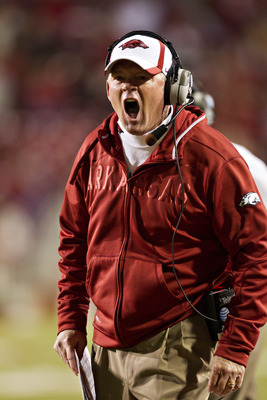 Wesley Hitt/Getty Images
The Mullet vs. Petrino. Here we go—offense on offense. Neither of these teams seem to field defenses—or great defenses—but it might not matter. After what we saw West Vriginia do to Clemson in the Orange Bowl, it's hard to believe that we're not going to see some kind of an encore from Geno Smith and Tavon Austin this year.
And, with Tyler Wilson getting another offseason under his belt to tutor under the great quarterbacking mind of Bobby Petrino, the Razorback machine will be well-oiled and ready to score.
Why would it be entertaining? Because the Over/Under would be 150-plus. If the defenses can get a little better—Arkansas needs to contain whatever bruisers 'Bama and LSU will be running at them, and West Virignia needs to prepare its secondary for the Big 12—go ahead and mark this matchup down.
4: Oklahoma vs. Georgia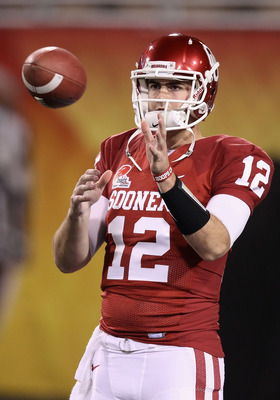 Christian Petersen/Getty Images
These two teams choke more often than Boise State's special teams unit. They just cannot seem to win when it matters.
Oklahoma has lost the last three national championship games in which it appeared, and Georgia hasn't even gotten the chance to choke in the title game—because it always chokes before that game.
The interesting difference between the two schools is that the Sooners, under the great leadership of an all-class act in Bob Stoops, get decent recruiting classes and turn them into NFL-bound mighty men, while the Bulldogs get mega recruiting hauls but don't seem to win with them.
Why would this be entertaining? Because it might be the year when both teams put it all together. Georgia is literally stacked with talent, and Oklahoma has Landry Jones coming back. Both coaches, knowing their own track records, would probably have their teams at perfect pitch for this game.
It would be (Big Game) Bob's last stand and Mark's first, possibly only, chance for glory.
3: LSU vs. Michigan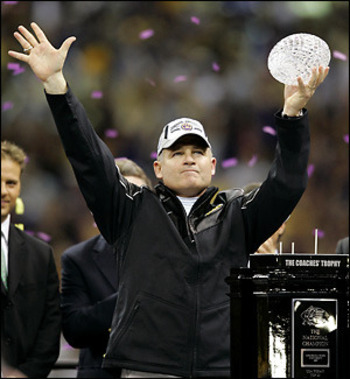 LSU and Michigan should be two of the hungriest teams in college football this year. LSU, as we all know, was shutout by the aforementioned 'Tide in the BCS title game—but let's keep in mind that it did play for a title, which, shutout or not, is quite impressive—and Michigan, while not great, had a solid season under first-year head coach Brady Hoke, and beat Virginia Tech, arguably an overrated ACC representative, in the Sugar Bowl.
I think both teams are gearing up for title runs in 2012, and with good reason. LSU's lines are going to be stout and Michigan has Denard, who may finally revive some of the glory he attracted a couple years ago. Also, the Michigan defense should be even more improved from last year's solid unit.
Why would this be entertaining? You'd have two Michigan men going against each other as head coaches. The one in the South eats grass and plays a kid nicknamed the Honey Badger and the one in the North does neither.
2: Alabama vs. Southern California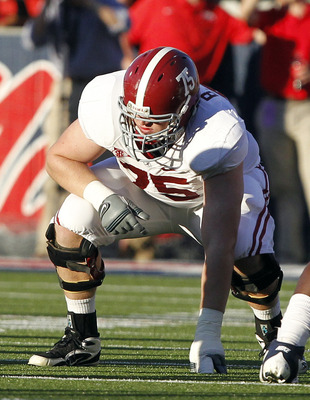 Butch Dill/Getty Images
The Crimson Tide are building what could be one the greatest dynasties in college football history, and Southern Cal will be looking to regain its elite status as a perennial championship-bound team.
The football empire that is Alabama will have to elevate the play of some young defenders if it wants to compete with the Trojans, because Lane Kiffen will be dialing up some serious firepower on the offensive side of the ball, with Matt Barkley, the early Heisman favorite, under center.
The play at the line of scrimmage would be an interesting matchup, and perhaps decide the game. Saban's roving, frightening front seven against USC's wall. Alabama has the edge with its offensive line against USC's defensive line, but I think it would come down to how much penetration Saban's front seven could put on Barkley.
Why would this be entertaining? For fans of Alabama, it would be entertaining because, if Saban did win again, it would probably look like Alabama may never lose another game again as long as they are coached by Nicholas Lou Saban.
But I just like the idea of two of the most storied programs in college football history squaring off, one with an extremely electric offense and one with a stout defense (and solid offense as well).
1: Florida State vs. Alabama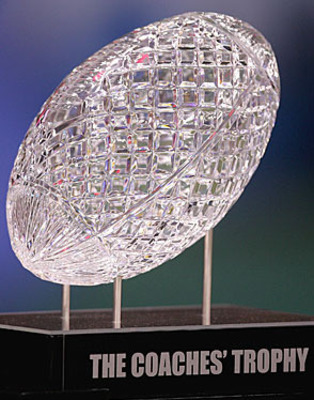 The Crimson Tide of Alabama against the Seminoles of Florida State. It just doesn't get much sexier than that—and I think both fan bases would agree. Even though Florida State was down again last year and didn't live up to its preseason expectation, both these teams are stacked with NFL-bound players.
If the Seminoles can stay healthy and get average production out of the offensive line, I don't think they will have any trouble going undefeated through the regular season and capturing their first ACC title since 2005. (The ACC set up a very favorable schedule for the Seminoles.)
And if the new starters on the Alabama defense can learn Saban's complex defensive schemes, I think Alabama can cruise through its schedule. The Crimson Tide offense will be fine—might even be the strong point on the team.
Why would this be entertaining? First of all, there is a serious recruiting rivalry developing between these two schools—Fisher keeps landing elite players in Alabama and Saban does the same in Florida—and it would be interesting to see it played out on the field.
Secondly, the country would get to see two of the greatest dynasties clash in one hard-hitting contest. The trench warfare alone—the sheer quickness of Florida State and the power of Alabama—would be lovely to watch. Both teams' defensive lines—and I'm talking the entire lines—are arguably NFL-caliber.
Lastly, I think many fans were shocked with how FSU fell apart during the Lost Decade,
and would like to see if they are finally BACK. And what better way to test that than to see the Seminoles sprint straight forward into the jaws of a team as mighty as the Crimson Tide?
Keep Reading

Florida State Football: Like this team?