Peyton Manning: What Teams Are Not In?
Joey Foley/Getty Images
Peyton Manning has been cut from the Indianapolis Colts, and the star quarterback is hitting the road.
There is plenty of speculation as to where he will go, but, I think it needs to be assessed from a different angle: where he won't go.
Looking at the entire league, there are teams we can cross off the map without any doubt.
Indianapolis Colts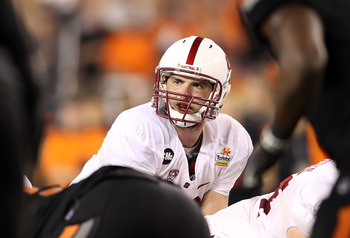 Christian Petersen/Getty Images
The obvious start.
Manning is not playing with the Colts. They cut him and they are rebuilding, starting with the first overall pick in this year's draft, Andrew Luck of Stanford.
End of story.
New York Giants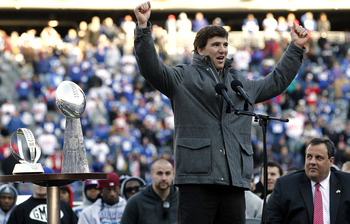 Jeff Zelevansky/Getty Images
Probably the most obvious non-destination for Manning, behind the Colts. New York is the home of his little brother, Eli. The same little brother who has one more ring.
He's not coming to New York, and that goes for the other New York team, too, although the NY Jets are interested, so I can't include them in this article.
Philadelphia Eagles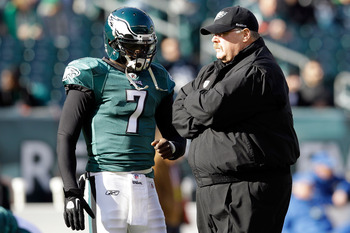 Rob Carr/Getty Images
Philadelphia used the franchise tag on Michael Vick last year, he fits into its offense, and he is successful. Sure, the Eagles had a terrible season, but that isn't on him.
With Vick the starter, Vince Young as the backup, there's no room for Manning. Not happening.
Also, I would basically rule out every NFC East team.
Green Bay Packers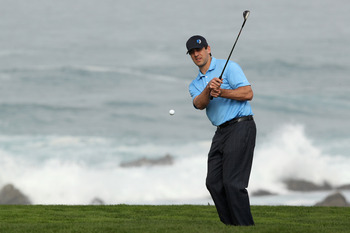 Ezra Shaw/Getty Images
Aaron Rodgers is the best QB in the game. Manning is not going to GB.
Sorry, Packers fans, had to use that picture.
Atlanta Falcons
Al Bello/Getty Images
Despite his playoff woes, Matt Ryan is the future of the Falcons. He is their franchise quarterback, he is an elite quarterback.
Detroit Lions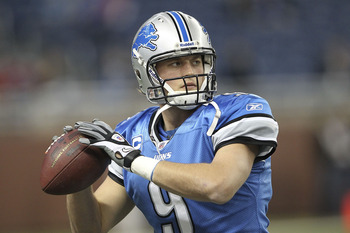 Leon Halip/Getty Images
Detroit has one of the best young quarterbacks in the game. If Matthew Stafford weren't performing great, maybe Detroit would be a location (being a dome). However, he is playing well, so it's not.
Oakland Raiders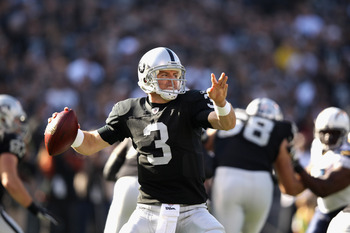 Ezra Shaw/Getty Images
If the Raiders still had Jason Campbell, they would be a top destination for Manning. However, they pulled off a blockbuster trade last year for Carson Palmer, so it isn't happening.
They have their veteran star QB, and they have their young talent in most of the other key positions.
St. Louis Rams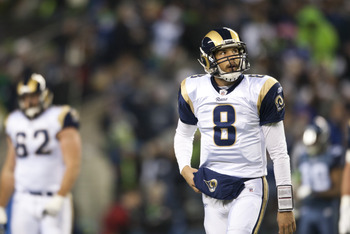 Jay Drowns/Getty Images
Sam Bradford is the future of the Rams, and they have made that clear. If they were unsure of this, they wouldn't be trying to get rid of the second overall pick, which would give them Robert Griffin III.
New Orleans Saints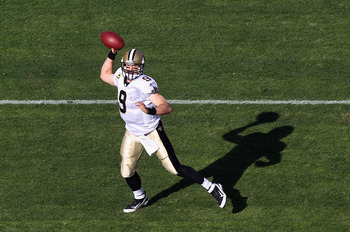 Jed Jacobsohn/Getty Images
Drew Brees loves New Orleans. New Orleans loves Drew Brees. Enough said.
Pittsburgh Steelers
Kent Nishimura/Getty Images
Now, Ben Roethlisberger is a scumbag, but he's an elite quarterback. Next.
Tennessee Titans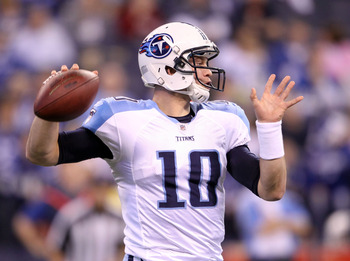 Andy Lyons/Getty Images
Matt Hasselbeck is the Titans quarterback for the time being, but their future is Jake Locker. He is only 23, so he has plenty of time to develop and flourish with the Titans.
New England Patriots
Gregory Shamus/Getty Images
Manning's rival. Tom Brady. Keep it moving.
Dallas Cowboys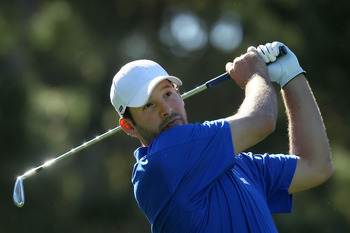 Jeff Gross/Getty Images
Yea, so Tony Romo is probably a better golfer than quarterback, but he's still a great QB. He's a top 10 QB in the league probably, and he is what Dallas needs. Its shortcomings are not with Romo but in other spots on the roster.
Carolina Panthers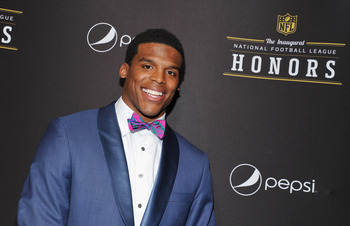 Mike Coppola/Getty Images
He's the Rookie of the Year, probably the Rookie of the Decade.
There's really no chance Andrew Luck has a better rookie year than Cam Newton.
San Diego Chargers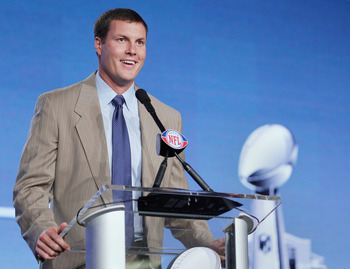 Rob Carr/Getty Images
Although Philip Rivers had a down year in 2011, he is one of the top 10-15 QBs in the league.
Also, Archie Manningwon't let his kids play in San Diego. We already know that. Thank you, Archie.
Baltimore Ravens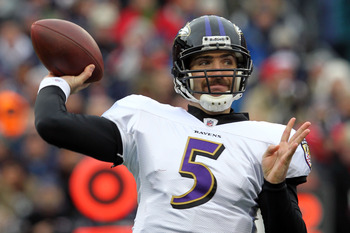 Jim Rogash/Getty Images
Joe Flacco doesn't get the respect he deserves, but he's a top 15 QB. He isn't perfect, but he is young. He is the future of Baltimore.
He would have beaten the Patriots if it weren't for a botched TD call against Lee Evans.
Chicago Bears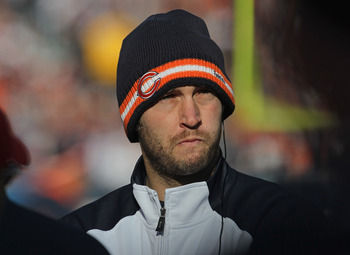 Jonathan Daniel/Getty Images
He's a pouter, but Jay Cutler is a good QB. Also, Chicago is way too cold for manning. He's looking to chill in flip flops and Hawaiian shirts.
Tampa Bay Buccaneers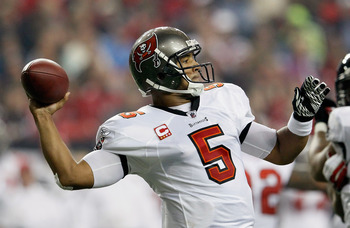 Kevin C. Cox/Getty Images
Josh Freeman is another good, young quarterback. He has had his ups and downs in his young career, but he's the face of the Bucs.
Buffalo Bills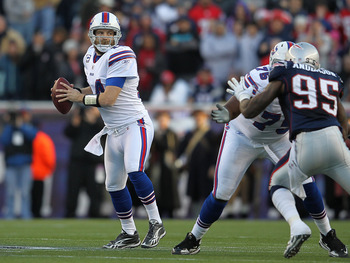 Jim Rogash/Getty Images
The Bills found a diamond in the rough with Ryan Fitzpatrick. The Bills were off to a great start last year, and they could be a solid team. They have locked Steve Johnson to a deal, so Fitzpatrick has the pieces he needs to succeed, especially with Fred Jackson in the backfield.
San Francisco 49ers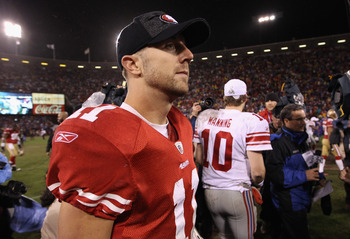 Ezra Shaw/Getty Images
Alex Smith will get a new deal from San Francisco. He has his downs—basically his entire NFL career—but he had a good season last year and proved he can win.
Also, Harbaugh absolutely loves Smith, so I don't see them wasting time with Manning.
Cincinnati Bengals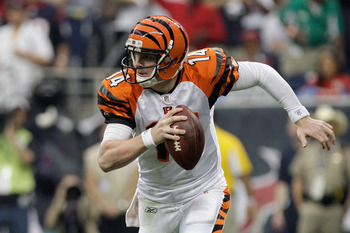 Thomas B. Shea/Getty Images
He may be the red-headed stepchild of the NFL, but Andy Dalton is a good, young quarterback.
Who's In?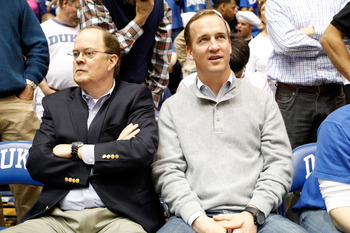 Streeter Lecka/Getty Images
So, who is left?
As unlikely as some of these destinations may be (he's not going to the Jets), these following teams could be interested in Peyton.
Miami: Personally, I don't see it happening, but Miami is supposedly the favorite for Manning.
Arizona: Arizona has lacked a good QB since Kurt Warner left. A good QB could be the missing link.
Washington: Rex Grossman is not the Redskins' quarterback.
Seattle: Tarvaris Jackson? Nope.
Minnesota: Christian Ponder could use some time to develop.
Houston: Lack of QB was the demise of the Texans. Maybe Matt Schaub is hurt worse than we think.
Jacksonville: Blaine Gabbert isn't going to produce. Sorry.
New York Jets: As wrong as they may be, the Jets are interested. Sorry, Mark Sanchez.
Cleveland: Colt McCoy is the future, but Manning could be the now.
Denver: Tim Tebow is still the future, but Manning is the only guy they could bring in to give Tebow time without creating an absolute frenzy. Also, Tebow could benefit from Manning's knowledge.
Kansas City: Matt Cassel isn't consistent enough. Don't count the Chiefs out.
I really don't see Manning going to the NFC or AFC East. He'll likely end up somewhere where he can win, and probably in a dome or warm weather.
Keep Reading